Powered by Mom shares an AskAlmond Nutrition Coaching Review
This review was brought to you by our team member Katrina! Read her bio on our about page
MAKE SURE TO READ TO THE END TO FIND OUT ABOUT THE GIVEAWAY
 Like many, I have struggled with my weight nearly my whole life. I could sit here and tell you excuse after excuse as to why I was so overweight, but it came down to WHAT I was eating and HOW much of it. Recently I was asked to check out a website that allowed you to speak with a Registered Dietitian while in the comfort of your home called Almond. The concept was really interesting to me since there has been so much talk about getting virtual health care.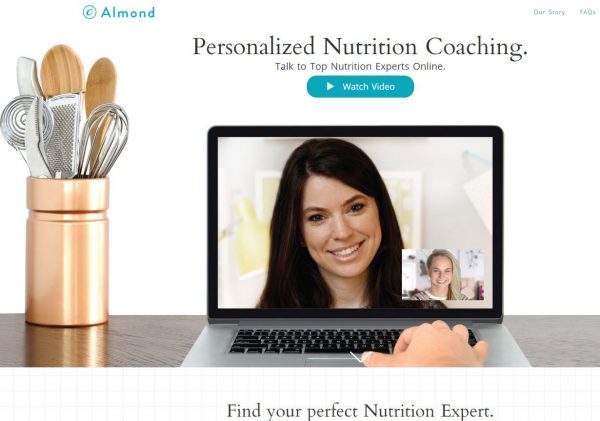 When I was 27, my health wasn't good and I was the heaviest I had ever been. I wasn't happy with how I felt and how I looked and needed to take better care of my body. I do have major joint issues so just working out and eating better wasn't going to do it for me. I decided that weight loss surgery was my best option. So, in 2010 I had gastric bypass. In 8 months I had lost over 120 pounds and felt amazing. I could actually go on long walks without my joints causing me a lot of pain. 2 years later I started having major issues again with my hips, had 2 surgeries in under 3 months and then developed what is called POTS (Postural Orthostatic Tachycardia Syndrome). Battling many medications and issues I have gained over 50 pounds in just a few months. I'm sure you can imagine the mind games that plays on someone.
That was the VERY short version of some of my issues, so that's why I was very intrigued to hear about Almond and their services. I love how easy the setup was. You answer a few personal questions like what are you looking for (feel more energized, lose weight, or help their kids eat better) and then Almond shows you matches that they think would be good for you. With each match there is a profile about the dietitian. The ones I was shown didn't match what I was looking for. I needed someone that had experience with weight loss patients and also with POTS patients since diet is affected. Since I wasn't seeing one, there was a place to email them with your specific needs and they would search for you. In about two days, I was emailed saying there was a match to my request.
The process to set up the appointment is super fast and easy. You look at the calendar of options and pick one that works for you. From there you will receive an email with a link for the video meeting. No need to download anything, or sign up for anything else. Each session is 30 mins and tells you the cost of a consult right there so you know right away and are assured that there aren't any hidden charges. Also know that Almond complies fully with HIPAA and all your information is safe.
Speaking with my dietitian was great. She asked me a few questions to start off and get to know the areas that I need help with. She gave me great ideas and talked about doing another food journal (something I need to do, but am so bad at doing). Overall it was a really great experience and I can add my food journal right to their site so it's easy for her to see later. I can also add any health information I feel is important to my profile. This will help any dietitian from Almond to understand my personal situation.
The convenience of doing the video chat is awesome. I don't have to spend time driving to the clinic, waiting in a waiting room, finally seeing the dietitian and then going home. All I have to do is login at the right time and i'm all set. Of course cost is always an issue, so if you have a high deductible or your policy only covers a few visits, using Almond is a great way to go. I know it's a lot more expensive to see mine at my clinic than paying the site. If you need help with your diet and need a little coaching, I really suggest you take a few minutes and check out Almond.

Before I forget, I also want to add that if you refer your friends and can get 15 people, you will get a free consultation. So if you do end up setting up an appointment, tell all your friends about it, it's worth it.

Would you like a FREE consutlation? We have a giveaway for one that ends 5/2 open WW GO HERE

By