No-Bake Samoa Cheesecake Recipe
If you love those Girl Scout Samoa cookies or you love cheesecakes, chocolate, caramel and/or coconut you are going to want to try this Samoa Cheesecake. It's no secret that I LOVE coconut, chocolate and caramel and combine that all into one cheesecake and this mama is in heaven. Total bonus that you don't even have to turn the oven on for this delicious Samoa Cheesecake. It takes only 20-30 minutes to prepare it, making so tempting to have it all the time. However, you do have to wait for it to chill for 4-5 hours so plan ahead.
This is a decadent dessert that is sure to please everyone's tastebuds even if their waistline doesn't love them for it. Some things are just worth the indulgence and for me (and I think you'll agree) this Samoa Cheesecake is totally worth it!
Now of course if you're short on time you can take a few shortcuts like with the crust and get pre-made graham crust. I've been known to do that with other recipes but for this Samoa Cheesecake I promise the few extra minutes to put this shortbread coconut crust together is worth your time. Oh so worth it. You can also substitute the whipped cream for cool whip but I don't suggest that only because I'm not a fan at all of the product. Go with the real whipped cream it tastes so much better in my opinion.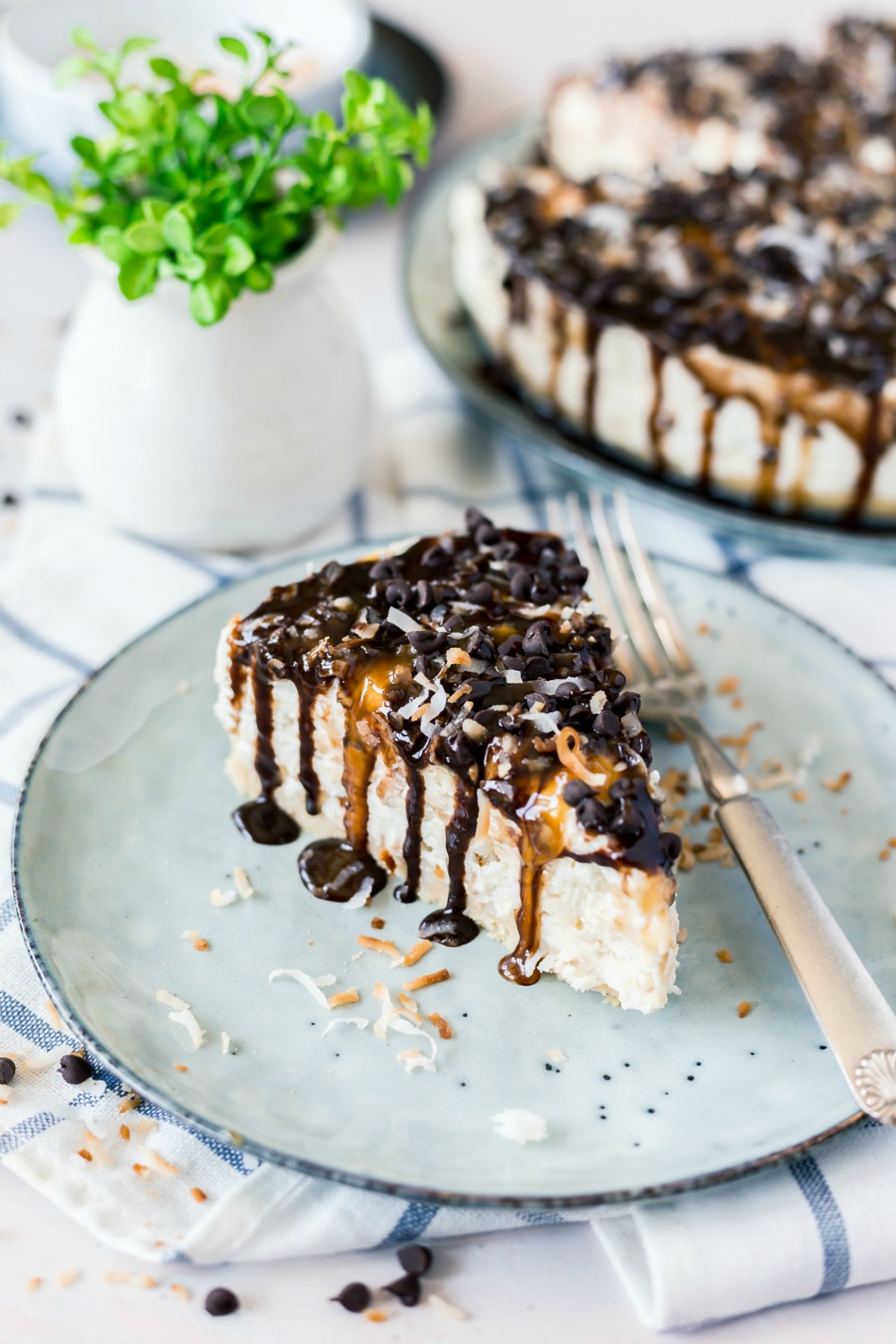 Samoa cookie, chocolate lovers, caramel lovers, coconut lovers or in my case all of the above lovers let's get on to this recipe shall we?
Yield: 1 cake
No Bake Samoa Cheesecake Recipe
This No Bake Samoa Cheesecake with its coconut/shortbread crust, chocolate, caramel sauce, toasted coconut & more is a decadent treat.
Total Time
5 hours
25 minutes
Ingredients
Crust
½ 11-ounce package Shortbread Cookies
½ cup shredded sweetened coconut
4 tablespoons unsalted butter, melted
Filling and Topping
24 oz cream cheese, softened
½ cup sugar
¼ cup brown sugar
1 teaspoon vanilla extract
1 ½ teaspoon coconut extract
½ 11-ounce package Shortbread Cookies, crumbled into small pieces
½ cup caramel sauce, divided
3 cups homemade whipped cream
⅓ cup mini chocolate chips for topping
⅓ cup toasted coconut for topping
additional caramel sauce for topping
chocolate sauce for topping
Instructions
Place cookies and shredded coconut into a food processor and pulse until fine crumbs are formed. Add in the melted butter and pulse until it is fully incorporated into the cookie crumbs, then press it into
the bottom of a parchment-lined 9-inch springform pan.
In a large mixing bowl, beat together the cream cheese, sugars, and extracts on medium speed until combined and smooth.
Gently fold in the cookie crumbles and ¼ cup of the caramel sauce.
Add the whipped cream and stir gently until fully incorporated.
Add batter to crust in 3 batches, adding a little more of the caramel sauce each time until you've used all of the caramel. Use a knife to swirl caramel around between each layer, being careful not to cut into the crust.
Smooth out the top of the cheesecake, then top with the mini chocolate chips, toasted coconut, and hearty drizzles of caramel and chocolate sauce.
Cover and refrigerate for 4-5 hours, or until firm.
Nutrition Information:
Yield:
10
Serving Size:
1
Amount Per Serving:
Calories:

659
Total Fat:

44g
Saturated Fat:

25g
Trans Fat:

0g
Unsaturated Fat:

15g
Cholesterol:

95mg
Sodium:

421mg
Carbohydrates:

62g
Fiber:

2g
Sugar:

45g
Protein:

7g
Please note that we can not guarantee the accuracy of the nutritional information. They are a best guess calculation.
Are you drooling yet, because I am. Unfortunately for my waistline, I LOVE this Samoa Cheesecake a little (a lot) too much. I want another one. Can you blame it it has all of my favourite things. Totally drool worthy but I might be biased. If you're ready to give it a try or want to soon just PIN the image below and save it for later. Let us know if you do try it we'd love to hear from you!
Make sure to check out some of our other decadent treats in our recipe section like our Gluten Free Chocolate Mug Cake: Sinfully Delicious!
By