Powered by Mom's Rosemary Chicken Bacon Avocado Salad
It's a new year and so many are wanting to start it right by eating healthier. Fortunately, with delicious recipes like our rosemary chicken bacon avocado salad, you can eat healthier meals without sacrificing taste! I love a good salad that goes beyond the basics, add some herbs, avocado (I love avocado) some tasty chicken and hey bacon is always good too and I'm in heaven!
More good news for a second year Powered by Mom will be a Brand Ambassador for Chicken Farmers of Canada and I couldn't be more excited!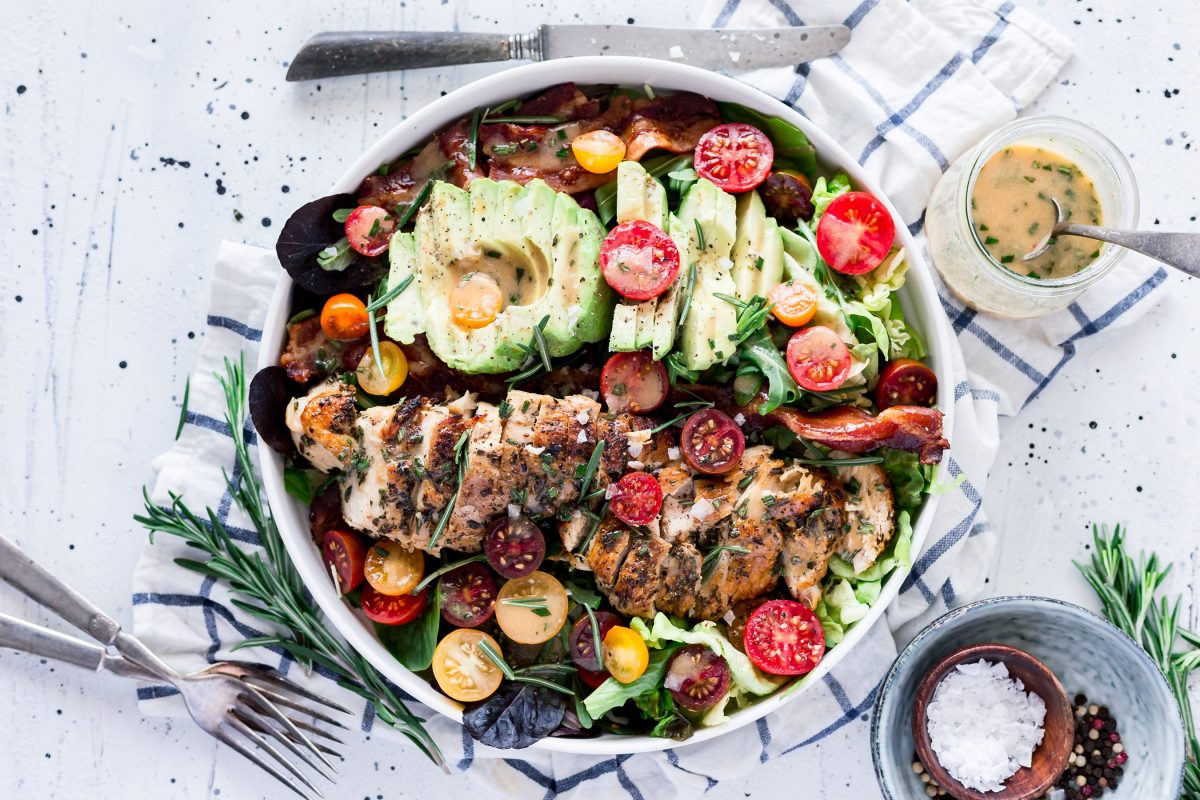 Why am I so excited about being an ambassador for Chicken Farmers of Canada? If you've been following Powered by Mom for a while you will have seen that my family and I LOVE chicken, it is the protein we eat the most. You might have guessed that from all of our yummy chicken recipes here on Powered by Mom like our Cranberry Brie Chicken Wonton Tacos that we shared last month.
In addition to that and just as important we like to support Canadian family-owned businesses and the majority of Canadian chicken farms are family run and owned. Add to that I want peace of mind knowing I'm giving my family quality chicken that is hormone and steroid free. When I see the Canadian Chicken Farmers logo I know that I'm getting that quality, we only buy chicken raised by a Canadian Chicken Farmer. So yes the chicken I buy ALWAYS has that logo, like the one below. If your store doesn't use the "Raised by a Canadian Farmer" brand, you can ask them to – we think the pressure should be on retailers to deliver on what Canadians want."
We also get to learn together about farming practices when it comes to raising chickens and I'm sharing with you below a summary of the farming methods so you too can be informed on what you're buying when it comes to chicken.
Why Choose Canadian Chicken Farmers Products
Free Range:  Free range birds must have access to the outdoors, but it can vary from farm to farm.
Free Run: Free run chickens do not necessarily need to be raised outside, but they are required to be able to move around freely within the barn. All chickens raised for meat in Canada are considered free run.
Grain Fed: This is more of a marketing tactic as all chicken in Canada is given grain fed, but some might boast special types of grain, such as vegetarian grain.
Halal: Meat that comes from chickens that are well-rested and handled in a way that minimizes suffering.
Yum doesn't this Rosemary Chicken Bacon Salad look delicious? Even better you don't have to feel guilty about eating this healthier meal.
Hormone Free and/or Steroid Free: The use of hormones in raising chickens has been banned since the 1960s in Canada.
Kosher: Kosher means that the food meets Jewish dietary requirements.
Organic Chicken: Chicken that is sold as "organic" is raised to a specific standard as laid out by the Canadian General Standards Board, in addition to the standards set by a reputable organic certification board.  In general, organic chicken must be raised with at certified organic feed that contains no animal by-products or antibiotics and any supplements, such as vitamins, must be approved by a certification body.
Raised Without Antibiotics: The chicken was not treated in any way with antibiotics.
Vegetarian Grain Fed: Means that the feed given to the flock contains no animal by-products. The feed contains only vegetable protein such as soy.
If you want to make sure that you're buying only chicken raised by a Canadian chicken farmer, then make sure that your package of chicken has that logo. I never buy any chicken that is not from a Canadian chicken farmer. We have a regulating body to ensure the quality of our chicken, that gives me peace of mind.
Now let's get on to our scrumptious Rosemary Chicken Bacon Avocado Salad Recipe shall we?
Yield: 2
Rosemary Chicken Bacon Avocado Salad
Ingredients
4 slices thick-cut bacon
½ pound boneless, skinless chicken breasts
salt and pepper
2 tablespoons fresh rosemary, minced
3 cups butter lettuce
2 cups spring greens
1 cup arugula
1 cup cherry tomatoes, halved
1 large avocado, thinly sliced
DRESSING:
¼ cup olive oil
¼ cup red wine vinegar
2 teaspoons dijon mustard
1 teaspoon minced fresh rosemary
Sea salt, to taste
Cracked pepper, to taste
Instructions
Heat a large skillet over medium heat and add the bacon, cooking until it's crispy and the fat is rendered. Remove the bacon from the skillet and place it on a paper towel to drain any excess grease, remove all but 1 tablespoon of the bacon grease from the skillet.
Season the chicken generously with salt and pepper, then sprinkle with the rosemary. In the same skillet, over medium heat, add the chicken and cook until golden and crisp on both sides, about 5 to 6 minutes per side, or until a meat thermometer inserted into the middle of the thickest portion reads 165 degrees. Remove the chicken from the skillet and let sit for a moment while you assemble the salad, then slice it.
Toss the lettuce, greens, and arugula with the tomatoes. Top with the sliced chicken, the bacon and the avocado.
In a small bowl, whisk together the olive oil, vinegar, mustard, and rosemary. Season with salt and pepper, then drizzle over the salad and enjoy!
Healthy eating can be delicious and our Rosemary Chicken Bacon Avocado Salad proves just that. I love this salad, it's also great with a raspberry vinaigrette, really you can put your favourite salad dressing on top although it really doesn't need much dressing at all. You can also skip the dressing as it's yummy all on its own in my opinion.
If you'd like to make this Rosemary Chicken Bacon Avocado Salad later make sure to PIN this for later!
When I need some recipe inspiration I got Chicken.ca as they have a fabulous recipe section HERE. So many delicious recipes to try out so little time. Stay tuned for more yummy chicken recipes coming soon! For now I'll leave you with one more photo of our Rosemary Chicken Bacon Avocado Salad. If you make it let us know how you like it, I mean it is chicken and bacon with avocado what's not to like?!
If you want to find out more about all things chicken related, make sure to follow Chicken.ca on their social media channels.

Facebook: Canadian Chicken | Twitter: @ChickenFarmers | Instagram: @ChickenDotCA | Pinterest:ChickenDotCA.

Disclosure: I am participating in the Chicken Farmers of Canada campaign managed by SJ Consulting. I received compensation in exchange for my participation in this campaign. The opinions on this blog are my own.

By