Sunrise Ridge Resort is Wonderful for a Girls Getaway Weekend
Sunrise Ridge Resort in beautiful city Parskville on Vancouver Island, British Columbia is the perfect oceanfront getaway with your girlfriends. Check out our review of this beautiful location and the surrounding area that is a great setting for reconnecting and relaxation.
Unless you're already on Vancouver Island then the most popular way to get to Parksville is via a BC Ferry from either the Tsawassen ferry terminal (the one I take) to Duke Point terminal in Nanaimo or Horshoe Bay to Departure Bay. It's a comfortable ride where you can drive your car on or come on as a walk-on passenger.
Disclaimer: Our accommodations and ferry rides were comped however, this does not affect our review. We always give our 100% honest opinions. 
I've done both and either way, there are amenities to make the two-hour trip comfortable from food to entertainment and oh the views, especially on a gorgeous day can't be beaten. Check out the photo above with my two close friends & I who enjoyed this girls getaway weekend and the photo below leaving Vancouver Island.
Beautiful view to see while waiting at Duke Point Ferry Terminal on Vancouver Island to go back home to Vancouver. Thank you, BC Ferries, for the smooth sailing. Obviously, it's windy on deck, more so on some days than others but it's always worth it to go out on deck to check out the fabulous views both going to and leaving Vancouver Island.
If you're not familiar with one of my favourite places in the world, the city of Parksville & Qualicum Beach area on Vancouver Island you are missing out. Seriously, this is one of those places whose natural beauty and serenity and combination of amenities with a small-town feel are not to be missed.
Oceanfront view at Sunrise Ridge Resort
There are tons of things to do and see around Parksville, Qualicum Beach, nearby Coombs and more. The area has amazing sandy beaches, ocean views that are breathtaking, amazing biking and hiking trails, and all of the perks and charms of a small-town community.
I always head into Coombs to stop by the Goats on a Roof Old Country Market, there's shops and eateries and yes goats on the roof. One of my favourite restaurants anywhere Cuckoo's Trattoria is one of the places to eat in this great little area and above is a peek at some of the yummy food we ate there on this trip. I love their pizzas and I'm not even a huge pizza fan but this no run of the mill pizza!
I'll be sharing more details in another upcoming article on all the things to do in this area including the ones I just mentioned. Here's a glimpse though for this girls trip while it's not the first time I've seen the goats on the roof of the market, it's the first time I got such great photos of them like the one below.
With all the fun things to do and see in the area, of course, you want to find the perfect place to stay for a girls getaway and as I've hinted Sunrise Ridge Resort fits the bill.
About Sunrise Ridge Waterfront Resort
Located just 37 km north of Nanaimo, this Vancouver Island Resort is situated in a spectacular natural setting, surrounded by park-like scenery and just a short stroll to the ocean views.
Sunrise Ridge ResortSunrise Ridge Resort offers spacious vacation rentals with all the amenities in the 1-3 bedroom suites and a waterfront villa. All are fully-equipped with a gourmet kitchen, balcony or patio with BBQ, washer & dryer, private bedrooms, and large living areas.
My two close friends Stacey and Tammie who came with me on this girls getaway. That is the oceanfront views at Sunrise Ridge Resort behind them.For those who don't need all that space they also have a cozy studio or junior suite which offer a hotel-style stay in Parksville.
My girlfriends and I stayed in a lovely two-bedroom suite which gave us each our own sleeping space with one friend sleeping on the pull out couch in the living room. She said it was quite comfy. Below is a short video giving you a tour of our luxurious two-bedroom suite at Sunrise Ridge Resort.
Sunrise Ridge Resort Property Amenities:
Seasonal Outdoor Heated Pool & Hot Tub
Fitness Facility
Meeting Room
Complimentary Wireless Internet
Lounge Area
Free Local Calls
Daily Housekeeping Available
Sunrise Ridge Resort is also a short walk to an award-winning spa that was listed as 1 of 12 sensational B.C. spa destinations the Grotto Spa at Tigh-Na-Mara Seaside Resort. Every time I go to Parksville which has been about 5 times now over the years I go to the Grott Spa to enjoy either treatment and/or the dip and dine. The dip and dine gives you access to their beautiful mineral pool and the Treetop Tapas which is AHmazing gourmet food. I'll be share more on our most recent experience at the Treetop dining experience but check out our last one three years ago HERE. 
Not only is the food amazing but it's a unique experience as everyone eats in spa robes. It might sound weird but you're thankful in the end for the robes because the "endless" tapas fill you up. No more on that as I'll share more on it in my next article that is coming soon.
Even though the video shows you our beautiful two-bedroom suite at Sunrise Ridge Resort I just wanted to share some close-up photos and the things I loved most about the suite.
Relaxing living area where we'd all gather to end our day on a relaxing note with some conversation, maybe a glass of wine or a late-night snack.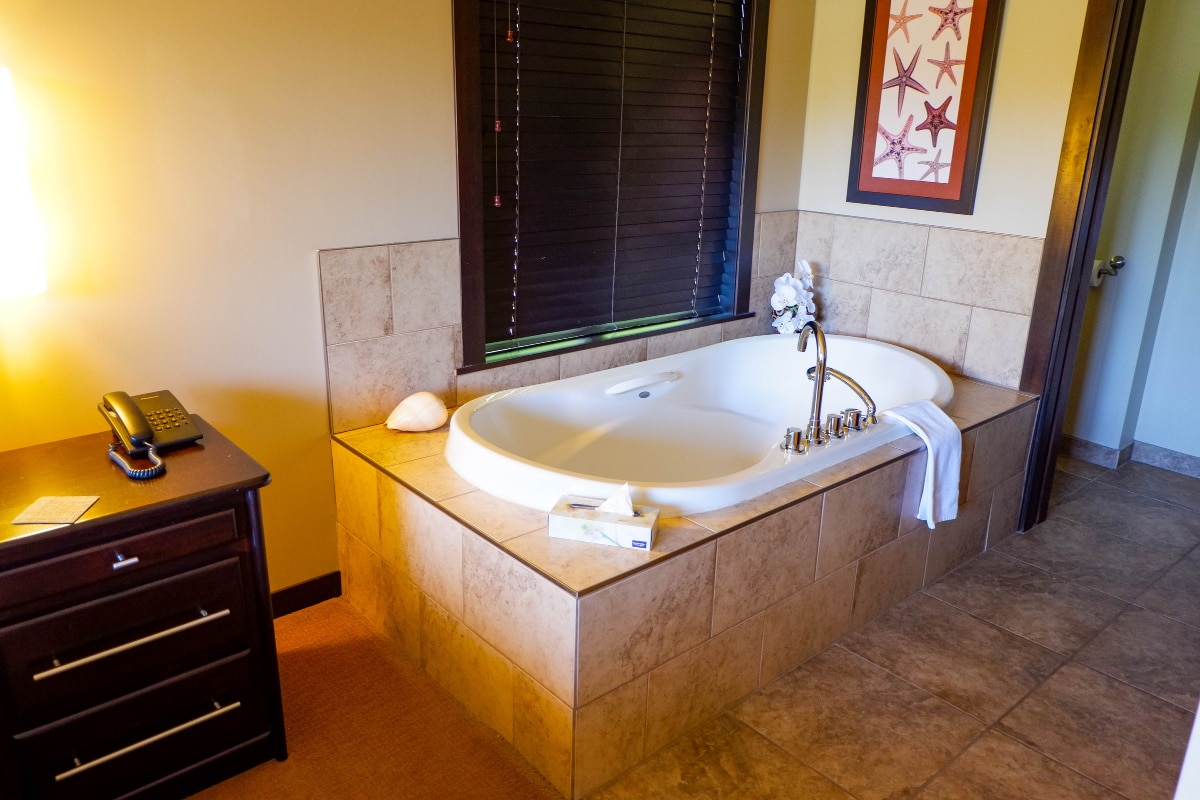 Hello master suite that is spacious, has its own ensuite and this soaker tub!
The spaciousness of the suite itself, no one felt crowded at all. I loved that kitchen even though we had easy prep food it was still a dream to use the kitchen and I loved sitting around the island. 
I hate sleeping in a new bed so it can be a challenge for me to be comfortable when travelling. Some beds just aren't comfortable for me but that was not the case at Sunrise Ridge Resort. I slept better than a baby (hello, I don't know about you but when my daughter was a baby she was a horrible sleeper – whoever came up with the phrase slept like a baby must not have had one like mine!). 
View from the patio that gives you a great look at the beautiful green grounds and one of the paths leads to the oceanfront for views like the one below.
Okay, the photo above is not of the suite but it's the amazing views just a short walking distance away. This is one of the views that the waterfront villa can see from their windows and deck.
I could not help myself, I had to take a photo of Stacey taking a photo of the beautiful waterfront.
The paths on the grounds of Sunrise Ridge Resort are surrounded by majestic forested areas.
While we were there I noticed several families with young children and I can see why it's great for everyone, couples, girls getaway, there was even a bachelorette at the oceanfront villa while we were there. Yet not once was there a "noise" problem at any time and the resort never felt or looked crowded as it has spacious grounds, well-built accommodations and more.
Whether you're travelling solo, with friends or family with kids Sunrise Ridge offers the opportunity for a wonderful getaway.
I also like to offer some things that are good to know ahead of time. Like many (if not all) of the resorts in the Parksville area the accommodations do not have central air conditioning. Most don't need it even in the summer as the ocean provides a nice breeze, however, our suite did have a portable unit which you may have seen in the video.
PIN this article for later
There are stunning ocean views, and there is an entry point to go onto the beach, however, there is a sign that says enter at your own risk. That part of the oceanfront is not a big sandy beach area for walking. That said you can walk less than five minutes away to a big sandy beach area over at Tigh-Na-Mara where anyone can go on the beach.

However, you still get to see stunning views, listen to the gentle waves lap against the shore and get close to the clear water like the one in my 15-second video to give you just a glimpse of the serenity to be found at Sunrise Ridge Resort.

If you're looking for luxurious accommodations with all of the amenities that offers comfort and more for your next getaway you'll want to consider Sunrise Ridge Resort! Check them out on their website: sunriseridge.ca.

By