Crockpot Pho Ga Recipe (Chicken Pho)
Enjoy this Pho Ga Recipe (Vietnamese Chicken Noodle Soup) which is all about the flavourful broth. This Chicken Pho is not a starter soup, it is a meal. Add the toppings to enhance the flavour of the broth and you've got a scrumptious meal that makes this Vietnamese dish a family favourite.
Star anise is for decoration only, don't serve it with the soup.
It's chillier weather time so it's the perfect time to pull out the slow cooker/crockpot and start making some belly-warming tantalize your tastebuds soup for the fall and winter. We think that this Vietnamese Pho Ga recipe is the perfect meal on a chilly day but then we're biased when it comes to this delicious chicken soup.
Disclosure: I am participating in the Chicken Farmers of Canada campaign managed by SJ Consulting. I received compensation in exchange for my participation in this campaign. The opinions on this blog are my own.
For those who don't know I'm going to do a short background introduction about my family roots. Don't worry you're not going to get the long version and my whole family history. Did you know that my mother was Vietnamese and I was born in Vietnam? Yep all true but we came to Canada when I was only three so while I'm Canadian through and through I appreciate and honour my Vietnamese heritage.
We love our Vietnamese food and the more we can make at home the better although we do like to go out for Vietnamese too for a night off from cooking.
What is Pho Ga?
Chicken Pho is called Pho Ga (Ga is for chicken) and it's an unassuming looking broth but with the herb-infused flavours there really is nothing that compares to pho. If the broth isn't full of flavour it's not a great pho. All on its own it should be aromatic and flavourful without being overpowering. As mentioned earlier when it comes to pho whether the original beef pho or chicken pho (pho ga) it's all about the broth. That's why Pho is a meal, not a starter soup, your bellies will be full and your tastebuds will thank you.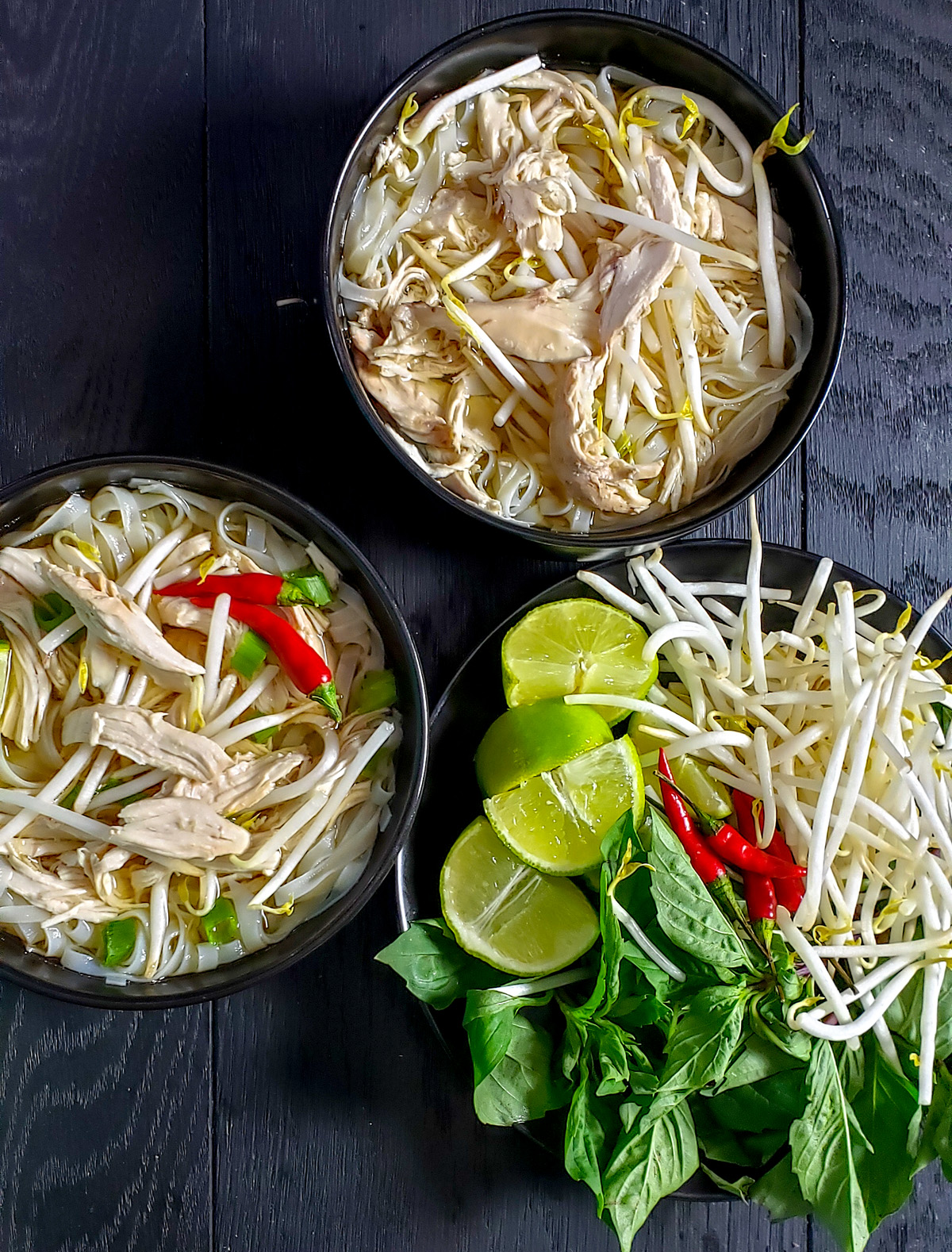 What toppings go with the Pho Ga Recipe?
If you've ever had Pho at a restaurant most likely you've experienced how it is accompanied by some toppings if you will. At the restaurants, we've gone to here in Metro Vancouver and similar to what I had growing up at home the Pho Ga recipe or even Bee Pho is served with a plate of "toppings". The most common toppings are pictured above and they are:
Thai Basil (fresh) – this one is a must in my opinion I've never had any Pho without it anywhere. I've heard people say you can use regular basil, I'm sure you can, I've never done that but the flavour won't be the same. It will still be tasty though I'm sure!
Lime wedges – the lime enhances the flavour of the broth
Mint (fresh) – I don't always see mint being served in restaurants but some do and it's something we always have at home with our Pho
Bean sprouts – Not required but it pairs nicely with any Pho.
Hoisin Sauce – A popular addition to Pho. I generally don't but my husband likes it with his and I remember seeing my Vietnamese "aunties" putting it in their Pho.
Sriracha and hot sauces – Sriracha is popular to add to Pho although my mom and her friends use to have chili peppers in theirs as they could eat it much hotter than I could.
Fish Sauce – Some people add more fish sauce (as it's in the broth already) but if the broth is as flavourful as it should be I've never found the need to add more when it was time to eat.
What is Thai Basil?
Thai basil has also been called anise basil or licorice basil, which is in reference to its anise and licorice-like scent and taste. It's not the same as Western strains, it's pretty much the Asian version of Italian basil. While it has a subtle anise flavour, it does taste like basil but with that difference in flavour. It's not a strong anise-flavour just enough to enhance the pho in my opinion. Even though it is called Thai Basil, it's used all over South East Asia.
Before we forget make sure to PIN this recipe so you can find it whenever you need it!
Let's get on to this fragrant and delicious recipe shall we? Make sure to check out our tips for how to make the Pho Ga recipe from what noodles to use to other tips to make it the best Pho Ga ever.
Yield: 4-6
Vietnamese Pho Ga Recipe (Chicken Noodle Soup) in the Slow Cooker
Enjoy this Pho Ga Recipe (Vietnamese Chicken Noodle Soup) which is all about the flavourful broth. This Chicken Pho is not a starter soup, it is a meal. Add the toppings to enhance the flavour of the broth and you've got a scrumptious meal that makes this Vietnamese dish a family favourite.
Total Time
8 hours
10 minutes
Ingredients
Broth
12 cups of Chicken Stock
3 on the bone skinless chicken breasts
2  tablespoons of light brown sugar
3 ½ tablespoons of fish sauce
White onion, peeled (size of a small apple is good)
1 ½ cinnamon sticks
10 star anise
3-inch piece of ginger sliced thinly
8 cloves
¾ tsp of salt
Noodle Bowl
Large Soup Bowl - it's a meal remember
9 oz of pho rice noodles, 1/16 inch size is the best. Thinner noodles like vermicelli can be used but the texture and taste is not the same.
Toppings - Add the ones you want
Limes
Thai Basil
Green Onions
Sriracha
Hoisin
Bean Sprouts
Red chilli peppers
Sliced white onions
Instructions
Broth
Add all of the broth ingredients except the salt to the slow cooker.*
Cook on the low setting of the slow cooker for 6-8 hours. Each slow cooker is different so you will have to gauge yours for cooking times.
Every few hours skim off the "scum" that has risen to the top of the broth. Do this every few hours.
Around 5-6 hours (depending on your slow cooker) see if the chicken breasts are thoroughly cooked. It will be easy to tell as they will fall apart. Shred one of the chicken breasts and set aside. Leave the remaining two in the slow cooker until you're done cooking the broth.
Once broth is cooked add the salt and let it simmer another 10 minutes on low.
Strain the broth so that all the herbs, onion, ginger etc.. is no longer in the broth
Keep broth on warm until ready to serve.
Noodle Bowl
Prepare the rice noodles as per packet instructions, just prior to serving. Drain well (excess water will dilute the broth).
Place noodles in large bowls. Top with chicken, add broth (but make sure to strain out any of the herbs like the star anise) so that it covers the noodles and sits above the noodles but doesn't drown the chicken.
Pile on toppings of choice. My favourites and the most common are the Thai Basil (a must imo), lime, Sriracha. Common choices also include chopped green onions, thinly sliced white onion and bean sprouts. I'm not a raw onion or green onion fan so I don't add those to mine but most people do.
Notes
Remember this Vietnamese Pho Ga is a meal not a starter soup. So use big bowls and add a generous amount of broth, it should cover the noodles entirely and touch the bottom of the toppings.
*You can make the chicken stock from scratch if you don't want to use store-bought stock. To do that you can use a whole cooked roasting chicken but just the carcass. Add the cooked chicken meat during the last hour to infuse some of the broth flavour.
You can also use skinless bone-in chicken thighs about 2 kg/4.4 lbs to create your own stock. Some people prefer this meat. I like either one so it depends if you like chicken breasts or chicken thighs more. Thighs will have a different texture too but it's all good.
You can also use chicken thighs bone in (no skin) for the stock about 2kg/4lbs
You can make the broth and freeze for up to 3 months, or refrigerate up to 5 days. Reheat until it's piping hot. Do not scoop off chicken fat that thickens in fridge - it's essential for flavour in the broth.
Nutrition Information:
Yield:
6
Serving Size:
1 large bowl
Amount Per Serving:
Calories:

406
Total Fat:

8g
Saturated Fat:

2g
Trans Fat:

0g
Unsaturated Fat:

5g
Cholesterol:

37mg
Sodium:

2098mg
Carbohydrates:

56g
Fiber:

4g
Sugar:

16g
Protein:

26g
Please note that we can not guarantee the accuracy of the nutritional information. They are a best guess calculation.
See how easy it is to make the Pho Ga broth? You just put all the ingredients in the slow cooker and let it do its thing. The broth should be a light-medium amber colour and should be clear like in the photo below.
Use Fresh Quality Ingredients
For the fresh herbs like Thai basil, green onions and mint make sure they are fresh and not wilting, quality matters. That brings us to our chicken too, we always buy chicken with the Raised by a Canadian farmer logo on it just like the one below. There are so many reasons why you should buy chicken with this logo and I will share a few of those reasons. First though if your local store doesn't carry it, talk to a manager and ask them to bring it in!
Canadian chicken is a healthy choice that it's grain-fed, free of added hormones and steroids, and raised right here in Canada according to nationally-set, high food safety and animal care standards.
There is a mandatory, robust, third-party-audited Animal Care Program that is administered across all Canadian chicken farms.
Canadian chicken farmers adhere to a strict mandatory On-Farm Food Safety Program.
Canadian chicken farmers are committed to sustainability through innovation, by preserving the health of the land, providing value to Canada's economy, & making affordable food for Canadians.
Check out some of our other delicious recipes in our Recipes section! Here are just a few of our tasty recipes to try:
See how tender the chicken looks? It is very tender and is infused with the broth flavours. So yummy it's one of the most flavourful soups out there. If you haven't had pho yet now is the time to try it. This Pho Ga Recipe is easier than Beef Pho as you need certain beef bones for the Beef Pho. You'll love the flavours of this chicken Pho.
If you're looking for more Slow Cooker recipes make sure to stop by Chicken.ca as they have a ton of recipes in all categories including for the slow cooker.
Here are just a few of their slow cooker recipes:
Chicken and Cranberry Wild Rice Casserole
Now the #Crocktober giveaway we promised!
ONE winner, Must be a Canadian resident 18+ years of age. $500 value prize pack! Giveaway ends October 28th, 2020 at 12pm EST.
Crock-Pot® Multi-Cooker
FoodSaver Vacuum Sealing System
Instant Pot Pressure Cooker
Enter on the giveaway tools widget below.
More info about Chicken Farmers of Canada can be found HERE
Facebook: Canadian Chicken, Twitter: @ChickenFarmers, Instagram: @ChickenDotCA; Pinterest: ChickenDotCA.
By