Powered by Mom's Vietnamese Chicken Salad Recipe – Goi Ga
A spring and summer favourite – Vietnamese Chicken Salad with lime, basil and mint
Spring is finally here! While the weather may not always make us feel like it's spring I still enjoy eating some of my favourite spring and summer recipes. One of my favourites is this Vietnamese Chicken Salad or in Vietnamese Goi Ga. It's refreshing, full of flavour, filling and best of all oh so easy to make! With ingredients like lime, Thai basil and mint this truly is the perfect spring recipe.

Just like my mom used to make
This recipe is one my mom used to make for us growing up. This Vietnamese Chicken Salad was on the table more than once come spring and summer. I'm thrilled to share a family favourite recipe that is also a representation of my Vietnamese heritage. I continue to pass down my knowledge on Vietnamese culture to my daughter which of course includes a love of Vietnamese food. It's not hard to do as the food is so flavourful.
Chicken Recipe Inspiration
If you ever need some inspiration for some fabulous chicken recipes, Chicken Farms of Canada has an amazing collection of recipes. I often go there to get ideas or make one of their scrumptious recipes. We eat a lot of chicken in our family so I'm always looking for ideas. This Vietnamese Chicken Salad recipe is so incredibly easy to make. You can even use leftover chicken if you like. I'll even share a tip that will make this one of the quickest yet still tasty meals you all can enjoy.
A glimpse of just some of the ingredients in this recipe including sriracha. If you don't want it spicy at all skip the sriracha but it does give the salad dressing a nice little kick.
It's not colseslaw!
While this salad is made with cabbage it's nothing like a coleslaw. I don't like coleslaw, never have but I LOVE this Vietnamese Chicken Salad. There's no comparison besides both having cabbage in them they are nothing alike.
Let's get onto the recipe and watch for my tips on ways to change it up a bit and to cut down on prep time if you're short on time.
Yield: Large salad for 4-6
Vietnamese Chicken Salad – Goi Ga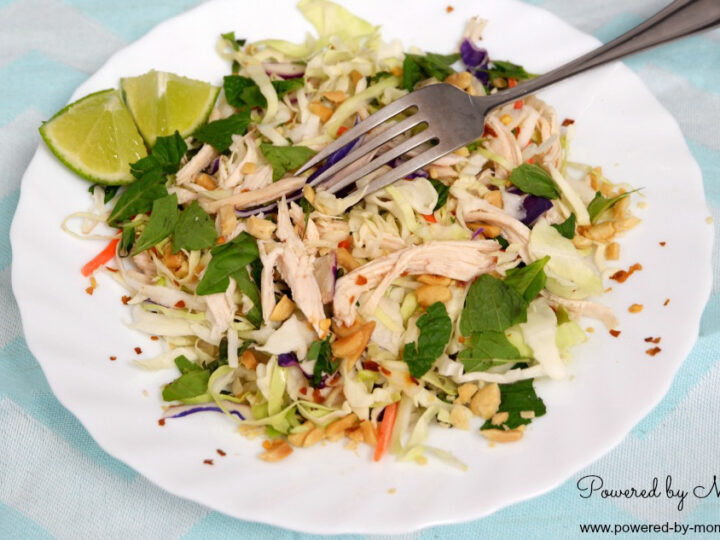 Ingredients
Salad
3 Chicken Breasts - cooked any way you want, grilled, baked, roasted etc.
1/2-whole large cabbage - can be red, green etc.. or mix them like I do
Tip#1 if you're short on time you can buy a bag of mixed cabbage already shredded - no chopping for you to do
2 carrots, peeled, cut into matchstick size
1 cup fresh mint leaves
1 cup fresh Thai basil or if you can't find that regular basil or fresh coriander
1/2 cup of peanuts
Chili Flakes optional
Vietnamese Dressing
1/3 cup lime juice
1/3 cup fish sauce (don't worry the salad will not taste "fishy") add a bit less if this is your first time trying
1 clove garlic
Sriracha to taste
1 tablespoon of brown sugar (optional) some people like a bit of sweetness I don't use the sugar but some of my guess like it with
Instructions
Vietnamese Dressing
Whisk lime juice and fish sauce together. If adding sriracha do so now, then sugar (if adding) until sugar is dissolved. Add crushed garlic
Salad
Shred Chicken and place it in a large salad bowl with all the cabbage, carrots, mint and Thai basil
Toss salad.
You can either add the dressing to the entire bowl or serve the salad and add dressing to each individual bowl. If adding to entire bowl add just before serving. Add half of the dressing and see if you like the strength the dressing. Add more as needed
Top with crushed peanuts and add a bit more of the freshly chopped mint and Thai basil
Add chili flakes if desired
Serve
Notes
Remember you can cut your time quite a bit if you're good with buying a bag of cut cabbage like ones used for coleslaw.
Any cabbage will do but we like the look of different coloured cabbages
If it's the first time you've had this dressing, try a bit first and see if you like it a bit sweeter (add sugar) or spicier (add sriracha)
Nutrition Information:
Amount Per Serving:
Calories:

0
Total Fat:

0g
The salad before I've added dressing and peanuts. If you think you'll eat all of it add dressing to the entire bowl if not see below.
Easy Vietnamese Chicken Salad Recipe
So easy right? It's a great way to use up leftover chicken or you can cook the chicken any way you want. Although my favourite chicken on this salad is either roasted chicken or grilled chicken. Between the vegetables, fresh herbs and the chicken it's not only a healthy recipe but so delicious. The flavour combination is delectable and oh so refreshing. The salad even with the dressing on it will keep for a couple of days. If you make extras like we tend to I don't add the dressing all the salad. I add it to our individual servings so that I can keep the rest of the salad and eat throughout the week. I know I always make too much but these are leftovers I really like especially on a hot day when I don't want to turn an oven on.
Don't forget if you're looking for some fabulous chicken recipe ideas to head on over to the Chicken Farmers of Canada website. They've also got helpful food safety tips, how to cook chicken and how Canadian chicken is raised. For example did you know that Canadian chicken is grain fed, free of hormones and steroids? We always look for Raised by a Canadian Farmer logo on the chicken we buy. Fortunately our local stores always carry it, if yours doesn't have the logo talk to your store's manager and ask for it.
If you try this recipe out make sure to let us know how you liked it. make sure to also check out some of our other yummy chicken recipes like these:
For the latest information, news and contests make sure to go to Canadian Chicken Farmers site HERE.

Connect with the Chicken Farmers of Canada on Facebook, Twitter, Instagram and Pinterest.

Disclosure: I am participating in the Chicken Farmers of Canada campaign managed by SJ Consulting. I received compensation in exchange for my participation in this campaign. The opinions on this blog are my own.

By