Delicious Apple Cake Recipe With an Upside Down Cinnamon Roll Twist
Take a traditional apple cake recipe and pair it with your favourite cinnamon roll and you have this fresh take on a fall and winter classic.
Upside Down Apple Cake
Ahh there's just something about fall and apple everything from apple pie to this delicious Upside Down Apple Cake with a Cinnamon Roll Twist. This apple cake is a new favourite here as it perfectly combines the deliciousness of apple pie goodness from the apples and cinnamon with some ooey-gooey goodness of caramel and the delectable taste of a cinnamon roll. Say what?!
It's true and fair warning you will enjoy this Upside Down Apple Cake so much that you will get sticky fingers as you just won't be able to help yourself. Or maybe that's just me? haha
Is anyone else besides me craving apples and cinnamon with some gooey caramel? It's not just me right? This apple cake is so tasty so let's get to the reicpe shall we?
Yield: 1 cake
Upside Down Apple Cake Recipe
Take a traditional apple cake recipe and pair it with your favourite cinnamon roll and you have this fresh take on a fall and winter classic.
Cook Time
1 hour
30 minutes
Total Time
1 hour
40 minutes
Ingredients
2 (8 oz.) cans crescent roll dough
2 tbsp. melted butter
⅓ cup packed brown sugar
2 tsp. ground cinnamon
1 (8 oz.) package cream cheese
¼ cup granulated sugar
1 tsp. vanilla extract
¾ cup caramel sauce
3 large apples, peeled and thinly sliced
GLAZE:
1 cup powdered sugar
2 tbsp. milk
½ tsp. vanilla extract
Instructions
Preheat the oven to 350 degrees F and lightly grease a large round cake pan with baking spray.
Whisk together brown sugar and cinnamon in a small bowl. Using a hand mixer, beat together cream cheese, sugar, and vanilla.
Pour half of the caramel sauce in the cake pan and lay apple slices on top. Unpackage the crescent roll dough and pinch the seams together to make a large rectangle of dough. Do the same with the second can of dough.
Spread the cream cheese mixture on one rectangle of dough and place second rectangle on top.
Brush melted butter on top and sprinkle with cinnamon sugar. Slice into 1" strips and lay in a spiral on top of the apples.
Bake for an hour to an hour and 15 minutes, until dough in the center is fully cooked.
Let cool in the pan for 30 minutes, then turn out onto a cake plate.
Drizzle with remaining caramel sauce. In a small bowl mix together the glaze ingredients and drizzle over the top as well.
Notes
*total time does not include cooling down time of the cake.
Nutrition Information:
Yield:
8
Serving Size:
1 slice
Amount Per Serving:
Calories:

400
Total Fat:

12g
Saturated Fat:

6g
Trans Fat:

0g
Unsaturated Fat:

5g
Cholesterol:

14mg
Sodium:

276mg
Carbohydrates:

73g
Fiber:

3g
Sugar:

54g
Protein:

2g
Please note that we can not guarantee the accuracy of the nutritional information. They are a best guess calculation.
Does total time include cooling of the cake?
No it doesn't and I know you all are eager to make and eat this tasty apple cake with its caramel goodness, the total time to make this delectable treat does not include cooling time for the cake. Allow about 30 minutes for the cake to cool before going to those next steps like the yummy icing etc.. Below is what the cake looks like before we put all those goodies on it.
At this stage, the cake is already making the whole house smell like fall has arrived. So be warned your mouth might start to water already!
Are you drooling yet? I know I am and I've already had some of this tasty apple cake.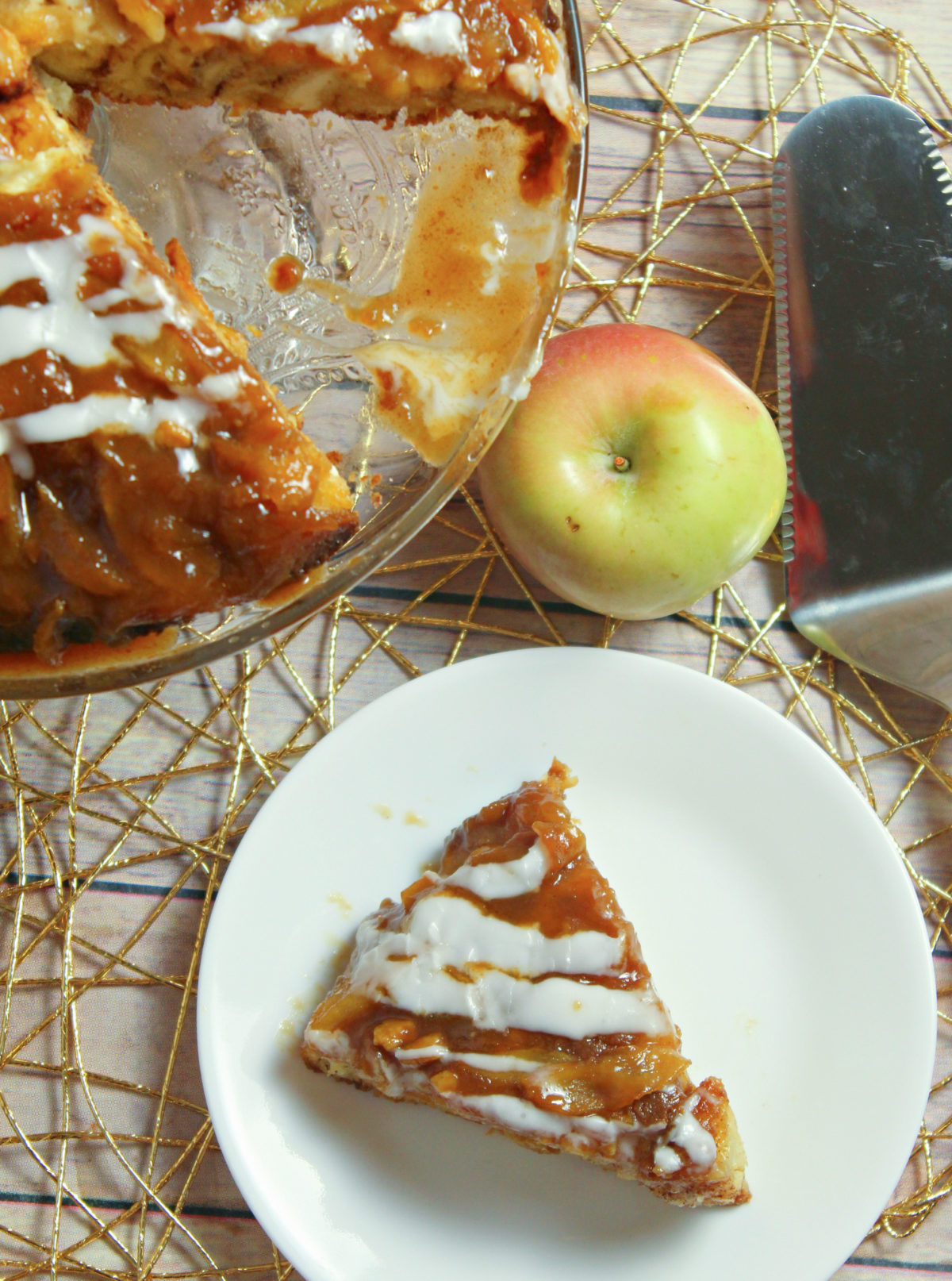 While you may start out eating this yummy apple cake with a fork you may end up finishing it with your fingers because it's just so good. However, to not get those sticky fingers try to control yourself and use a fork lol
Can you freeze this Upside Down Apple Cake?
Yes, you can but I recommend either cutting it up and putting it in an airtight container or a very gentle seal on your FoodSaver.
Make sure to PIN this recipe for later!

So who is going to make this tasty Upside Down Apple Cake? If you do let us know how you liked it and if you added your own twist to it!
Want more recipes?
Make sure to check out some of our other delicious recipes as we've got it all from appetizers to desserts, main dishes and everything in between like this yummy Strawberry Coffee Cake!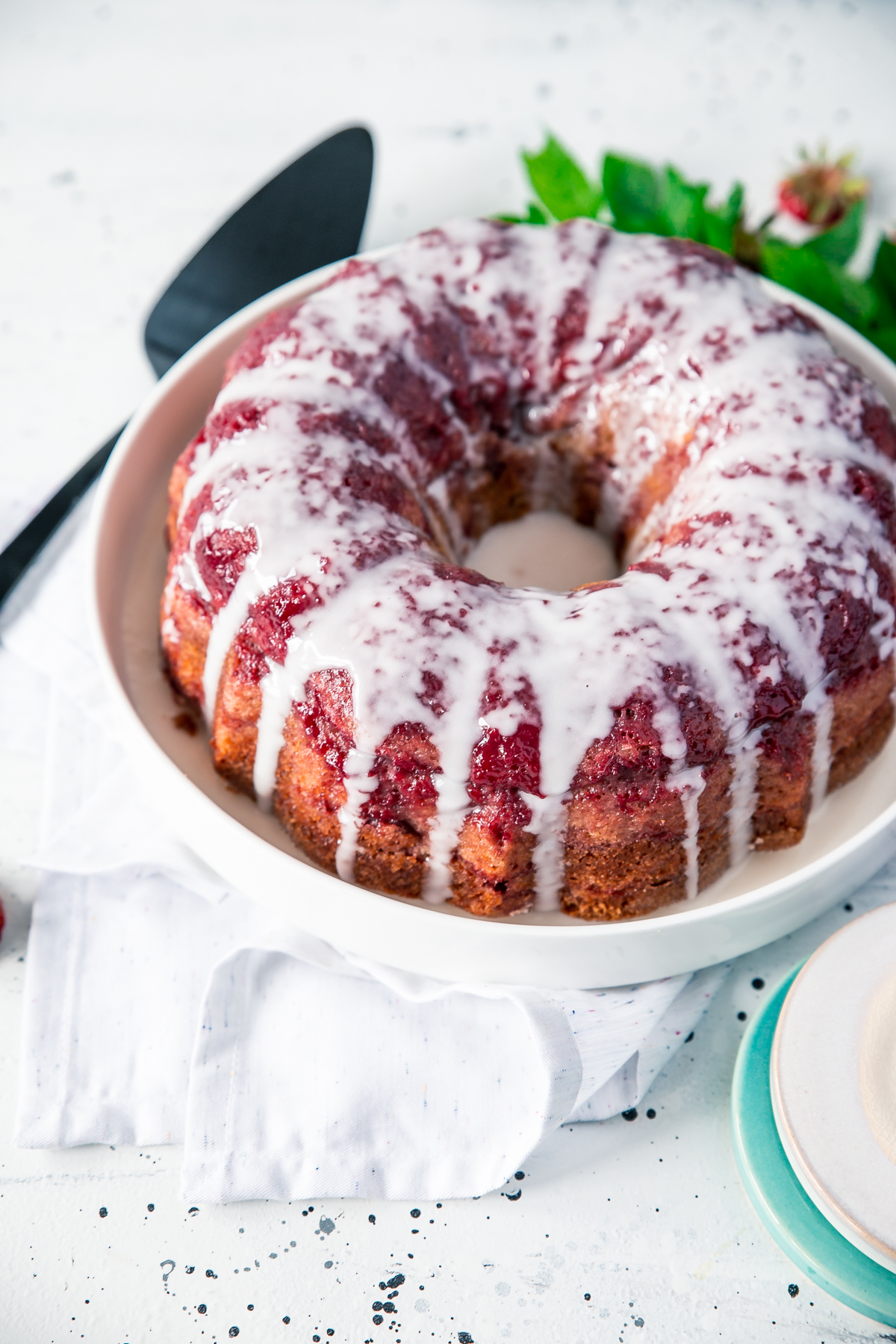 By