Virtual Tours and Activities for Families to do at Home
If you're looking for some great online activities for families, we've got a list for you. The tours and activities will also take you all over the world from Canada, all over the United States to Europe, all without ever having to leave your home! Whether you are looking for ideas to make homeschooling a little easier, or simply want to enjoy some virtual tours of places you've never been, you will find some lovely options here.
You can check out the bear cam at Grouse Mountain (Vancouver, Canada) to see the two popular bears Coola and Grinder in their bear den and habitat.
Disclaimer: This article is not sponsored in any way it is provided for educational purposes. We have received permission to use all photos for this educational and informational article. Please remember that these are all virtual and online activities, none of the places mentioned are to be visited in-person at this time.
We parents often hear about all the dangers of the internet. But the net also has a unique way of bringing people together from all over the world. Thanks to our internet, we can literally explore the planet from the safety and comfort of our living rooms. With so many activities for families to be found, the hardest thing might be figuring out which you'd like to enjoy first!
Web Cams on Grouse Mountain – Vancouver, British Columbia, Canada
Grouse Mountain has active web cams where you can see spectacular city views and the bear den and bear habitat of their two superstar bears Coola and Grinder. The two bears are popular web cam stars and have just recently come out of hibernation, some spectacular footage was caught of them as they came out of hibernation just over a week ago on April 21, 2020. You never know what you'll catch Coola and Grinder doing on their bear cam so stop by often online HERE to check it out.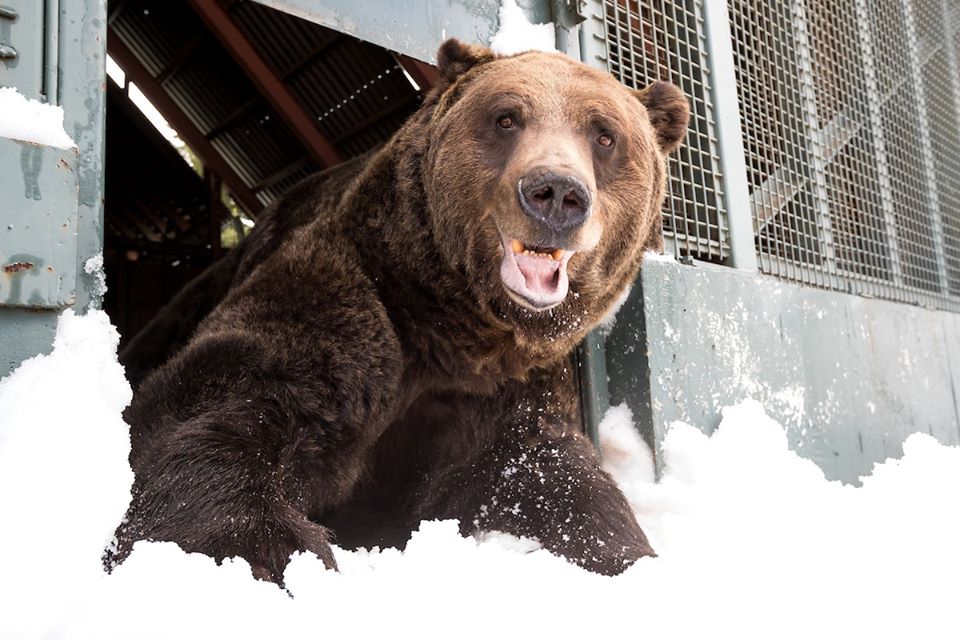 Background on Grinder and Coola
Grinder and Coola came to Grouse Mountain's Refuge for Endangered Wildlife in 2001 when they were saved after being orphaned during separate incidents in Bella Coola and Invermere and have been living on the mountain ever since.
You can also check out the Grouse Mountain YouTube channel for a ton of videos that highlight the beautiful area and past activities. They even have a 360 degree Mountain Ropes Tour you can see below, this is one of many videos on their channel.
It's a great time to virtually stop by whether you're a local like myself missing the beautiful mountains due to the closures or you've never been and want to take a look at what this part of the world has to offer.
Explore the World With Google Earth
If you and your kids dream of exploring the planet, Google Earth is the next best thing to being there in person. And in some ways, even better. Not only can you get a close-up look at anywhere around the planet you can think of, they also have many other options you may have never thought of. You can create projects where you explore several different places that all have something in common. Check out cities and towns around the world, study historic maps, and even visit the International Space Station. And if your family loves to read, you can explore the locations of some of your favorite literature. There are so many cool ways to enjoy Google Earth, you may find yourself getting lost for days!
Listen to Authors Reading Their Books to Kids of All Ages
We Are Teachers Big List of Author Online Read-Alouds & Activities
If you are looking for reading and book-related activities for your kids, We Are Teachers.com has compiled an amazing list of authors who are reading their own books and more. There are books for kids of all ages, fiction and non-fiction both. Some of them include teacher's guides to help you guide your kids through an even better learning experience. This list offers many amazing hours of fun and learning for kids and adults alike.
Download and Print Coloring Book Pages from Museums Around the World
The New York Academy of Medicine Library Coloring Collection
Creativity is an incredible learning tool and one of those activities for families that can really bring you together. The New York Academy of Medicine has put together an extraordinary variety of collections designed to entertain artistic children and adults for hours. You'll find collections from all over the world, including, with pictures of plants, animals, people, historical locations, and so much more. Each collection (or individual picture) is easy to print whenever you are ready to get creative. Get all your crayons, pens, and markers together and spend an afternoon coloring the world, right at your kitchen table!
Take Virtual Tours of Several Beautiful Farms in Canada and Learn More About Feeding People
It's good for kids to know more about where their food comes from and with Farm Food tours, your family can learn all about their favourite foods. The site offers the opportunity to virtually explore grain farms, dairy farms, apple orchards, processing plants, and more. From factual writing to entertaining and educational videos and even virtual reality, Farm Food tours will help kids understand the complicated and amazing process of bringing food to the family table.
Learn More About Frida Kahlo and Her Art
Learn More About the Artist Frida Kahlo
Frida Kahlo was born in Mexico in 1907 and in her short life of 47 years, she made a tremendous impact on the world. She suffered throughout her life with various health challenges, including polio. Married to fellow artist Diego Rivera, Frida used painting as a way to express her thoughts and feelings about life, herself, her health challenges, and her passions. She left behind an amazing legacy of 143 paintings, which included fifty-five self-portraits. Google's Arts and Cultures project is a great way to learn a whole lot more about this important and beloved artist.
Take a Virtual Field Trip of Canada's Royal Tyrrell Museum
Explore Dinosaurs at Royal Tyrrell Museum
If your kids love dinosaurs, they will be amazed at the wonder of the Royal Tyrrell Museum. Google Maps has made it easy to explore to your heart's content with their street view camera. It's truly the next best thing to being there. In fact, wandering the museum is so immersive, you may even forget that you're looking at it all through your screen. Your kids will have so much fun learning about their favorites, they might even forget that they are learning!
Watch Your Favorite Sea Creatures on Live Cam
Live Cams at the Monterey Bay Aquarium
If your family loves fish and other sea creatures, the Monterey Bay Aquarium offers an assortment of live cams where you can enjoy the beauty of your favorite friends. Bask in the wonder of a coral reef, drift lazily among jellyfish, or learn more about sea birds. You can even hang out with sharks or find yourself completely charmed by the antics of sea otters and penguins. For animal lovers, there are hours of fun waiting at the Monterey Bay Aquarium online.
There is seriously a webcam for all of the creatures of the sea and some of the sky at the Monterey Bay Aquarium. My favorite one is the Sea Otter cam because hello sea otters who could be cuter?
Of course, if you like the more "dangerous" there's a shark cam and for those creatures of the sky there is an aviary cam and those are just a few. Did I mention there's a Penguin cam? I could go on but you definitely want to check out the Open Sea cam where you can spot sea turtles, sharks and a variety of creatures of the open sea!
Explore Art Through the Paris Museum
Explore and Create With Art From the Paris Museum
In their Collections section, the Paris Museum has released over 150,000 images of art, royalty-free. It's a great opportunity for kids and adults to explore the world of art. But even better, you can use those images to express your own creativity, too! Encourage your kids to use their favorite images to make cards, calendars, and anything else that comes to mind. They can use the images in book reports about the artists, create writing projects inspired by the pictures, or simply print up their favorites to hang on the walls of their room. Thanks to the Paris Museum, all you need is a little inspiration.
Make sure to PIN this handy article for later!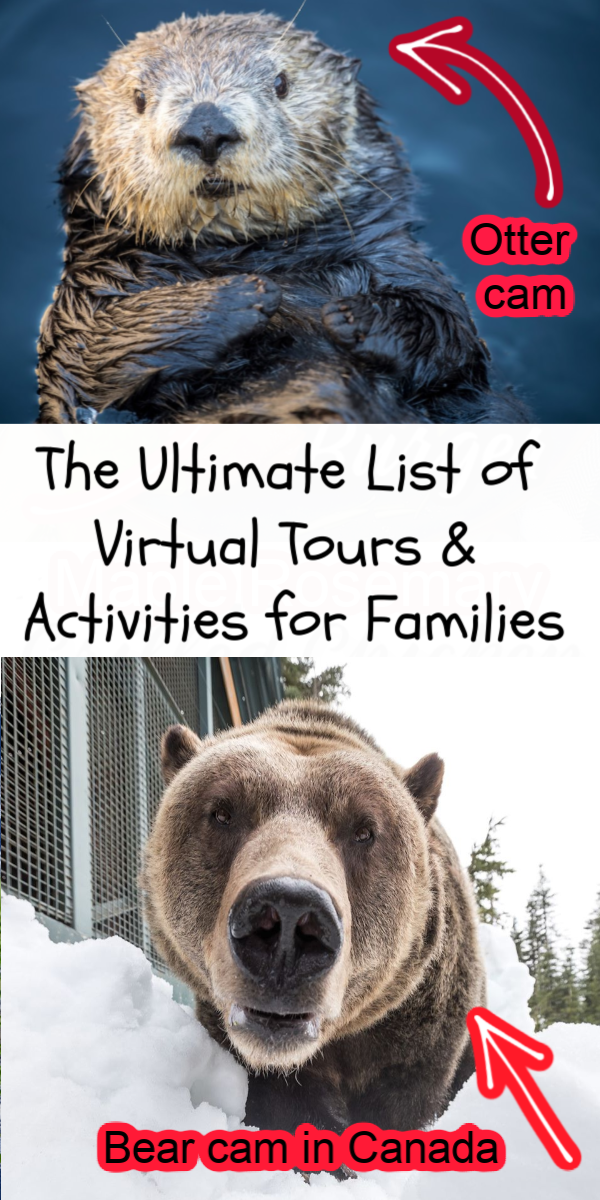 Learn How to Draw
On their YouTube channel, ShaeferArt provides many wonderful lessons for fledgling and experienced artists alike. When you search through their collection of videos and playlists, you will find lessons for everything from lessons covering all the basic drawing skills to very advanced lessons working with paints, color-blending, and so much more. Even if you simply relax and watch the creative process of their talented artists, there is much enjoyment and learning to be found with Schaefer Arts YouTube Channel.
Check Out the Canadian Arctic in Iqaluit, Canada
Explore the Canadian Arctic in Iqaluit, Canada
If you would love to explore the Canadian Arctic but don't want to wear ten layers of clothing, Google Maps has you covered. Walk along trails so snowy, you can feel the shiver in the air and hear the crackling ice under your feet. Explore Iqaluit, the capital city of Nunavut. Learn more about the sled dogs that people rely on for transportation and friendship. Or simply explore the land to see what surprises you might find along the way!
FREE Movie Night with Lionsgate
Lionsgate has been hosting free movies online via YouTube. There's a new movie every Friday night 6:00pm PST/9:00pm EST, now not all movies are appropriate for children but hey parents and well all adults we all need our "me time" too right? Check out what's playing this Friday night at Lionsgate Live: https://lionsgate.live
Play Cards Online With Friends and Family
One of the best activities for families is to play games together. Playing Cards.io has several fun and friendly games that families and friends can play together online. For families with younger kids, there are games like Go Fish and Checkers. Older kids and adults may prefer Cards Against Humanity. You can even choose to play any other game using a standard deck of cards. It's a great way to spend time together, even when you are far apart!
Enjoy Some Truly Special (and Temporary) Events While Social Distancing
Since many public places around the world are closed due to the current virus situation, there are some wonderful, and temporary, offerings you can take advantage of online. There is no way to predict how long any of these virtual tours and free performances will last, so be sure to check them out while you can!
If you've ever wanted to visit the Winchester Mystery House, their free online tour is not to be missed. You can also check out some of our photos from when I visited the Winchester Mystery House in person and what I thought about it in my 10 Kid Friendly Places to Visit in Northern California article.
The National Theatre in London is streaming a free play each week through April.
Cirque du Soleil is offering some truly enchanting free online shows. Cirque du Soleil has several online videos to be watched including some 60-minute specials of some of their fantastic shows like Kurios & Kooza! You can watch those 60-minute videos on https://www.cirquedusoleil.com/cirqueconnect. They will be a ton of fun for the whole family.
You can also check out some of our past reviews of Cirque du Soleil shows that we've seen in person like Cirque Du Soleil's Toruk – The First Flight. It was a visually stunning show! Or Cirque Du Soleil Totem and Cirque Du Soleil Kurios we've enjoyed every Cirque du Soleil show we've been to and think it's totally worth watching some online too!
Although it can be a dangerous place to wander in person, virtual tours of the Paris Catacombs are perfectly safe and completely enthralling.

Discover the beauty of New York's Metropolitan Opera as they stream one opera a night while the theater is closed

Have you found some great activities for families or virtual tours that aren't on our list? We'd love to hear about your fun discoveries in the comments below!

By