Treat Your Pet like a Royal Member of the Family
There is no doubt that our pets are important members of our family. My three cats are sometimes the only family I have nearby, and they meant he world to me. And I do everything I can to honor my first cat, Chewie, who passed last year. I miss him every day. Now each of my cats, as a special member of the family, of have a special place on my walls too, thanks for Crown and Paw.
Disclaimer: This review was done by team member Emily. She was provided product in exchange for her honest review. All thoughts and opinions expressed herein are her own and were not influenced by the developing company and/or its affiliates in any way.
For Your Family or A Great Gift
Not only do I love being able to have my pets up on my wall along side the rest of the family, without having to find and edit some photo on my phone and get it printed and framed, OR hiring a professional pet photographer (yes, they exist!). It is so simple! And if you know anyone who loves their pets like family, these pet portraits make a great gift.
So Many Styles
While I only currently have 3 cats, I felt it was important to honor Chewie who passed less than a year ago. So it was wonderful to be able to make a portrait of all four of them in 1 image. You can include anywhere from 1 to 4 pets in a single portrait. They also have different art styles, like modern art (like what I got), watercolor, or even renaissance! They have fun styles putting your pets into historical fashions, or in funny places like sitting on the toilet. I really hope to get a fun portrait of one of my cats as "The Princess" or "The Ambassador" one day, though this modern pet portrait fits in much better with my existing decor.
Easy to Make
Once I chose the style of portrait I wanted, and knew how many pets I wanted to include, it was so easy to give Crown & Paw everything they needed to create a professional looking portrait. I started by choosing which size I wanted, what color frame I wanted out of three choices, if I wanted a white, black, or rainbow background, then I just uploaded my favorite photo of each of my cats in the position I wanted them to be in and filled in their names! Then I could choose to expedite the proof review process or even add on a digital download of the portrait they create. It's all set in just a few clicks!
Don't Forget to PIN it!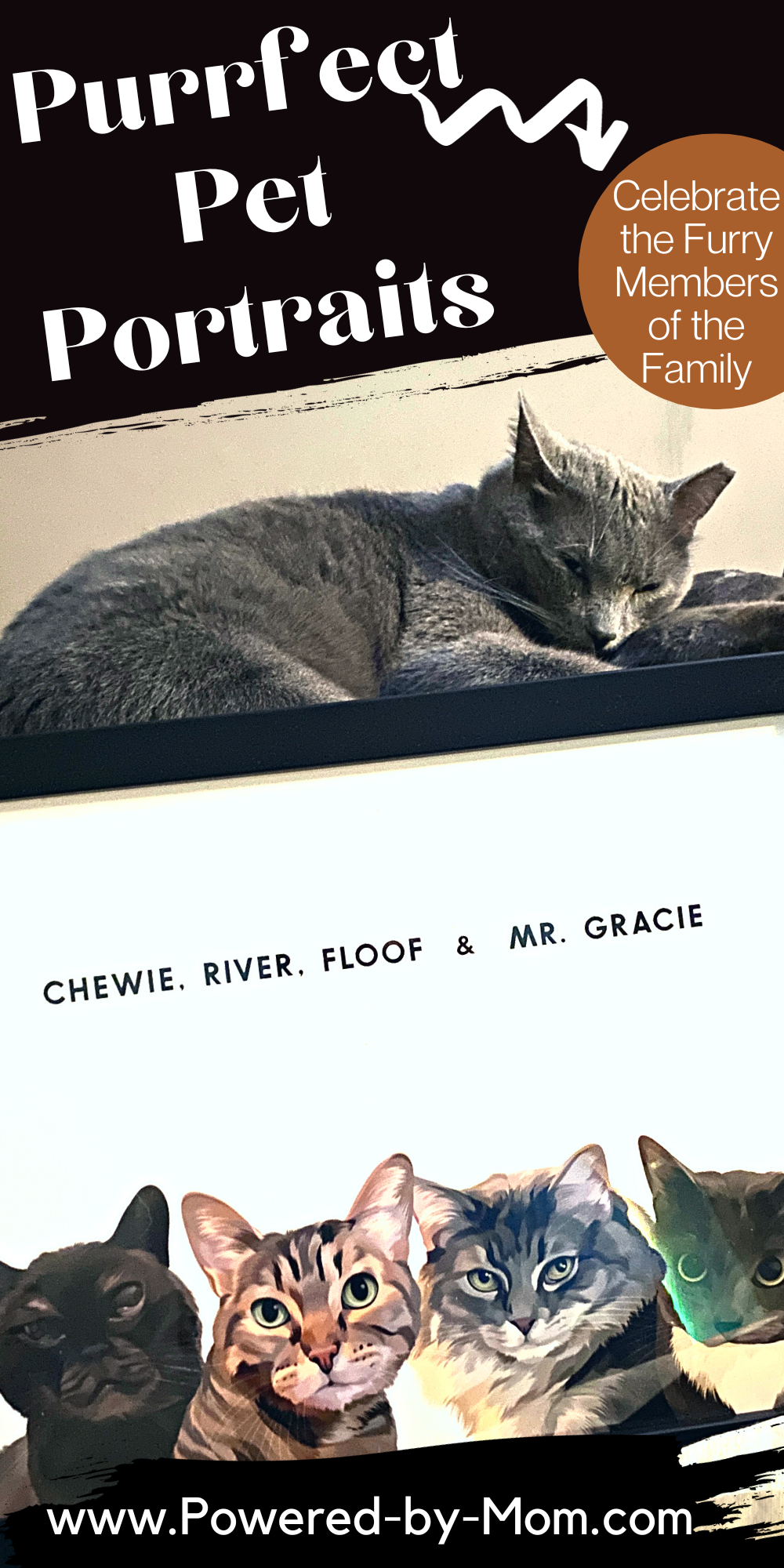 Making it Purrrrfect
Once I hit enter, I just had to wait for my digital proof image to arrive in my email. One of the photos I included meant that three cats were facing one direction, with only other facing the other direction. I simply replied to that email asking them if they could flip one of the images so it looked more balanced. In no time at all I got the updated proof and I sent my approval! If I needed to, I could make an unlimited amount of revisions until the portrait was perfect! If I had not requested any changes, or responded to the proof email within 72 hours, they would go ahead and print it. So simple!
The Portrait Arrives
With world-wide shipping, pet lovers all over can enjoy a fun and professional pet portrait. There is a flat-rate shipping fee depending on the country it is being shipped to. For the USA, CA, AUS, UK, and Europe it is $9.95. Everywhere else is $19.95. It usually takes around 2-5 days for the portrait to be printed, framed, packed and shipped. Mine must have been on the shorter end because I think I received my portrait in less than 1 week after approving the final proof! It might have been right at the 1 week mark total. It was must faster than I had anticipated, which was great. Shipping times are listed as ranging from 3 to 5 days.
A Member of the Family
Crown & Paw is purrrfect for celebrating each and every furry member of the family. And these fun, creative, and professional pet portraits are purrrfect for every member of the family! I truly love mine and smile every time I see it. I hope to get a couple more to add to my fun basement walls! They are sure to make people laugh when they visit. I cannot recommend these fun portraits and the quality of Crown & Paw enough. Be sure to keep an eye on their page for great deals and money-saving sales!
By