Things to do in Vancouver Canada in November
The Top 20 Things to Do During Your Visit
November is a great time to visit Vancouver. The weather is still beautiful, and the winter holidays are just around the corner, which brings with it several unique and fun things to do in Vancouver, Canada in November.
November holds some exciting events to look forward to in Vancouver, such as the Remembrance Day Parade on November 11th, and the Carol Ships Parade of Lights, which takes place in late November.
There's always so much to do in Vancouver that we've actually had to write a few articles. Make sure to check out our first article 10 Fun Things To Do In Metro Vancouver which has some ideas for things to do that aren't in this article and a few that are the same because they are worth mentioning twice! It also lists places to visit that are just outside of the city of Vancouver such as Whistler, Harrison Hot Springs and more.
There are also plenty of free things that you can do this month, including visiting Stanley Park or checking out one of the many cultural festivals that take place in downtown Vancouver every year. So if you're looking for something fun to do with your family or friends this month, then be sure to check out our list!
Make sure to check out our other travel articles like the following:
Is November a Good Time to Visit Vancouver, Canada?
While winter in Vancouver may seem daunting and dreary, I can assure you it's quite the opposite. There are still many fun things to do! November is actually a great time to visit Vancouver, as it is much less crowded early in the month, and at the end of the month, it is time for holiday cheer!
Make sure to PIN this article
You will be able to see many extravagant Christmas light displays and participate in holiday-themed events toward the end of the month. However, I do want to give you a tiny warning this is the month of the year that sees the most rainfall, typically around 20 days' worth. But, you shouldn't let that stop you from visiting!
How should I dress in Vancouver in November?
November is the rainy winter season for Vancouver, so you should plan to dress accordingly. This means waterproof coats, scarves, gloves, and thick socks. Layers are key, so you can have a warm, heavy waterproof coat or better yet a waterproof coat on top of other layers. That's how a lot of Vancouverites do it. Some Novembers can be a bit warmer than others so many of us don't necessarily wear "winter" coats but rainy season coats.
You don't want to be soggy throughout the day, so you should bring raincoats, an umbrella, and waterproof shoes or boots. If you want to go skiing, snowboarding or hike on one of the mountains then you want a heavier winter coat and yes still waterproof. If you've ever been to Seattle in November then you're familiar with the weather in Vancouver as it's very very similar to Seattle.
Does it snow in Vancouver in November?
Winters in Vancouver are usually mild by North American standards, not just Canadian standards. They are frequently 40 to 50 degrees Fahrenheit or 4 to 10 degrees Celsius and wet due to the rain. We've had much warmer Novembers too. In all the years I've lived in Vancouver (ie almost my entire life) it has rarely snowed in November, and while snow can fall in December we've had more green Christmases than white in my lifetime. Chances of snow increase in January and February but again even then it's not common.
20 Of the Best Things To Do & See In Vancouver Canada in November
There are truly so many things to do in Vancouver, Canada, that it's hard to list them all. I've picked some of the top things to do and places to visit during your trip in November.
Free Things To Do In Vancouver
Prospect Point at Stanley Park
Stanley Park is located in Vancouver and is the first and largest urban park, at 1,000 acres. There is much to explore in this park, but one of the most beautiful draws is Prospect Point, which is located at the north point of the park. From this pristine location, you can see boats under the Lions Gate Bridge and almost all of Vancouver! It is also an ideal location to start your park exploration as you can get too many of the other wonderful park attractions in quite a short walk from there.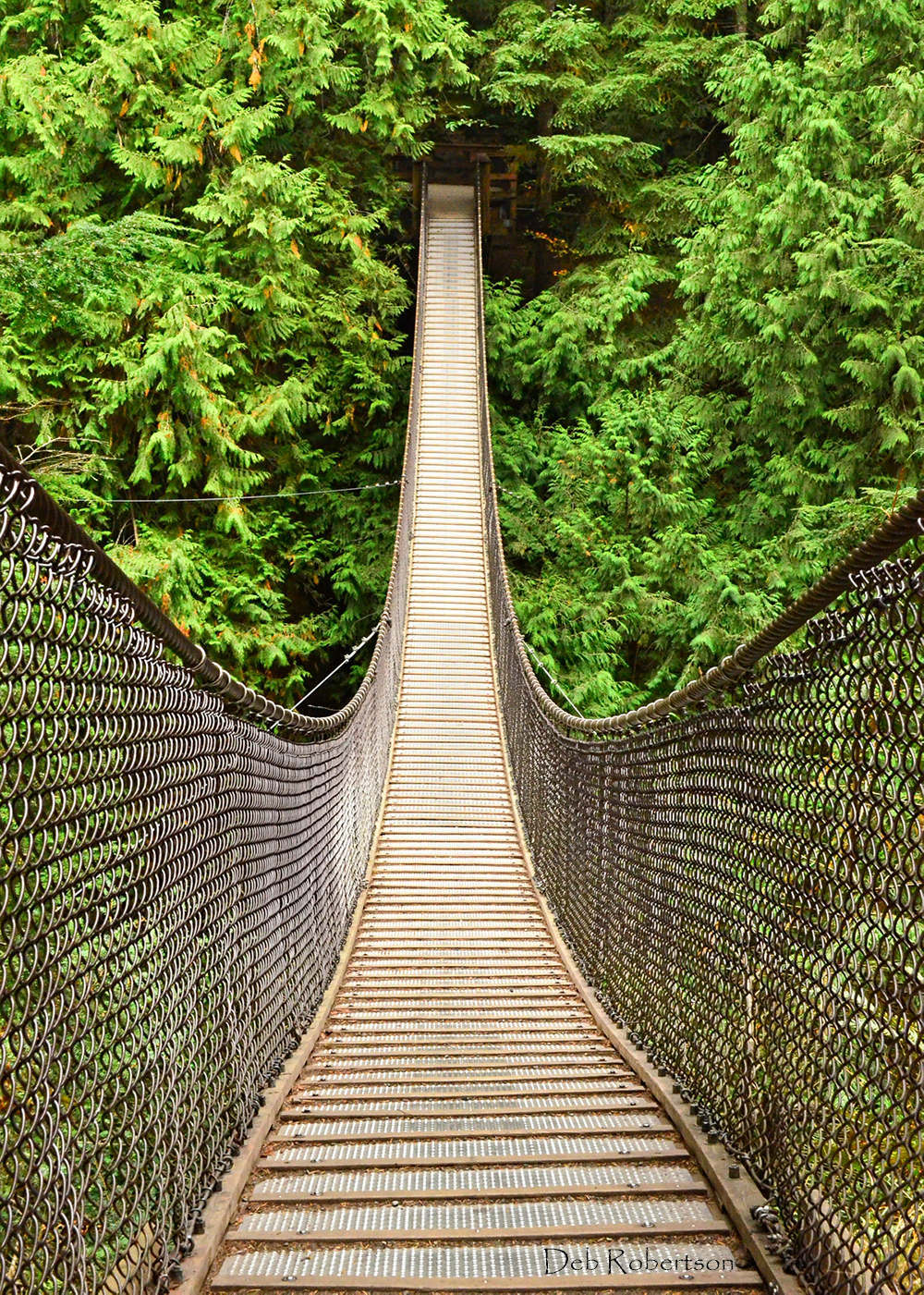 Located in Lynn Park, which boasts a beautiful lush temperate rainforest setting, this bridge is 160 feet above the canyon, offering views of the forest and a bit of an adrenaline rush as you cross. It is a unique and, best of all, free-to-explore attraction of yet another excellent side of Vancouver's natural world. (Check out below where we mention an even longer suspension bridge but it's not free to visit).
This unique facet of downtown Vancouver was built in 1977. It is one of only a few steam clocks to still exist in the entire world. It has four faces, and blows a whistle every 15 minutes, and blows steam from its top every hour! It is an interesting and vibrant piece of Vancouver history and definitely worth a visit.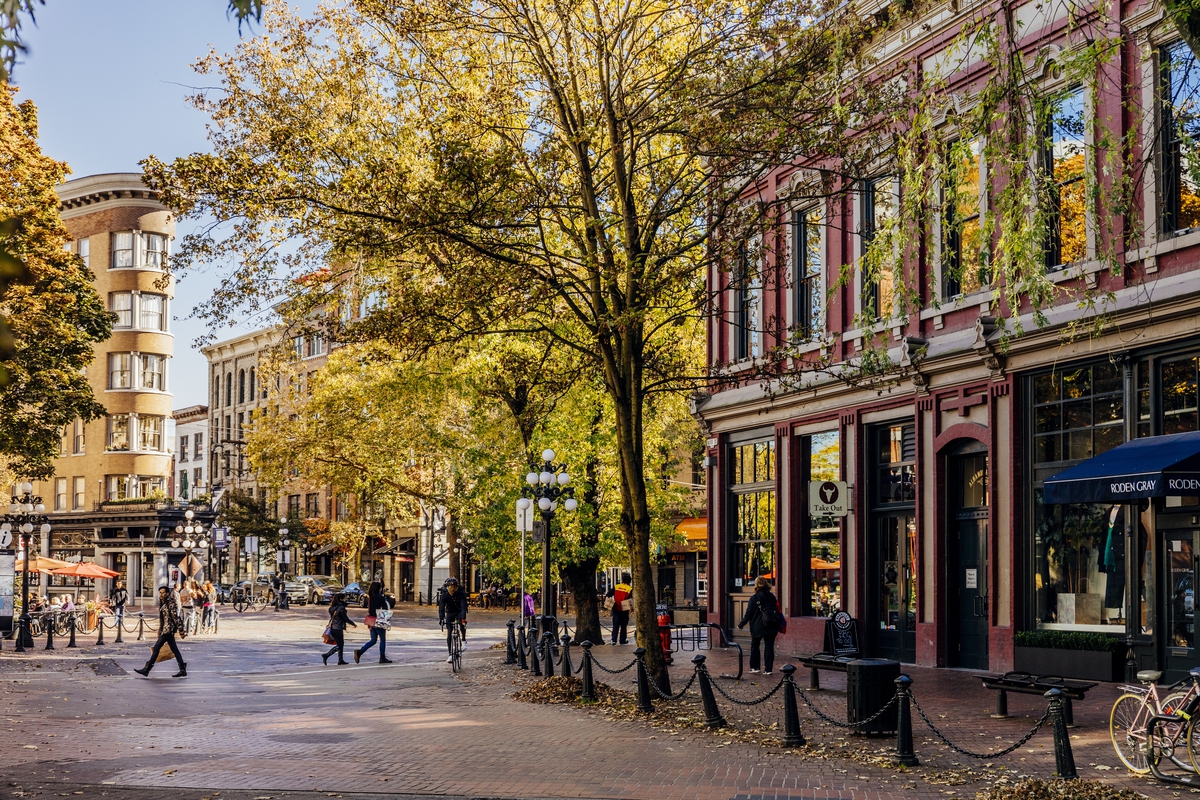 There are also a lot of small shops, tons of restaurants and oh so much more to be seen in Gastown. It's worth it to walk around and take a gander at it all.
3 things to do in downtown Vancouver
Why tour downtown Vancouver on foot when you can tour it from the sky? This is a great option for those who want to see the city from a different view, a bird's eye view! You will take a small group tour in a seaplane and be able to see the entire city and its most popular landmarks and natural features.
Eat World Famous Gelato at La Casa Gelato
While winter may not instantly have you thinking of cold treats, this famous gelateria definitely should! They currently hold the Guinness World Record for most commercial ice cream flavors with an astounding 238 flavors, which they have currently increased to 588! They are one of the most popular stops in East Vancouver (near downtown) for those who love flavors and plenty of options.
In fact this gelateria is very close to Britannia Ice Rink/Community Centre and schools where if you recall Britannia is where I went to high school. I remember their original location which was on Commercial Drive and was La Casa Gelato/International Sports Bar and was located only a few short blocks from my childhood home. They didn't have anywhere near that many flavours back then lol. If you love gelato it's worth a stop and then you can walk around Little Itally (Commercial Drive), stop at my favourite coffee shop that I mentioned earlier and go for a skat at the rink.
Don't forget like we mentioned earlier, Vancouver is far more temperate compared to the other provinces. November might not be as chilly as you think but it can also surprise you but it is rare to see snow in November unless it's on the mountains.
At the top of Vancouver city's highest point in Queen Elizabeth Park is a conservatory home to more than 100 exotic birds and over 500 tropical plants. This temperature-controlled tropical paradise is a must-see!
3 things to do in Vancouver at night
Visit Granville Street Entertainment District
If you're looking for the best spots for drinking, dancing, and nightlife, Granville Street's Entertainment District should tick all the boxes for you. If the sheer amount of neon lights doesn't tip you off, this is the after-dark party center of Vancouver. From Cabaret clubs to countless pubs and bars, there is no shortage of drinking and dancing in this vivacious neighborhood.
If you love the macabre and enjoy learning about history, this tour with Forbidden Vancouver Walking Tours mixes both and tells a dramatic history of Victorian Gastown. With murder, revenge, and a tour guide leading you by lamplight, this is an immersive experience that is perfect for those who love storytelling.
Go Night Ice Skating
If you're visiting Vancouver in the winter, you'll likely be surrounded by preparations for the Christmas holidays and more. What more perfect way could you spend your time than by going night ice skating at the Britannia Ice Rink? By the way I've skated many a time at this rink and swimming in their indoor pool. It's a community recreation centre with a large library and a high school (grades 8-12) of which I went to this high school.
Little Italy - Commercial Drive. Tourism Vancouver/Nelson Mouellic
As a bonus Britannia is just off of Commercial Drive which is known as "Little Italy" lots of small family owned restaurants, cafes and yes coffee shops. My favourite coffee shop is called Continental Coffee and whenever we're visiting our old haunts we stop by to get some coffee beans. One of my favourite pizza places is also located on 1st and Commercial on "The Drive" as some people call it now. We didn't call it "The Drive" growing up but it's the thing to do now apparently lol.
You can also check and see if the Robson Square Ice Rink which is outdoors is open when you visit. It's another fun one to go to enjoy and then walk Robson Street afterwards to window shop and check out the lively night life downtown.
4 things to do in Vancouver with kids
Located in picturesque Vanier Park, Vancouver, the Space Centre is B.C.'s top space science attraction, inspiring visitors with shows, exhibits and some of Vancouver's most unique special events.
I have fond memories of the Space Centre or as many of my generation and others who grew up in Vancouver refer to it the Planetarium. It is definitely one of those iconic institution that almost every school child and adults know of and most likely have gone to on a school field trip, taken their children or for those outer space lovers went just because it's the Planetarium I mean the H.R. MacMillan Space Centre.
It's a 15-minute walk from downtown Vancouver and has been around since 1968. The Space Centre is a popular place for parents to take their kids for fun yet educational activities and events. Whether you have kids or not a visit to the Space Centre is worth the stop while you're in Vancouver.
One interesting way to spend your time in Vancouver is to take a walking food tour! This food tour takes you across Vancouver's oldest neighborhood of Gastown, and your tour guide is also a professional improv comedian, meaning you'll also enjoy some laughs along the way. This tour is family-friendly and lets you get a real insight into the culinary and cultural world of Vancouver, while also getting the chance to have some delicious food, drinks, and treats! They also have vegetarian options available so everyone can have a chance to enjoy some mouthwatering meals.
If you and your family love heights and sights, this will be perfect for everyone. At an ascent of 2,800 feet, you get an adrenaline rush, while having the pleasure to look at the tall snow-covered fir trees along the mountain. You get to see the entire mountain as you increase in elevation all the way to its peak; it is a fun-filled ride through nature.
Kids love animals, and adults do as well, so this is an activity that will be exciting for everyone. Grouse Mountain offers access to their endangered species sanctuary so that you and your family can watch grizzly bears and birds of prey as the rangers talk about conservation and ecology.
3 unique places to visit in Vancouver during November
A unique feature of Vancouver is its police museum and archives, which are welcome to visitors. If you enjoy history and forensics, this is a unique educational experience that offers exhibits and events. One very interesting event is called Movies in a Morgue, which is a great option if you are a fan of horror movies and all things spooky. Tickets sell out very fast, so you'll have to book in advance, but even if you don't snag a spot, the police museum will still scratch your itch for true crime and creepy history!
Take in the Mural Art at Mount Pleasant
While the mural festival itself takes place in late August, the murals left are available to the public year-round. Mount Pleasant is one of the most artistic neighborhoods in Vancouver and is absolutely worth a walk around to enjoy the different creative works of art.
Have Breakfast with Bears
Grouse Mountains' wildlife refuge is home to two orphaned grizzly bears (Grinder and Coola pictured above) with who you can book dates to have breakfast with! You'll learn about conservation and get a chance to eat breakfast on the Grizzly Lookout Café with these gorgeous animals. Oh, and did I mention that the breakfasts are bear-themed? A must-not-miss opportunity!
3 Special Events That Take Place In Vancouver In November
Vancouver Christmas Tree Lighting
Since November is so close to the month of Christmas, Vancouver usually has their annual tree lighting ceremony in late November or early December. This is a family-friendly event that usually features live music and holiday-centric treats such as cookies and hot chocolate. Best of all, it's free to attend!
Watch a Remembrance Day Parade
November 11th is Remembrance Day for those in Canada, and on that day, there are usually parades across the city and ceremonies which the public can watch. Feel free to pay respects and watch wreath-laying ceremonies performed by soldiers.
See the Lights at Lafarge Lake
Featuring more than 100,000 Christmas lights and unique Christmas displays, it is one of Vancouver's most prominent light attractions. It runs from late November until January and is free to the public. You can walk under immaculately lit archways and take in the holiday cheer in these works of festive art.
Another Suspension Bridge!
As promised another suspension bridge and this one is even longer. However you do have to pay to check out this bridge but the scenery is amazing. Even better if you're in Vancouver in November then you definitely want to check out Canyon Lights! It's simply breathtaking to see the bridge and the surrounding forest lit up with beautiful lights!
Capilano Suspension Bridge crosses to towering evergreens, cedar-scented rainforest air and Treetops Adventure, 7 suspended footbridges offering views 110 feet above the forest floor. Cliffwalk follows a granite precipice along Capilano River with a labyrinth-like series of narrow cantilevered bridges, stairs and platforms and only 16 anchor points in the cliff supporting the structure!
At the time of writing this article they planned to have Canyon Lights from Saturday, November 20 – Sunday, January 23. However, make sure to check ahead to ensure the bridge is open to visitors as there could be closures due to weather and/or COVID and that Canyon Lights is indeed happening.
Cross the glowing suspension bridge, with the canyon and Capilano River illuminated with lights below, journey into the magical rainforest and walk high above the forest floor between the eight tallest Christmas trees in the world on Treetops Adventure. The mesmerizing "Arc de Lumina" light tunnel returns on Cliffwalk for that perfect Instagram moment. Kids of all ages can explore the Park in search of lit snowy owls in a scavenger hunt with weekly prizes to be won.
November is a great time of year to visit Vancouver! With so many fun things to do and places to see you'll never be bored!
November is a great month to visit Vancouver, Canada. There are so many free and fun things to do that you'll fill up your vacation itinerary in no time! If you're looking for something different than the usual tourist trap of attractions like Stanley Park or Grouse Mountain, try some of the more unique activities on our list.

By