Things to Do in Victoria BC Canada
Part Two of Things to do on Vancouver Island
If you're planning a visit to British Columbia (BC), check out all the things to do in Victoria, BC Canada on Vancouver Island. Just a ferry ride from Vancouver, it is a MUST VISIT! The capital of BC the beautiful city of Victoria is on Vancouver Island and it's totally worth a day visit on its own let alone all of the other fun and scenic spots on the island.
This list is by no means an exhaustive one, a whole book could be written on all the things to do in Victoria. We're sharing our favourites and/or the most popular things to do.
As I started to put this article together it was originally things to do on Vancouver Island. All of a sudden it was getting very, very long. Once I got to over 2000 words I realized it needed to become two articles. This second article is about Victoria and around Victoria if you will. Part One covers from Parksville to Tofino which you can read on our Things to do on Vancouver Island Part One – Parksville, Coombs & Tofino article. I hope you all enjoy both articles! Make sure to check out our whole Travel Section!
This article is not sponsored in any way. Unless otherwise noted all photos were taken by Powered by Mom.
All of the places listed I have either personally visited them (some many many times) or someone in my family has visited them like my family members who actually live on Vancouver Island.
As someone who was raised in Vancouver, visiting Vancouver Island is a big part of our lives at least for some of us. My father grew up in Victoria and I still have close family there so I and now my family have gone many, many times to the "island" as we refer to it.
Another harbour view of downtown Victoria and the parliament buildings
There are so many beautiful and fun places to visit and things to do in Victoria, BC Canada that not only is it worth a trip I would go so far as to say it's a must visit when in the area. Some of my favourite places in the entire world are on Vancouver Island and I'm sharing some of them in this article.
Vancouver Island is a pretty large place. In fact, it is the largest island on the west coast of North America, covering over 31,000 square km (12,000 miles) of area. To properly explore the island, you would need at least a few weeks. But since much of the island is natural and wild, the most populated areas are along the coast.
Many of the coolest things to do on Vancouver Island can be located in one of four lovely areas of the country – Victoria, Parksville, Coombs, and the tiny southwest coastal towns of Tofino and Ucluelet. As mentioned earlier for the other areas (Parksville etc..) make sure to check out Part Two of this article Things to do in Parksville, Coombs, Tofino & Ucluelet.
So if you don't have several weeks or months to fully immerse yourself in Vancouver Island, why not check out some of the following places instead?
Make sure to PIN this article!
Things to do in Victoria, BC Canada
Get Lost in the Beauty of Victoria
Victoria, British Columbia – Southeastern Corner of Vancouver Island. Website: www.tourismvictoria.com/
Victoria is the capital city of British Columbia and is located on the southern end of Vancouver Island. At around 400,000 people in the Greater Victoria area it is a large city. But it doesn't really have that big city feel, as it features many gardens filled with flowers and other natural areas.
Plus, the entire city is nestled in on all sides by the coastline, offering up many incredible views. If possible, you should spend a few days in Victoria in order to have enough time to properly check out this charming city. A few of the highlights are:
Things to do in Victoria, BC Canada – Castles
One of many fun things to do in Victoria, BC Canada is visiting some castles! The stunning Craigdarroch Castle was completed in 1890, after three years of construction. Known as a "Bonanza Castle", it is much more like a home than your standard Medieval-style castle but no less impressive.
The castle was built to reflect the nicest homes back in Mother Britain and show people what they could achieve through hard work. Today, the castle offers tours and special events so people can appreciate the craftsmanship of this beautiful place. Be sure to check out the website to learn more if you plan to visit. And until you can make the trip, there's a virtual tour you can take!
Hatley Castle – On the grounds of Royal Roads University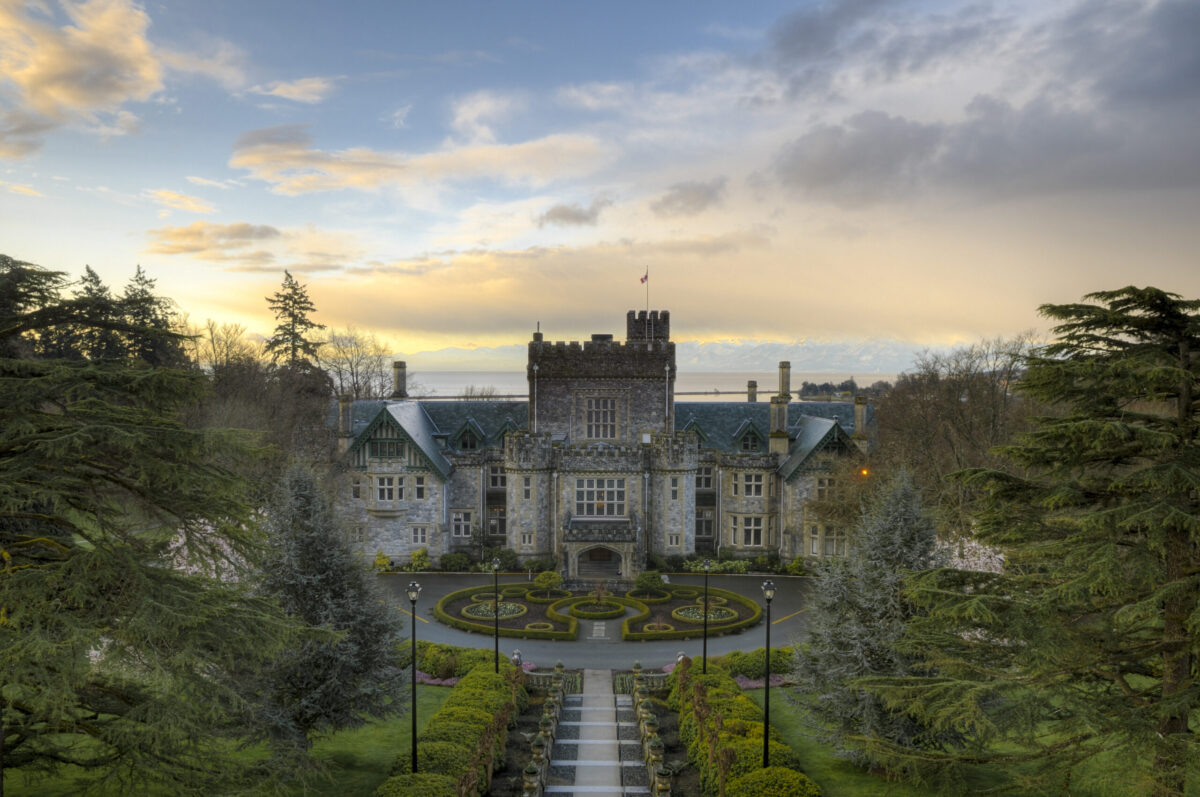 There is also a castle at Royal Roads University where I attended as a graduate student, the castle is called Hatley Castle. Does it look familiar? It should it has appeared in several movies and tv shows including some of the X-Men movies and was Xavier's School for Gifted Youngers. You can see what movies/shows it has appeared in on their website.
It's also used for many events such as weddings and convocation for Royal Roads graduates. So yes my Master's degree convocation was at Royal Roads and we came down those steps in the first photo to the castle. We've had university dinners and dances there and so much more. It also has great water views and when I lived on campus for a month for two summers in a row I loved walking around and in the castle (when it was open). It's beautiful inside and out.
Things to do in Victoria, BC Canada – in addition to Hatley Castle the grounds of Royal Roads themselves are quite beautiful. There are different themed gardens, water views and peacocks. Yes, peacocks live on the grounds and roam freely. The males are of course beautiful but you need to keep your distance from them, they aren't the nicest creatures and they poop everywhere.
I always had to make sure I took my shoes off outside my dorm room because of peacock poop. My daughter loved that near the end of my second year I finally was able to give her a peacock feather, they're not as easy to find on the ground as you think. In fact one of my fellow cohort mates found two and gave one to my daughter as I could never find them.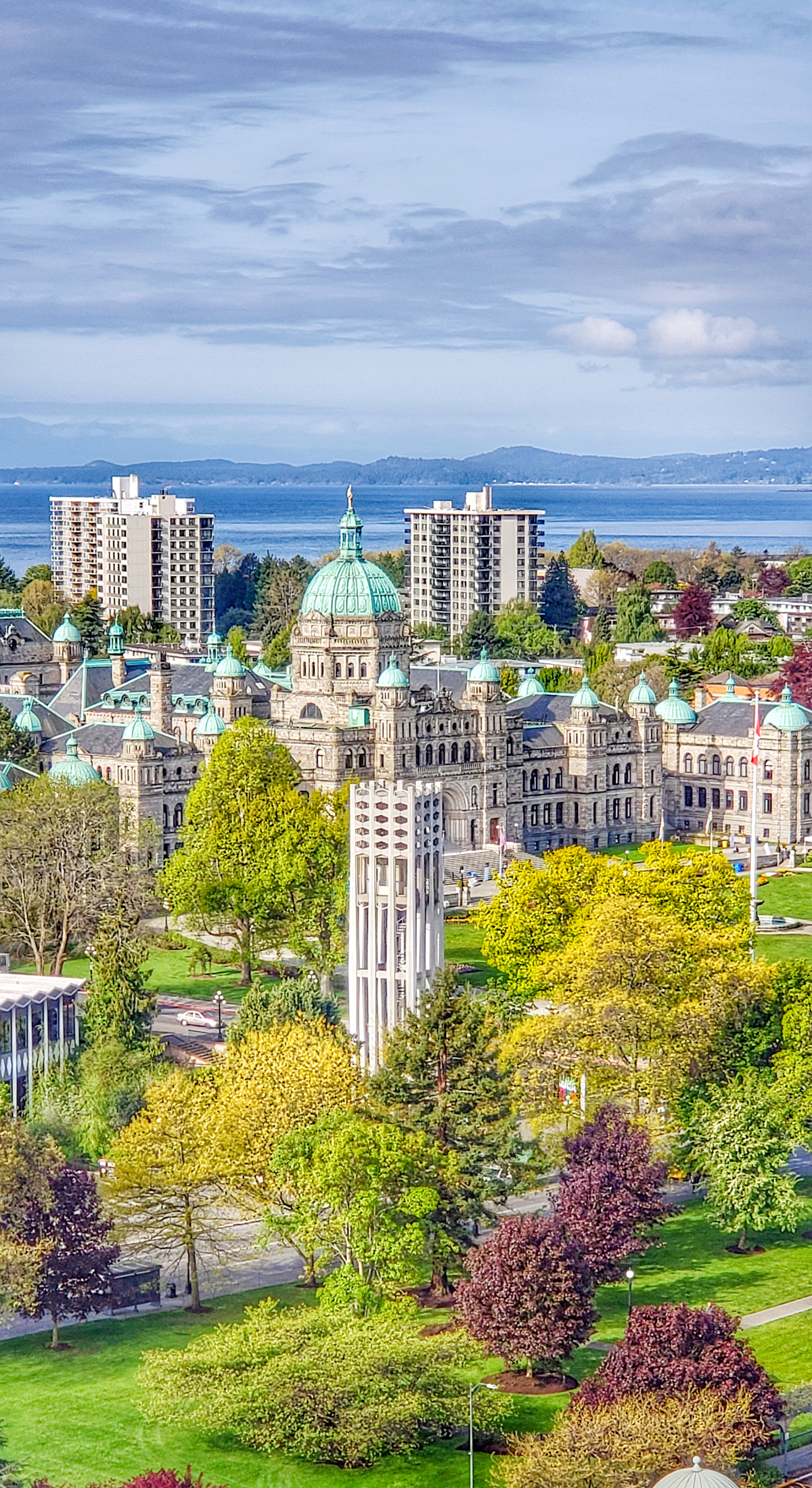 The parliament buildings are simply stunning, and so is the tour of the grounds. Learn more about how the government works while appreciating the beautiful architecture and design. The website offers all the information you need to plan your visit. And the virtual tour gives you a teasing glimpse of the beauty of this place before you make the trip. There's even an online Scavenger Hunt for extra fun!
There is so much to see at the Royal BC Museum, you may not know where to start. You'll learn about the history of animal life and insect life in the area throughout history. You'll also learn about the ways of the indigenous people who have called this land home over the years. From interesting exhibits and collections to classes and more, this beautiful museum has a lot to offer!
Take a Hike Through the Rainforest with Rainforest Tours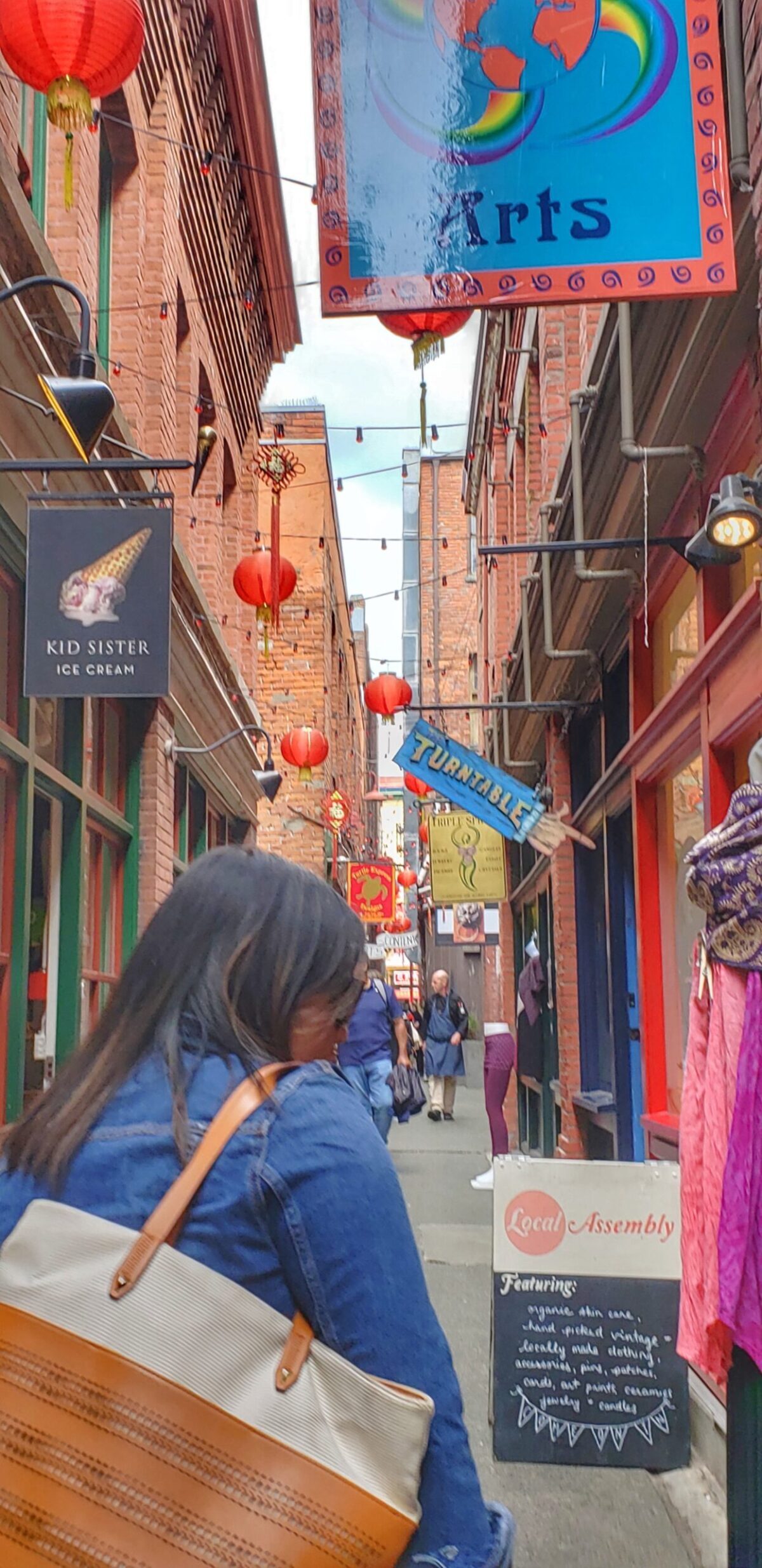 While in Victoria it's always fun to stop by Fan Tan Alley which is the narrowest street in all of Canada and is as they say on the Tourism Victoria website a side door to Canada's oldest Chinatown. Yep the oldest and it's definitely worth stopping by. I do personally feel that if you're looking for food markets and restaurants Vancouver's Chinatown is better but for something different, colourful and with diverse small shops Victoria's Chinatown is always worth a visit.
Make sure to stop by and check out the unique stores, I always seem to walk away with an item or two from the stores.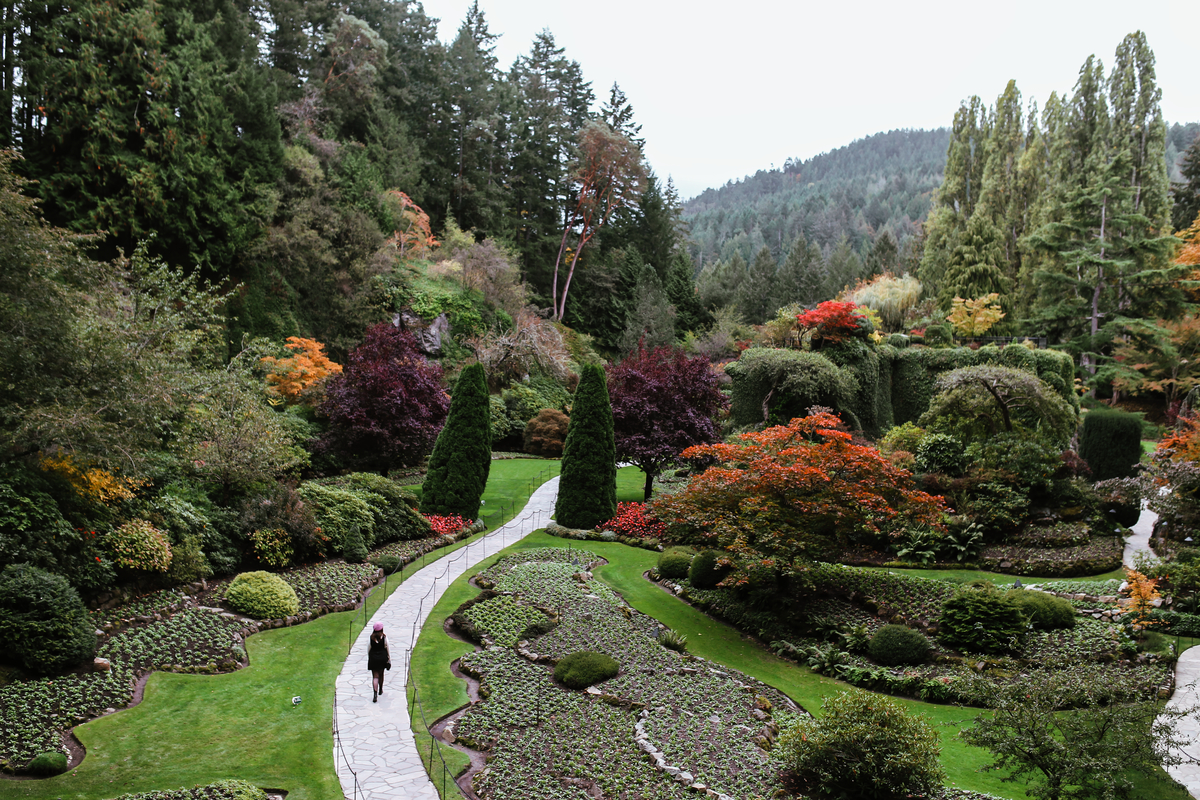 I've stayed at this historic hotel and have seen at eaten in the area where they hold tea. It's a beautiful spot and it's always been popular. I've had family members hold a tea party for their daughter's there and it's a fun and yummy experience.
You can also rent scooters on the waterfront to ride the waterfront loop – always lots to see in the Inner Harbour.
How about a hot tub boat rental in the Inner Harbour? Cause that's a thing apparently and one of my cousins who was born and raised in Victoria has said this is something she has on her list of things she wants to do. Just Google Hot Tub Boat Rental in Victoria, BC and you'll find at least one company who does this. If I ever try it I will let you all know.
Every time and I mean every time I'm in Victoria or if a family member or friend offers to bring me back something (or I beg) I always ask for Roger's Chocolates, specifically the Victoria Creams although all of their chocolates (that I've tried and that's lots lol) are yummy. Roger's Chocolates history goes back to the late 1800's make sure to read their story on their website.
I have fond childhood memories of Roger's Chocolates as my godfather who grew up with my dad in Victoria would always bring us back some Victoria Creams every time he visited his family on the island. We would then always cut the creams into 4 pieces (they were bigger back then) and my mom, dad, my younger brother Robert and I would all share them that way.
Sadly both my parents are gone and I lost my younger brother in mid 2020 to a drug overdose. However, I will always cherish those memories and I think of them every time I open a Victoria cream. In fact my cousin who visited me this summer asked me if I wanted anything from the island and you guessed it I asked for some Victoria creams from Roger's Chocolates.
Things to do in Victoria, BC Canada
Places to Eat in Victoria, BC
When you visit a new city or one you've been to before I think it's always nice to have recommendations from those who have visited and/or from locals. So these are places that I have either been to myself and/or were recommended to me by my Victoria family members, mostly my one cousin.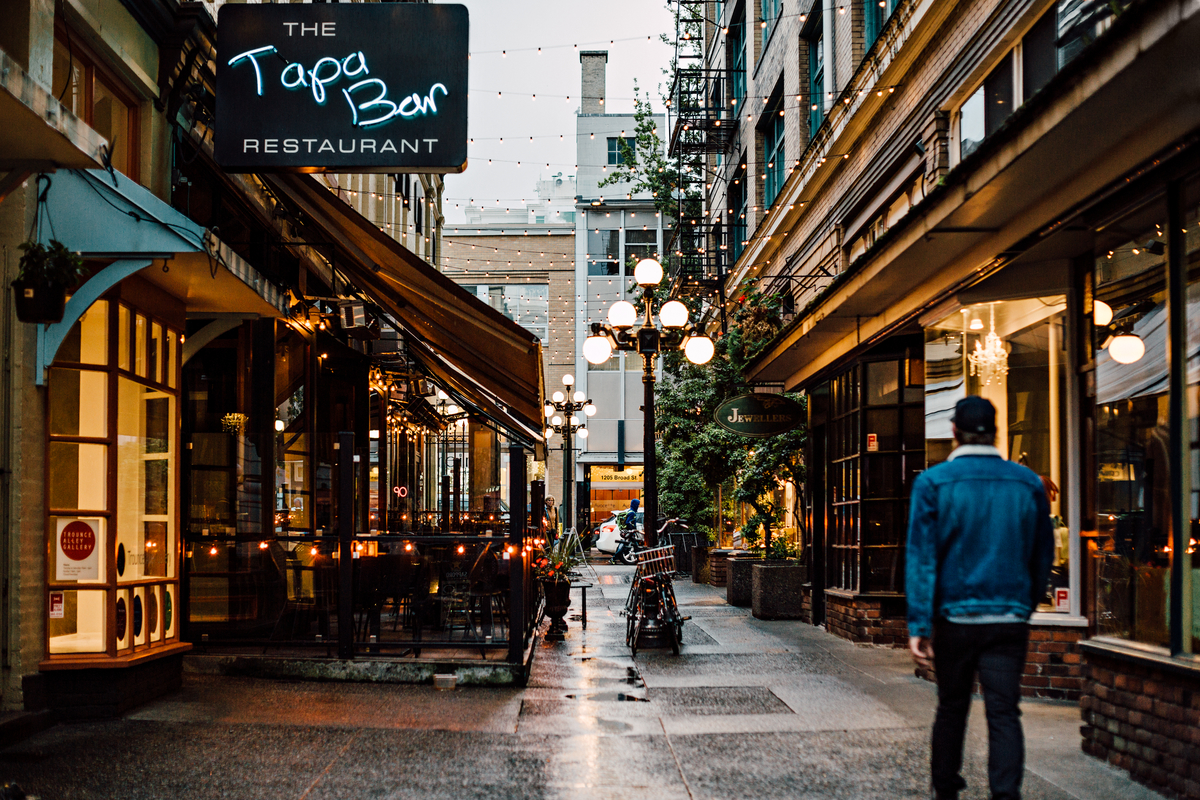 Victoria Island is not the only place on Vancouver Island that offers tours of the temperate rainforest, but it is a great way to enjoy a short break from all the city sightseeing. The entire island is covered in rainforests, deep green and vibrant with life. You'll see abundant wildlife, plant life, water sources, and more when you hike with an experienced guide. Not only that, you'll learn a lot about the natural world as they share their knowledge and experience with you. You might even find a secret waterfall or two!

By