Strawberry Shortcake in a Jar Recipe
Hello to this delicious Strawberry Shortcake in a Jar recipe! It has all the delicious flavours of a classic strawberry shortcake but we opted for a soft and yummy cake layers instead of a biscuit and for fun as well as ease of serving and storing put them in jars for individual servings! These are a hit with the family and are fun at parties and other gatherings.
Strawberry Shortcake in a Jar is layers of whipping cream, cake and strawberries and is pure bliss in my opinion. Of course I'm biased because I love strawberries and desserts with whipping cream. Oh yum.
What kind of cake do you use for Strawberry Shortcake in a Jar?
We used a vanilla pound cake for this round of this scrumptious dessert but you can use any white cake you like or even an angel food cake is a yummy alternative. You can also substitute for a flaky biscuit to be even closer to an authentic strawberry shortcake recipe. We love it with the cake and while we did the first layer as the whipping cream, the bottom layer can be the cake instead. In fact I think I would do that the next time I make these which is going to be very soon!
Make sure to PIN this recipe!
Cake Layer Options
As mentioned you can use any type of cake you prefer such as pound cake, sponge cake or angel food cake. I was also tempted to try it with a chocolate cake which veers off of it being a strawberry shortcake but I think it would be oh so delicious. Plus I love chocolate and strawberries together, hmmm this might have to be a new recipe creation lol
Another fun idea is if you make your cake from scratch you can make it on a cookie sheet for a thinner layer and use a round cookie cutter to cut out round pieces of cake. We just cubed our store bought vanilla pound cake as it was easy and quick for us to do.
This Strawberry Shortcake in a Jar recipe is just so darn good but be warned they do not last, they get gobbled up like right away. I kid you not this recipe produces 6 servings, I used 250ml jars (or about 8oz) and there's only 3 of us in the house and they were gone in less than 48 hours. Lesson learned I will make double the batch the next time.
This Strawberry Shortcake in a Jar recipe is perfect for any occasion in my opinion from Mother's Day to summer gatherings, to showers to oh we need a dessert this weekend occasion. I can come up with any excuse to make them which my family is more than happy about.
Make sure to check out our other scrumptious recipes like the ones below.

Can You Make Strawberry Shortcake in a Mason Jar in Advance?
If you want to make a cake layer from scratch you can do that in advance and if you opt for stabilized whipped cream you can do that about a day in advance as well. However, I wouldn't assemble the layers until the day you want to serve them so that they cake layers don't get soggy.
Now that I've mentioned the stabilized whipped cream, while I didn't do it for this round I am going to do it the next time. It will make it easier to pipe the whipping cream into the jars with a piping bag plus the whipping cream lasts longer and it's so yummy with the cream cheese or you can use the stabilized whipping cream recipe from our Lemon Poke Cake recipe which uses gelatin instead of cream cheese. We'll make note of the cream cheese version in the recipe card.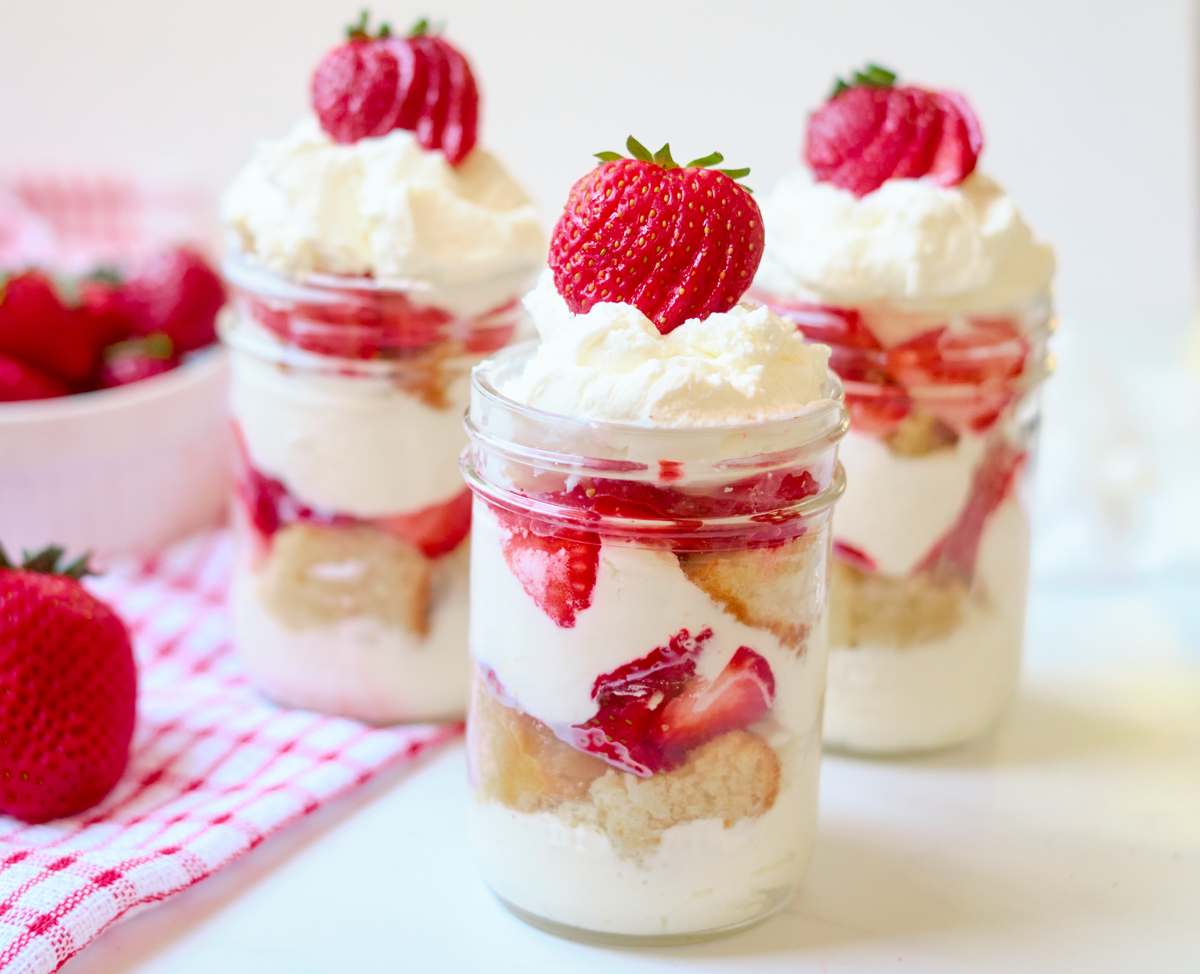 Let's get to this delicious Strawberry Shortcake in a Jar recipe shall we?
Yield: 6
Strawberry Shortcake in a Jar
This Strawberry Shortcake in a Jar recipe has all the delicious flavours of a classic strawberry shortcake but with scrumptious cake layers.
Additional Time
5 minutes
Ingredients
1 vanilla poundcake (see notes for alternatives)
2 cups of strawberries (set aside 6)
2 cups of heavy cream
1 tablespoon white sugar
1 tablespoon honey
Mason jars (we used 250ml/8oz size)1 vanilla pound cake (see notes for alternatives)
Instructions
To make the whipping cream place whipping, honey and sugar in your stand mixer and mix at medium speed for about a minute or until stiff peaks form. If it is still thin blend for an additional few seconds. (If you don't have a stand mixer you can try blending in a blender on high for 30-40 seconds).
To assemble the mason jars layer cake, whipping cream, and strawberries until you finish with a layer of whipping cream on top.
Place a strawberry on top.
Notes
Cake options - any white cake, angel food cake or a flaky biscuit or go crazy and make it different and use a chocolate cake.
For stabilized whipping cream:
8 ounces cream cheese , softened
1 cup powdered sugar
1 tablespoon vanilla extract
2 cups heavy cream
Add the cream cheese and powdered sugar to your stand mixer in a
medium sized bowl and beat at medium speed for about a minute until stiff peaks form. Remove from stand mixer and set aside.
Add the heavy cream and vanilla into a large bowl and beat on high speed until soft peaks form.
Add the cream cheese mixture to the whipping cream mixture and beat on medium speed until creamy, 1-2 minutes


Nutrition Information:
Yield:
6
Serving Size:
1
Amount Per Serving:
Calories:

383
Total Fat:

32g
Saturated Fat:

19g
Trans Fat:

1g
Unsaturated Fat:

10g
Cholesterol:

103mg
Sodium:

99mg
Carbohydrates:

23g
Fiber:

1g
Sugar:

17g
Protein:

4g
Please note that we can not guarantee the accuracy of the nutritional information. They are a best guess calculation.
Now how easy does it look to make these Strawberry Shortcakes in a Jar? Easy right? Oh so yummy and remember they will not last your friends and family will gobble these up!
Seriously my family has been asking for these literally the day after they ate them all. I can't blame them as I think they're so delicious too.
If you try this Strawberry Shortcake in a Jar recipe make sure to let us know how you liked them (or not - we'll be shocked though) and any variations you tried. We'll leave you with one last scrumptious photo!
By