Spicy Honey Glazed Chicken Drumsticks
A yummy appetizer – Spicy Honey Glazed Chicken Drumsticks
Here's a fabulous "game day" appetizer to nibble one. Although I love this one any time but it's always even more popular during football season. These Spicy Honey Glazed Chicken Drumsticks are so easy to make, you can either do a sauce from scratch or use a store bought sauce that you like. We've made some suggestions on the ones we like to use.
If you use a store bought sauce you don't have to make these too far ahead of time. Even if you make your own sauce it's still a quick way to make this delicious Spicy Honey Glazed Chicken Drumsticks.
Spicy Honey Glazed Chicken Legs
Ingredients
Chicken legs
Onion powder, to taste
Garlic powder, to taste
Favorite barbeque rub (any kind works or use Season All)
Moore's Honey BBQ Wing Sauce (or Frank's Red Stingin Honey Garlic Sauce for some major hotness)
Homemade Sauce ingredients, combine for your own sauce
1/3 cup liquid honey
2-3 cloves garlic grated or pressed
5 teaspoons cayenne-based hot pepper sauce such as Louisiana Hot Sauce or Franks
1/4 teaspoon each salt and pepper
2 tablespoons cornstarch
2 teaspoons olive oil
Instructions
Preheat oven to 300 degrees.
Prepare a baking pan by lining with foil (for easier cleanup). Place a baking rake inside the pan. A roasting pan with rack is perfect.
Add a small amount of water to the baking pan. (The steam will help keep chicken nice and tender).
Season chicken with the onion and garlic powder. Sprinkle with your favorite rub or Season All - both sides.
Bake for approximately 1 hour and 20 minutes, depending on size of drumsticks.
Remove from oven and brush with the Moore's Honey BBQ Wing Sauce.
Return to oven and bake an additional 10 minutes. Sauce will thicken and turn sticky.
Remove from oven and allow to set for 5 mins.
Serve with a full stack of napkins and enjoy!
Nutrition Information:
Amount Per Serving:
Calories:

0
Total Fat:

0g
I love mine spicier than my hubby does so sometimes I add a bit more sauce to mine or when making my own version of sauce I just separate a bit of the sauce and add more Franks Hot sauce or a bit of cayenne. No matter how hot (or not) you like these drumsticks are a darn tasty snack. Add a side of veggies and it becomes more of a meal, it really is fabulous for parties whether it's a get together or football Sunday.
If some are finding it a bit too hot for their liking cool it down with a dip. Personally I just like plain sour cream but a blue cheese dip goes just as well with these as it does with hot wings, that's if you like that kind of dip. We're not fans of blue cheese but I always make sure I have something on hand to dip these tasty Spicy Honey Glazed Chicken Drumsticks just in case.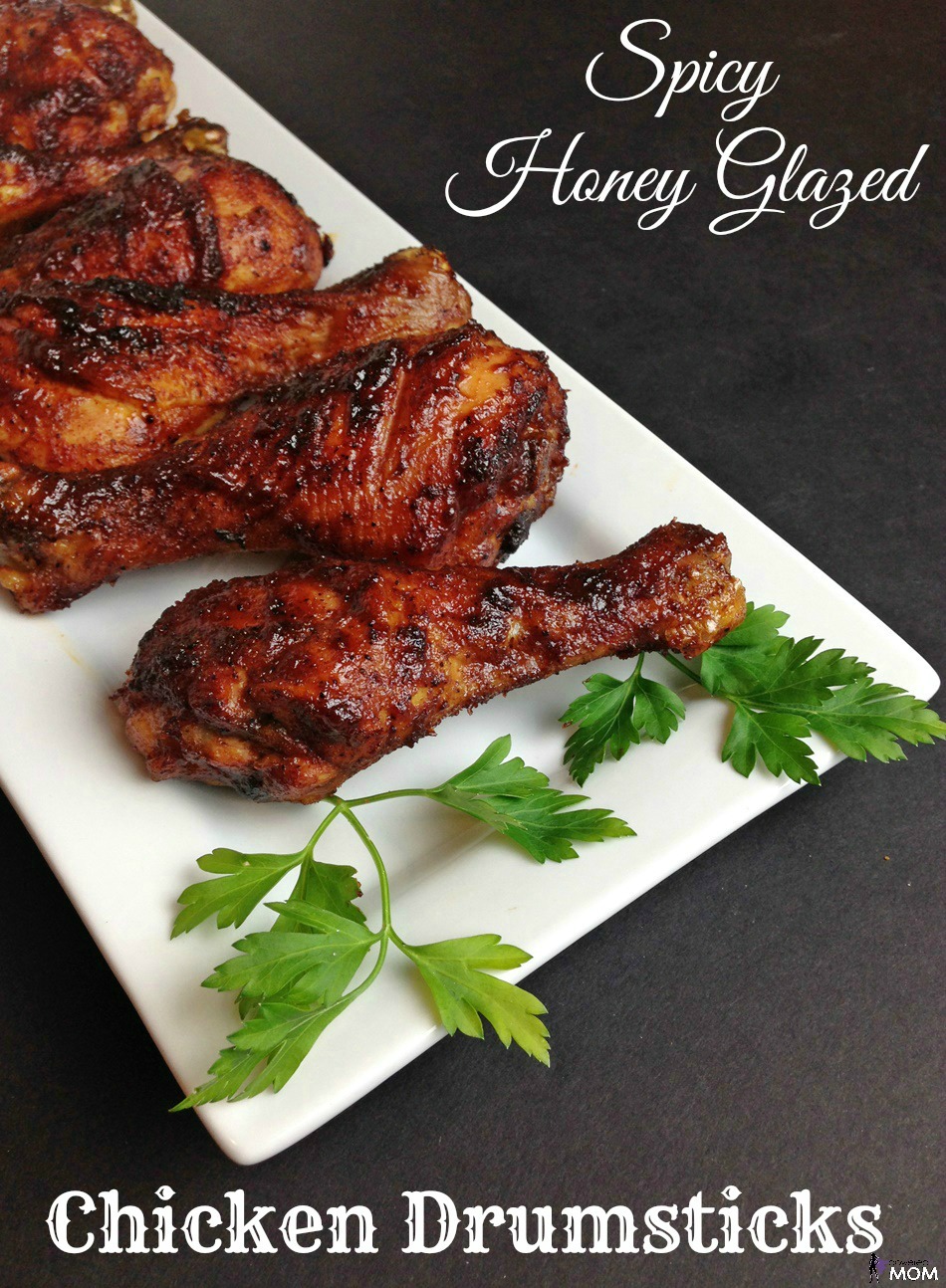 They are so yummy but fair warning these Spicy Honey Glazed Chicken Drumsticks are sticky so be prepared for some finger licking good food. Just have those napkins on hand or a good ole finger bowl. What other ways do you like to cook chicken? Feel free to share we love to hear from you. If you try this recipe let us know!

By