Easy Sheet Pan Dinner – Cashew Chicken Recipe
Enjoy this easy but oh so tasty sheet pan dinner – cashew chicken recipe with vegetables.
I love an easy but oh so tasty meal and even better if I don't have to use more than one pot or pan. This easy sheet pan dinner – cashew chicken is perfect for this busy month of September when the kids are just going back to school here. I love that I can add whatever vegetables we have on hand and the nutty cashew flavour with chicken is simply scrumptious.
Easy sheet pan dinner – cashew chicken
We love this cashew chicken sheet pan dinner. It's oh so easy to make, few dishes to clean up after and it's delicious!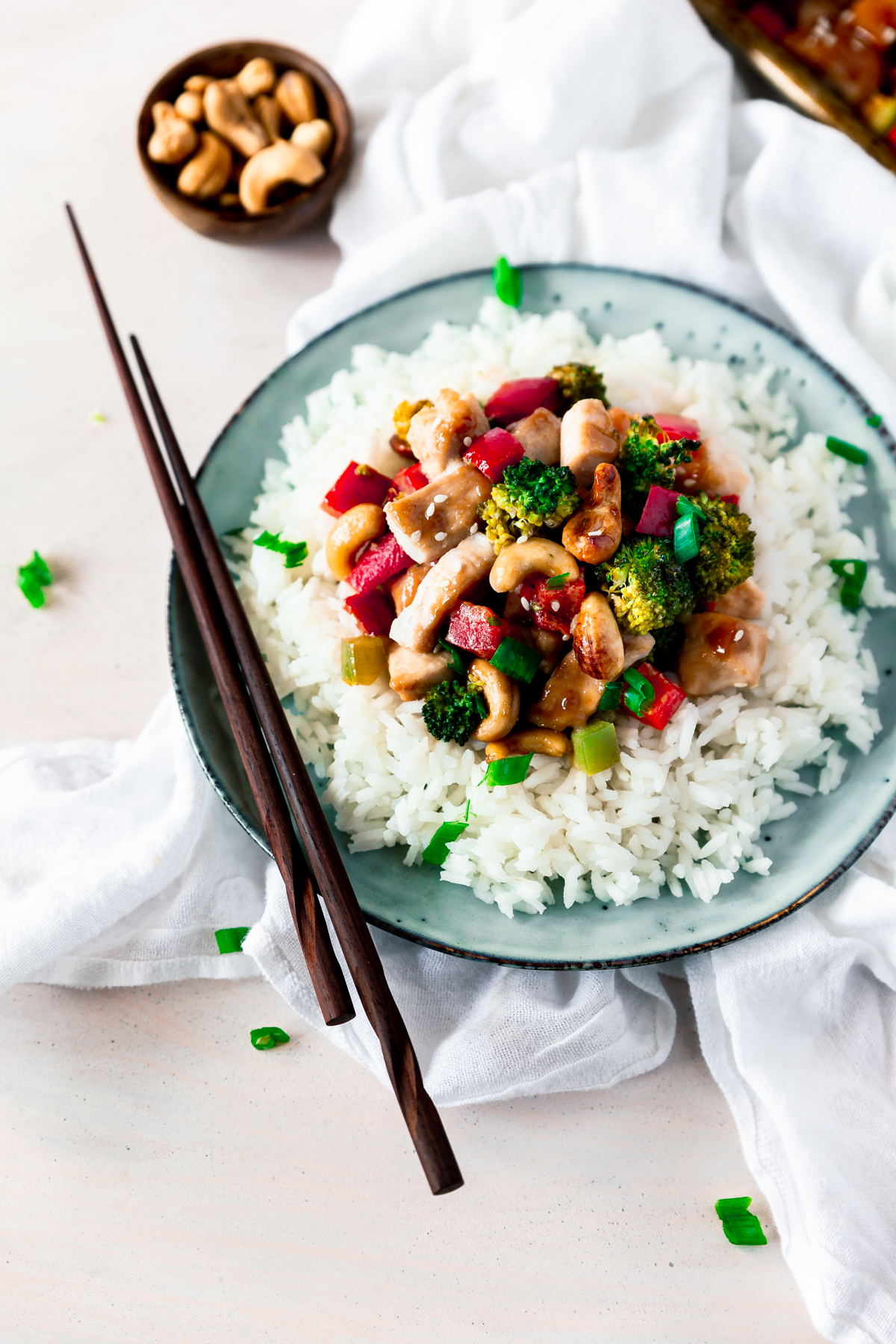 One of the many reasons we love chicken is that it's so versatile; so many delicious ways to eat it, so little time. Like our sheet pan dinner of cashew chicken. Bonus: not only is it yummy but it's also great for your health – with a great mix of lean protein and healthy fats. It's no wonder it's Canadian's favourite protein.
We also always buy and consume chicken raised by a Canadian Chicken Farmer. Canadian chicken farming delivers against Canadians' high expectations for the food they serve to their families. 89% of Canadians trust Canadian farmers – so let's take this month to celebrate them!
Before I share more on how amazing Chicken farmers across Canada are and how it impacts Canada and Canadians let's share this yummy sheet pan dinner – cashew chicken shall we?
Yield: 4
Sheet Pan Dinner - Cashew Chicken Recipe
This sheet pan dinner of cashew chicken and vegetables is an easy recipe that is full of flavour. Use whatever vegetables you have in the fridge, less mess because you're only using one pan and you end up with a tasty meal which is also great as leftovers!
Ingredients
Sauce:
2 tablespoons canola oil
3 garlic cloves, finely chopped
⅓ cup soy sauce
3 tablespoons honey
3 tablespoons rice vinegar
2 tablespoons tahini
2 teaspoons sriracha
Cashew Chicken:
1 ½ lbs boneless, skinless chicken breast, cut into 1" cubes
2 teaspoons kosher salt, divided
1 red bell pepper, chopped
½ green bell pepper, chopped
1 ½ cups broccoli florets
1 cup whole cashews
1 teaspoon cracked black pepper
Instructions
Sauce:
In a small saucepan over medium heat, add the canola oil, followed by the garlic. Whisk gently until fragrant, around 1 minute, then add the remaining sauce ingredients and whisk gently until lightly thickened and smooth, around 4 minutes. Remove from heat.
Cashew Chicken:
Preheat oven to 400 degrees. Line a sheet pan with parchment paper and spray with cooking spray and set aside.
Add the cubed chicken to a large bowl and sprinkle with 1 teaspoon salt. Add ⅓ of the sauce to the bowl and toss gently to coat the chicken. Turn out onto the sheet pan and spread into a single layer. Bake for 8 minutes, then remove from oven.
In a separate large bowl, add the vegetables and cashews. Add the second ⅓ of sauce and toss gently to coat. Turn out onto the sheet pan with the chicken and spread out into a single layer, tucking between and around the chicken. Sprinkle with remaining teaspoon of salt and black pepper, then back for 8-12 minutes, or until juices run clear. Remove from oven and drizzle with remaining ⅓ of sauce, then serve with brown or white rice. Enjoy!
Notes
If you don't want all the heat of the sriracha you can substitute with a sweet chili sauce for a bit of heat and a bit of sweet. Feel free to substitute with your favourite veggies that you might use in a stir fry.
Nutrition Information:
Yield:
4
Serving Size:
1
Amount Per Serving:
Calories:

684
Total Fat:

33g
Saturated Fat:

6g
Trans Fat:

0g
Unsaturated Fat:

25g
Cholesterol:

145mg
Sodium:

2228mg
Carbohydrates:

36g
Fiber:

4g
Sugar:

18g
Protein:

63g
Please note that we can not guarantee the accuracy of the nutritional information. They are a best guess calculation.
Can Cashew Chicken Recipe be a Freezer Meal?
Heck yes! Like stir-fry style foods you can easily freeze this in an airtight container or vacuum seal bag. I would defrost it and heat it up in a pan on the stove or in the oven on a sheet pan like you did to originally cook it. If you plan to freeze keep the veggies on the crispier side for reheating after so they don't get soggy.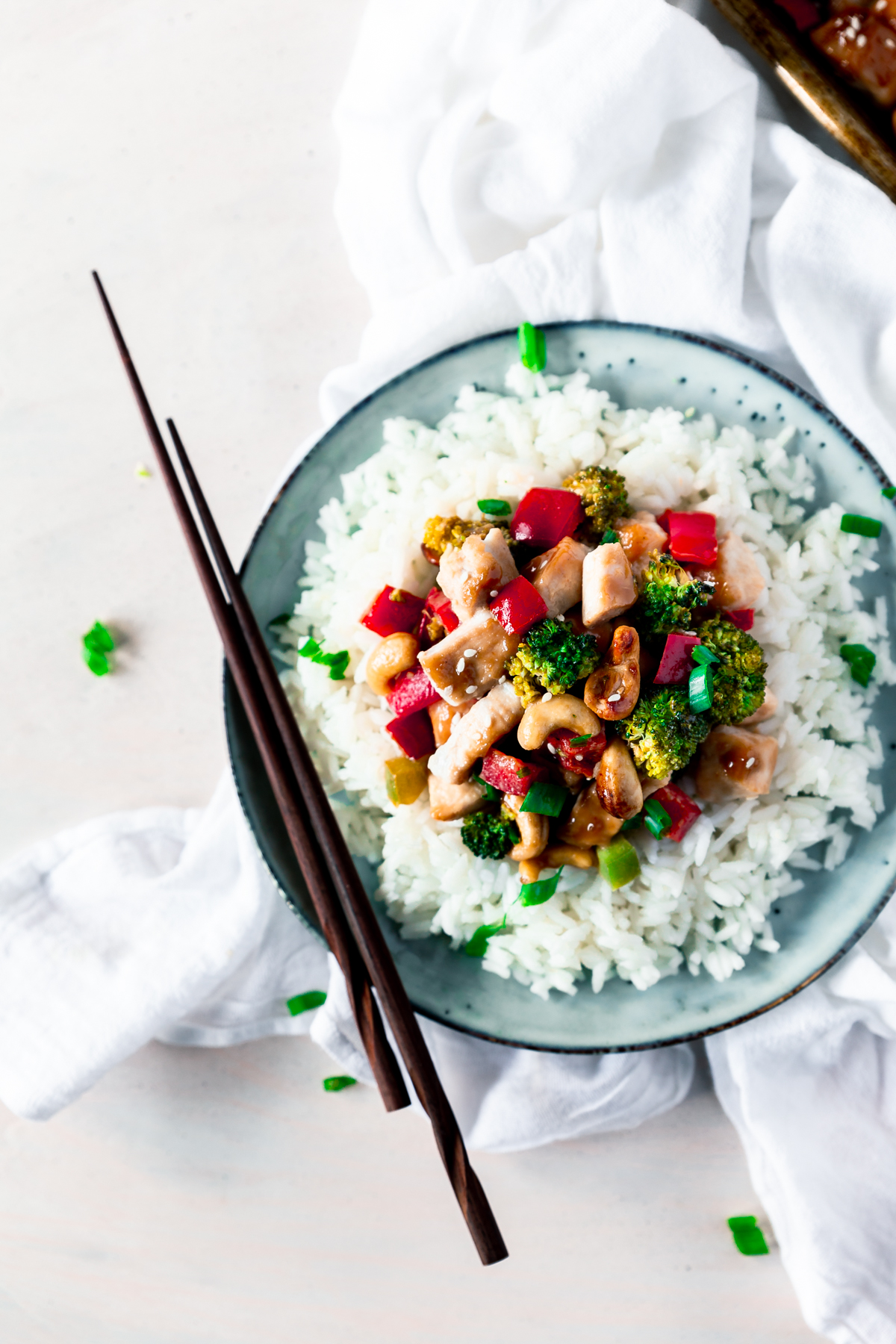 Now doesn't this sheet pan dinner of cashew chicken and vegetables not sound and look oh so tasty? We think so and we think you will too. Now onto some exciting stuff let's talk about the contest and twitter party to celebrate National Chicken Month!
PIN this recipe for later!
From gate to plate, our Canadian chicken farmers work hard to ensure that their chickens are raised to world-class standards so that what you feed you and your families is fresh, high-quality and raised by a Canadian farmer. We also love to support Canadian family-owned businesses and thanks to the stability of supply management, over 90% of farms are family owned and operated.
Don't forget to check out some of our other delicious recipes from more chicken dinners to appetizers, desserts and more HERE.
Chicken Dinners
Here are a few of our favourite chicken dinners that are easy to make and oh so tasty. Winner winner chicken dinner and you are the winner with any of these tasty meals.

More info about Chicken Farmers of Canada can be found HERE

Facebook: Canadian Chicken, Twitter: @ChickenFarmers, Instagram: @ChickenDotCA; Pinterest:ChickenDotCA.

Disclosure: I am participating in the Chicken Farmers of Canada campaign managed by SJ Consulting. I received compensation in exchange for my participation in this campaign. The opinions on this blog are my own.

By