Powered by Mom shares her Samsung Smart Wifi LED HDTV Review
We had the opportunity to review this fabulous Samsung UN32EH5300 – 32 inch 1080p 60Hz Smart Wifi LED HDTV!
Our Samsung Smart Wifi LED HDTV arrived within a few days and we were eager to set it up. This is the first smart television we've owned so we were curious to see what options it offered and what we could do with it, not to mention what the picture would look like. Hubby set it up the same day we received it as we just couldn't wait to try it out!
The Samsung Smart Wifi LED HDTV was lighter than even a current LED tv that we owned, so that was a nice bonus as my husband had to install it up above a mantle piece in our upstairs living room. He said it was very easy for him to set up as it had all the necessary outputs and inputs and it was just easy to figure out. It only took him about 30 minutes to get it up and running, I think that's a record!
Keep in mind with this picture I used the flash on my camera so the screen is not dark like it looks below. You'll be able to see how bright it is in the next picture of our Samsung Smart Wifi LED HDTV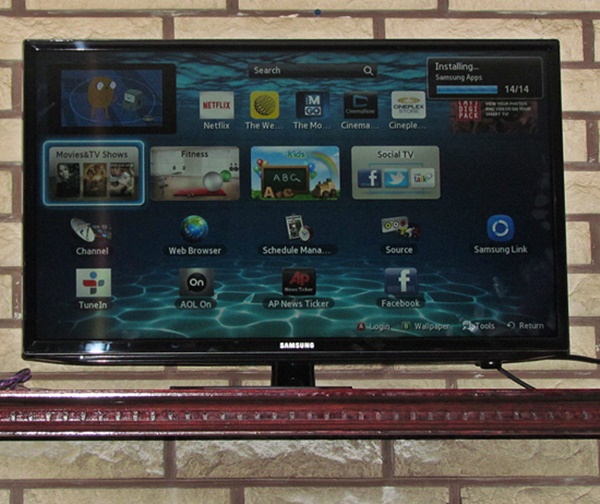 Doesn't it look good above our mantle piece? We have it on a mount too so that we can position the tv anyway we want, we can even turn it towards our dining room if we want to see the screen while at the table. That's not something I encourage of course but it's nice to have options :). The picture is so clear and crisp, it's quite impressive I have to admit even I was impressed, HD really does make a difference but the Samsung television itself has such a great picture, the colors are vibrant but true, the sound is great and we discovered some of the awesome features!
If I wanted to I could even check my Facebook page from the television, that is handy for a social media manager like myself 🙂
One of the things we didn't know it would do until it was set up was that we could control our speakers (amp) volume right from the television remote, that is so handy! We also no longer need to go through our PlayStation or any other external device to use Netflix, that's a total bonus. Since it's our first Smart TV as I mentioned we're not used to all these features as we have to use an external device on our other television to go to Netflix etc..
Features of the TV
32″ Class (31.5″ Diagonal) LED HDTV with 1080p Resolution
FEATURES
Smart TV
Smart Content with Signature Services
Web Browser & Search All
Smart Hub
WiFi built-in
AllShare Play
ConnectShare Movie
Clear Motion Rate 120
Wide Color Enhancer Plus
Dolby Digital Plus/Dolby Pulse
SRS TheaterSound HD
To say we are impressed with our Samsung Smart Wifi LED HDTV after only a few days is an understatement! We can't wait to see what else it does as anything else is just a bonus.

By