Recipe for Caramel Apple Dump Cake
This recipe for Caramel Apple Dump Cake is easy to put together and it's bound to become a family favourite and popular for any gathering. It's one of those desserts that become your go-to dessert because everyone always loves it.
This recipe for Caramel Apple Dump Cake has become a go-to recipe when we need a delicious dessert that is a crowd pleaser. It's a hit EVERY time and who can resist the yummy goodness of apples, cinnamon, salted caramel and the crunchiness of pecans and more?
PIN this recipe!
You can get a mix of sweet apples from the apple pie mix paired with fresh apples giving you a bit of that apple tartness. What ties this cake together in my opinion is the combination of the spices, apples and the salted caramel sauce. We use our homemade salted caramel sauce, or you can use a store bought caramel sauce that's entirely up to you.
Make sure to check out our other scrumptious recipes like the ones below!
This recipe for caramel apple dump cake is amazing to eat while still warm and topped with vanilla ice cream and our salted caramel sauce drizzled on top to finish it off. Of course I'm completely biased as I love caramel sauce and combine that with apples and I'm practically drooling.
What is a dump cake?
I admit when I first started hearing about "dump cakes" I thought to myself that doesn't sound that appealing lol Well it may not sound appealing but boy oh boy are dump cakes ever delicious and oh so easy to make. Why is that? Because you literally just dump the ingredients in the pan and bake it. Hence them being called dump cakes. It doesn't take any special skills to dump ingredients in a pan.
That's exactly what we did. We dumped the ingredients in layers in our 8x14 casserole dish and baked that yummy goodness. It doesn't get much easier than that does it? Look at this yummy caramel apple dump cake straight out of the oven can you see the steam coming off of it in the photo above?
What kind of cake can you use in this caramel apple dump cake?
This time around we just used a vanilla cake but you most certainly have some options when it comes to this recipe for caramel apple dump cake. Here are some of the cake flavours that you can use:
Yellow cake mix
Spice Cake Mix
Butter Pecan Cake Mix
Carrot Cake Mix
If you do use a spice cake mix and you don't like a strong flavour when it comes to cinnamon etc.. you may want to cut back on the cinnamon and skip the nutmeg if you had planned on using it. I personally enjoy it with the spice cake and I've used 1 teaspoon of cinnamon with the spice cake and the nutmeg and loved it but I like bold flavours.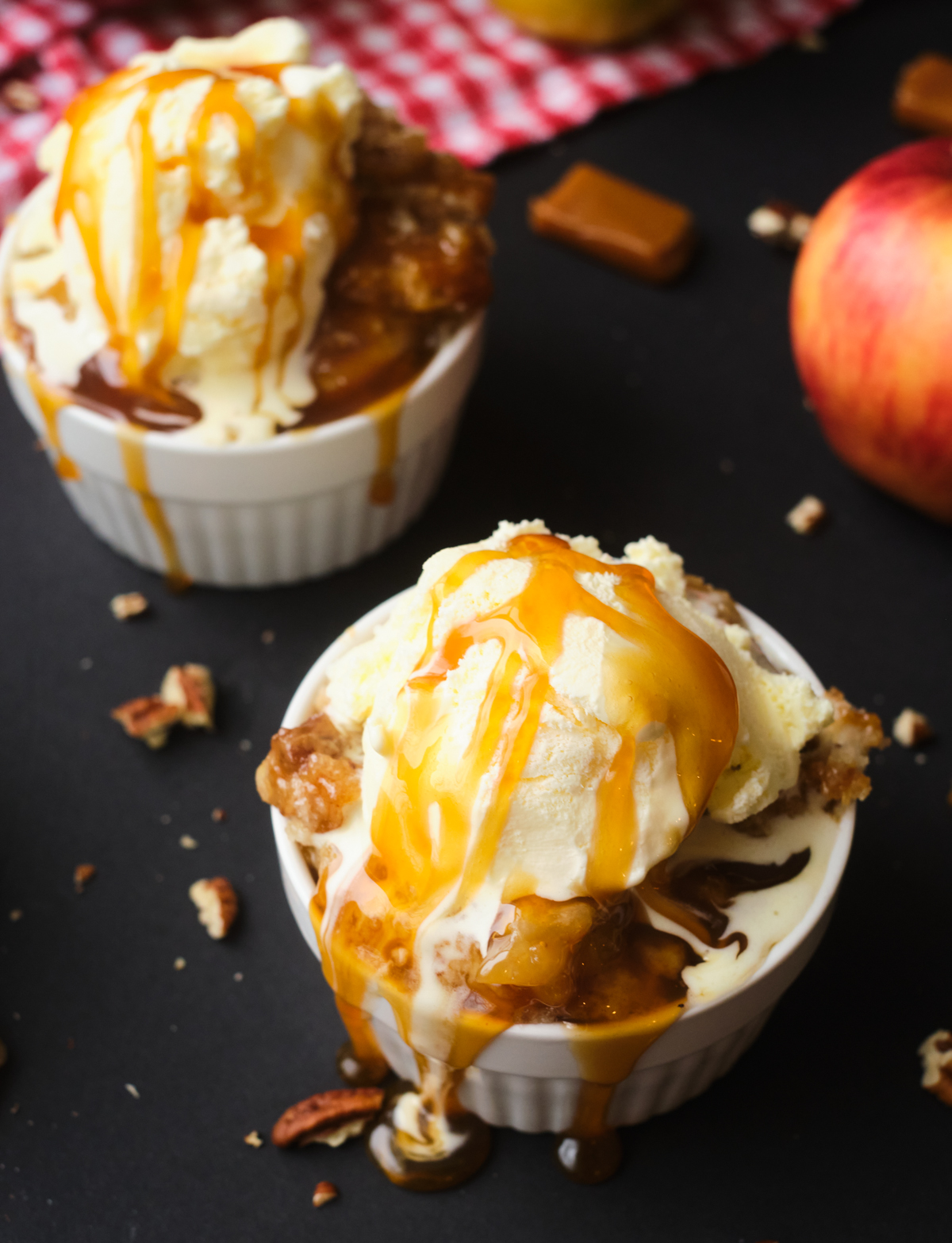 Let's get to this delicious recipe shall we?
Yield: 10-12 servings
Recipe for Caramel Apple Dump Cake
This recipe for Caramel Apple Dump Cake is easy to put together and will be a family favourite. It's one of our go-to desserts everyone loves.
Ingredients
2 boxes of vanilla cake mix
2 teaspoon cinnamon
¼ teaspoon nutmeg (optional)
3 tablespoon brown sugar
¾ cup of chopped butter
2 cups of apple pie apples (canned apples)
2 apples chopped
¼ cup of caramels
¼ cup of chopped pecans
¼ cup of caramel sauce
1 apple sliced for garnish
2-3 tablespoon caramel sauce for garnish
Instructions
Pour apple pie filling and chopped apples into the bottom of a 8x14 casserole dish.
Place caramel squares and chopped pecans on top.
Drizzle caramel sauce all over.
Mix cake mix, cinnamon, nutmeg (optional) and brown sugar and place on top.
Chop butter and place on top of dry ingredients
Bake at 325 for 30-40 minutes. I found that cooking at a lower temp for longer worked. You want the cake to be fully cooked when you remove it from the oven.
Around the 30 minute mark, you want to place the sliced apples on and drizzle with more caramel sauce.
Remove and serve with ice cream and the caramel sauce
Notes
See our post for other cake flavor options
Nutrition Information:
Yield:
12
Serving Size:
1
Amount Per Serving:
Calories:

632
Total Fat:

21g
Saturated Fat:

10g
Trans Fat:

1g
Unsaturated Fat:

8g
Cholesterol:

31mg
Sodium:

874mg
Carbohydrates:

110g
Fiber:

4g
Sugar:

66g
Protein:

5g
Please note that we can not guarantee the accuracy of the nutritional information. They are a best guess calculation.
There you have it, does that not look super easy to make this delicious recipe for caramel apple dump cake? Are you going to make it?
If you make this delicious dessert let us know how you liked it and what variations you tried!

By