Delicious, Quick & Easy Breakfast Recipes
with Egg Bakes from Burnbrae Farms
If you could have some quick and easy breakfast recipes in your menu arsenal that were also a healthier choice than those sugary cereals would you want to try it? Of course you would and better yet you have taste choices and you really can have a hearty breakfast that's not full of sugar in under five minutes. If you want an even bigger breakfast you can take a minute or two longer to cut up more veggies or fruits or whatever you want but it can still be a quick to prep delicious breakfast in minutes.
Psst make sure to read to the end where we're sharing a fabulous giveaway too with FIVE winners each getting a $250 valued prize!
I admit I'm as guilty as the next person when it comes to either skipping breakfast sometimes or eating that quick sugary cereal just to get something in my tummy. Well, now I can have quick and easy breakfast recipes galore and not have them full of sugar. Better yet I'll start my day and family's day off right with a heartier breakfast that gives us choices but also suits our busy lifestyle.
Thanks to Burnbrae Farms Egg Bakes I can make easy breakfast recipes in about five minutes (or less) like the breakfast sandwich above with strawberries. The part that took the longest for the delicious breakfast above was washing and cutting the strawberries. If you can toast a bagel (or bread or English muffin or skip the bread altogether), microwave for 90 seconds the yummy Crustless Quiche Egg Bake above which had spinach, ricotta and caramelized onion you too can have this filling breakfast in a few minutes.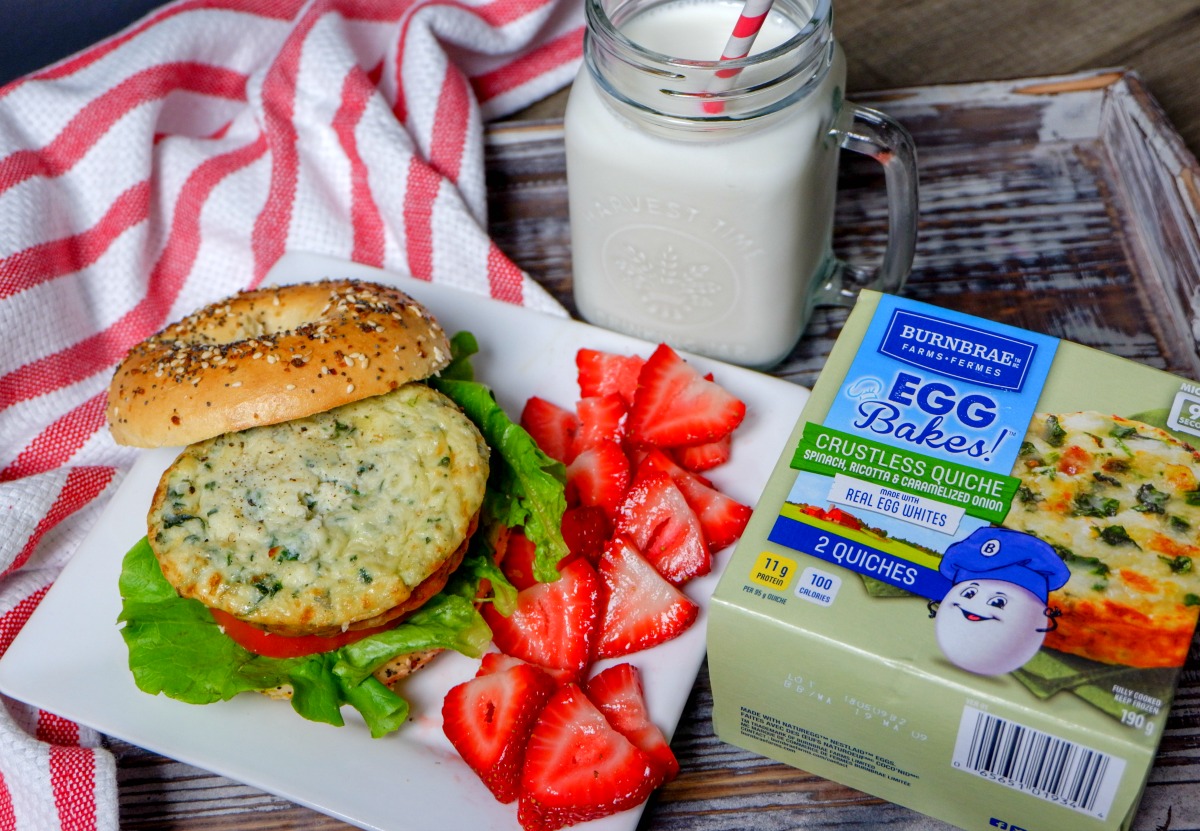 Add a glass of milk and you have a well rounded, tasty breakfast making it one of many quick and easy recipes you can add to your breakfast menu. Burnbrae Farms Egg Bakes come in a variety of flavours from the crustless quiche one above which was also made of egg whites, to egg patties and more. The hardest decision must might be which tasty flavour to choose for that morning.
For the days I'm literally running out the door I may skip the fruit and/or veggies and just take my Burnbrae Farms Egg Bake sandwich on the go. It's better than anything I would get at a fast food restaurant (and quicker to make it then go to a fast food place) and it's made the way I like it because well I make it myself. If you don't want it on a bagel have it on bread or whatever or as I've mentioned without bread as the Egg Bakes are delicious all on their own too!
If I have time I like to have some fruit or veggies (depending on my mood) with my Egg Bakes just go give myself a little extra nutrition and fill up my tummy. Some days though I find the Egg Bakes, especially the Crustless Quiches are all good on their own too. The spinach and ricotta one is my favourite so far but the ham and cheese and sausage and red pepper ones are a close second. 
The English muff sandwich above has the sausage and red pepper crustless quiche egg bake in it. It's very hearty on its own but I feel like I've had a full meal when I've thrown in some veggies too. I don't just eat these for breakfast, I've had it for lunch both at home and at the office where my options are limited to using a microwave and a toaster. Well, that's okay because the Burnbrae Farms Egg Bakes are warmed up from the freezer to the microwave in 90 seconds (depending on your microwave). That works for me on a busy workday where I can eat some delicious protein with my Egg Bakes.
While we skipped showing the microwaving part because let's face it that's boring, in our super short video below my daughter shows how you can create some of these delicious, quick and easy breakfast recipes thanks to Burnbrae Farms Egg Bakes.
I told you it was a short video but that's how quick it can be to put together your own hearty and delicious breakfast so you too can have an amazingly quick and easy breakfast recipes arsenal at your disposal!
Burnbrae Farms Giveaway – Canada Only
FIVE winners – each will receive a Burnbrae Farms Gift Basket with coupons and merchandise valued at $250 ● Begins July 2nd, 2018 AND ends July 16th, 2018
There are 5 prizes being given away. Each prize is a gift basket from Burnbrae Farms with coupons and merchandise valued at $250.
Prize 1 includes: Pan set.
Prize 2 includes: Food Processor.
Prize 3 includes: Microwave.
Prize 4 includes: Blender
Prize 5 is exactly the same as Prize 4.
Pin these recipe ideas for later!
Make sure to follow Burnbrae Farms for more delicious meal ideas.

Facebook: Burnbrae Farms, Twitter: @BurnbraeFarms,  Instagram: @BurnbraeFarms, Pinterest: BurnbraeFarms and YouTube: BurnbraeFarms.

Disclosure: I am participating in the Burnbrae Farms campaign managed by SJ Consulting. I received compensation in exchange for my participation in this campaign. The opinions on this blog are my own.

By