Pistachio Cherry Scones Recipe
With White Chocolate Drizzle
These pistachio cherry scones (or any scones) are easier to make than you think and are so delicious. Delicate, buttery and flaky, yes they will fall apart fairly easily when you go to eat them but it will be tasty. We're sharing some tips to help you make the some darn tasty scones.
Crunchy, tart and sweet make these cherry scones so yummy
I love the pairing of slightly salty pistachios and tart, red cherries, oh my so delicious and on top of that you get some crunch thanks to the pistachios. Finish with the white chocolate drizzle and you've got one tasty treat. You don't even need to add butter but they are even more decadent when warm with some butter melted on this flaky and delicious cherry scones.
I enjoy having these cherry scones with a cup of coffee but of course they're great with tea or a glass of milk. They should be served warm with or without butter, entirely up to you but there's nothing like a delicious scone with melted butter on it.
Tips for making delicious scones
Cold ingredients
One of the most important tips to delicious cherry scones or any scones is to start with cold ingredients. Cold butter, cold eggs, and cold cream. Using cold ingredients delays the butter from melting before the scones are baked. Wait to take out these ingredients from the fridge until you're ready to put them in the mixing bowl.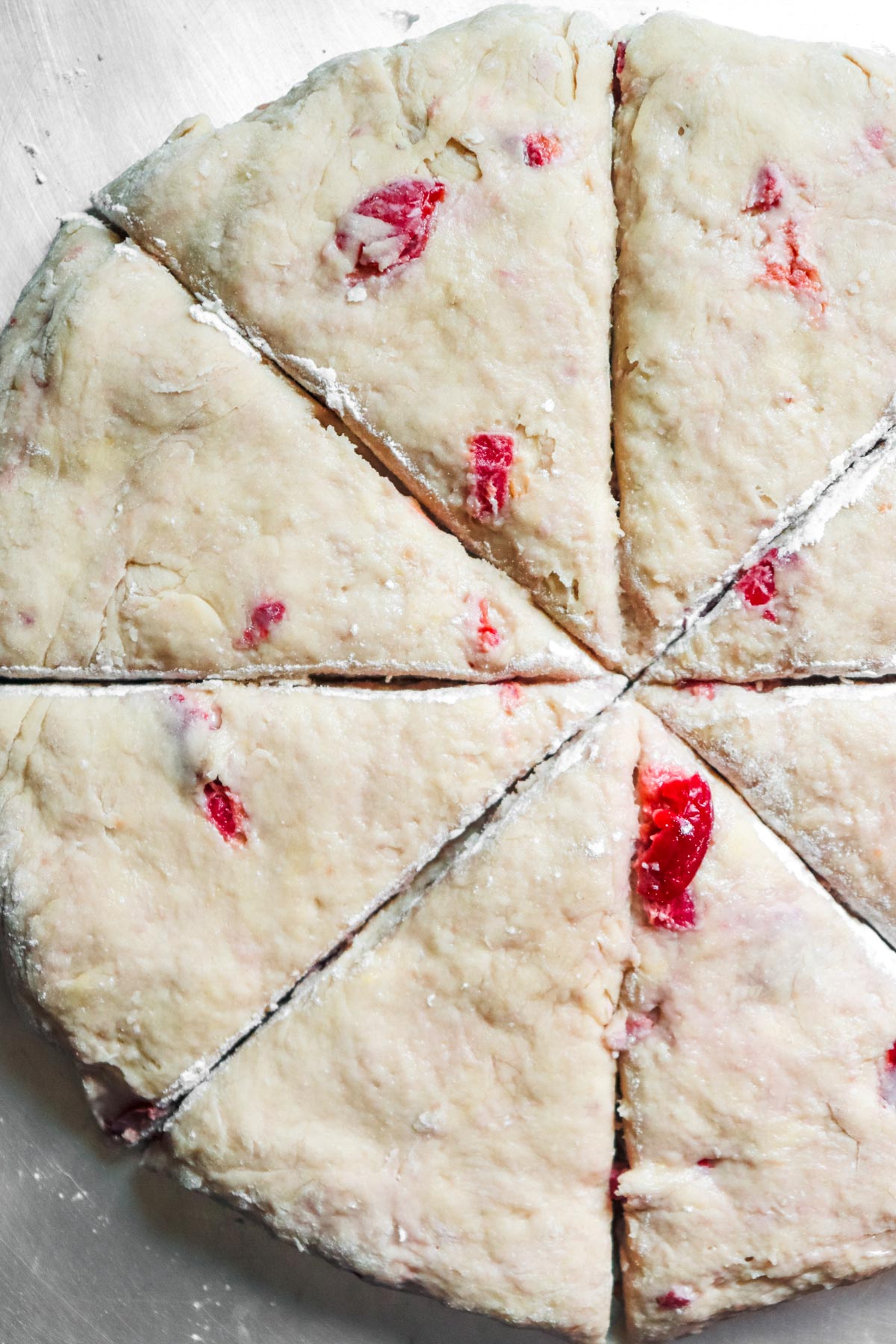 Don't forget to check out our other recipes too! Like the following:
Make sure to PIN this delicious Pistachio Cherry Scones Recipe
Don't over mix your dough
Over mixing you cherry scones dough will make the scones tough and chewy, doughy if you will. They should be light and flaky. It's important to use a light touch and work the dough until it's just mixed enough.
It's important to keep dough cold so that the butter in the dough doesn't melt before the scones are baked. Anyone who has handled any kind of dough knows that our hands warm up the the dough too. It helps to chill the dough again before putting it in the oven to bake.
Do you have to use frozen cherries?
You can easily substitute the frozen cherries with the following:
Canned sweet cherries
Dried cherries
Fresh cherries
What if we have a nut allergy?
You've got options. You can skip adding the pistachios, it's your choice. You don't have to add the white chocolate either, again it's entirely up to you. These delicious cherry scones are just as yummy without them and when warm with some butter oh so delicious.
Let's get to this tasty pistachio cherry scones recipe shall we?
Yield: 8
Pistachio Cherry Scones Recipe
These pistachio cherry scones (or any scones) are easier to make than you think and are so delicious. Delicate, buttery and flaky oh my.
Additional Time
45 minutes
Total Time
1 hour
18 minutes
Ingredients
1 ¾ cup all-purpose flour + 1 tbsp
¾ cup frozen tart cherries canned tart cherries (drained) will also work
1/3 cup firm cold butter
3 tbsp sugar
1 egg
2 ½ tsp baking powder
½ tsp salt
2 tbsp milk (cold)
3-4 tbsp pistachios
½ cup white chocolate morsels
Instructions
Gather ingredients. Mix flour, sugar, baking powder, and salt in a medium size bowl.
Cut firm butter into flour mixture with a pastry blender or by crisscrossing two knives together, until it resembles fine crumbs.
Stir in egg.
Cut tart cherries in half and/or thirds and toss into a small bowl with 1 tbsp flour. This helps prevent the cherries from sinking to the bottom of the dough while baking.
Add cherries to mix and fully incorporate into dough.
Add milk if needed, 1 tbsp at a time, kneading the dough in the bowl until it is no longer sticky, approximately 10 times.
Place the dough on an un-greased cookie sheet and form it into an 8" circle. Use a knife dipped in flour to cut 8 wedges, by cutting across horizontally, then across vertically, then across diagonally. Do not separate the dough.
Chill in the fridge for at least 15 minutes
Heat oven to 400°
Bake 15-18 minutes, check at 15! When scones are fully cooked, remove to a cooling rack.
Melt white chocolate in microwave or double boiler (which is easy to make with a pan filled with water and a dish of white chocolate slowly heating. *To make the white chocolate more of a drizzle, add 1 tsp solid coconut oil or solid Crisco.
Do not allow water to mix with white chocolate or it will seize and become very hard.
Chop pistachios.
When scones are cooled, drizzle white chocolate over scones and immediately sprinkle with pistachios.

Serve and enjoy!
Store in a covered airtight container for a couple days. These can also be frozen.
Notes
Use cold firm butter and cold milk. Try not to let the dough get warm.
Nutrition Information:
Yield:
8
Serving Size:
1
Amount Per Serving:
Calories:

283
Total Fat:

19g
Saturated Fat:

9g
Trans Fat:

0g
Unsaturated Fat:

9g
Cholesterol:

52mg
Sodium:

447mg
Carbohydrates:

25g
Fiber:

2g
Sugar:

19g
Protein:

5g
Please note that we can not guarantee the accuracy of the nutritional information. They are a best guess calculation.
Just look at how yummy and fluffy that scone looks oh my. With the crushed pistachios and white chocolate drizzle you definitely don't need to add anything to these scones but you can if you want.
My mouth is watering just looking at these pistachio cherry scones again. I may have to make a batch soon and not tell my family until I've had my fill first haha.
If you try this cherry scones recipe make sure to let us know how you liked it and any variations you liked or didn't like. We'd love to hear from you. We'll leave you with just one more yummy photo.
By