Peruvian Chicken Recipe With Green Sauce
This grilled Peruvian chicken recipe with a delicious citrus and spicy green sauce is packed full of flavours. The marinade for the chicken is easy to put together and you'll love the creamy green sauce not only on the chicken but with rice, other veggies and more.
Pssst, there is also a fabulous giveaway, make sure to go to the end of this post to enter!
Disclosure: I am participating in the Chicken Farmers of Canada campaign managed by SJ Consulting. I received compensation in exchange for my participation in this campaign. The opinions on this blog are my own.
We served this chicken with both rice and an avocado, cucumber and tomato salad for a tasty and refreshing summer meal! It's a tasty way to add an international flair to your summer barbecues.
The first time I made Peruvian chicken with green sauce I did a spatchcock chicken and from there I was hooked.It was so yummy and the green sauce, wowza, I put it on everything, rice, salads, other vegetables and of course the chicken. While I loved the spatchcock chicken I have to admit that sometimes (a lot) I'm lazy and want to cook a meal with less prep, mess and is quicker to cook.
Make sure to PIN this Grilled Peruvian Chicken Thighs Recipe
I did this recipe with boneless and skinless chicken thighs and let me tell you it's just as yummy and lot easier to make. You can easily substitute the thighs for chicken breasts too. Don't get me wrong you should try making Peruvian chicken as a whole chicken, spatchcock chicken as the crispy skin with the marinade on top is also just divine.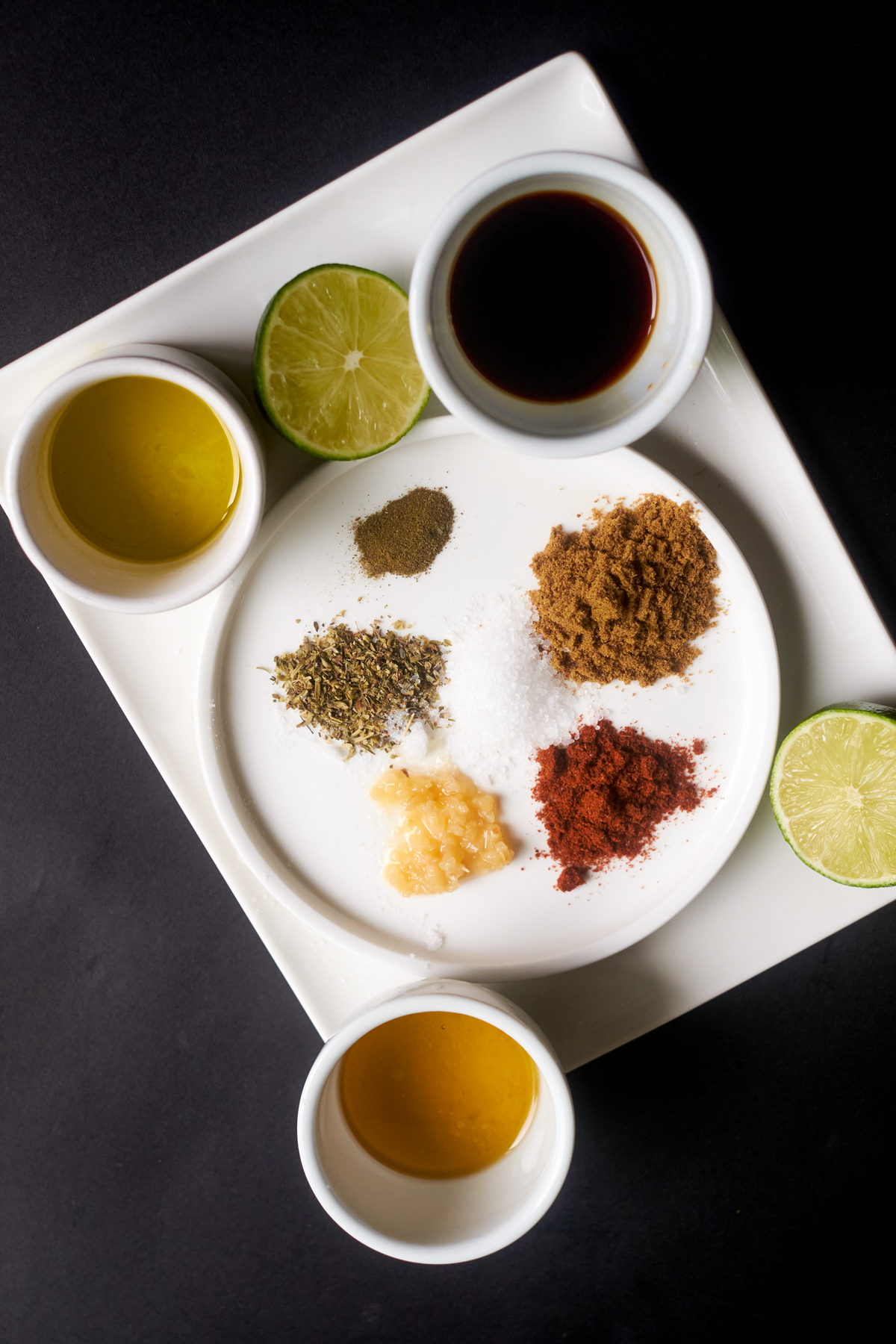 I love cooking a variety of culturally diverse foods as I'm sure you can tell from our recipes on Powered by Mom. Of course I have more than a few Vietnamese recipes because as you may know my mother was Vietnamese so I grew up eating and love this kind of food.
We have other Asian foods, Greek, Mexican, Italian, Middle Eastern and more but I realized that not only didn't I have any recipes from South America I've only tried a few foods from that continent. How could this be? I had to remedy that and thus began this journey to try Peruvian chicken.
Make sure to check out our other delicious recipes like:

Aji Verde Sauce aka Green Sauce
My only regret is that I didn't discover this delectable dish sooner! The Aji Verde Sauce a Peruvian spicy green sauce as I've mentioned is amazing. You can make it very spicy or milder for those who can't eat as spicy like my hubby and daughter. It's a spicy, citrusy, bold and bright sauce with yummy flavours from cilantro, lime, jalapenos, mayo and garlic.
However, a more authentic Aji Verde Sauce I've learned usually is made from aji amarillo paste which is made from aji amarillo peppers a hot yellow pepper. Since I couldn't find any aji amirillo peppers I used jalapenos. Some versions of this sauce also include Cotija cheese which is a hard salty cheese. Mine does not but if I ever get my hands on some Cotija cheese I will try it!
I know some people hate cilantro, I'm not one of them but I don't find that the Aji Verde Sauce has a strong cilantro taste at all. I personally taste the lime more but as mentioned I like cilantro so either way yum.
Peruvian Grilled Chicken Recipe – Easy to Make
I love this meal because you can throw the marinade together quickly and let the chicken marinate in it ahead of time and then just throw it on the bbq. It pairs with almost everything from rice and vegetables to almost any salad. As mentioned I literally put that delicious citrusy and spicy (you can make it milder) green sauce on everything. I'm not normally big on "sauces" but I love this one, it's my favourite salad dressing now.
I've said it many, many times before but we also believe in using quality chicken and that's why we always buy chicken with the Raised by a Canadian farmer logo on it like the one below. There are many very good reasons why you should buy chicken with this logo and I will share a few of those reasons. First though if your local store doesn't carry it, talk to a manager and ask them to bring it in!
Canadian chicken is a healthy choice that it's grain-fed, free of added hormones and steroids, and raised right here in Canada according to nationally-set, high food safety and animal care standards.
There is a mandatory, robust, third- party-audited Animal Care Program that is administered across all Canadian chicken farms.
Canadian chicken farmers are committed to sustainability through innovation, by preserving the health of the land, providing value to Canada's economy, & making affordable food for Canadians.
Let's get to this Peruvian Grilled Chicken Recipe shall we?
Yield: 6
Peruvian Chicken Recipe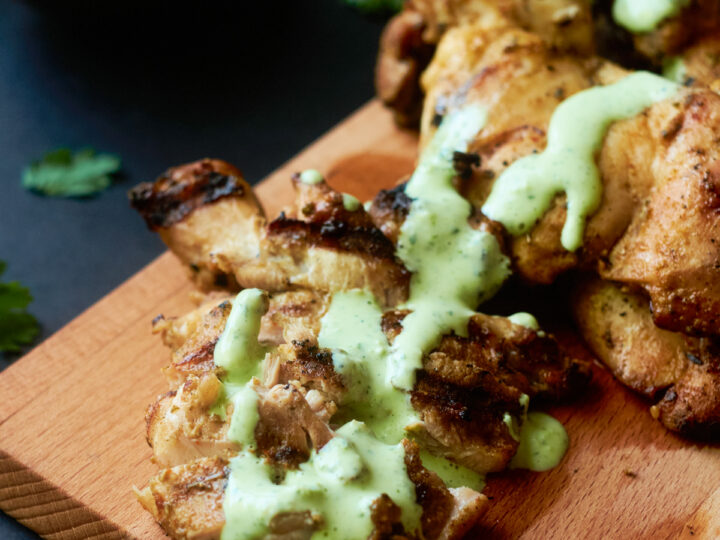 This grilled Peruvian chicken recipe with a delicious citrus and spicy green sauce is packed full of flavours. The marinade for the chicken is easy to put together and you'll love the creamy green sauce not only on the chicken but with rice, other veggies and more. 
Ingredients
1 ½ –2 pounds chicken (thigh or breast, boneless, skinless – this recipe we used 6 medium sized thighs
Marinade:
3 garlic cloves- finely minced
2 tablespoons olive oil
2 tablespoons lime juice
2 teaspoons honey (you can also use sugar)
1 tablespoon cumin
2 teaspoons paprika
1 teaspoon coriander
1 teaspoon dried oregano
1 ½ teaspoon salt
2 tbsp soy sauce (optional)
Green Sauce
1/2 to 1 jalapeño chili pepper or serrano pepper *I only used about half the seeds and it was about a medium spicy. If you want it spicier use more seeds and peppers.
1 cup packed fresh cilantro leaves
2 cloves garlic, chopped
½ cup mayonnaise
¼ cup sour cream
1 tbsp fresh lime juice
½ tsp salt
1 ½ tbsp extra virgin olive oil
Instructions
Preheat your grill to medium-high.
For the Marinade - Add the minced garlic, olive oil, lime juice, honey, cumin, paprika, coriander, oregano, salt and soy sauce (if using) in a medium sized bowl.
Add the chicken to the marinade and coat all sides of the
chicken. Let the chicken marinate while the grill heats up and while you prepare the green sauce. You can marinate the chicken a few hours ahead of time as well.
For the green sauce place all ingredients in a blender and mix until it's smooth. Scrape the sides if needed.
When the grill is ready sear both sides of the chicken thighs well. Reduce to a low heat and let the chicken cook through. Internal
temperature of cooked chicken should be 165 ºF
Once cooked through serve with rice, salad and/or grilled/roasted
vegetables and finish with the delicious green sauce.
Notes
* If you do a spatchcock chicken we put the marinade under the skin of the chicken AND brushed it all over the outside as well. It gets slightly crispy or at least it did for us. We roasted the whole chicken in the oven.
*If you don't have coriander you can skip it. We did not have it one of the times we made this recipe and it was still very good.
This recipe can also be cooked on a skillet.
Nutrition Information:
Yield:
6
Serving Size:
1
Amount Per Serving:
Calories:

252
Total Fat:

17g
Saturated Fat:

4.8g
Sodium:

138mg
Carbohydrates:

8g
Fiber:

3g
Sugar:

2g
Protein:

12g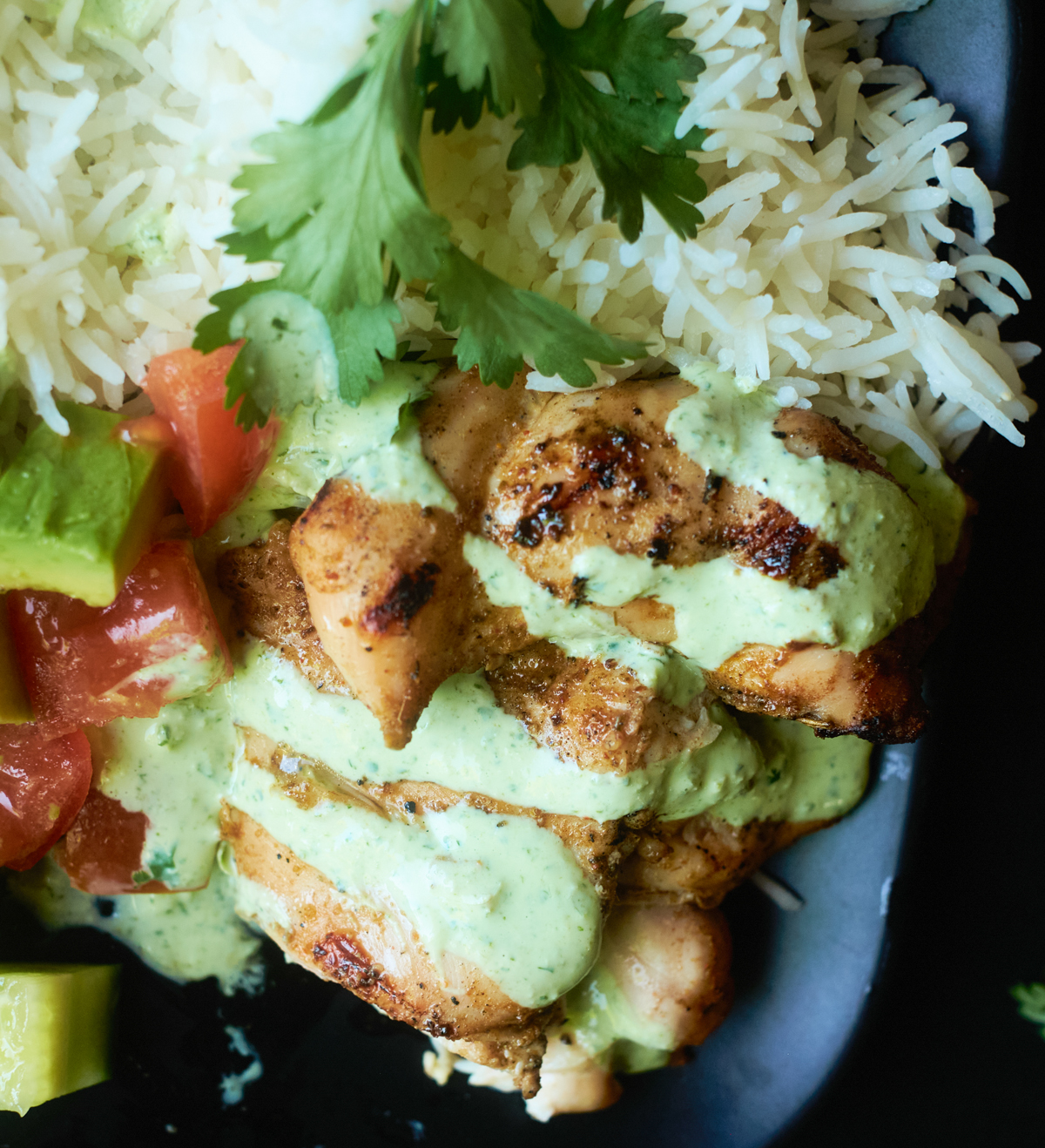 I know it looks like a lot of ingredients but it's super easy to put this Peruvian Chicken Thigh Recipe together I promise. It's totally worth even the bit of work it takes and it just an amazing flavour.
Why You will Love this Peruvian Chicken Recipe
Easy: It's easy to put together. Marinate the chicken, make the green sauce in a blender, grill and serve.
Amazing Flavours: Bold, vibrant, citrusy, spicy as you want it's just delicious and as mentioned the green sauce goes with so many things!
Healthy: This Peruvian Grilled Chicken Recipe is packed with healthy ingredients. In fact I can't think of one ingredient that is bad for you. Served with salad or grilled veggies and it's a fantastic healthy summer meal!
As promised here's the awesome giveaway thanks to Chicken Farmers of Canada!
Giveaway: June 7th to 24th. One winner, 2 prizes!
Prizes:
Napoleon TravelQ 1165 Portable Propane Gas Grill
Inflatable Stand Up Paddle Board
Enter on the Giveaway Tools widget below!
Prizing is open to residents of Canada who are 18 years of age and older.
We will leave you with one last photo of the Peruvian Chicken Recipe. If you try it let us know you liked it.
By