Lovely Boutique Hotel in La Jolla (San Diego) the Pantai Inn
The Pantai Inn is a perfect fusion of serene, service, comfort and pampering.
The Pantai Inn (pronounced more like pawntai I discovered at the end of our trip) is a gem set amongst stunning ocean views, steps away from both quaint and high-end shopping, a plethora of restaurants and urban scenery. It has a bit of everything in that the hardest decision you may encounter is what to enjoy first.
I have so many wonderful photos to share from our stay at the Pantai Inn but can't put them all here so I've created a photo album HERE for you to peruse at your convenience.
Whether you're travelling with the family, a girls trip, a romantic visit for Valentine's or maybe an anniversary you can't go wrong with staying the Pantai Inn in La Jolla, California. La Jolla is part of the City of San Diego and bordered by Pacific Beach to the south, Del Mar to the north and the Pacific Ocean to the west.
I had the pleasure of staying at the Pantai Inn, La Jolla San Diego near the end of 2017 for a girls trip. It was my best friend's 50th birthday so naturally we had to celebrate. We didn't want to do the "Vegas" thing because that was not our scene at all. We wanted to go somewhere near the ocean, warmer weather than at home (Vancouver, BC), more beautiful scenery, shopping, culture and of course amazing accommodations.  So the La Jolla area of San Diego it was and we were not disappointed at all, especially with our accommodations!
How could we be disappointed when we were steps, yes steps away from gorgeous views like this one?!
We loved the La Jolla area of San Diego especially where the Pantai Inn was located. It was oceanfront, walking distance to go check out the sea lions (a 5 minute walk), walking distance to kayaking, seeing the caves and to shopping, restaurants and more! A photo of the sea lions below!
Our first night we walked up to the shopping/restaurant area to go and enjoy a comdey club show. The streets were actually quiet and we felt quite safe, of course we also used common sense and were aware of our surroundings. We were amazed that even though oceanfront was always busy during the day it was never noisy day or night. I have to say that's rare at almost any hotel I've stayed at for it be so quiet but I sure did appreciate it. The loudes thing I heard was the crashing of the waves.
Above is the cave we walked up to from the Pantai Inn. I'd say this was about a 15-20 minute walk for slow walkers like myself. More on these adventures to come in another post on our activities in San Diego.
Beautiful flowers like the hibiscus below were to be seen everywhere on the grounds of the Pantai Inn. I miss seeing them as they were everywhere and so pretty.
Why the Pantai Inn La Jolla San Diego is the perfect getaway
I'm way past of wanting to share a bed with friends on a trip. I admit I like to have my own space when it's time to go to sleep. That's what made the Pantai Inn absolutely perfect from their one bedroom suites and cottages up to a three bedroom suite. As there were three of us we stayed in a three bedroom, two bathroom suite with a partial ocean view. This was perfect for us three gal pals, it was comfort and luxury combined without being pretentious. Don't let the fact that I said partial ocean view make you think it wasn't spectacular. Just take a look at this "partial" ocean view below.
The photo above was taken from my loft room in our three bedroom "partial ocean view" suite. The view from the balcony was just as lovely, I should know I sat there every morning and evening to listen and watch the waves crash. The weather was also spectacularly warm which I thoroughly enjoyed as we were having winter weather cold at home at the time.
Aforementioned balcony that I enjoyed a few hours a day on. You can see my camera lens cover and my Kindle on the table lol
Before I gush more and show you the photos of our suite here's a bit of a 411 on the Pantai Inn:
Upon entering the Pantai grounds, guests are swept away by the beauty of the lush, manicured gardens and authentic Balinese statues, offering a sense of tranquility in the heart of La Jolla. The coral stoned courtyard is lined with plumeria, hibiscus-filled greenery and soothing water features while the sun shines brightly overhead. Guest accommodations provide authentic Balinese-inspired design along with custom-made furnishings and original artwork imported directly from Bali.

With a tranquil surrounding deeply rooted in traditional Balinese-inspired design and hospitality, there truly is no other La Jolla hotel like Pantai Inn.
When you walk in the main entrance you see the living room area to your left along with two of the bedrooms and one of the bathrooms. Straight ahead are the stairs to the loft master bedroom that has its own bathroom. 
Our dining area and kitchen with sliding doors to the balcony. We could have easily have 6-8 people staying here very comfortably but with the three of us it was pure heaven. It was our own retreat to celebrate our friend and her milestone birthday. Let me tell you that the birthday girl was thrilled to be staying in such lovely accommodations with amazing views, steps to the ocean and the grounds themselves were lovely.
Above is one of the main floor bedrooms, it had a flat screen tv and the second main floor bedroom was very similar also with a tv.
The loft master bedroom with a king size bed and an ensuite washroom was spacious and that window had the view I showed in a photo earlier. Don't worry though I'm going to give you an even better look at that spectacular view very soon here. 
How could you not feel comfortable and relaxed in such a lovely retreat. You felt pampered but comfortable, as it wasn't ostentatious but still luxurious. You know what I mean? I've stayed in some luxury hotels that weren't comfortable because I was worried about touching anything, it was all for looks and not for the comfort of the guests. Not so with the Pantai Inn, you got luxury and comfort, views, beautiful grounds and everyone we ran into who worked there were friendly and helpful.
I adored all of the little touches such as the makeup washcloths that you could use and not worry about staining. Why oh why is this first time I've seen this at any hotel? Loved it. Then there were the chocolates and sweet notes every night on our beds for turndown service. I saved the chocolate below to give to my daughter because she and peanut butter and chocolate is pure heaven for her.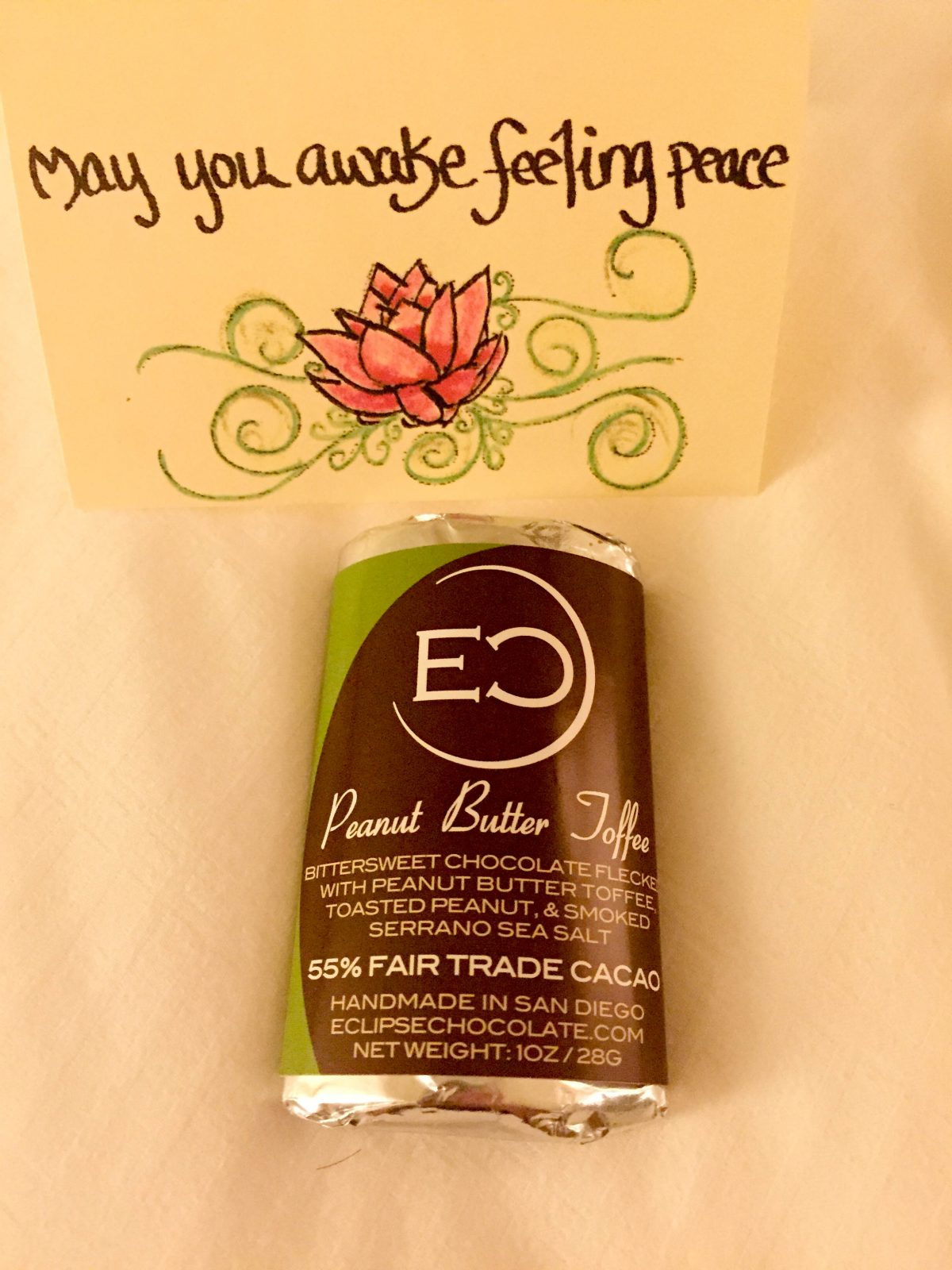 Pantai Inn Amenities & Services
Complimentary parking
Complimentary high-speed wireless Internet access throughout the property – Download speeds up to 100 mbps (ideal for streaming video) and upload speeds up to 20 mbps
Finest coffee & teas served through the afternoon and evening
Complimentary deluxe breakfast each morning
I normally don't gush about breakfast because I'm not a big breakfast eater and it's in the morning haha. Seriously coffee comes first but I really enjoy the complimentary breakfast. That baked French Toast above was simply amazing, I went back for seconds and hey the view could not be beat!
Yes above is the courtyard where I ate breakfast every morning and of course had my coffee. How nice is that?! It was never crowded and the few times there were others eating in the courtyard it was still serene. In fact one day a fella was there playing his guitar, talk about adding to the ambience.
Said fella playing guitar the first morning I had breakfast in the courtyard. Speaking of courtyard let's continue on with the other fabulous amenities of the Pantai Inn shall we?
Concierge services
Tranquil ocean view courtyard
Outdoor firepit and seating area
Beautifully landscaped gardens
Twice daily housekeeping
In-room spa treatments
Non-smoking environment
As promised here's the video from my loft room in the three bedroom suite where you can see the view again and hear the waves crashing.
The Pantai Inn La Jolla San Diego really does have it all from comfort to luxury, serenity. You are close to everything you could want or need. You have the choice of going out to eat with every type of cuisine you can think about or stay in and fix something up in the kitchen.
Make sure to check them out if you're thinking of travelling to the area, La Jolla is now my favourite area in San Diego, you just cant' go wrong in my opinion.
Follow them to keep up to date with what is happening at the Pantai Inn, specials and more.
Website | Twitter | Facebook | Instagram 
One last photo to leave you with as to why you want to stay at the Pantai Inn so you can enjoy beautiful sunsets like this one. I walked down just a couple of minutes to get this photo although I think some of the oceanfront suites get this spectacular view.
Check out some of our other fabulous travel articles HERE including more on San Diego one of our favourite places to visit in the world.

Disclaimer

We received comped nights and reduced rates for our stay at the Pantai Inn but this is no way affects our opinion on our review. We highly recommend the Pantai Inn because we felt they had great customer service, amenities and the accommodations were amazing. We would not recommend it if we did not like it even if we are given comped or reduced rates.

By