Oven-Baked Waffles Recipe – Gluten-Free Option
This oven-baked waffles recipe is easy to make, has a gluten-free option and is ideal for weekday or weekend breakfast! Add your favorite toppings whether they are sweet (our favorite) or savory & enjoy.
You can use a silicone waffle mold as it's so easy to do and you can pick one up from your grocery store or Amazon. There are also different shapes of waffle silicone molds so have fun.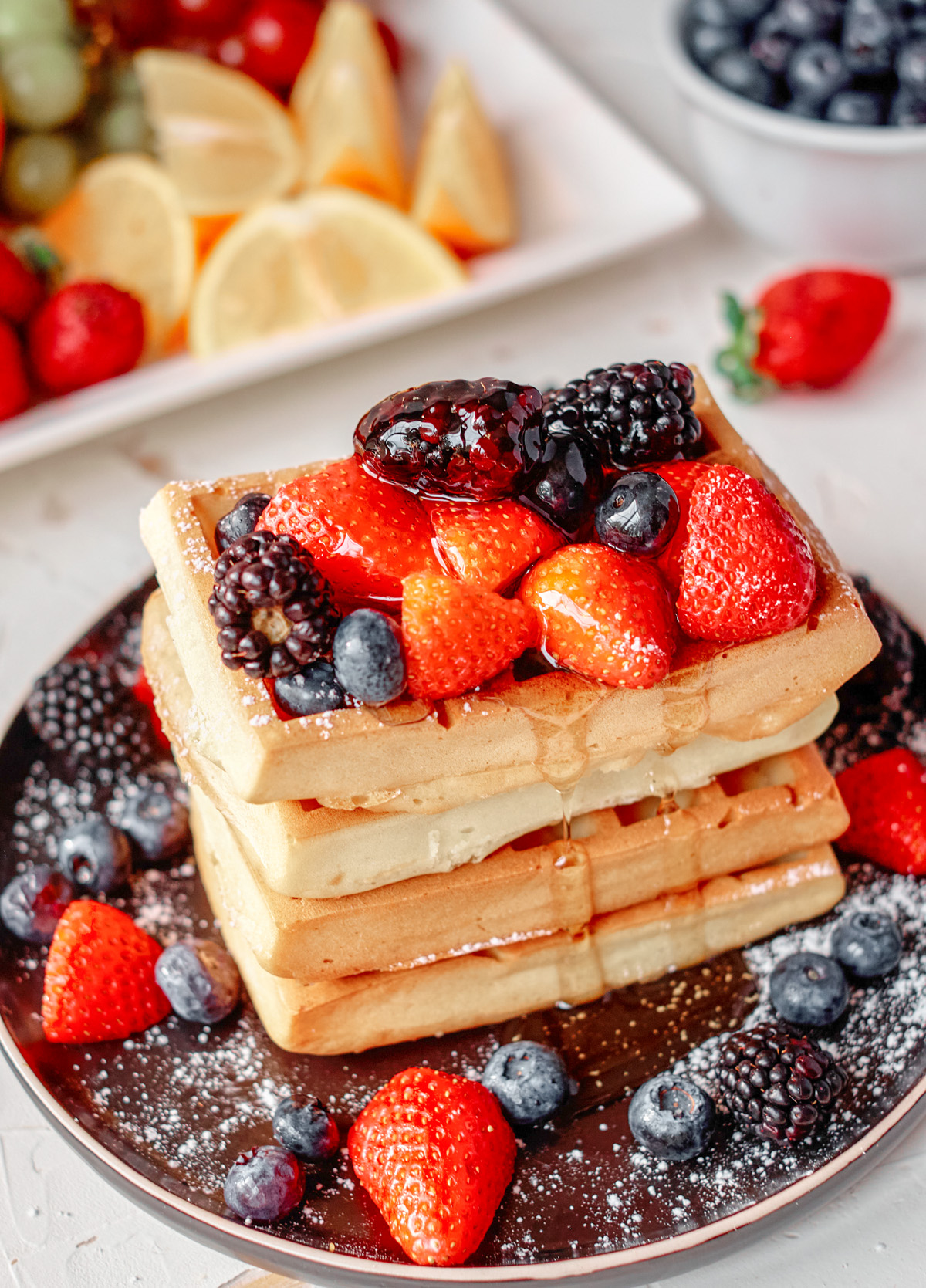 The photos for this recipe have been updated from the original post (2014) as of August 27, 2020.
I also did a gluten-free option of these waffles which was yummy. It was so good my family had no idea they were gluten-free until I told them afterwards of course.
Make sure to check out our other Recipes like the following:
Now the homemade waffles are easy to make but if you want to make this even easier you can use a pancake/waffle mix, there are even gluten-free ones out there. I like Pamela's gluten-free pancake mix which I see can also be used for waffles, we will try the mix the next round.
First how did I bake the waffles? Well I used a fabulous silicone waffle mold from Amazon HERE. They are a decent price for a set of two. Or look for some fun shaped waffle molds, I've seen heart-shaped ones and more.
Do baked waffles taste as good as one from a waffle maker?
They sure do, in fact, I can't taste any difference. You can see a difference though as one side of the waffles doesn't have the indentations as you can see below.
I love the silicone mold that I have (it's the one above) I can make four waffles at the same time and it's easy and not messy at all.
Here's the recipe you can use either regular flour, whole wheat flour or gluten-free flour or remember if you want to make it super easy use a pancake/waffle mix.
Yield: 4-6
Oven Baked Waffles
This oven-baked waffles recipe is easy to make gluten-free and ideal for weekday or weekend breakfast! Add your favorite toppings whether they are sweet (our favorite) or savory & enjoy.
Ingredients
2 cups all purpose flour (or substitute as mentioned above)
2 Tbsp sugar (if you want you can add 3 Tbsp I used 2)
2 tsp baking powder
1 tsp basking soda
2 Large eggs
1 1/2 cups of milk
vanilla extract if desired - I always use it and add to taste we LOVE vanilla
1/4 cup of oil (I like coconut oil but you can use a vegetable oil)
Instructions
Preheat oven to 425 F
Combine dry ingredients in medium to large mixing bowl
In another bowl mix eggs, milk, vanilla extract (if using) and oil
Add the wet ingredients to dry and mixed until combined, no big lumps
Brush coconut oil (or oil of choice) or use cooking spray on silicone mold
Pour waffle batter into mold filling no more than 3/4 (for gluten free for regular flour maybe half way) make sure to fill all corners.
Bake 12-15 minutes until the waffles look golden brown, if the top is golden brown the bottom should be too.
Take out of oven flip mold (use oven mitts as silicone can be hot) and the waffles will fall out. Serve and enjoy!
Notes
Please note all nutritional information is an average and can vary depending on the size and amounts of the recipe you make in addition to the ingredients. The nutritional information provided is a guideline only.
Nutrition Information:
Yield:
6
Serving Size:
1 waffle
Amount Per Serving:
Calories:

310
Total Fat:

13g
Saturated Fat:

2g
Trans Fat:

0g
Unsaturated Fat:

10g
Cholesterol:

67mg
Sodium:

216mg
Carbohydrates:

40g
Fiber:

1g
Sugar:

8g
Protein:

8g
Please note that we can not guarantee the accuracy of the nutritional information. They are a best guess calculation.
Note: As previously mentioned one side of the waffles will not have the holes this is the side facing up in the mold but the bottom side will look like regular waffles and it all tastes good.
Can you freeze the oven-baked waffles?
Yes! We like to make extras of these waffles and freeze them, way better than any frozen waffles you buy in the store. These are great for freezing, they're like your own Eggo Waffle but better and with better ingredients, because you know what went into them. My daughter likes to put them in a toaster or toaster oven. They also warm up nicely in an AirFryer Oven.
They are a bit crispy on the outside but soft on the inside, a tasty waffle indeed. She just tops hers with maple syrup but I love mine with fresh fruit and sometimes some whipped cream.So make a big batch and freeze some for later to be taken out whenever you need them or are just craving a waffle.
Make sure to PIN this recipe for later!
If you try these waffles let us know how you liked them (or not that's okay too) or if you made changes we'd love to hear from you.
What toppings would you add to your oven baked waffles?
By