Lemon Icebox Cake (No-Bake) Recipe
This No-Bake Lemon Icebox Cake is layered with deliciousness! Crunchy, creamy, sweet, and just a bit tart, it's a perfect dessert any time of year! Prepare ahead of time and have one in your freezer for those unexpected occasions where it is handy to have a dessert on hand and ready to serve.
I've also seen recipes like these and they called them lasagnas so this could be a lemon lasagna. I don't see any differences as to why some call it a "lasagna" and since icebox cakes have been around a long time I went with calling it a lemon icebox cake.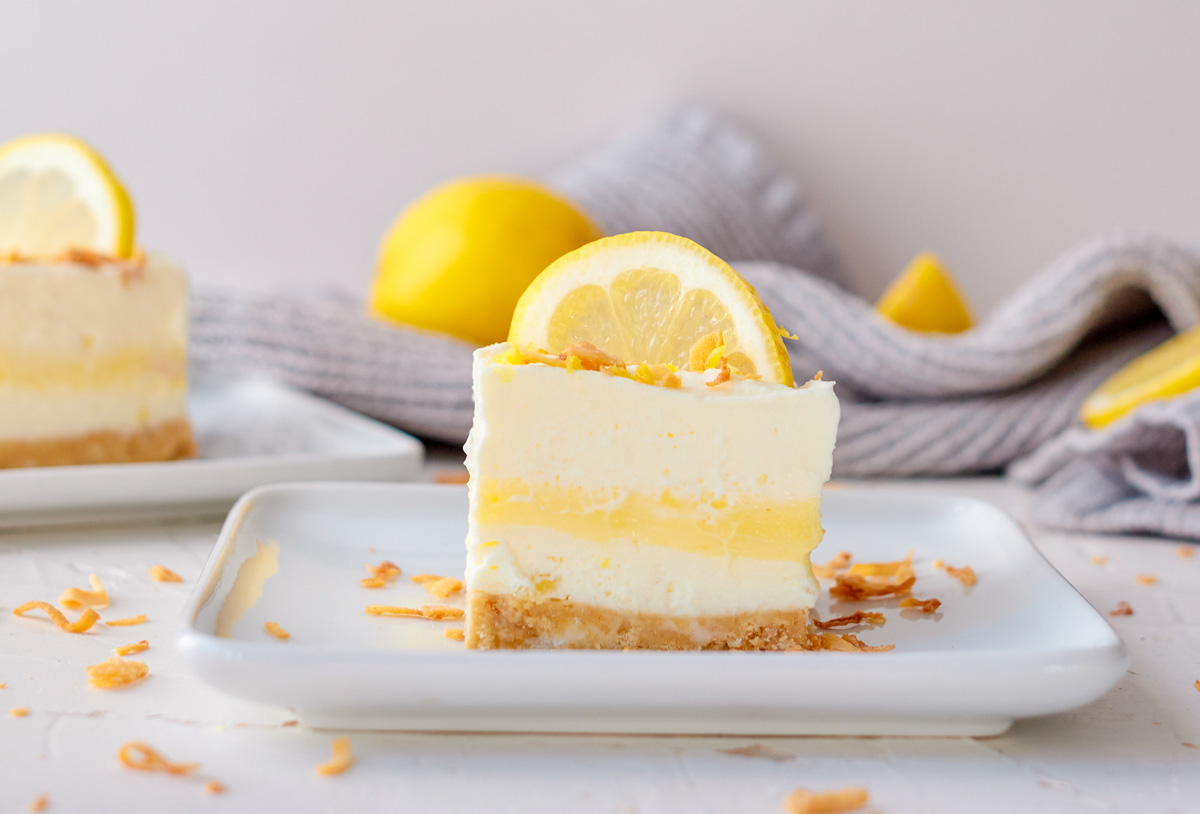 This Lemon Icebox Cake is not just for the summer, although it is awesome to not have to turn the oven on to make it during the hot weather months. I love anything lemon so the tart lemon curd with the whipping cream is a dream, a least I think so. I also love toasted coconut and thought it paired deliciously with this Lemon Icebox Cake.
Lemon Curd and Whipped Cream
In some similar recipes they use lemon pudding for the lemon layer and Cool Whip for the whipped cream. I don't use either, I never use Cool Whip, it's just not something I like and for this I used lemon curd because I LOVE it. You can buy pre-made lemon curd or you can use our homemade lemon curd recipe HERE from our No-Bake Lemon Cheesecake Recipe. Once you've made your own lemon curd and see how easy it is you may never buy pre-made again.
What is an Icebox Cake?
It wasn't until a few years ago that I had personally heard for icebox cakes, in fact, I've never had one growing up here in Vancouver, BC (Canada). So when I saw recipes popping up for them I had to check it out and this is the first one I've made myself. After trying it I asked myself why the heck hadn't I made these before!
An icebox cake is basically a layered dessert that will have a cookie layer (usually the bottom crust layer & possibly a few more layers throughout) with whipped cream. It's then placed in the fridge to set and firm and the cookie layers absorb the whipped cream which softens as they absorb the whipped cream and it creates this chilled dessert with a bit of cakey goodness.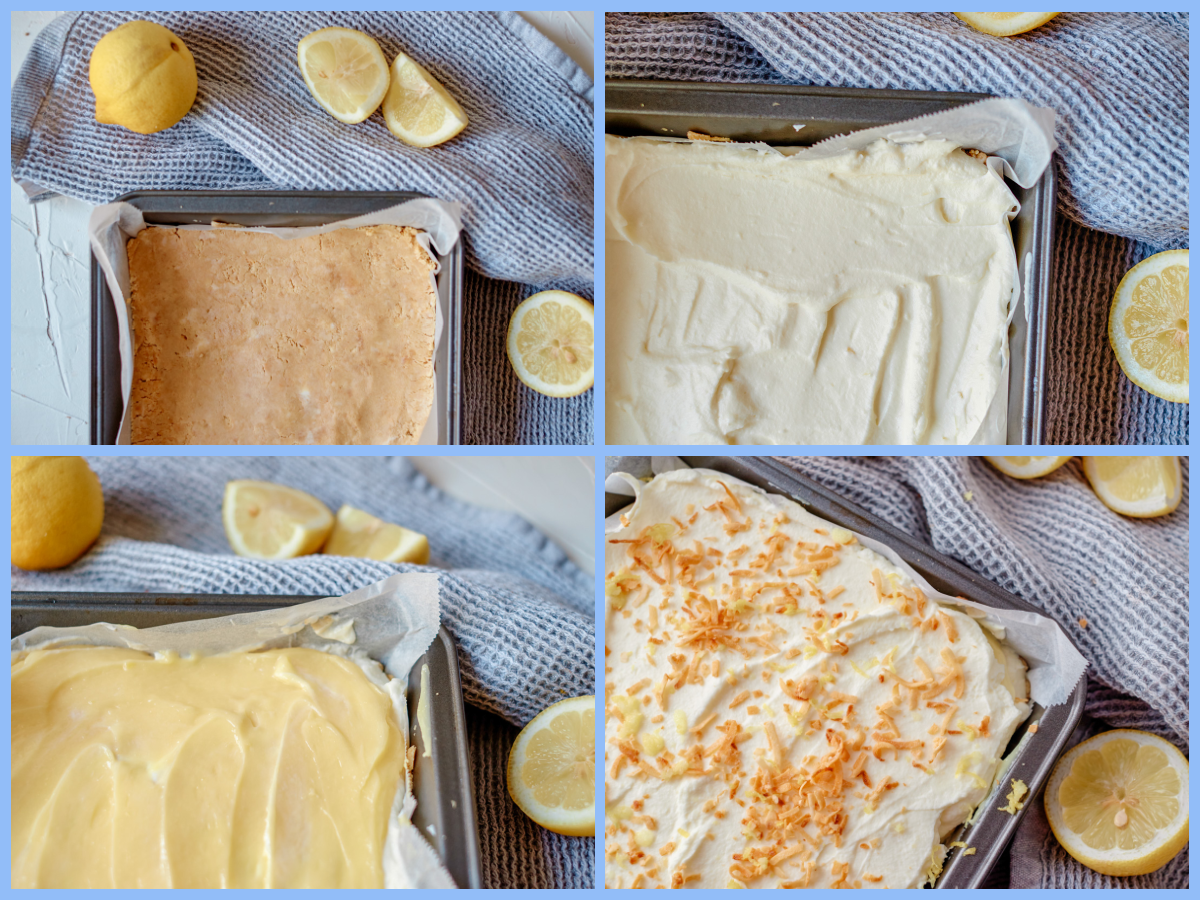 From L to R for each row the layers for the Lemon Icebox cake starting with the Golden Oreo Cookies layer. As for flavours it's entirely up to you, there are endless options and I've seen so many but lemon is always a favourite in our home. They use the term icebox because this dessert became popular in the U.S in the 1920s and by then a lot of people at least in the bigger cities had an icebox in their home.
Before we forget make sure to PIN this awesome recipe for your reference.
Make sure to check out our other delicious recipes like the ones below!
Easy Snickerdoodle Cupcake With Homemade Caramel Sauce
Strawberry Crumble No Churn Ice Cream
No-Churn Papaya Mango Ice Cream
Now let's get to this recipe shall we?
Yield: 1 cake
Lemon Icebox Cake - No-Bake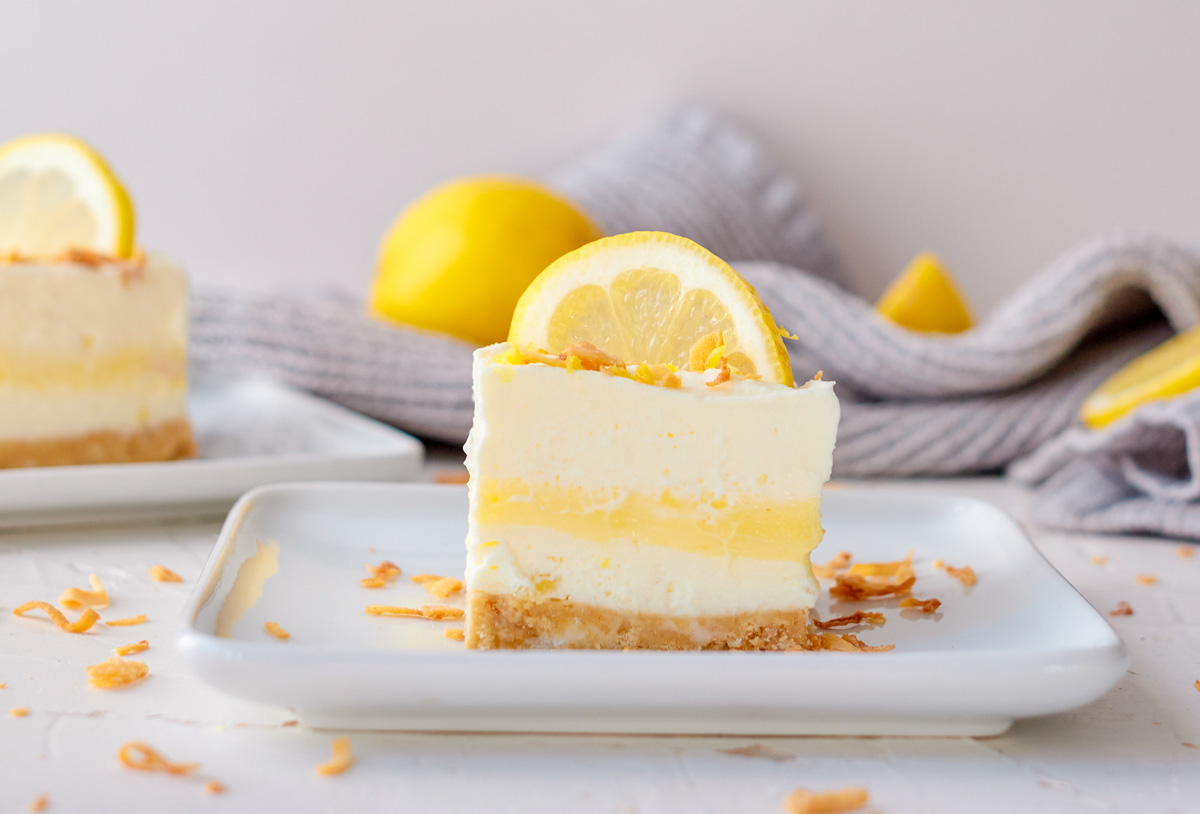 This No-Bake Lemon Icebox Cake is layered with deliciousness! Crunchy, creamy, sweet, and just a bit tart, it's a perfect dessert any time of year!
Total Time
1 day
30 minutes
Ingredients
32 golden Oreos
½ cup of butter
2 teaspoon coconut
4 cups of whipping cream
2 packages of unflavoured gelatin
2 tablespoon hot water
2 tablespoon powdered sugar
1.5 cups of lemon curd (you can use store-bought or our recipe HERE)
Toasted coconut for garnish
Lemons for garnish
Instructions
Blend Oreos and coconut in a blender until crumbly. Mix in melted butter until you have a thick mixture. It should not be too crumbly.
Press into an 8x8 pan and set into the fridge while you prepare the stabilized whipping cream
To prepare the whipping cream. Place the whipping cream and sugar into a blender (or standing mixer) and blend on high for about 30 seconds or until you have thick whipping cream
Mix the gelatin with the hot water and let bloom for 5 minutes. Turn on your blender again and blend in the whipping cream.
Spread half of the whipping cream onto the base and place into the freezer for 5 minutes. Remove and spread the curd on. Top with remaining whipping cream
Garnish with lemons and toasted coconut.
I suggest placing it in the fridge overnight to ensure it sets properly.
Nutrition Information:
Yield:
10
Serving Size:
1 slice
Amount Per Serving:
Calories:

768
Total Fat:

59g
Saturated Fat:

34g
Trans Fat:

2g
Unsaturated Fat:

21g
Cholesterol:

181mg
Sodium:

332mg
Carbohydrates:

52g
Fiber:

2g
Sugar:

38g
Protein:

11g
Please note that we can not guarantee the accuracy of the nutritional information. They are a best guess calculation.
So what do you think are you ready to make your own Lemon Icebox Cake? It's soooo delicious and refreshing you won't regret it. You can also top it with fresh fruit like raspberries would be my first choice then maybe blueberries. You don't have to top it with anything though as it's oh so yummy all on its own.
If you do make it let us know how you liked it! Happy eating.

By