Easy Key Lime Bars Recipes
This scrumptious Key Lime Bars Recipe has an easy key lime pie filling along with a three-ingredient graham cracker crust. They are delicious, easy to transport, serve enjoy at any gathering.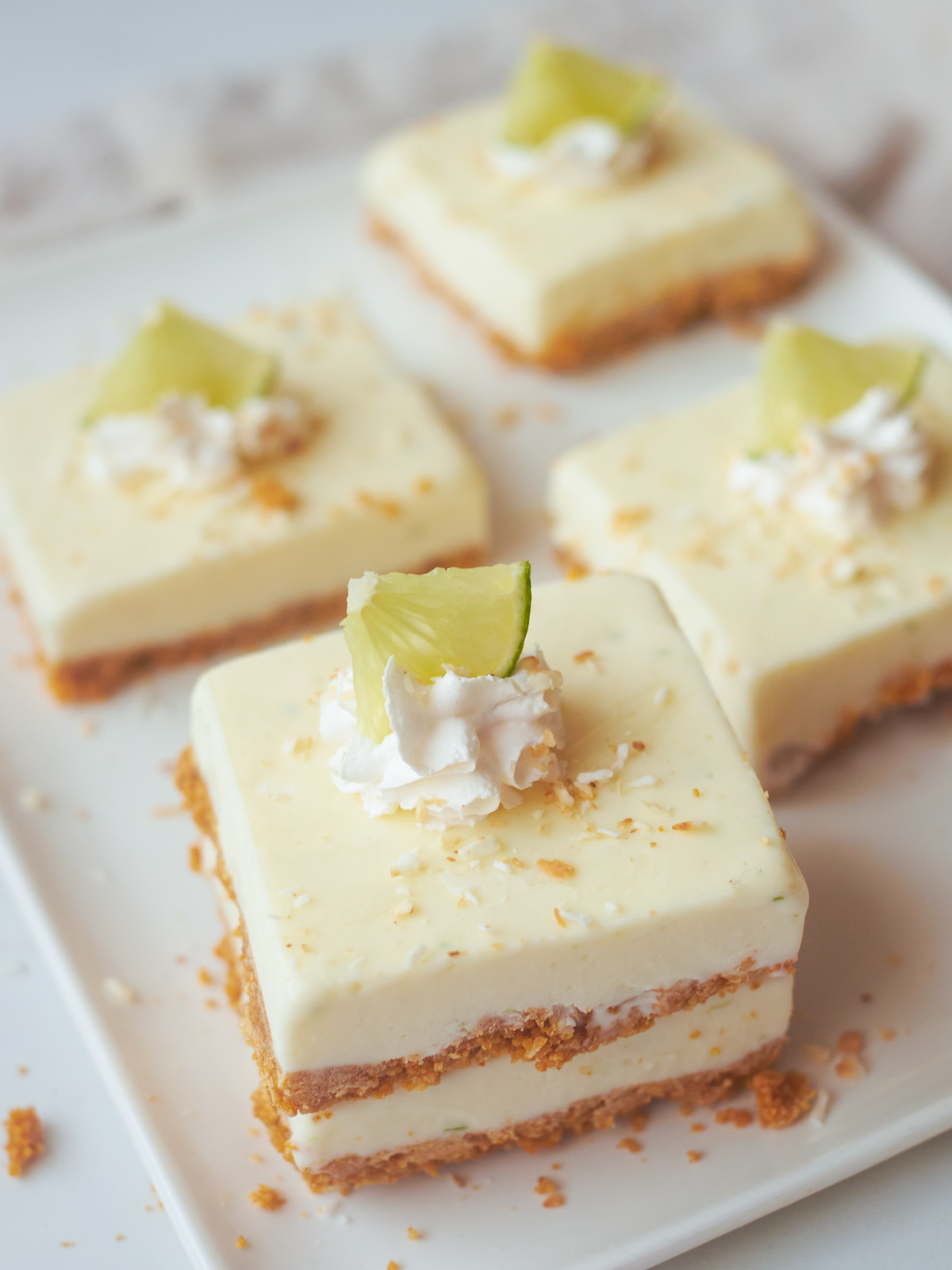 These key lime pie bars are very similar to our No-Bake Key Lime Pie Recipe but this key lime pie bars recipe has cream cheese in it and you do have to bake it for about 10 minutes.
Just like our No-Bake Key Lime Pie we think these key lime cheesecake bars are yummy served very cold, even frozen. While these bars have been baked they can soften and "melt" after a short while so we do recommend keeping them very cold to frozen.
For the warmer weather months everyone enjoys these key lime pie bars frozen, makes them a refreshing and tasty summer treat.
Can you make Key Lime Cheesecake Bars Ahead of Time?
Yes you can, you can prepare it all ahead of time as these bars need time to chill in the fridge. You can also make the graham crust and filling and keep them separate until you're ready to assemble and bake the bars.
Can you freeze Key Lime Pie Bars?
Yes! In fact we like to keep and serve these key lime pie bars frozen. They will start to soften quickly at room temperature so serving them frozen delays that. We suggest not leaving them out long, although it has never been a problem for us as everyone tends to gobble them up quickly.
Make sure to PIN this Key Lime Pie Bars Recipe
Make sure to check out our other delicious recipes like the ones below.
Key Lime Pie Bars - Delicious Summer Dessert
These key lime bars are the perfect spring/summer dessert to serve at any gathering. You don't have to slave over the oven, they are quick to assemble and baking time with the crust is in total is only about 20 minutes. So you can have that oven off in no time. The hardest part is waiting for them to chill for a few hours.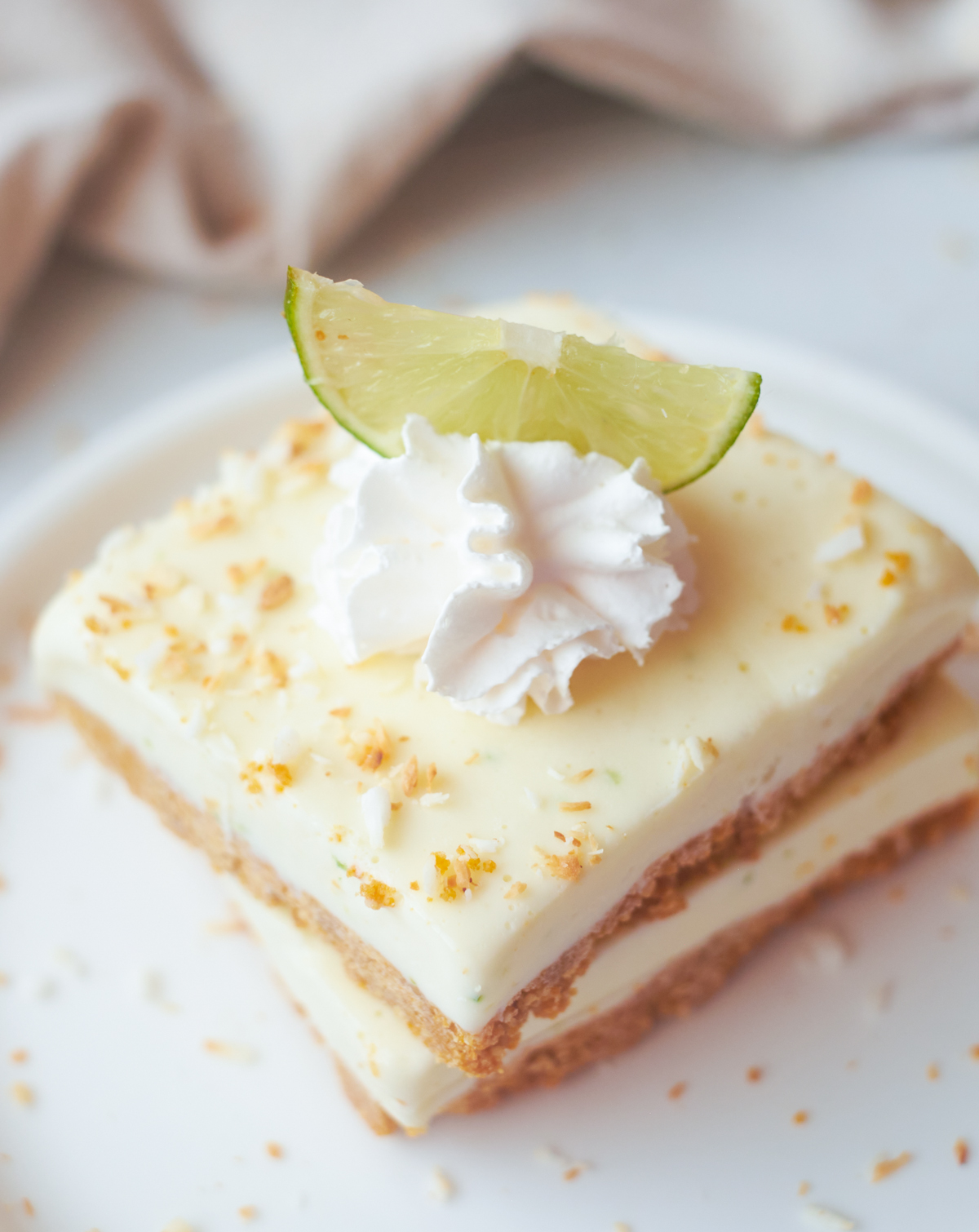 Key Lime Cheesecake Bars Filling
The filling for these Key Lime Cheesecake bars is creamy, refreshing, tart but not sour and just a delicious combination of flavors. Here's what's in the filling:
key lime juice
lime zest (can be from any type of limes)
cream cheese
sweetened condensed milk
fresh whipped cream and toasted coconut for toppings (optional)
We added cream cheese to this recipe even though that's not typical for key lime pie. The reason we added it is to make bars a bit more solid to keep their consistency and stability and for extra creaminess.
Can I use other limes instead of key limes?
Yes you can but I do recommend that you use freshly squeezed limes and not bottled lime juice as the taste is not the same in my opinion. Unless you can find bottled lime juice that says it's key lime juice then you can try that.
Let's get to this key lime cheesecake bars recipe now shall we?
Yield: 12
Key Lime Bars Recipe
This scrumptious Key Lime Bars Recipe has an easy key lime pie filling along with a three-ingredient graham cracker crust. They are delicious, easy to transport, serve enjoy at any gathering. 
Total Time
4 hours
30 minutes
Ingredients
Graham Crust
1 ½ cups graham cracker crumbs
⅓ cup granulated sugar
6 tablespoon butter, melted
Key lime filling
Two 14 ounce cans sweetened condensed milk
4 ounces softened cream cheese
¾ cup key lime juice*
Zest of 2 large limes
Whipped Cream and Toasted Coconut for toppings (optional)
Instructions
Preheat oven to 350F
Combine the graham cracker crumbs, sugar, and melted butter and pack and press into the bottom of an *8'' square baking pan.
Bake the crust for 10 minutes. Cool before adding the key lime filling.
In a medium mixing bowl add softened cream cheese and beat until smooth. Add the 2 cans of sweetened condensed milk, lime juice, and lime zest and hand mix (or beat on low) again until smooth.
Pour into the pan over the graham crumbs base and bake in the oven at 350F for 10 minutes. Completely cool before putting it in the fridge. Chill for 4 hours or overnight or place in freezer.
Top with whipping cream and toasted coconut.
Notes
*In our photos we used a 7x10 pan which had angled sides so it has similar results to the 8x8 pan. We've done both sizes but we didn't have an 8x8 pan at the time we took the photos for this recipe.
Nutrition Information:
Yield:
12
Serving Size:
1
Amount Per Serving:
Calories:

477
Total Fat:

20g
Saturated Fat:

13g
Trans Fat:

0g
Unsaturated Fat:

6g
Cholesterol:

56mg
Sodium:

258mg
Carbohydrates:

69g
Fiber:

1g
Sugar:

60g
Protein:

9g
Please note that we can not guarantee the accuracy of the nutritional information. They are a best guess calculation.
Now doesn't that look easy peasy and what a delicious dessert any time of the year but especially in the warmer months. You can also finish with some more lime zest on top of the bars. I love it with the whip cream and the toasted coconut too.
You'll love the creamy texture and the refreshing flavor of these key lime pie bars, at least I hope you will. It's certainly always a hit with my family and friends.
If you try this recipe let us know how you liked them and any variations that you may have tried that you loved or hated. Please share this yummy recipe for everyone to enjoy.

By