How to Make Lemon Chicken in the Instant Pot
No need to heat up the house by turning the oven on during the hot summer months when you can make this delicious Instant Pot Lemon Chicken Recipe. A little bit of tang and lots of flavour and no oven needed what could be better?
I've just started to use my Instant Pot more and more and I'm so glad that I am now that summer is here. I sure don't want to turn on an oven with hot sunny weather and the family doesn't want cold style meals every so this Instant Pot Lemon Chicken Recipe is a great addition to our summer menu.
If you're looking for more tasty recipes make sure to check out the following:
No-Bake Mini Lemon Cheesecakes
Lemon Loaf with Homemade Lemon Glaze
Instant Pot Chicken Breast Recipes
Easy Instant Pot Chicken Tortilla Soup
Easy Instant Pot Cheesecake Recipe
Instant Pot Chicken Carnitas Recipe – Slow Cooker Option
When we are in the mood for some delicious salads or really any recipe with chicken I go to chicken.ca for some recipe inspiration. So many great recipe ideas the possibilities are endless.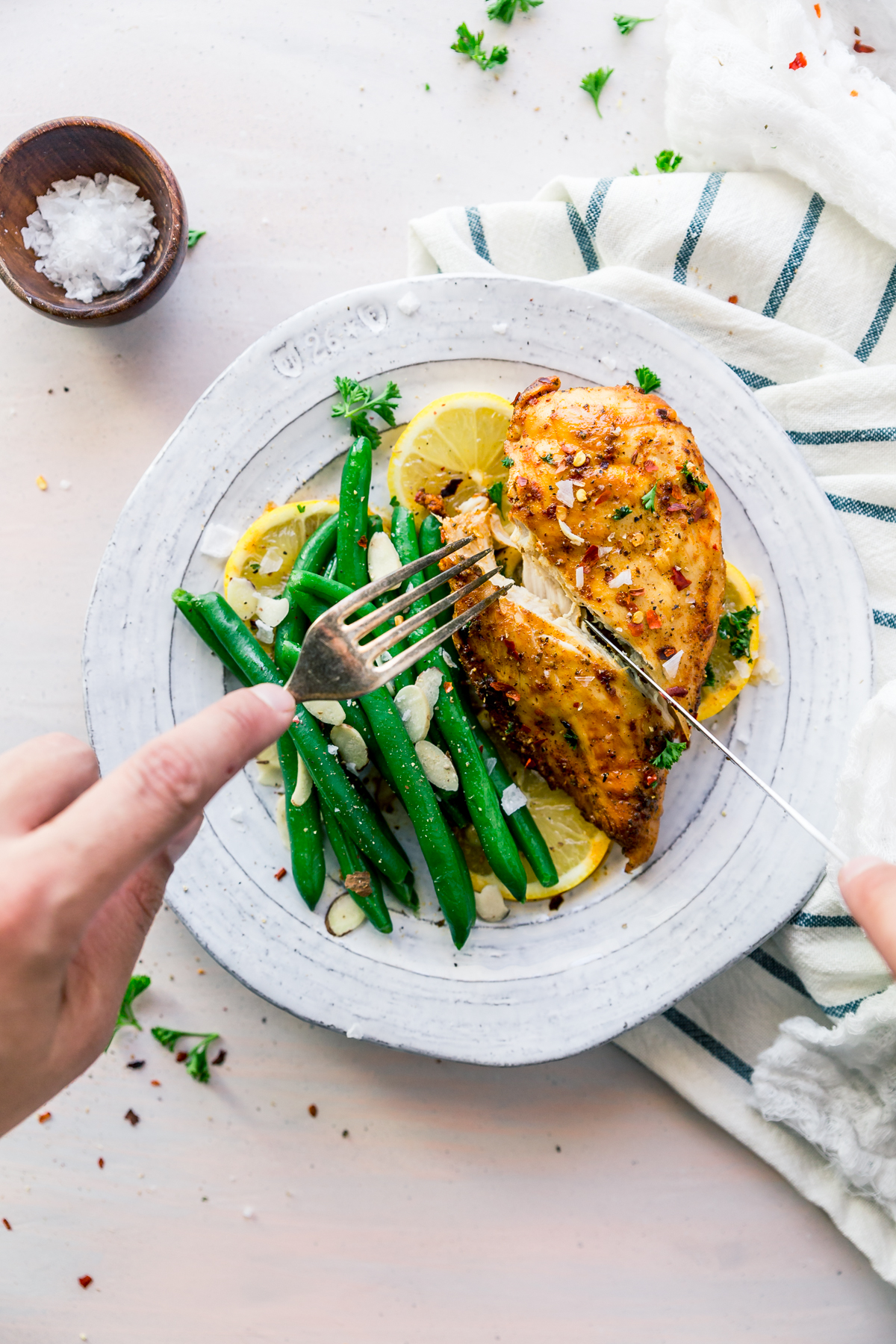 For this Instant Pot lemon chicken with garlic I like to serve it with either a few different veggies, a salad or rice but it really goes with anything. It's refreshing and oh so full of flavour it has become a hit with family.
It's a hit with me as well because it's easy to make and thanks to the Instant Pot doesn't heat up my kitchen during these hot summer months.
To help me get our meals ready for the week like this Instant Pot Lemon Chicken I use the chicken.ca grocery app to make my grocery shopping quick and easy. I can add the grocery items right from their site for the recipe of my choice to the app, it's so handy and convenient. It makes my life just a little bit easier and our meal planning a lot easier. Make sure to add Chicken.ca's grocery app to your phone, you'll love it too.
Let's get to this tasty Instant Pot Lemon Chicken recipe shall we?
Yield: 6
Instant Pot Lemon Chicken Recipe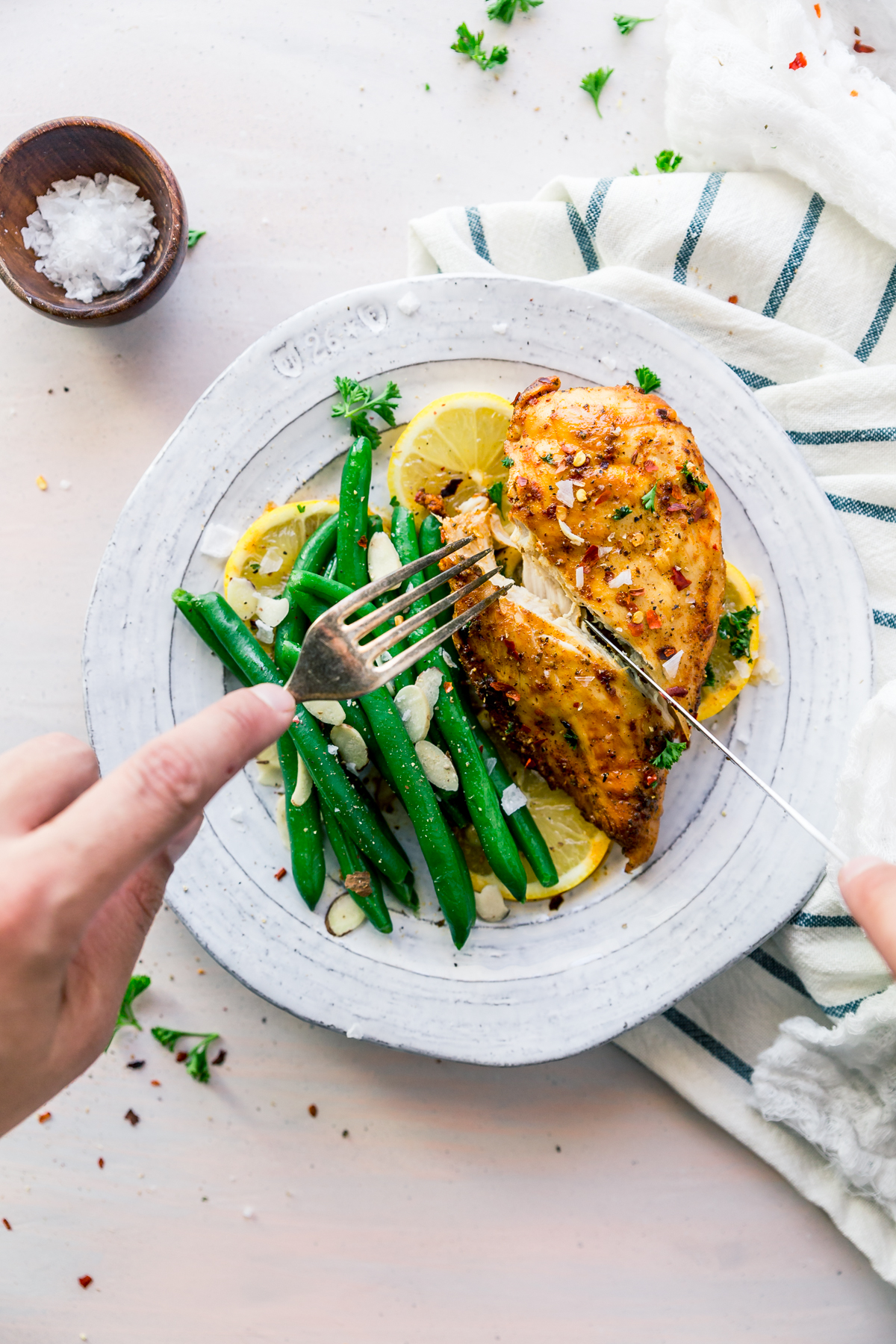 No need to heat up the kitchen or the whole house by turning on the oven when you can make this delicious Instant Pot Lemon Chicken Recipe!
Ingredients
3 lbs boneless skinless chicken breast
3/4 teaspoon garlic powder
3/4 teaspoon smoked paprika
3/4 teaspoon red pepper flakes
1 teaspoon kosher salt
1 teaspoon ground pepper
4 tablespoons olive oil, divided
1/2 yellow onion, chopped
4 garlic cloves, minced
2 tablespoons Italian seasoning
Juice and zest of 1 lemon
1/3 cup chicken broth
2 tablespoons heavy cream
Chopped fresh parsley and lemon slices for garnish if desired
Instructions
In a small bowl, mix the smoked paprika, garlic powder, red pepper flakes, salt, and pepper. Rinse and pat dry the chicken, then sprinkle with the seasoning mixture.
Set the Instant Pot to SAUTE and add 2 tablespoons of the olive oil. Once hot, add the chicken breast, in batches if needed, cooking for 3-4 minutes on each side until browned. Remove from Instant Pot and set aside.
Add the remaining olive oil, then toss in the onion and garlic, cooking for a minute until fragrant and slightly softened. Add the Italian seasoning, lemon juice and zest, and chicken broth and stir to combine. Nestle the chicken breast back into the Instant Pot, close the lid and set the valve to SEALING. Turn the Instant Pot on to MANUAL and set the time for *5-7 minutes (will depend on the size of your chicken breasts and your pressure cooker). Once done, do a quick release and remove the lid, then remove the chicken and set aside.
Set the Instant Pot to SAUTE once more, and add the heavy cream. Allow the mixture to cook and thicken, stirring frequently, around 2 minutes. Place the chicken back into the Instant Pot and gently coat in the lemon garlic sauce.
Garnish with parsley and lemon slices, and plate with your favorite sides. Serve immediately and enjoy!
Notes
*please note that cooking times of the chicken will depend on the size of the chicken breasts and even the type and size of your pressure cooker, age of the pressure cooker etc.. you may have to adjust cooking times accordingly once you've tested out the recipe for yourself.
Nutrition Information:
Yield:
6
Serving Size:
1
Amount Per Serving:
Calories:

514
Total Fat:

19g
Saturated Fat:

5g
Trans Fat:

0g
Unsaturated Fat:

13g
Cholesterol:

199mg
Sodium:

456mg
Carbohydrates:

11g
Fiber:

2g
Sugar:

6g
Protein:

71g
Please note that we can not guarantee the accuracy of the nutritional information. They are a best guess calculation.
Now doesn't this Instant Pot Lemon Chicken Recipe sound and look delicious?! Are you ready to try to make it in your Instant Pot?
Can you freeze this instant pot lemon chicken?
Yes you can definitely free this instant pot lemon chicken, it freezes very nicely in a vacuum seal bag. I love that you can just defrost it and warm it up in the microwave and it's good to go with your favourite vegetables, rice or pasta. It's very tasty on top of angel hair pasta.
What side dishes can you serve with this lemon chicken?
That's the beauty of this lemon chicken it really goes with everything. Obviously I like it with green beans but it would also be delicious on top of a salad, rice or you can chop it up and have it as part of your favourite stir fry. The possibilities are endless!
Make sure to PIN this recipe for later so that it's there when you're ready to make it! You will love this Instant Pot Lemon Chicken recipe and we want to hear from you when you make it!
Stop by our Recipes section for more delicious meals, snacks, desserts and more like this Jerk Chicken and Mango Avocado Salsa Recipe HERE.
Items used to cook this lemon chicken:

Disclosure: I am participating in the Chicken Farmers of Canada campaign managed by SJ Consulting. I received compensation in exchange for my participation in this campaign. The opinions on this blog are my own.

By