How to Make Festive Chocolate Lollipops
Who loves chocolate? Almost everyone so we're sharing this easy peasy chocolate lollipops recipe that has a festive look but you can easily make and decorate them for any occasion!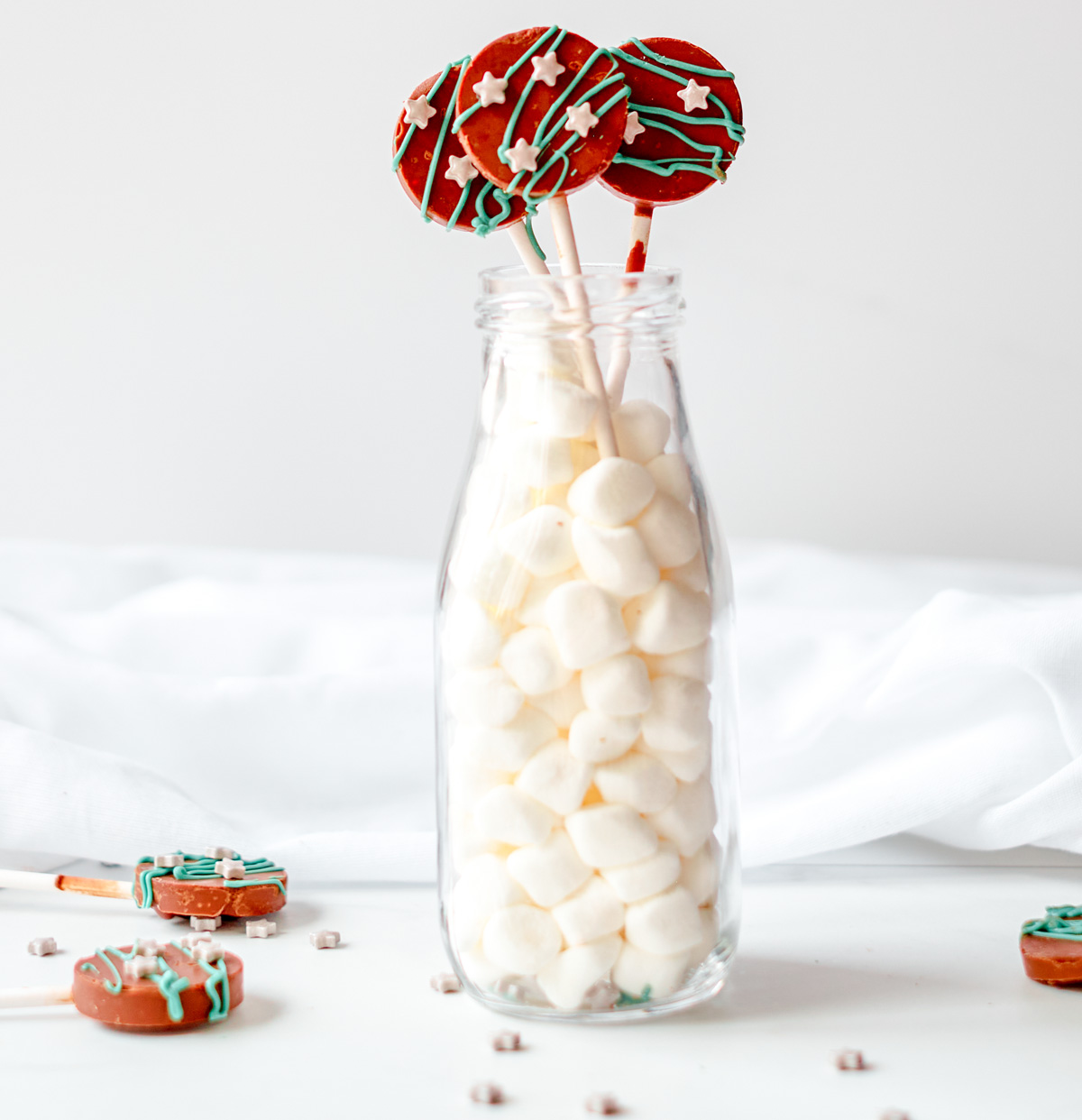 What you need to make chocolate lollipops
Christmas sprinkles (or any kind depending on the occasion ie: Valentine's, Easter etc..)
Sticks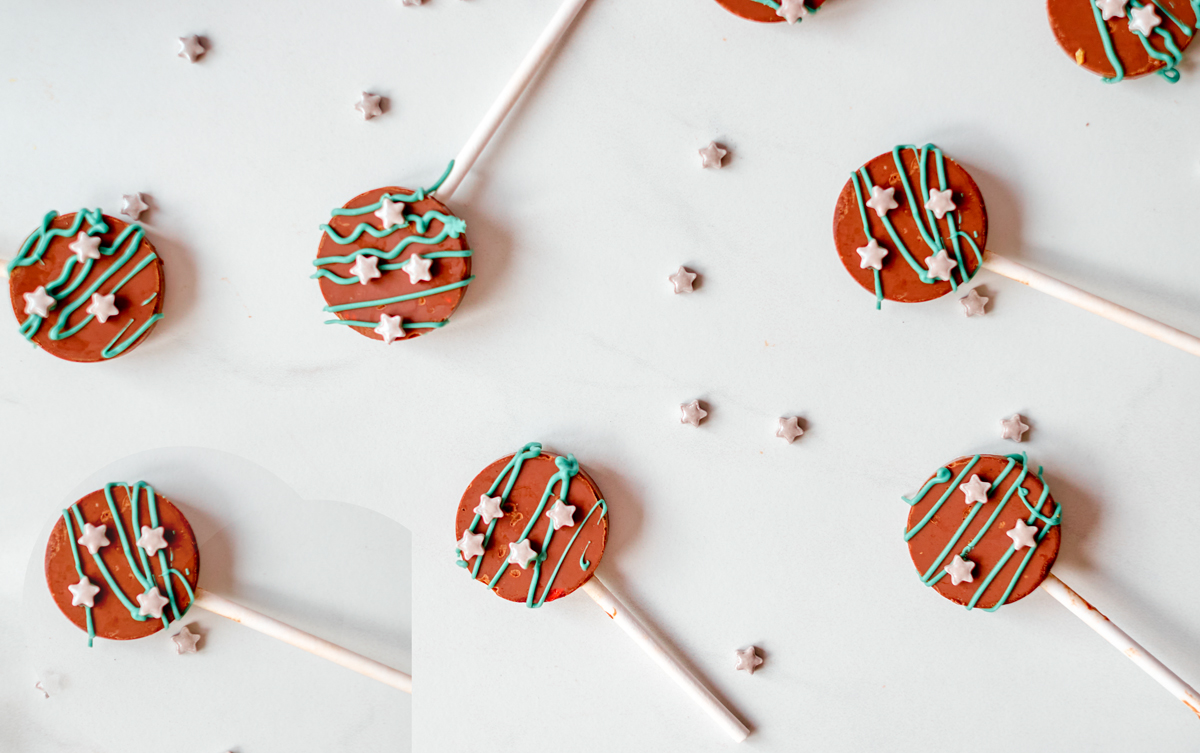 Make Chocolate Lollipops with the Kids
Kids will love making chocolate lollipops. They are easy to make and they can have fun decorating them with different sprinkles or they can be plain too.
Does it matter what kind of chocolate you use for the chocolate lollipops?
You can do white chocolate, milk chocolate, semi-sweet chocolate and/or dark chocolate. While I personally love semi-sweet and dark chocolate for the chocolate lollipops if it's for kids I would use milk chocolate since it's obviously sweeter. If you want to add color to the chocolate lollipops then you want to use white chocolate and the coloring to the melted white chocolate.
For myself, I find the most important thing about chocolate is to use quality chocolate. If you like the taste and texture of the chocolate chips then you're good to go to use it for the chocolate lollipops.
Tips for Making Chocolate Lollipops
Melting the Chocolate
There are a couple of ways you can melt the chocolate depending on how much time you have and your preference. You can microwave it but do it in short intervals. Using a microwavable bowl put the chocolate in the microwave on low at one-minute intervals stirring in between the intervals to get smooth melted chocolate.
The second option is to melt the chocolate in a double boiler on medium heat, stirring constantly.
Pouring the Chocolate
Once you have your melted chocolate you can pour it into the lollipop molds. I suggest using a spoon to pour the chocolate into the mold as they are not big and it will not be as messy. Basically, this way you are able to pour small amounts of chocolate out at a time. Fill the mold as close to the top as you can without going over.
Don't forget to PIN this recipe!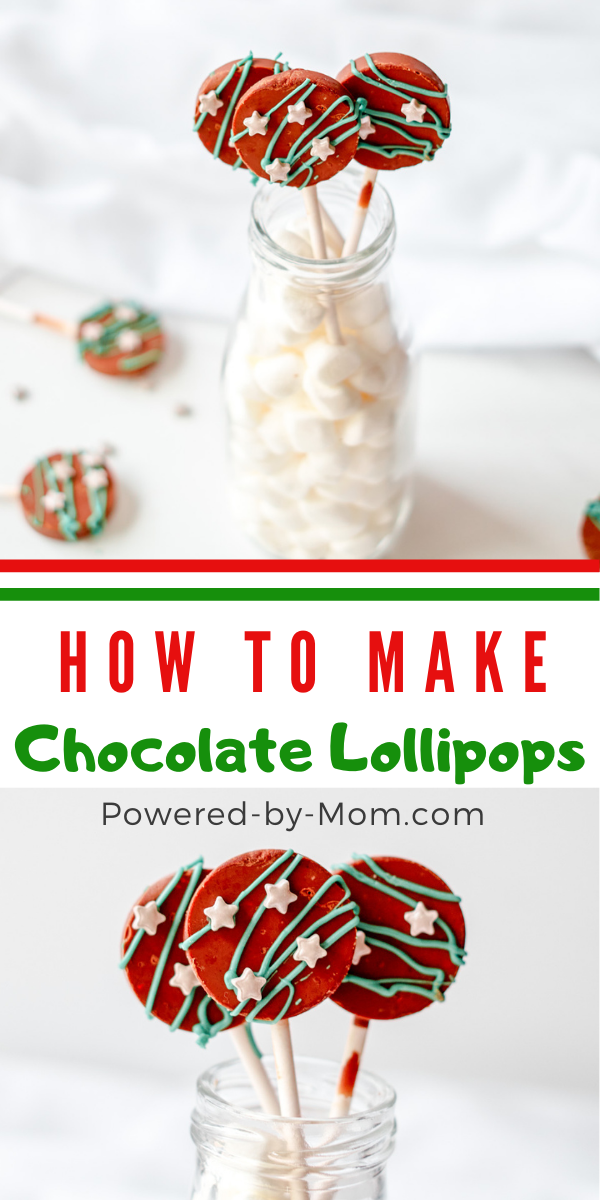 Adding the Sticks
If you have to buy a chocolate mold then you can get this one HERE on Amazon that also comes with the lollipop sticks on Amazon. Place the stick into the mold so that it's sticking about halfway into the chocolate. If the mold is larger then you will have to place the stick up higher to support the solid chocolate lollipop. Make sure to roll the stick around in the chocolate and that it's completely covered in chocolate so that it will stay in place.
Make sure to check out our other recipes like these yummy treats:
Now let's get to this easy peasy recipe shall we?
Yield: 12
How to Make Chocolate Lollipops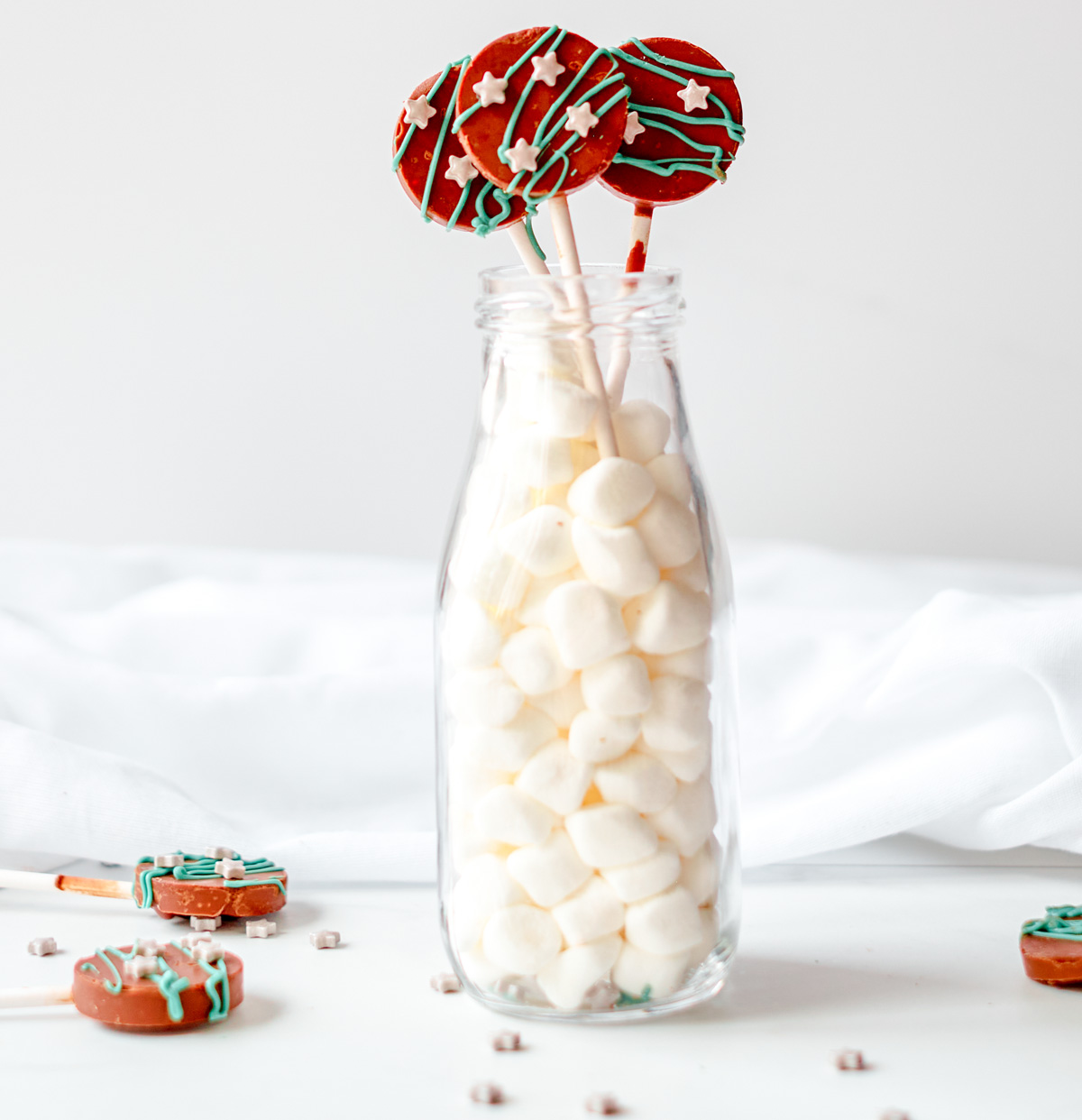 We're sharing this easy peasy chocolate lollipops recipe that has a festive look but you can easily make and decorate them for any occasion!
Total Time
2 hours
10 minutes
Ingredients
1 cup of milk chocolate chips
¼ cup of white chocolate chips
Christmas sprinkles
Lolipop mold
Sticks
Instructions
Melt milk chocolate and pour into molds
Place sticks and let set up in the fridge for 2 hours
Remove from fridge and melt white chocolate chips.
Remove lollipops and drizzle white chocolate on top
Sprinkle sprinkles on top and let set for 10-15 minutes before eating
Notes
Check through our post for some helpful tips to make it as easy as possible for creating these chocolate lollipops.
Make sure the chocolate is completely cooled and hardened before removing them from the chocolate mold.
Nutrition Information:
Yield:
12
Serving Size:
3 lollipopos
Amount Per Serving:
Calories:

96
Total Fat:

5g
Saturated Fat:

3g
Trans Fat:

0g
Unsaturated Fat:

2g
Cholesterol:

4mg
Sodium:

14mg
Carbohydrates:

11g
Fiber:

0g
Sugar:

9g
Protein:

1g
Please note that we can not guarantee the accuracy of the nutritional information. They are a best guess calculation.
Yes, it really is that easy to make chocolate lollipops and if you don't have all of the materials to make it you can find chocolate molds and sticks on Amazon or other stores for a very reasonable price.
One last tip for Cooling the Chocolate
As mentioned the chocolate needs to be completely cooled and hardened before you take them out of the mold. One way we like to have the set is to put them on a cookie sheet and put them in a freezer keep the sheet level. You do not want to tip the mold otherwise it won't set properly. As well putting them in the freezer has them set quicker, you can check after about 15 minutes.

If you make these chocolate lollipops let us know how they turned out for you!

By