No Fear, Only Easy Riding With Hovertrax 2.0 Hoverboard
The Brand You Trust With Electrical Certification
When my 14-year-old first asked for a Hoverboard, my immediate thoughts went to a board catching on fire. After much research, I found there are so many improvements that have been made. Razor has put out the Hovertrax 2.0 that exceeds the UL 2272 Certification standards (Razor was the first to receive the listing when it went into effect in May 2016) ensuring the electrical components are safe! Boy, was I glad to hear that because my son was DETERMINED that was the ONLY thing on his list this Christmas! GO HERE to purchase on Amazon.
Self-Balancing Feature Makes Riding Easier
Not only is Hovertrax 2.0 certified but it also is safe and easy for first-time riders with its self-balancing feature. You will be shocked the first time you pick up your Hoverboard. Weighing 27lbs, Hovertrax 2.0 is a very well built machine for sure making it easier to ride! You can still hold on to something as you step on it, but it isn't necessary like previous models. Having to balance may look pretty easy but it takes a lot more effort than it looks. Balancing makes it a great exercise even though there is no running or pedaling involved.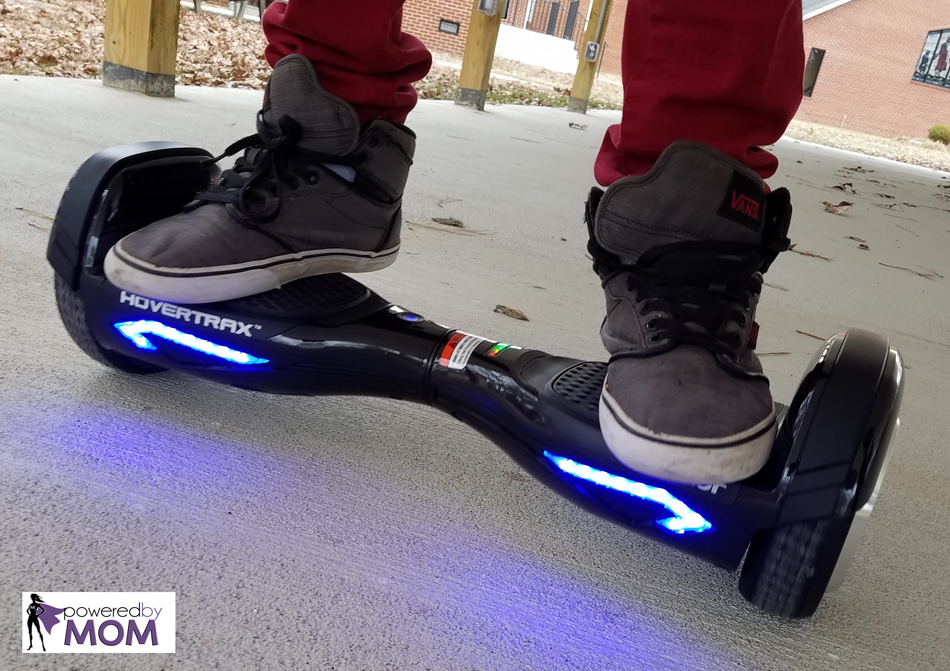 How to Ride Hovertrax 2.0
Riding is simple! The Hovertrax starts on a training mode which gives you time to learn how to ride at lower speeds. Once you feel you are ready, take it out of training mode and get moving at a max speed of 8mph! Just use your toes to maneuver instead of leaning your entire body to get it to move. It even has a blue LED display on the board itself that works as a turn signal. To brake, just flatten your feet on the footpads. Make sure you give a little time and space between when you start to break versus when you actually stop!
Features of Razor Hovertrax 2.0

Auto self-balancing
Up to 60 minutes of continious use
Speed: 8mph/13kph cruise speed
Training Mode and Normal Mode
Quick change 36V lithium ion battery pack with LG cells
Wheels: Rubber tires with aluminum hubs
LED indicator shows battery power and riding mode
Frame- Shatter-resistant polymer with fender bumper protection
Blue LED light bars
Motors: Silent, dual 135 watt (cruising power), 350 watt (peak power) hub motors with gyro sensor technology
Steering: Foot controlled, seamless maneuvering
Foot Platforms: Anti-slip rubber
Of course, I was glad to see that there was NO assembly required! Seems like EVERYTHING always has to be assembled but not Hovertrax 2.0.
Watch this short video on how it works!
Connect on Social Media
Facebook | YouTube | Instagram | Twitter
We have added Razor to our Holiday Gift Guide!
By