Get ready for some yummy goodness – Honey Balsamic Chicken Recipe
Enjoy a healthy meal that is big on flavour #CHICKENDOTCA
I'm thrilled to announce that Powered by Mom is partnering with Chicken Farmers of Canada so that we can share with you some delicious Canadian chicken recipes, starting with this yummy Honey Balsamic Chicken recipe. Whether you're trying to get back on track or stay on track with healthy eating for this new year, this Honey Balsamic Chicken recipe will be a great addition to your meal plans. Full of yummy goodness without the guilt.
I'm so excited about being an ambassador for many reasons, including well chicken recipes, we eat more chicken than any other protein. Why? There are endless ways to cook chicken, my family loves it, especially my picky eater my daughter. If she won't eat anything else, I can always count on her eating chicken. If you have a picky eater, you know how challenging it can be to cook for them. She's improved and is a little more adventurous with her choices, so now I can try new chicken recipes and share some of our favourites with you.
We also get to learn together about farming practices when it comes to raising chickens. I thought I knew more about this topic but as I've been reading through the Chicken.ca website I found out that I had only scratched the surface. There are several farming methods which I'm going to share now so we can all learn more about them together.
Free Range: Free range birds must have access to the outdoors, but it can vary from farm to farm.
Free Run: Free run chickens do not necessarily need to be raised outside, but they are required to be able to move around freely within the barn. All chickens raised for meat in Canada are considered free run.
Grain Fed: This is more of a marketing tactic as all chicken in Canada is given grain fed, but some might boast special types of grain, such as vegetarian grain.
Halal: Meat that comes from chickens that are well-rested and handled in a way that minimizes suffering.
Hormone Free and/or Steroid Free: The use of hormones in raising chickens has been banned since the 1960s in Canada.
Something I just recently learned: Hormones have been banned from chickens in Canada since the 1960s. #ChickenDotCa

— Powered by Mom (@PowerbyMomBlog) January 24, 2017
Kosher: Kosher means that the food meets Jewish dietary requirements.
Organic Chicken: Chicken that is sold as "organic" is raised to a specific standard as laid out by the Canadian General Standards Board, in addition to the standards set by a reputable organic certification board. In general, organic chicken must be raised with at certified organic feed that contains no animal by-products or antibiotics and any supplements, such as vitamins, must be approved by a certification body.
Raised Without Antibiotics: The chicken was not treated in any way with antibiotics.
Vegetarian Grain Fed: Means that the feed given to the flock contains no animal by-products. The feed contains only vegetable protein such as soy.
If you want to make sure that you're buying only chicken raised by a Canadian chicken farmer, then make sure that your package of chicken has that logo. I never buy any chicken that is not from a Canadian chicken farmer. We have a regulating body to ensure the quality of our chicken, that gives me peace of mind.
I have to admit I've been on a kick with using raw honey and incorporating into my recipes. Last week I did a Spicy Honey Glazed Chicken Drumsticks recipe which was a big hit at home, including with my picky eater. So I wanted to create a few more chicken recipes that had some honey goodness to them, but I also wanted to keep myself on track with my healthy eating. The Honey Balsamic Chicken recipe was born.
I went with boneless, skinless chicken tenders to make these as healthy as possible. Don't worry though just because they're healthy doesn't mean they lack in flavour. These are so tasty you'll want to make extra!
You can serve this tasty recipe with rice, quinoa, fingerling potatoes, really whatever you want. I decided to have it with some of our favourite vegetables, asparagus, carrots and grape tomatoes.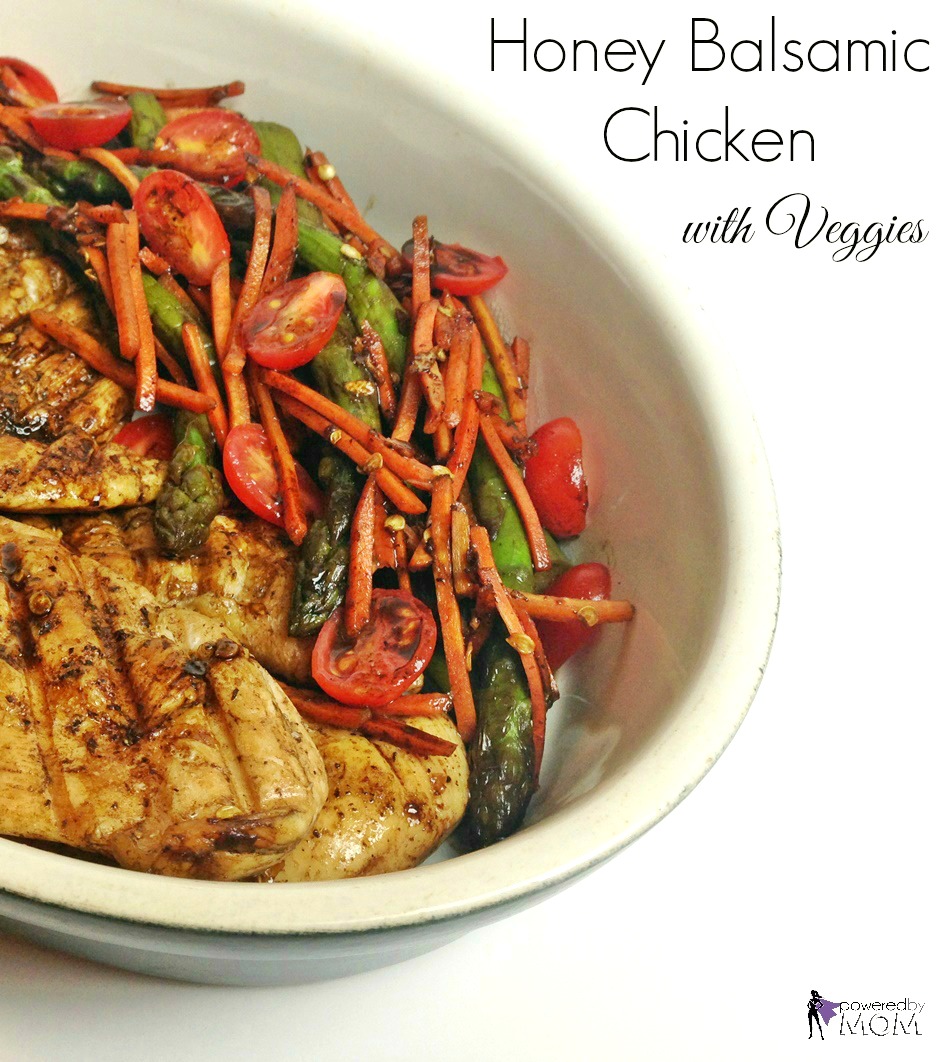 Now, who is ready to make some delicious Honey Balsamic Chicken?
Honey Balsamic Chicken with Veggies Recipe
Ingredients
7-8 fresh chicken tenders (or choose your favorite cut)
1 Tbsp olive oil
¼ cup balsamic vinegar
2 Tbsp raw honey
Cayenne pepper flakes, to taste (I used 1 Tabl. a lot. We like ours extra spicy)*
Salt and pepper, to taste
10 oz pkg frozen asparagus tips (fresh if available) (can substitute green beans)
Matchstick carrots
1/2 cup grape tomatoes, halved
Instructions
Preheat oven to 350 degrees.
Pat chicken tenders dry and then brush with olive oil. Sprinkle with salt and pepper.
Place in a baking pan. I like to use one with a rack, but it is not necessary.
Bake approximately 20-25 minutes in a 350 degree oven or until internal temperature reaches 165 degrees - basically done.
While chicken is in oven, combine the balsamic, honey, and red pepper flakes.
Remove chicken from oven and transfer to a large skillet. Pour the balsamic mixture over the chicken. Bring to a boil.
Reduce heat to simmer and continue cooking until the mixture thickens and resembles a syrup. Turn chicken often as it is simmering.
Remove chicken and set aside.
Add asparagus and carrots to the skillet with the sauce. Salt and pepper to taste and cook approximately 5 mins. Stir often to coat in the sauce. Carrots should remain crisp, but not hard.
Remove from skillet and combine with chicken tenders. Add the sliced grape tomatoes.
Spoon the extra sauce over the chicken and veggies.
Serve alone or with rice.
Enjoy!
Notes
*Adjust Cayenne Pepper according to your preference of spiciness. If serving to children, you will certainly want to adjust. I used one tablespoon, and it is very spicy!
If you prefer more sauce as a coating, simply double the amounts of balsamic vinegar and raw honey.
Nutrition Information:
Amount Per Serving:
Calories:

0
Total Fat:

0g
If you're a visual learner like I am here are a few of photos to show some of the steps of the recipe so you can see for yourself how easy it is to make a healthy but yummy meal like this Honey Balsamic Chicken. For more chicken recipe inspiration make sure to check out some of these tastebud tantalizing recipes on the Chicken.ca website HERE.
Remember you use the same pan/skillet for the veggies that you used for the chicken and honey balsamic sauce.
If you want to find out more about all things chicken related, make sure to follow Chicken.ca on their social media channels.

Facebook: Canadian Chicken | Twitter: @ChickenFarmers | Instagram: @ChickenDotCA | Pinterest: ChickenDotCA.

If you try our Honey Balsamic Chicken recipe make sure to let us know how you liked it. Feel free to share your favourite chicken recipes in the comments, we also love to try new yummy recipes.

Disclosure: I am participating in the Chicken Farmers of Canada campaign managed by SJ Consulting. I received compensation in exchange for my participation in this campaign. The opinions on this blog are my own.

By