Grilled Harissa Chicken Breast Recipe
Grilled Harissa Chicken Breast is the ideal flavourful recipe to throw on the grill this weekend! Step by step healthy recipe with delicious flavours!
Disclosure: I am participating in the Chicken Farmers of Canada campaign managed by SJ Consulting. I received compensation in exchange for my participation in this campaign. The opinions on this blog are my own.
Ahh spring is here and while it might be raining as I put this recipe together I still am dreaming of blooming flowers, family barbeques and more. I got a jump start to get myself in the grilling mood with a tasty and easy grilled harissa chicken recipe. Now you might be wondering what is harissa? It's a Moroccan spice blend that can be in powder, sauce or paste form made from chili peppers, paprika, and olive oil.
For this recipe, I've used it as part of a rub and added some of my own spices as well. It's a spicy hot dish so if you don't want as spicy you will have to tone down the amount of the rub and the harissa itself. Some like it hot though and I'm one of them. The flavours are simply amazing. You can get a harissa blend on Amazon. I used a Whole Foods one that I got on Amazon.
In addition to utilizing some amazing spices we always buy and eat chicken raised by a Canadian chicken farmer. It's a healthy choice is that it's grain-fed, free of added hormones and steroids, and raised right here in Canada according to nationally-set, high food safety and animal care standards.
There is a mandatory, robust, third- party-audited Animal Care Program that is administered across all Canadian chicken farms.
Canadian chicken farmers adhere to a strict mandatory On-Farm Food Safety Program.
Canadian chicken farmers are committed to sustainability through innovation, by preserving the health of the land, providing value to Canada's economy, & making affordable food for Canadians.
We always look for chicken with the logo below. If your grocery store doesn't carry make sure to talk to a manager and ask them to bring it in so you too can ensure your family is getting quality chicken.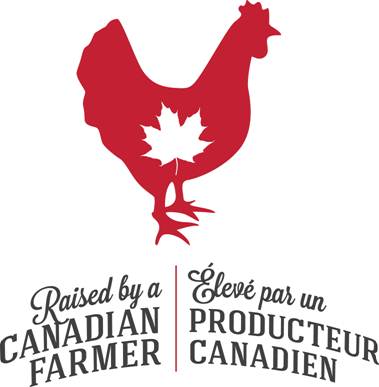 More info about Chicken Farmers of Canada can be found HERE
Now let's get to this tasty and easy grilled harissa chicken recipe shall we?
Yield: 6
Grilled Harissa Chicken Breast Recipe
Grilled Harissa Chicken Breast is the ideal flavourful recipe to throw on the grill this weekend! Step by step healthy recipe with delicious flavours!
Ingredients
1 tablespoon Harissa spice
1 tablespoon garlic powder
1 tablespoon paprika
1 tablespoon cumin
2 teaspoons onion powder
1 teaspoon cinnamon
Kosher salt and pepper, to taste
3 lbs boneless, skinless chicken breast
Instructions
Prep a grill to medium-high heat and brush grates with oil.
In a small bowl, add all the spices and carefully whisk to thoroughly combine.
Place chicken breasts between sheets of plastic wrap and pound with a meat mallet until even in thickness.
Coat each breast with a thick layer of Harissa rub, then place on the grill, evenly spaced, and cook for 4 minutes per side, or until a meat thermometer registers 165 degrees.
Remove from the grill and allow to rest for 5 minutes before slicing.
Nutrition Information:
Yield:
6
Serving Size:
1
Amount Per Serving:
Calories:

398
Total Fat:

9g
Saturated Fat:

2g
Trans Fat:

0g
Unsaturated Fat:

5g
Cholesterol:

193mg
Sodium:

259mg
Carbohydrates:

4g
Fiber:

1g
Sugar:

0g
Protein:

71g
Please note that we can not guarantee the accuracy of the nutritional information. They are a best guess calculation.
Now doesn't this grilled harissa chicken sound oh so delicious?! It's bound to be popular with those who like it spicy and the flavours are just out of this world in my opinion. Don't forget it pairs nicely and helps tone the spiciness with our coconut rice that you can find on our Jerk Chicken with Mango and Avocado Salsa Recipe.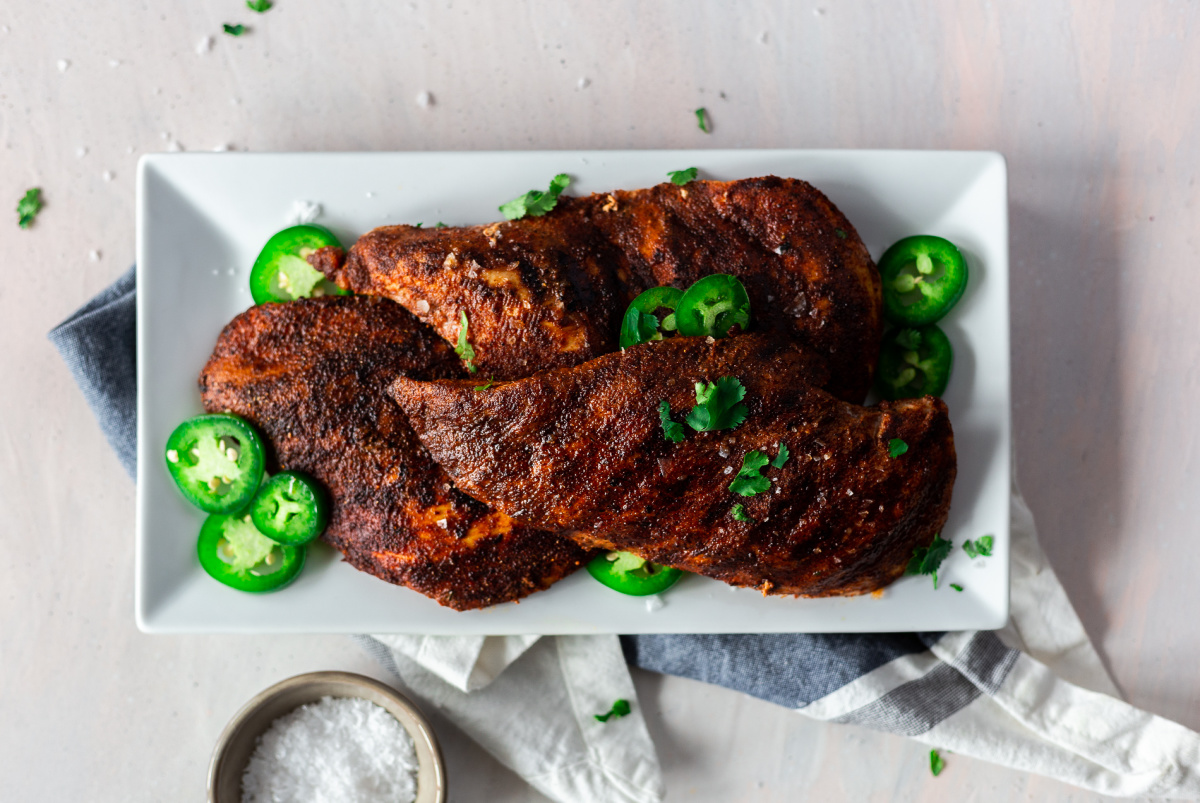 I was surprised that this harissa chicken was so easy and quick to make it's already become a family favourite. I do have to add less harissa for my husband and daughter as they don't like it quite as spicy. That's the nice thing about a rub you can add as little or as much as you want. I add the harissa last so that I can separate it and have some with a little less for hubby and my daughter and the rest of the harissa spiciness is for me.
Don't forget to PIN this easy grilled harissa chicken recipe so you have it on hand come grilling season time or if you can't wait like me for right now!
If you try our harissa chicken recipe let us know how you liked it! One last photo to leave you drooling.
By