Powered by Mom's Fruit Skewers
A healthy fruit skewers dessert or snack for Valentine's Day or any time!
If you're looking for a fun but healthier treat for the kids and adults then you'll love these fruit skewers that are easy to make but sure to please.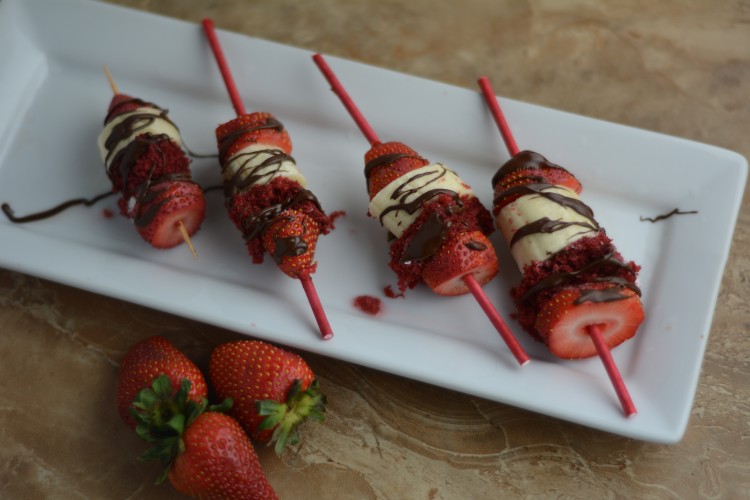 We love that it gets kids excited to eat fruit, it's fun and best part is that they're sooo easy to make! To make them even more like a treat we drizzle a wee bit of chocolate on it, okay sometimes it's a little more but even then it's still quite healthy and it has the kids thinking it's dessert! Heck I like these for dessert who wouldn't and you can change up the fruit to whatever you want, we just happened to like these ones. Keep it easy this Valentine's Day though and make these desserts!
Fruit Skewers Dessert
---
Description
You can also add marshmallows which I'm not a fan of due to what's in them but once in a while is okay. They do look good on the skewers.
Pineapple is yummy on the skewers and really any fruit.
Coconut sprinkled on top is also an option
---
2

" skewers

2 cups

strawberries halved

2

bananas

1

" squares of red velvet cake or vanilla cake, really any flavor cake you want. You can also skip the cake.

1 cup

melted semi sweet chocolates
---
Instructions
Place half of the strawberry and a banana on the skewer.
Next add the cake and top with another strawberry.
Drizzle melted chocolate over the top.
Place in the fridge for 20 minutes or until chocolate sets.
---
Recipe Card powered by
Using semi-sweet chocolate makes it so there's not a ton of other sugar, just the natural sweetness from the fruit but enough chocolate that the kids will love it!
What's not to love about these it's fruit and some chocolate and a little bit of cake you don't have to feel guilty about it. As mentioned you can change the flavor of the cake, we just did Red Velvet for a Valentine's theme but vanilla, chocolate or lemon are all fun options or skip the cake entirely and add another fruit. Just don't mess with the chocolate you have to have that chocolate drizzle on it. Okay you don't have to have it by why wouldn't you? For grown-ups you can make it dark chocolate instead of the semi-sweet yum my favorite!
The options of how you can change up this "healthy dessert" are almost endless because as we all know there's always a picky eater in the family. So it's a good thing these fruit skewers are so versatile as to what you can add or take away from them! What combination would you do?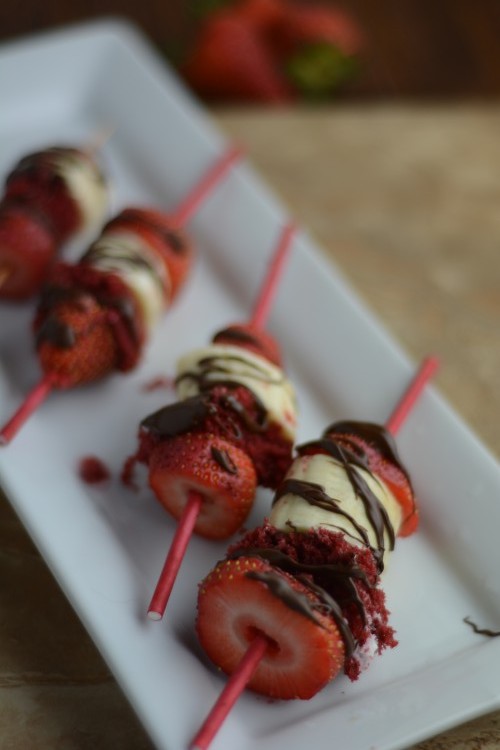 Get our FREE Simply Sweet Recipes eBook HERE
By