Finally, an Organic Mattress that Grows with your Child
We love the flippable firmness
I have one child that sleeps well when I am there, another that has put himself to bed since he was 9 months old, and my oldest who has just never slept well. Thankfully we have found that he is sleeping better than ever with his new Nolah Nurture 10" organic mattress. There are so many things to love about this mattress and it is ideal for side sleepers!
Disclaimer: This review was done by team member Emily. She was provided product in exchange for her honest review. All thoughts and opinions expressed herein are her own and were not influenced by the developing company and/or its affiliates in any way.
Be sure to check out this mattress and so many other great gift ideas on our 2021 Holiday Gift Guide
Natural, Safe, and Made for Kids Only
As we grow into adulthood, it is common to look back and think "If only I had the body I had in my youth". We know that our adult bodies are not like our kid bodies. So it occurred to me that kids may need a mattress that is made just for them. One that supports their bodies and sleep needs. It is certified hypoallergenic and made with safe materials for kids. We found that there are no weird smells and we never had to "air it out" like some mattresses.
The two-sided mattress means that not only can you continue to use the mattress as your kids grow, but you can tailor it to their preferred comfort level. The soft side is rated a level 4 or 5 out of 10 on a firmness scale and generally, this ideal four younger kids transitioning out of toddler beds or cribs. Because I have an older kid, he chose to go with the firmer side. As kids get older you can flip the mattress over to the firmer side which is about a level 7 or 8. This better supports my son's growing body. I also felt comfortable that if my son wanted to use the softer side, there would be no harm in that.
What Does it Mean that it is an Organic Mattress?
This mattress features 5 official certifications saying that it is safe, healthy, and organic. The Nolah Nurture's certificates include OEKO-TEX 100 Class 1, Global Organic Textile Standard, eco-Institut, Rainforest Alliance, and Cradle to Cradle. The GOTS, I learned, is an international organization that certifies certain textiles as organic, meeting global standards. The cover of this mattress is made with GOTS (Global Organic Textile Standard) certified organic cotton. My son finds it to be super soft and actually doesn't want me to put a protector or sheets on it, because it is so comfy. I love that this cotton is durable and naturally cooling for the resting body.
Hypoallergenic Latex
While my son does not have any known allergies, I do have a cousin I am very close to that is deathly allergic to latex. So when I saw that this mattress was made with latex, I was initially concerned. There is a 2-inch latex layer on both the soft and firm sides of the mattress. Nolah says that "Talalay latex ensures optimal comfort for pain points and joints, offering up to 33% better pressure relief than synthetic and Dunlop latex." My son seems to agree that it is much more forgiving than his previous mattress.
What I learned is that Talalay latex is naturally hypoallergenic and ideal for children with allergies and asthma. I found out that the latex used in mattresses does not contain the protein which causes an allergic reaction. Typically, it is specifically manufactured to reduce and remove this protein. In the last 35 years of reporting, the FDA has received zero reports of anyone with or without a latex allergy ever having a reaction to a mattress that uses it. I also learned that it's inherently antibacterial and antifungal, meaning it naturally resists mold, mildew, dust mites, and more. Which for a young boy's bed, is a great plus.
The latex that Nolah uses is also certified Eco-Friendly. It is natural, biodegradable, and comes from renewable resources and water-based raw materials: natural latex, air, and water. They also watch their energy usage and water usage during the manufacturing process to reduce environmental impact, earning them this prestigious certification.
Don't Forget to PIN it!
For Side Sleepers
Despite arriving in an easy-to-move compact box, this is not a memory foam mattress. It is vacuum-sealed and rolled up like one though. This made it very simple to get it upstairs and into my son's room. It was also handy to just lay it out on my son's existing bed, then open the plastic. It popped right up into shape and size. Because it is a coil spring mattress.
With their patented HDMax™️ Tri-Zone™️ Support Coil System, there are three zones of coils set with the right amount of support. And these are aligned to the size of children's bodies, not adults. And these coils sit on an extra layer of natural wool. This wool cushions them and improves the breathability and cooling of the mattress itself. My son seems to sleep in whichever position he ends up in, but he is usually a side sleeper. And I love that Nolah is known for making mattresses for side sleepers.
10-Years Protection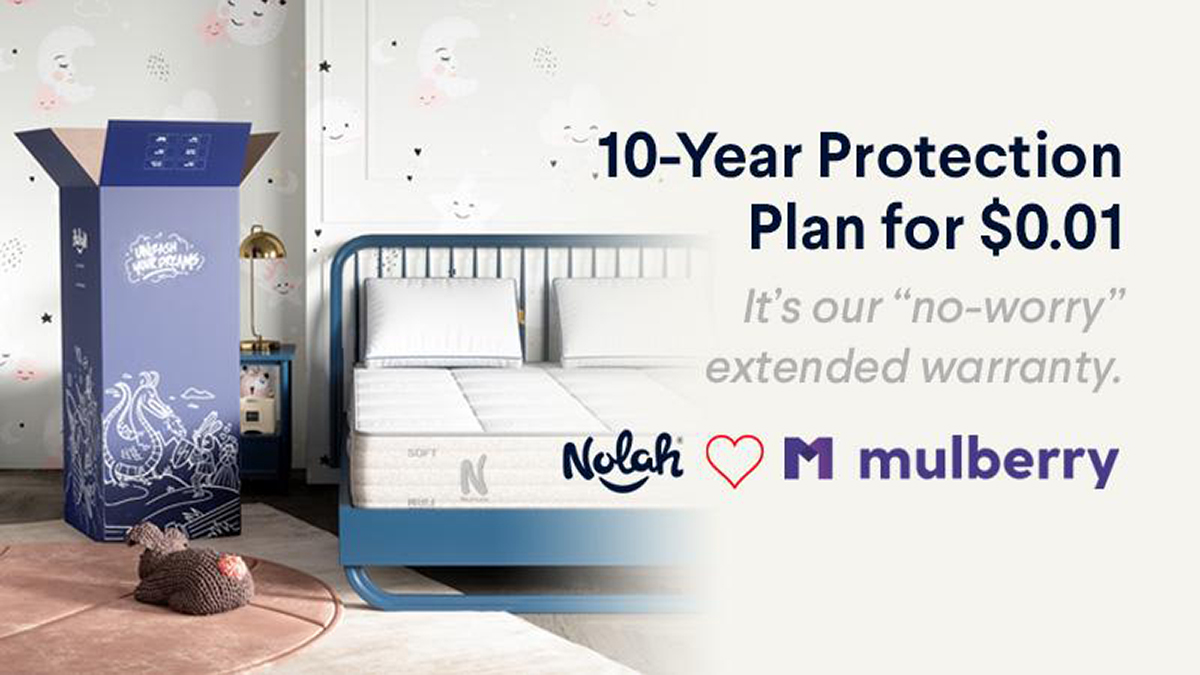 Kids will be kids, right? I do not allow any food and only water upstairs. Yet, I always seem to find snack wrappers and drink cups up in my boys' room. And I hate when something spills on a mattress because there really is no good way to clean it or get it out fully. Luckily Nolah has the Mulberry Protection Plan. You can add it on for just a penny, and it protects the mattress from rips, burns, punctures, common accidents from children and pets, and much more. And as much as my boys tend to jump on their beds, and pl0.ay around, I do not doubt the possibility of finding a hole or something in it one day. Now I have the peace of mind to know that it is covered by a ten-year extended warranty.
Sleeping Results
While my son is still not a great sleeper, I have noticed a difference since he started sleeping on the Nolah Nurture 10" organic mattress. He doesn't complain about aches and pains when he gets up. He also seems less tired after getting a restful night's sleep. Most nights he even seems to fall asleep quicker than he used to. So while I have not slept on it myself, I give it a thumbs up. My son loves it, and I can see how much better he has been sleeping. It's a winner for me.

By