Flying high with the family at iFLY Seattle Indoor Skydiving 
Welcome to the family fun adventure that is indoor Skydiving at iFLY Seattle
When I told my family that we were going to try some indoor skydiving at iFLY Seattle during our recent trip to Seattle Southside, a convenient destination right in Seattle's backyard, I admit I was met with some skepticism.
Here's My hubby and daughter just before we head in. They're cautiously optimistic.
My husband is not fond of heights, he's not scared of heights, just definitely not fond. He's fine with flying in an airplane but the whole concept of indoor skydiving had him intrigued and cautious all at the same time. We were going to celebrate his birthday so the birthday boy decided to give it a try.
About iFLY

iFLY is the experiential entertainment company that created modern indoor skydiving…we make the dream of flight a reality by giving our customers "wings" in a safe and reliable environment.

iFLY started in 1998 as SkyVenture, LLC. Once we had developed the technology to create a stable, wall-to-wall cushion of air in a flight chamber, we knew we could offer an incredibly realistic and safe indoor skydiving experience. Today, iFLY has 37 locations around the world.
After check in if there's anyone before you, you'll get a chance to watch them in the wind tunnel. Each instructor also does a demo after their group like the photo below.
You meet your instructor, have an orientation, watch a video and learn hand signals. Pay attention you want to know these hand signals  as you can't hear anything in the wind tunnel.
Time to get suited up and get a helmet etc.. Here's my daughter she got a Moose helmet how cute. 
Time to fly. I went first as I was the most excited to try this out, I've always wanted to skydive but with my bad knees it's out, thank goodness for iFLY Seattle's indoor skydiving! I thought it would also be good for hubby and my daughter to see how it was with me to make them feel a little less concerned.
Hubby was next and…he enjoyed it! This trip to Seattle Southside was to celebrate his birthday. He had an amazing time and it all started with iFLY! Our instructor Tyler was great, all of the instructors are friendly & humorous. You never feel unsafe ever.
Our daughter went last, we each had two rounds she was smiling the whole time and happy she decided to go to iFLY Seattle for indoor skydiving. 
Whether you're celebrating a birthday, wedding or milestone, visiting the area, being a tourist at home, really an reason is a good one to go to iFLY Seattle. If you just want to have a fabulous experience, go!
We all had the option of whether or not to go "sky high" which is not super high but a total blast. This is the only time your instructor does not have his feet on the ground so he can take you up higher. Below hubby is making is ascent.
It's for anyone, kids, teens adults talk about the wind through your hair. Speaking of which ladies and guys with long hair, check my tips below for what to do with your hair before you indoor sky dive. Trust me you will thank me later.
This girl weighs nothing she's flying.
Mom's turn to go sky high.
Check out my daughter at iFly Seattle in the video below. 
On Valentine's Day a Powered by Mom reader and friend of mine headed to Seattle Southside. She booked iFLY for her family which included her, hubby and 8 year old son. Her son wasn't convinced he should do it so she shared the video below of my daughter who is also his babysitter. He decided if his idol could do it so could he. However, my friend herself was backing out, she said she had decided she would just watch. After I talked some more with her about our experience she said she would give it a try….
To see all of our videos from our iFLY experience check them out HERE and HERE
The end result for my friend? Minutes after she was done she posted on Facebook that it was AMAZING and she went sky high. I refrained from saying I told you so. Her son now wants her to build their own wind tunnel at home so they and our family can go whenever we want, got to love it.
See she's smiling every time.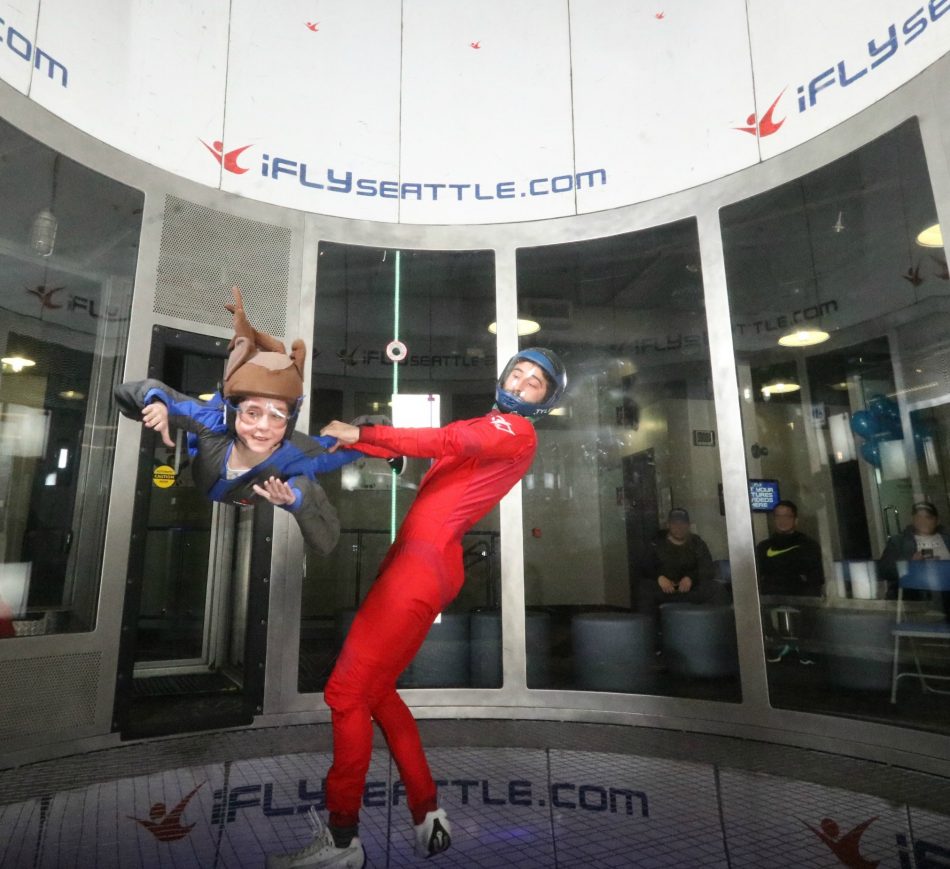 Tips on iFLY Seattle's Indoor Skydiving
Expect to be there an hour or so while you watch the group before you etc..
Pay attention to the hand signals you need to learn.
Wear sneakers, if you don't that's okay they have ones for you.
You can NOT bring anything with you in the wind tunnel area, no jewelry on you, phones etc.. They have lockers, they are not locked but you can see them from where you sit in the wind tunnel area.
Long hair? Braid it, yes braid it. I wish I had braided my hair because I only had a comb in my purse and my hair was very tangled from you know the high velocity wind. Braid it, you're welcome.
Get a package with photos and video, awesome keepsake and they're great quality.
Watch your instructor at the end and he goes sky high!
No this tunnel is not empty. Just look at what everyone is doing they're looking way up as that's where our instructor is LOL
Due to arthritis I do have stiffness in my knees and wrists. I did not find this to be a problem but if you're not in the best of shape (maybe even if you are) you may feel some muscle soreness a few hours later or the next day.
It's hard to move, you feel like you're not moving those legs or arms it takes work but oh it's so worth it!
Relax and enjoy!
There's our instructor
Our daughter and instructor Tyler. She had a blast with him as you can see.
We all agreed it was awesome.
I'm sure you've guessed we had a wonderful time and can't wait to go back! Check iFLY Seattle or one in your area and follow them on their channels below.

Website | Facebook | Instagram | YouTube

For more fabulous places to visit, eat and stay in Seattle Southside check out Seattle Southside's Visitor's Website HERE

To see all our photos from our iFLY Seattle adventure check out our photo album HERE.

By