Easy Lemon Mousse Recipe
A delicious no-bake dessert
This Lemon Mousse Recipe is made with only three ingredients and can be whipped up in just a few minutes. You'll want to let it set in the fridge for a few hours but it's totally worth the wait. It's a tangy meets sweet and refreshing no-bake summer dessert that will impress your guests and is beyond delicious, yet SO easy to make. Top with fresh berries and it's a dreamy dessert that is bound to impress.
I'm also going to share a variation of this mousse that I've tried a few times now that has cream cheese in it.
Both versions are delicious, so much so I can't decide which one I like better. The one without cream cheese is "lighter" and fluffier if you will but that doesn't mean the one with cream cheese is heavy.
Ingredients:
However, since you have to fold the whipping cream/lemon curd mixture into the whipped cream cheese it's possible you will have little bits of cream cheese that don't completely mix in. Meaning you might just get little tidbits of solid cream cheese in a bite, it's still yummy regardless. Both versions are so delicious so I had to share.
However, the majority photos are of the ones without cream cheese as that's when I did my photoshoot. I did however, finally snagged a few quick photos of the ones with cream cheese as I made batches of it after I photographed this recipe. Keep in mind these photos were literally quick ones I did before the family at them all up.
Lemon curd mousse with cream cheese in mini jars. They love both versions and neither set has lasted very long. I've now had a few small gatherings at our house and served both variations of the mousse and no one can say which one they love more and all batches didn't last more than a day at our house. As a result, I now have to think about doubling the recipe every time make it.
Homemade lemon curd
I'm linking to my lemon curd recipe which is actually a part of our mini no-bake lemon cheesecake in shot glasses recipe. It's totally worth making the lemon curd from scratch and so easy. You do want to make sure that the lemon curd is nice and thick & not runny so that when you fold it into the whipping cream it will maintain that mousse like texture instead of being runny. The bonus of trying out the recipe with the cream cheese was that it also led me to the idea to top the lemon mousse with a thin layer of the lemon curd.
I also recommend getting this awesome kitchen tool for zesting lemons and grating other foods. It was so much better than the regular cheese grater I was using. I got so much lemon zest so easily that even I was impressed. I have wrist issues due to arthritis and this made zesting so darn easy. You can get it here on Amazon. I wish I had bought this years ago!
Let me tell you this was sooooo good that I now have decided that all batches with our without cream cheese will be topped with a layer of lemon curd. You can of course use store-bought lemon curd too if you're short on time but seriously consider making your own lemon curd and doubling the batch so that you can top the lemon mousse with a layer of it. You'll thank me later.
Storing the lemon curd mousse
After making this lemon curd mousse a few times I decided to start putting it in small mason jars. They are so cute to serve and hey they have their own lids so I don't have to use plastic wrap or anything. So much easier for storing even for the whole day they last in our home lol
Seriously though I now always put them in these mini jars, it just so darn easy and so far I can say that the version with cream cheese can last at least three days in the jars. I had to put one away so the family wouldn't eat it but someone found the one jar after 3 days and gobbled it up. It probably could last a few more days, you know if someone doesn't eat it that is but why would you want to leave it that long?
You may notice that my lemon mousse recipe photos with the cream cheese that the mousse is not yellow and that's okay. With the addition of the cream cheese it makes it more "white" and in fact even if you did it without the cream cheese it may not look yellow or it just might be slightly tinted yellow. Unless you want to add yellow food dye (which I didn't) it's all good. It depends on your lemon curd and other variables where it might not be very yellow if at all. As long as it tastes good the color doesn't matter in my opinion.
PIN this recipe for later!
Make sure to check out our other yummy recipes like the ones below.
Now let's get to this lemon mousse recipe shall we?
Yield: 8
Easy Lemon Mousse Recipe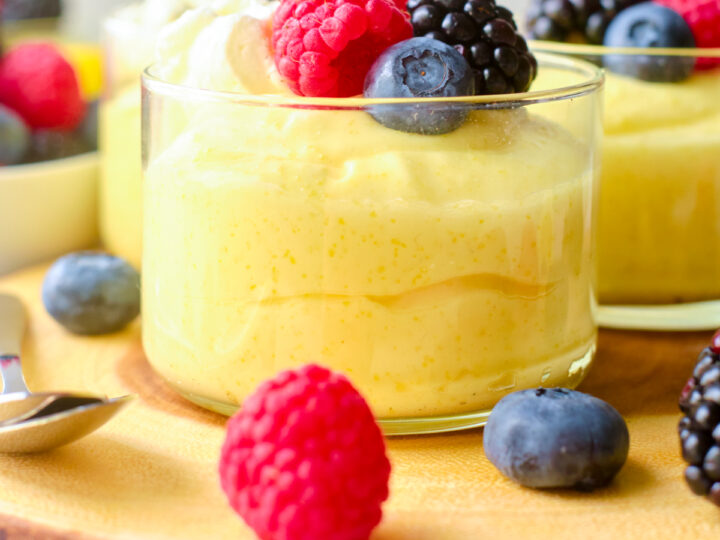 This Lemon Mousse is made with only three ingredients and can be whipped up in just a few minutes. It's a tangy meets sweet and refreshing no-bake dessert that will impress your guests and is beyond delicious, yet SO easy to make. Top with fresh berries and it's a dreamy dessert that is bound to impress.
Total Time
2 hours
15 minutes
Instructions
If doing the cream cheese option: In a large bowl using the stand mixer whip the cream cheese until stiff high peaks form. If not go to step 2
In another large bowl using a stand mixer with the whisk attachment whip the 2 cups of whipping cream pm high until peaks start to form. Slowly add the 1 cup of icing sugar until it's a stiffer mixture with high peaks.
Gently fold (do not stir or use the mixer) in the lemon curd into the whipping cream until it's all incorporated together. (Do not overmix). If doing cream cheese go to next step, if not go to step 5
Again gently fold the lemon curd/whipping cream mixture into the whipped cream cheese. Fold until mixed well but don't whip or overmix.
Spoon into jars and top with a dollop of whipping cream (optional) and top with berries. While all the berries tasted yummy with the lemon mousse my favourite is having it with blueberries.


Notes
I recommend chilling the lemon mousse for at least 2 hours. If you have time to let it chill overnight even better.
*Lemon curd can be made a number of ways
It can be homemade and we used our lemon curd recipe that you can find HERE or go to https://powered-by-mom.com/mini-no-bake-lemon-cheesecake-recipe/. If making your own lemon curd it should be very thick and not runny otherwise the mousse will be runny, it will taste yummy but not be quite thick enough.
It can be made by purchasing ready made lemon curd.
It can also be made by mixing lemon pie mix, with 1 tsp gelatin, 1 tsp lemon juice. 1.5 cups of milk and 2 eggs. Simmer over medium for 2-4 minutes and let firm up in the fridge.  I tried this version too though and didn't love the lemon curd but it was okay.
I also recommend getting this awesome kitchen tool for zesting lemons. I couldn't get over how much easier and how much more lemon zest I got using this instead of a regular cheese grater. My only regret was I hadn't bought one years ago. Lemon Zester
Recommended Products
As an Amazon Associate and member of other affiliate programs, I earn from qualifying purchases.
Nutrition Information:
Yield:
8
Serving Size:
1
Amount Per Serving:
Calories:

633
Total Fat:

49g
Saturated Fat:

30g
Trans Fat:

1g
Unsaturated Fat:

15g
Cholesterol:

203mg
Sodium:

295mg
Carbohydrates:

44g
Fiber:

0g
Sugar:

42g
Protein:

7g
Please note that we can not guarantee the accuracy of the nutritional information. They are a best guess calculation.
There you have it, is not easy peasy to make this delicious lemon mousse? It really is that simple whether you have it with cream cheese or not.
While I knew I would love this lemon mousse recipe I was pleasantly surprised that everyone who has tried it so far has loved it, especially with the added layer of lemon curd. It's so refreshing and even if you add more icing sugar and it's a bit too sweet, that added layer of lemon curd will balance it out. Ask me how I know that haha.
If you try this lemon mousse recipe let us know how you liked it and which version of lemon curd you used.

By