Blueberry Spinach Smoothie with Chia Seeds Recipe
I love to start my day with a smoothie. They are so easy to make and you can throw whatever you have in the fridge or freezer and you're good to go. Better yet if you add some greens and chia seeds like in this blueberry spinach smoothie it will be a healthy way to start the day.
My family and I have been drinking smoothies for several years now but when I first started them on smoothies I had to hide the greens. My hubby and daughter were not too keen on drinking kale or spinach but when I put it in a smoothie and put in berries like blueberries, sweetened them just a bit they didn't even know they had greens in their smoothies. One of the first ones I made to hide the green was this Blueberry Spinach Smoothie with Chia Seeds. Thanks to the blueberries it wasn't green in color and when they drank it they had no idea there was spinach it is a big win for mom!
Now that they're used to drinking this Blueberry Spinach Smoothie and other smoothies I don't have to hide the greens anymore but because we like to have berries in them most of the time they're rarely green in colour anymore. You can of course switch up the berries to whatever you like or use any other fruit but I like blueberries for their antioxidant properties and I love the taste.
Yield: 1
Blueberry Spinach Smoothie with Chia Seeds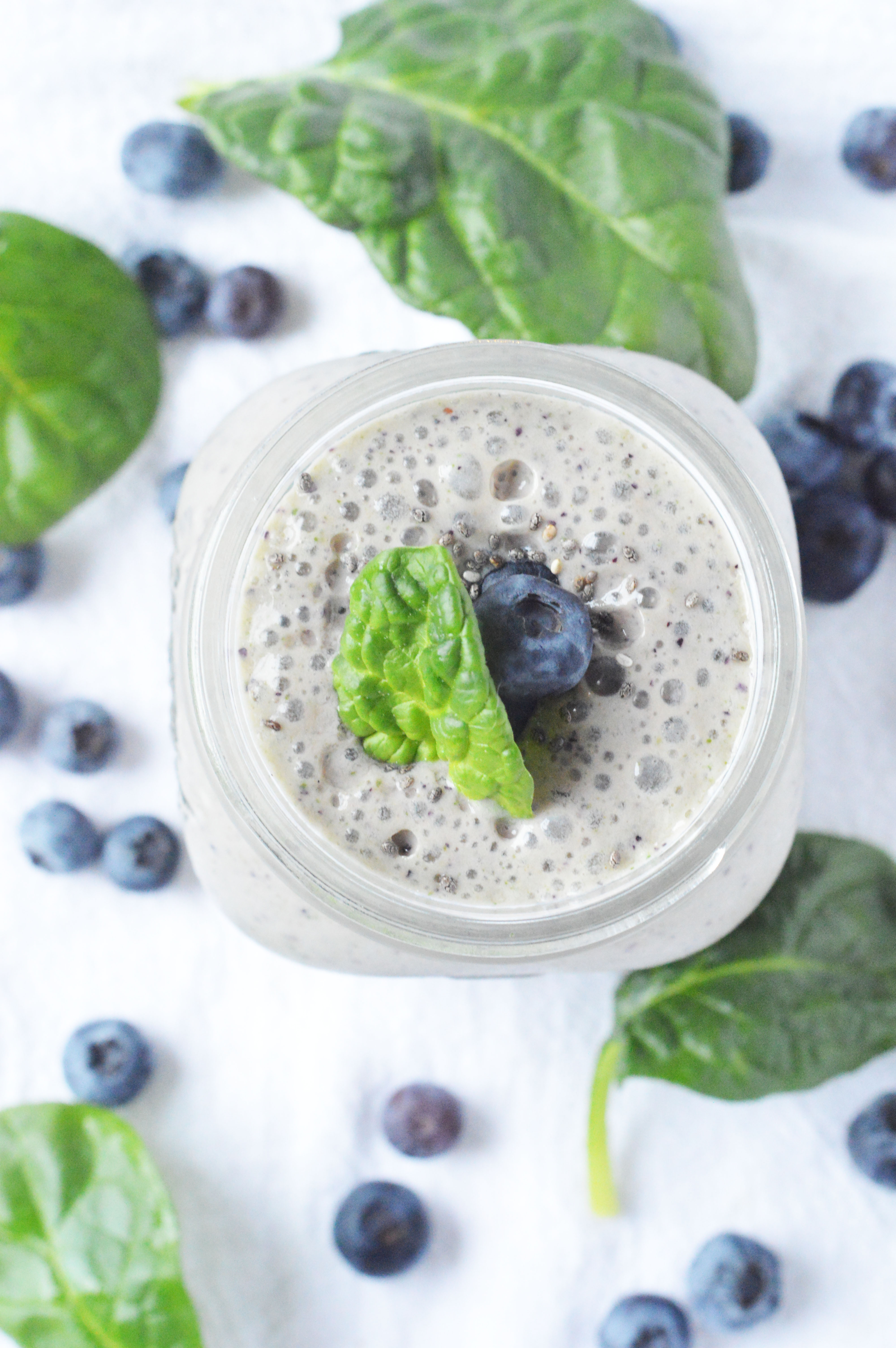 Enjoy a healthy but tasty blueberry spinach smoothie with an added nutritional punch of chia seeds. So yummy and better yet quick and easy to make.
Ingredients
2 Ounces Blueberry Greek Yogurt
2 Ounces Vanilla Yogurt
5-7 Pieces of Ice
½ Cup Fresh Spinach
½ Cup Fresh Blueberries
½ Cup Milk
1 Tablespoon Honey
1 Tablespoon Chia Seeds
Instructions
Combine all ingredients except the honey and chia seeds, in a blender and blend until smooth.
Add honey and chia seeds and do one more quick blend.
Serve immediately.
Nutrition Information:
Yield:
1
Serving Size:
1
Amount Per Serving:
Calories:

323
Total Fat:

7g
Saturated Fat:

2g
Trans Fat:

0g
Unsaturated Fat:

4g
Cholesterol:

13mg
Sodium:

137mg
Carbohydrates:

54g
Fiber:

7g
Sugar:

45g
Protein:

14g
Please note that we can not guarantee the accuracy of the nutritional information. They are a best guess calculation.
It really doesn't get any easier than throwing ingredients in a blender and blending it all up. It's probably why I like having a Blueberry Spinach Smoothie or any smoothie in the mornings. I need quick and tasty and no muss or fuss in the mornings because I don't have time for much else on a busy week day.
If you want a quick nutritional fix that is still tasty give this Blueberry Spinach Smoothie with chia seeds a try. PIN it for later.
Check out our recipes section for other nutritious ideas or go for something oh so decadent like our No Bake Samoa Cheesecake HERE.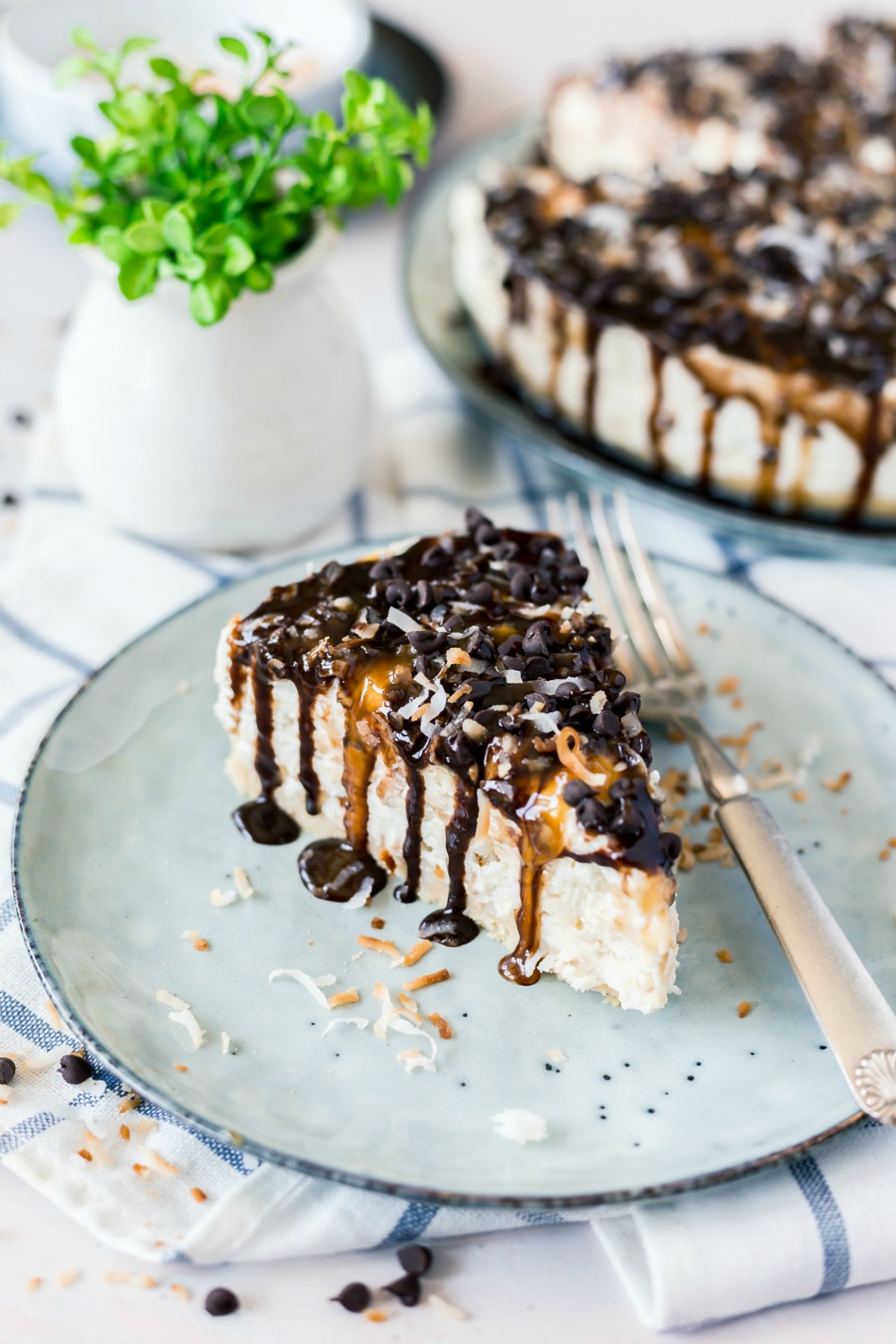 By