A Family Favorite – Crème Caramel Recipe
Say hello to my favourite dessert of all time 
Crème Caramel
Crème Caramel is one of my favorite desserts between Crème Caramel and Crème brulee they are my top two favorite desserts. While they are similar there are slight differences between these two desserts. However, for this post I'm going to share a Crème Caramel recipe.
It took me a long time before I figured out this recipe and got it just right, just like my mom used to make. Seriously, people used to rave about my mom's Crème Caramel it was the best! Smooth (no bumps or lumps at all), creamy and oh that liquid caramel on top that she sometimes used to spike with Grand Marnier oh my so good! Even my husband to this day compares all Crème Caramels (including mine) to my mom's, hers was that good that even some of the finer restaurants we found that served it weren't up to snuff 🙂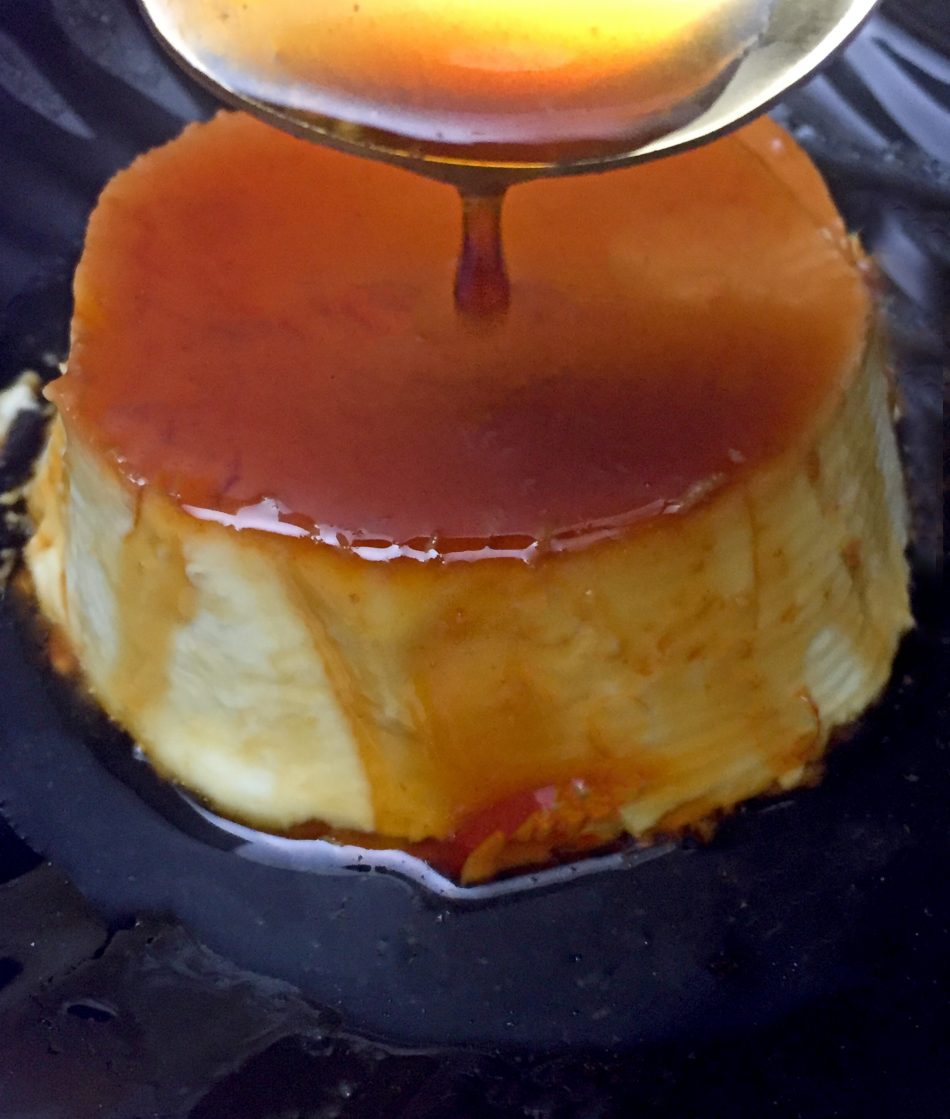 Crème Caramel is meant to be smooth and oh so creamy but not heavy, it's not heavy like a cheesecake. It should not taste "eggy" either. There's been a lot of discussion if flan and It's almost light but it's creamier than any flan. I would never compare Crème Caramel to a flan even though I have seen some people do that. Some day a flan has a pastry crust etc.. Crème Caramel never has a crust, it's the French version and more common in Spain, a creamy custard with caramel, it's amazing. The caramel takes the most work in my opinion, waiting for that sugar to get hot enough to liquefy. You have to keep an eye on the sugar at all times as you don't want it to burn but you do want it to be a gold or amber colour like mine in the photo.
Print
Crème Caramel Recipe
---
Custard
2 cups

heavy cream (or

3 cups

whipping cream and no milk which is what I used)

1 cup

milk

1/2

vanilla bean or

1 tsp

. vanilla extract

1/2 cup

sugar

3

egg yolks

2

eggs
Pinch of salt
Caramel
1/2 cup

sugar

1 Tbsp

water
---
Instructions
For the custard:
Heat the oven to 325°F.
Heat the cream and milk in a medium saucepan over medium heat until scalded (watch for small bubbles on the sides of the pan).
Add the vanilla or vanilla bean depending on what you're using.
While the cream is heating go and slowly whisk the sugar into the egg yolks and eggs.
Once the milk is scalded slowly whisk the hot cream/milk into the sugar/yolk mixture.
Strain the mixture through a fine sieve and then stir in the salt and vanilla extract, if using.
Caramel
Arrange ramekins (should make 6, 6oz ramekins) in a baking dish with deep sides, fill the baking dish 3/4 full of water and set aside.
Add sugar into a new saucepan and add just enough water to dissolve the sugar, and set the pot over high heat.
**TIP** this is one I learned that some recipes don't mention DO NOT stir the sugar and water, swirl it around in the pan.
Swirl the pan around to even out the caramelization.
Once the caramel is a nice dark golden brown (or at least it's a slight thicker golden liquid) pour it into the ramekins.
Make sure that each ramekin is covered with a thin layer of caramel on the bottom
Pour the custard into the caramel lined ramekins and bake until set, 25 to 50 minutes depending on your oven.
Once they are set remove the baking dish from the oven and let the ramekins cool in the water bath.
Refrigerate at least 2 hours before serving.
---
Recipe Card powered by
This is what the sugar looks like when it starts to caramelize. It almost hardens at first and then it dissolves and becomes an amber colour.
It's important to make sure you put your ramekins in a water bath. This helps to prevent the custard and caramel from burning while it's baking.
To serve run a thin knife around the edge of the custard and invert it onto a dessert plate, scraping any caramel from the ramekin onto the custard. We like to make sure we get every drop of caramel oh so delicious! 🙂 Everyone in my family loves this dessert so my mom's recipe lives on and is enjoyed by new generations.
By