An Amazing Experience at Club Med Ixtapa, Mexico
Mexico, a home away from home. Each region of Mexico offers a unique experience to its visitors, and being at the beautiful Club Med in Ixtapa was no exception. Staying at Club Med Ixtapa was the ultimate experience, and is definitely a place that you have to stay at, at least once in your life!
Our newest writer Jaime went to Club Med Ixtapa to represent Powered by Mom at this amazing resort! Read more about Jaime on our About Us Page.
My journey to Ixtapa started bright and early in the morning. Okay, so it definitely wasn't bright.  I have to be honest, I'm not sure that checking in at 3:30 AM is my most favourite activity in the world. At 6 am, aboard Alaska Airlines I was on my way to Mexico, after a quick stop in Los Angeles we touched down in Ixtapa. Upon exiting customs and collecting my baggage I was whisked away to a waiting transport and found myself en route to Club Med.
Club Med
Club Med's business is making you feel like royalty. Upon arriving I had a team awaiting to greet me and make me feel as welcome as humanly possible. My arrival was indicative of the amazing level of attention and care that I would receive throughout my entire stay with Club Med Ixtapa. I remember thinking to myself that the level of care being given was out of line with my status of a single mother and a student back home in Canada. But that didn't matter to the staff of Club Med. I was a guest and they treated me like gold.
My room within the Sol Suites was absolutely amazing, and furthered my impression of feeling like royalty. A King Sized bed, full sized stand-alone tub, and a walk in shower that to be honest was double the size of most full bathrooms in other hotels. Wowzers! In addition there was a living room area, and a beautiful deck featuring a view of the private beach reserved for guests of the Suites.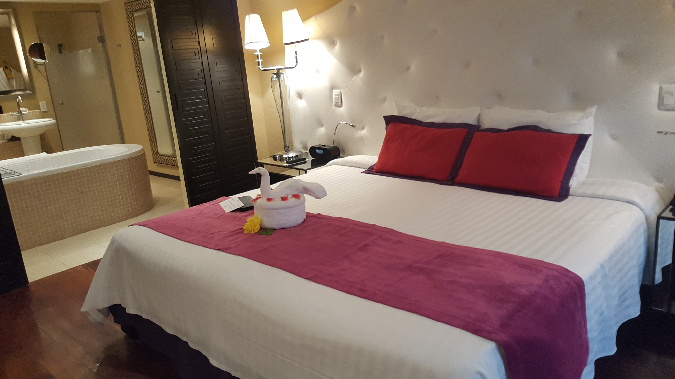 Club Med offers their guests many different options for their holiday experience. For this trip I was fortunate to stay in the Sol Suites which includes access to a concierge and a private beach.  Traveling with family? No problem.  There are also family suites that include the concierge and access to the private beach.
Traveling with Family
Families have the choice of staying in the suites, but there are also expansive family units available that sleep up to 9 people. A King sized bed, pull-out couch, and day beds with trundle beds make these rooms perfect for families and extended families. I would feel comfortable, and not tripping over people with myself, my two children and my best friend and her two children sharing one of the rooms.
If you're travelling with your children one of the major draws to Club Med will be the various clubs available to the younger set. Baby Club, Petits Club, Mini Club Med and Junior Club Med are all available to your children to enjoy while you have some much needed R&R!
Activities
While relaxing on the beach is absolutely amazing in itself the variety of activities available at Club Med Ixtapa will fill your days and make for a truly memorable vacation that you talk about for years to come. Whether you want to try out archery, learn to sail or even sail high above the ground on the trapeze there are highly trained professionals ready to enhance your experience and keep you safe. Fitness classes run throughout the day, and a beautiful pool with a pool side bar are available to keep you hydrated.
At night time be prepared for nightly entertainment designed to keep you entertained. Each night of the week features a different show so you should be able to catch a different show everyday of your stay.
Looking for some pampering?  The spa at Club Med is absolutely gorgeous, and the perfect place to relax and be pampered.
Halloween at Club Med
When I first mentioned heading to Club Med over Halloween I was met with a roar of but you'll miss Halloween! I was okay with that knowing that I would have the opportunity to participate in Day of the Dead Celebrations the following day. Low and behold spending Halloween at Club Med does not mean missing out on the excitement of Halloween back home. The resort was decorated for Halloween, there was a family pumpkin carving contest, and the children of the resort were encouraged to dress up and go trick or treating through the main restaurant.
That evening we were invited to the theatre to watch a Halloween extravaganza put on by the staff that was hilarious. After the show guests were treated to a trip through the haunted house where staff in costume jumped out and scared you.
This is just another way that the staff at Club Med make you feel important.
Food
When traveling one of the biggest concerns to many is the food options. I love the ease that staying at an all-inclusive resort affords you. You can eat when you need to and not need to worry about the bill at the end of your stay. Though resort food doesn't always live up to the standards that we might have. Looking at reviews on travel websites the quality of food is often mentioned. The food at Club Med Ixtapa was beyond delicious. The food options were amazing, everything from perfectly prepared lamb, to roast beef, chicken, cerviche, salads and more abounded at every meal.
For kids and those with more simple meal needs, pizza was available at lunch and dinner, along with fries and burgers.
For the kid in all of us the dessert bar was absolutely amazing and provided something for everyone. I was pleased to find a selection of fresh fruit available at every meal, and the omelet bar provided a delicious, high protein start to the day's activities.
Notes
The atmosphere in Ixtapa was far different from what we experienced in Puerto Vallarta. In Puerto Vallarta laying on the beach while relaxing is also frequently interrupted by vendors who spend their day walking up and down the beach carrying heavy loads of merchandise for sale. I spent 3 hours at the beach on my last day there and in that entire time period saw only two vendors make their way down the beach. The only person who approached me in that entire time was the beach boy who ensured that I had a steady stream of bottled water to keep me hydrated.
While at Club Med I fell ill and needed to be seen by the nurse on staff. They took amazing care of me while there, and ensured that despite not feeling well I was still able to enjoy my stay. I even received a note from the General Manager of Club Med Ixtapa Johnny wishing me a speedy recovery. To me this was yet another example of the amazing attention paid to you at Club Med Ixtapa.
At every point in time while at Club Mex Ixtapa they make you feel like a valued guest.  This makes all the difference.  I will definitely be going back with my family for some much needed thawing out from our impending Canadian Winter!

By