Easy Cilantro Lime Chicken Thighs Recipe
This tender, juicy Mexican inspired cilantro lime chicken thighs recipe is quick and simple but full of bold and delicious flavours. While I say it's Mexican inspired, similar recipes may say Tex-Mex and with ingredients such as fresh limes, cilantro, garlic, cumin and chili powder it also has similar ingredients to some of my favourite Asian recipes.
Disclosure: I am participating in the Chicken Farmers of Canada campaign managed by SJ Consulting. I received compensation in exchange for my participation in this campaign. All opinions here are my own.
PIN this recipe!
I even been thinking of trying this recipe and adding fresh ginger, soy sauce and possibly a few other ingredients to give it a different spin. If I try that I'll let you know how it goes. Either way this cilantro lime chicken is mouth-watering.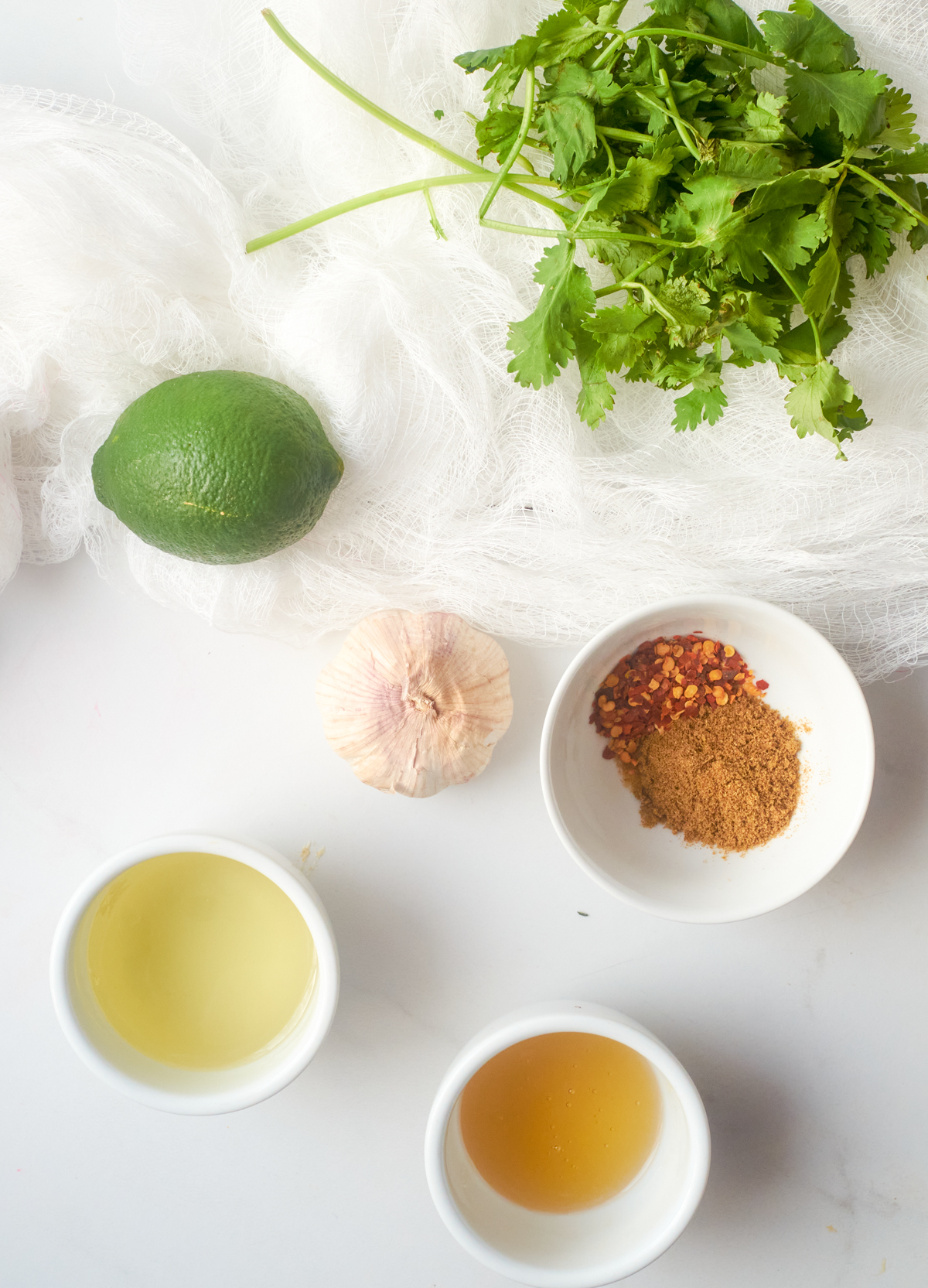 Cilantro Lime Chicken Thighs – Cooked on the Grill and/or in a Pan or Both!
You can cook these chicken thighs directly on the grill or in a pan. I cooked them in my cast-iron pan on the grill to keep the heat out of the kitchen this summer. Why in the pan on the grill? I take the cooking outside as much as possible when it's hot weather time and the reason I kept these thighs in the pan on the grill was for a couple of reasons:
I like to grill the lime wedges near the end with them for extra flavour
The marinade juices go to the bottom of this pan and I pour it over the chicken once it's plated for even more flavour
I find it's better heat control of the meat when it's all in one pan so I don't get flare ups right on the chicken.
Tender & Juicy Cilantro Lime Chicken Thighs
Your tastebuds are going to thank you when you try these tender and juicy cilantro lime chicken thighs guys. This recipe is full of delicious irresistible flavours!
Don't forget to check out our other recipes like the ones below!
Peruvian Chicken Recipe – if you really love lime and cilantro on chicken you can also use the "green sauce" from this recipe and have it with this cilantro lime chicken thighs recipe.

How long do you need to marinate the chicken?
This Mexican-inspired Cilantro Lime Chicken that marinates very quickly but if you have time it's also great to leave it marinating for a few hours. No matter how long you let it marinate you'll enjoy this mouth-watering recipe thanks to all of those delectable flavours combining into the perfect marinade.
Are Chicken Thighs Healthy?
Yes, you bet they are. Chicken thighs are just as healthy as chicken breasts and other cuts of meat. It can of course depend on your dietary goals, if you're trying to lose weight you may want to have more chicken breasts than thighs. However, the dark meat of chicken thighs are like avocados and are high in healthy monounsaturated fats. So again it depends on what your goals are. They both are great options but thighs are more affordable than skinless chicken breasts so you get more bang for your buck.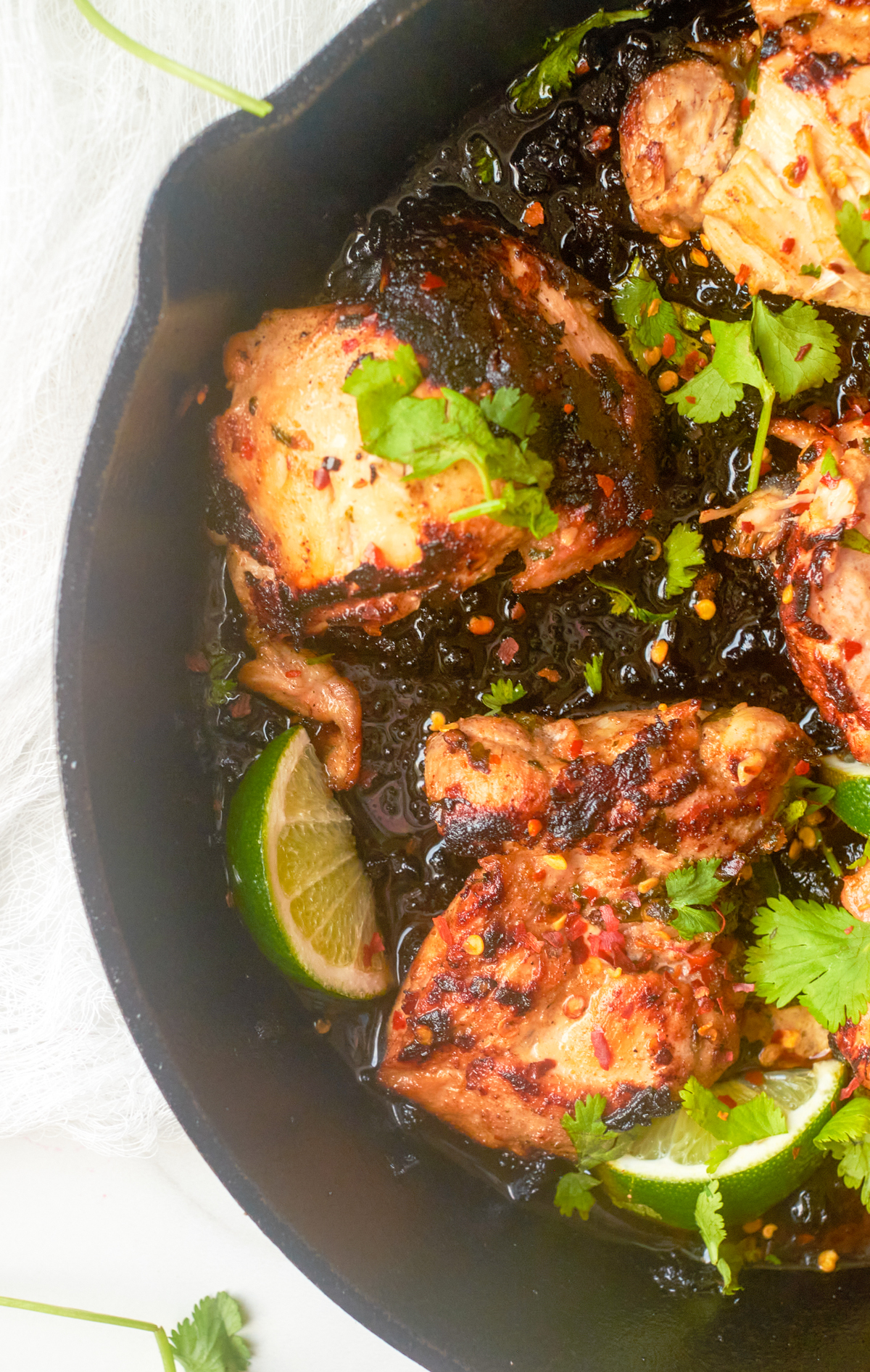 Can You Substitute with Chicken Breasts?
Of course you can. Just keep in mind that with the chicken breasts that are bigger than chicken thighs and it's white meat that you'll need to adjust the cooking times. You'll still get juicy and tender chicken either way but with different cuts of chicken.
To learn more about the different cuts of chicken, how to cook them, different recipes and nutritional value and so much more you check out chicken.ca. If you've been following Powered by Mom for a while you know that we always buy and eat chicken with the Raised by a Canadian farmer logo on it just like the one below. Canadian chicken is a healthy choice that is free of added hormones and steroids, and raised right here in Canada according to nationally-set, high food safety and animal care standards.
If your local grocery store doesn't carry chicken with this logo make sure to ask the manager to bring it in!
Cilantro Lime Boneless Chicken Thighs
Yes, I went with skinless boneless chicken thighs as it's easier overall to eat and my daughter lately has a thing for not having chicken with bones in it. Seriously, she's not a kid anymore but still can be picky lol
Okay let's get to this yummy recipe shall we?
Yield: 6-8
Cilantro Lime Chicken Thighs Recipe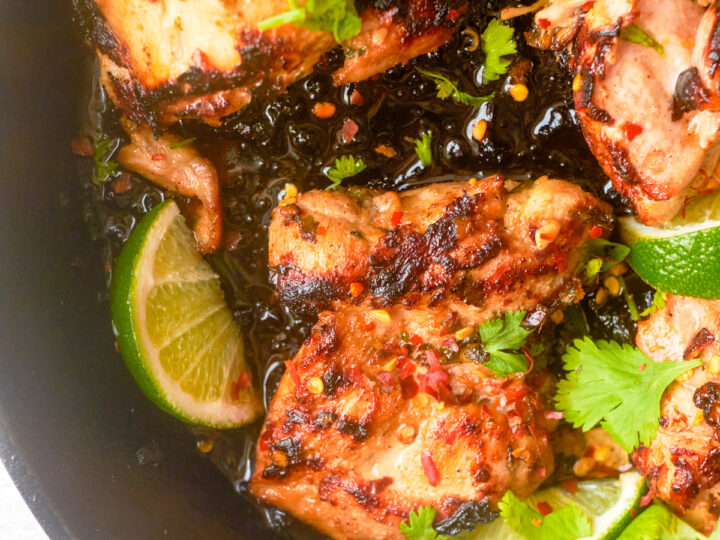 This tender and juicy cilantro lime chicken thighs recipe is quick and simple but full of bold and delicious flavours.
Additional Time
30 minutes
Ingredients
3 tablespoons olive oil
¼ cup of fresh squeezed limes (about 2) & their zest
1/4 cup of chopped fresh cilantro leaves plus more for garnish
4 cloves garlic, minced
1 teaspoon honey
1 tablespoon chili powder
1 teaspoon red pepper flakes
1 teaspoon ground cumin
Salt & Pepper to taste
2 lbs of boneless skinless chicken thighs (approx. 8 thighs depending on size)
Lime wedges, for serving
Instructions
In a bowl* add the olive oil, lime juice and zest,
minced garlic, honey, chopped cilantro, chili powder, pepper flakes, cumin, salt, and pepper and mix until it's thoroughly combined. Set aside 3 tbsps of the marinade to use later
Add chicken thighs to the marinade coat the chicken
thighs well. Cover and place in the fridge to marinate for 30 or more minutes.
For both a grill or stove top put your cast iron skillet over medium-high heat. Let the pan get hot.
Add the chicken thighs to the skillet. Be careful of hot marinade sizzling from the pan.
Sear the thighs on each side about 30-45 seconds. Then continue to cook for 5-7 minutes each side until a dark golden brown. You
can add some lime wedges to the pan after you flip the chicken thighs once, if you like. This is optional but something I like to do for added flavour. Cuts of chicken like the thighs are cooked when the internal temperature is 165˚F.
Remove from heat.
Brush chicken thighs with reserved marinade and any of the marinade from the bottom of the pan if you like.
Garnish with chopped cilantro and lime wedges. Serve with rice, salad and/or any veggies.
Notes
* you can also toss the chicken in the marinade in a ziploc bag.
We also love our "green sauce" from our Peruvian Chicken Recipe wit this chicken.
Nutrition Information:
Yield:
8
Serving Size:
1
Amount Per Serving:
Calories:

252
Total Fat:

14g
Saturated Fat:

3g
Trans Fat:

0g
Unsaturated Fat:

10g
Cholesterol:

138mg
Sodium:

269mg
Carbohydrates:

6g
Fiber:

2g
Sugar:

1g
Protein:

28g
Please note that we can not guarantee the accuracy of the nutritional information. They are a best guess calculation.
So what do you think does that sound easy to make and yummy to eat? You should try it soon! It's yummy with rice, grilled veggies and/or a salad. As mentioned we also like our Peruvian Green Sauce with it as it's basically a lime and cilantro sauce.
Can you freeze Cilantro Lime Boneless Chicken Thighs?
You sure can freeze these if there are any leftovers that is. Use an airtight container or vacuum seal bag to keep all that yummy marinade sauce in. I recommend doubling the recipe as it's always so popular!
If you try this recipe let us know how you liked it or not and any variations you may have tried.

Make sure to check out Chicken Farmers of Canada can HERE for more helpful tips, recipes and more.

Facebook: Canadian Chicken, Twitter: @ChickenFarmers, Instagram: @ChickenDotCA; Pinterest: ChickenDotCA.

By