Christmas Tree Pinwheel Appetizer
Chicken Enchiladas
Christmas Tree Pinwheel Appetizer: Tortilla chicken enchilada pinwheels are soft tortilla wraps filled with a delicious and savoury cream cheese filling that are shaped into a Christmas tree. This no-bake appetizer is easy to put together and is perfect for any holiday gathering.
Disclosure: I am participating in the Chicken Farmers of Canada campaign managed by SJ Consulting. I received compensation in exchange for my participation in this campaign. All opinions here are my own.
Can you make this Christmas tree appetizer ahead of time?
You sure can. In fact I like to roll the cream cheese chicken enchilada filling in the tortillas and wrap it in saran wrap and leave it in the fridge overnight. This lets it chill and makes it more solid and easier for when you want to cut the roll into the pinwheel bites. You can just pull them out of the fridge, cut and arrange just before you want to serve and it's good to go!
Check out some of our other delicious recipes from appetizers, main dishes and desserts!
PIN this Christmas Tree Pinwheel Appetizer
We always cook with chicken raised by a Canadian farmer because we know that it is grain-fed, free of hormones and steroids and they have high animal care standards. To help me cook our chicken to correct food-safe temperature I use this handy cooking temperature chart.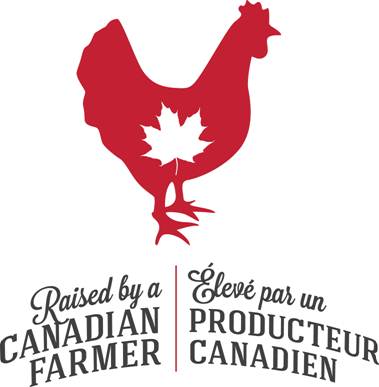 When I go grocery shopping I always look for the Raised by a Canadian Chicken Farmer label (see above) which luckily for us our local stores always care. If your grocery store doesn't carry it ask the manager to bring it in!
Check out our quick video to see how easy it is to make this Chicken Enchiladas Pinwheel Christmas tree Appetizer!
Do you have to shape it into a Christmas tree?
Of course not. These chicken enchilada pinwheels are just as yummy and fun served on a platter without being in a Christmas tree shape. We love easy to make and eat finger food like this one!
The filling of party pinwheels is cream cheese mixed with shredded cheese, taco seasoning, chicken, diced tomatoes, green chilis, garlic, green onions and chopped cilantro. So yummy!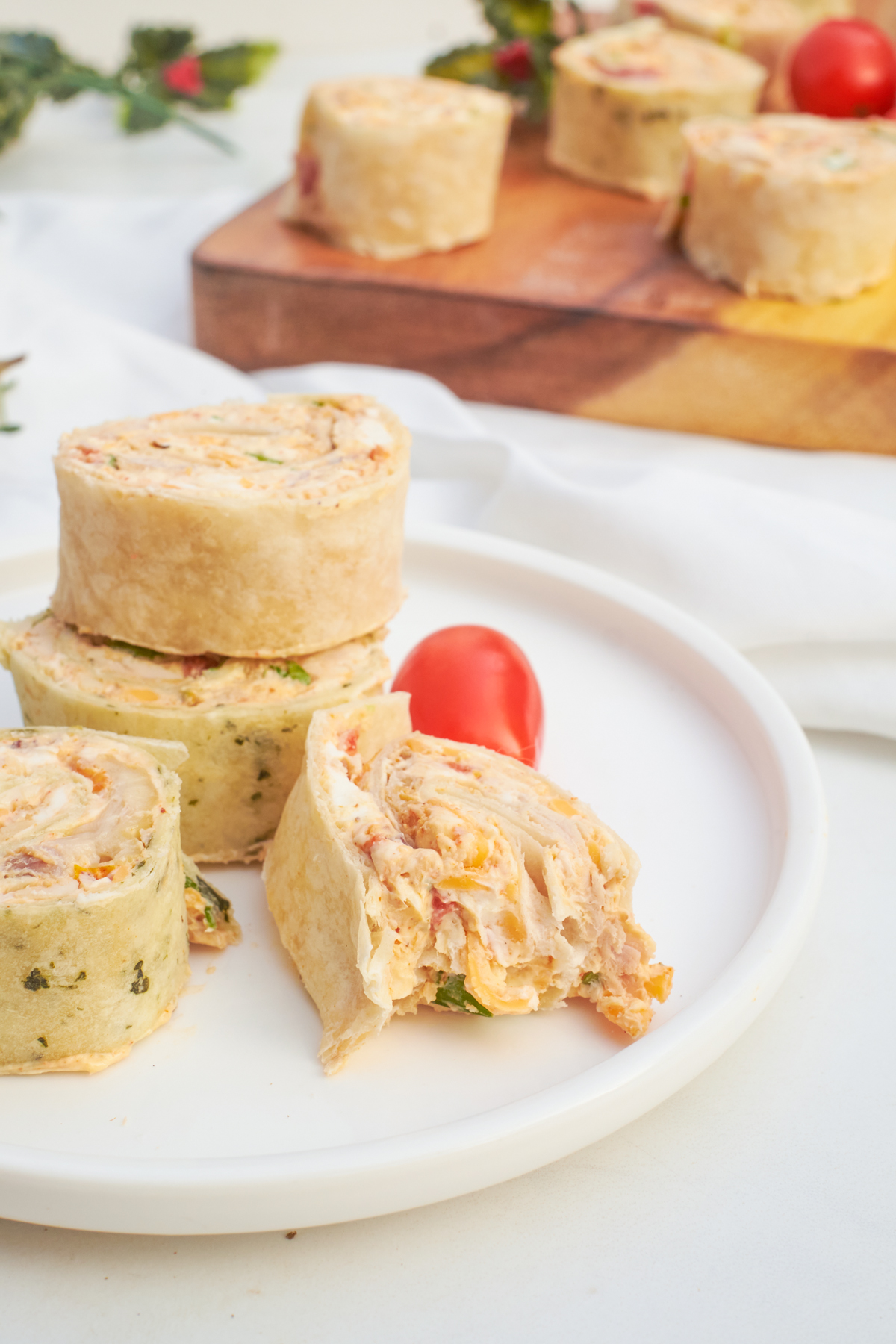 Can you use any other fillings for the Christmas Tree Pinwheel?
While we went with a chicken enchilada inspired filling we thought about doing a chicken, cream cheese and dried cranberries filling. This would be so yummy too but we did the chicken enchiladas for something a bit different & a slightly "international flavour to it.
Tips for the Pinwheel Christmas Tree Appetizer
Learn from our mistakes. After making this delicious appetizer and looking at our photos we realized a few things. We didn't correct them because we like to keep it real but it doesn't mean we won't make these improvements the next time!
We couldn't find darker green tortillas, they are out there but as you can see in our photos it's hard to tell which ones are green and which ones are white. We've seen greener ones but of course couldn't find them when we need them.
Place the pinwheels either all horizontal or vertical. If you looks closely (or maybe you don't have to look that close) ours are a mix of horizontal and vertical. If they're all the same it looks more uniform.
Add more "greenery" like the sprigs of rosemary in between the gaps in the tree for more branches. Use smaller little bits we think it looks better, again learn from our mistakes. For our first attempt we're happy and honestly it didn't stay as a tree shape long because they were gulped down quite quickly.
The Christmas tree shape is easy to create and it adds that Christmas look to your holiday table.
We love that this is a no bake appetizer recipe! No oven and no cooking time means this appetizer can be made in a short amount of time and yet it's delicious and a fun appetizer.
Now let's get to this recipe shall we?
Christmas Tree Pinwheel Appetizer - Chicken Enchiladas
Christmas Tree Pinwheel Appetizer: This no-bake appetizer is easy to put together and is perfect for any holiday gathering.
Additional Time
30 minutes
Ingredients
2 (8-oz) packages cream cheese, softened
1 1/2 cups shredded Mexican cheese
2 tablespoons taco seasoning
2 cups shredded chicken
1 (10-oz) can drained diced tomatoes with green chilis, well drained
1 teaspoon minced garlic
4 green onions sliced
1/2 cup chopped cilantro
5-8 cherry or grape tomatoes
4-6 large (10-inch) green & white tortillas
Rosemary to decorate
Instructions
In a mixing bowl, combine all of the ingredients (except the tortillas, & grape tomatoes & rosemary).
Spread 1/4 of the mixture onto one tortilla. place a tortilla on a flat working surface (like your countertop or a large baking sheet) and spread about 1/4 of the cream cheese mixture onto the tortilla. Spread the mixture just to the edge of the tortilla.
Roll up the tortilla and wrap it tightly with plastic wrap. Repeat for all tortillas. Chill them in the freezer for at least 30 minutes.
Gently cut into 1/2-inch slices.
Arrange the pinwheel slices into the shape of a tree on a platter, plate, or board. Garnish the tree with grape (or cherry) tomato "ornaments" and if you want use sprigs of fresh rosemary or another green herb for "branches.. As you can see in the photos I did 8 for the
bottom of the tree, then 6 etc.. but you can do your tree as wide as you want.
Notes
See our full post for our tips.
Nutrition Information:
Yield:
26
Serving Size:
1 pinwheel
Amount Per Serving:
Calories:

58
Total Fat:

3g
Saturated Fat:

2g
Trans Fat:

0g
Unsaturated Fat:

1g
Cholesterol:

15mg
Sodium:

153mg
Carbohydrates:

3g
Fiber:

0g
Sugar:

1g
Protein:

5g
Please note that we can not guarantee the accuracy of the nutritional information. They are a best guess calculation.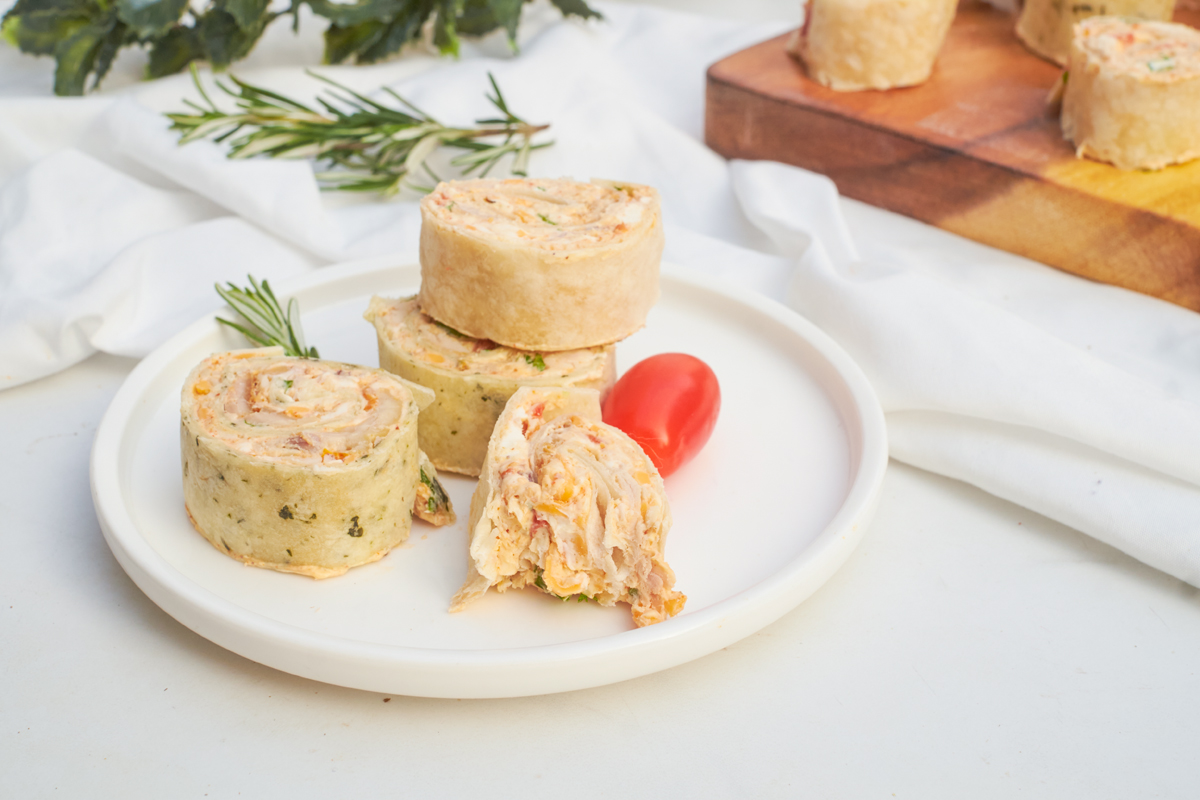 Easy peasy right? Whose ready to make this yummy appetizer? If you try it make sure to let us know how you liked it and any variations you might have made.

By