Delicious Chicken Spring Roll Recipe
This chicken spring roll recipe is a great addition to any holiday celebration whether it's just you and your close family and friends or a larger gathering or just because you want something yummy. Everyone enjoys these spring rolls so you might want to make some extras (hint, hint).
Pssst we're also sharing an amazing Ninja Foodi giveaway so make sure to check that out after the recipe at the bottom of this post!
Disclosure: I am participating in the Chicken Farmers of Canada campaign managed by SJ Consulting. I received compensation in exchange for my participation in this campaign. The opinions on Powered by Mom are my own.
I love this homemade chicken spring roll recipe as they are delicious, crunchy and not as oily as ones I've had from some restaurants. The filling is actually quite simple but so full of flavour.
Make sure to PIN this recipe!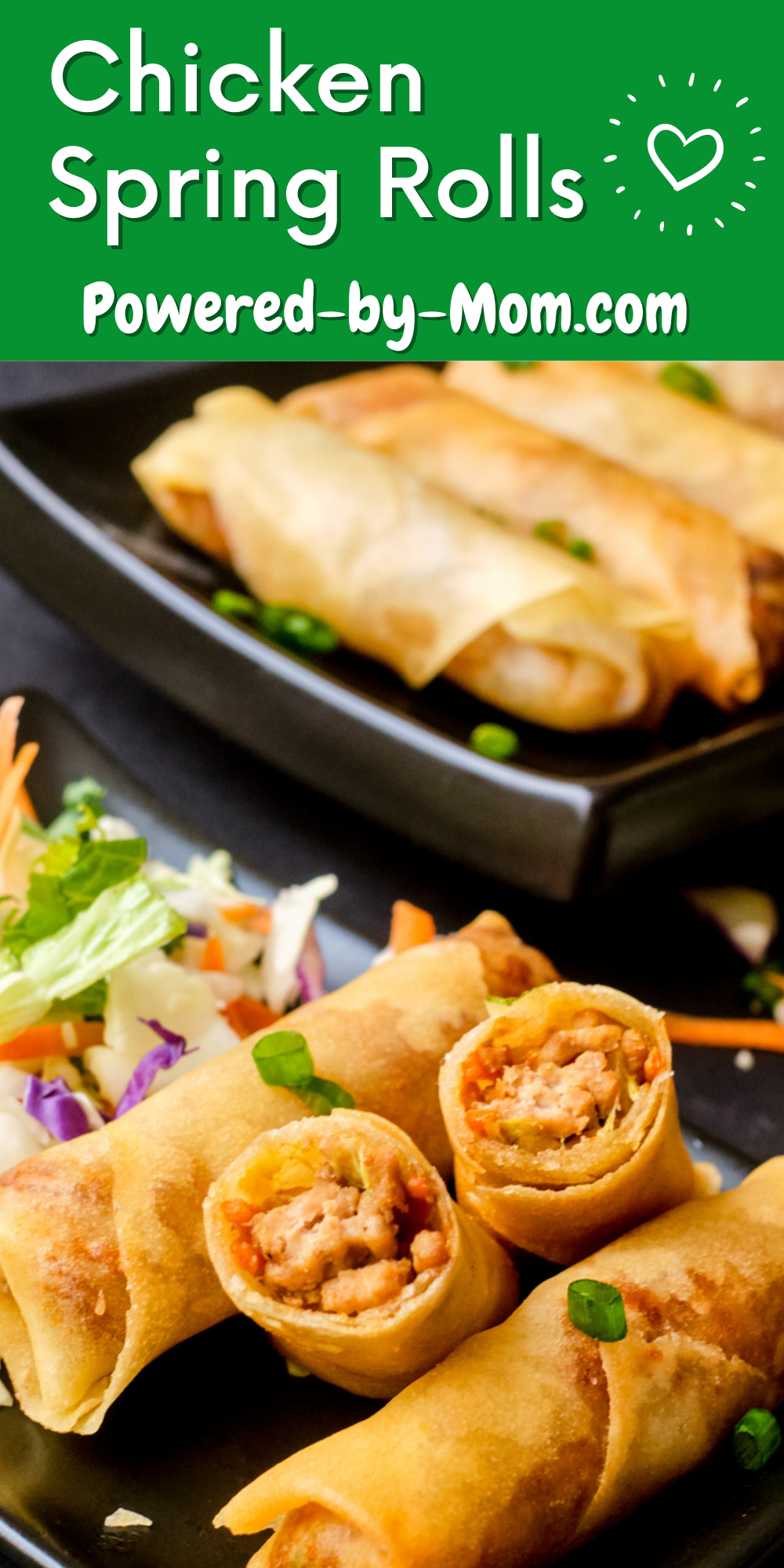 Are They Called Spring Rolls Or Egg Rolls?
Spring Rolls or Egg Rolls? Both seem to be used although it used to be for my family we called the Chinese fried rolls egg rolls and the Vietnamese fried rolls (rolled in rice paper) spring rolls when referring to them in English.
My mother was Vietnamese so we tended to have the Vietnamese ones more and referred to them in Vietnamese which is Chả giò. I've heard people refer to Vietnamese Salad Rolls (Gỏi cuốn) as Spring Rolls. Confusing I know, just fyi Gỏi cuốn literally translates to English as salad roll so that's what we call them in English lol
Check out our recipe section for more delicious recipes like:
Tips For Making This Chicken And Vegetables Spring Rolls Recipe
To help ensure your spring rolls are not greasy you need to ensure there are no air pockets when you're rolling the wrapper. Follow these steps:
Fold over the corner where the filling is and roll tight
Fold over the other side and make sure there are no air pockets
Roll the rest, remember nice and tight to avoid air pockets.
You can finish by brushing some beaten egg on the seams.
Place seam side down once finish rolling.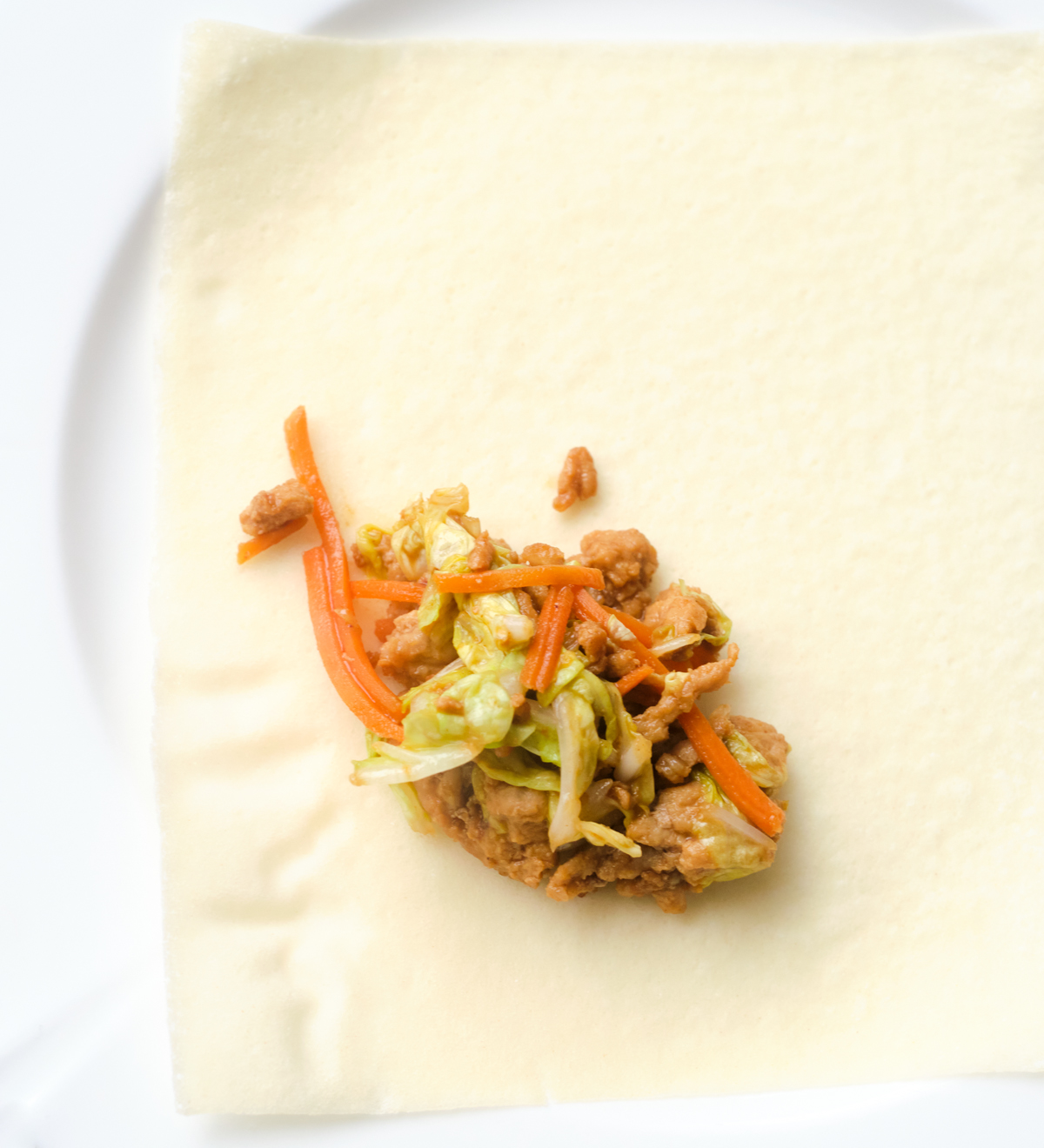 Cooking The Filling For Chicken Spring Roll Recipe
Sauté the ground chicken with just a bit of oil (vegetable or canola is fine). Once cooked remove chicken and set aside.
Wipe out the pan or wok and start to sauté the shredded carrots and cabbage, add the soy sauce, hoisin sauce, garlic powder and ginger powder for about two minutes and medium low. Put the ground chicken back in with the other ingredients and sprinkle on the cornstarch and mix. Sauté on low for a few more minutes until everything seems well mixed.
This helps to keep the meat and the veggies from being overcooked and soggy. While my photo above shows the uncooked spring rolls stacked, I did that for this quick photo only, if you're storing them uncooked do not stack them. Keep them in single layers otherwise they will stick OR put saran wrap in between the layers to prevent them from sticking together.
Use Quality Ingredients
When buying your ingredients use quality items, this doesn't mean it has to be organic, that's not what we mean by quality. The carrots and cabbage should be fresh, use a good quality ground chicken, it makes all the difference.
That's why my family and I only buy chicken with the Raised by a Canadian Farmer logo like the one above.
Can You Freeze These Chicken Spring Rolls?
Yes you sure can. As I mentioned earlier just make sure the chicken and vegetable spring rolls are in a single layer or if you need to stack them then put plastic wrap in between the layers so they don't stick together. If you want fresh spring rolls then freeze them uncooked and just fry them when you're ready.
Okay I'm sure you're ready for us to get to the recipe but remember everything above are tips to help you make this recipe as tasty as can be!
Yield: 25
Chicken Spring Roll Recipe
This chicken spring roll recipe is a great addition to any holiday celebration whether it's just you and your close family and friends or a larger gathering or just because you want something yummy. Everyone enjoys these spring rolls so you might want to make some extras.
Ingredients
25 spring roll wrappers
1.5 cups of shredded carrots
1.5 cups of shredded Chinese cabbage
2 tablespoon soy sauce
2 tablespoon hoisin sauce
2 teaspoon garlic powder
1 teaspoon ginger powder
1 tablespoon corn starch
1 lb ground chicken
Egg to bind the wrappers
Green onions to garnish
Instructions
Fully cook ground chicken in a pan with a bit of oil (1tsp), breaking it up into small pieces while cooking. Take out of the pan.
Pour all ingredients minus the green onions into the large pan and mix. Fry on low for 2 minutes.
If you are planning on frying up the spring rolls right away, you can wrap them now. If you are going to be freezing them, let your filling cool in the fridge before prepping.
To roll the spring rolls place a small amount of filling on a corner of the wrapper. Roll tightly (see our tips in the post). Finish with brushing a bit of beat egg along the seams of the wrapper to bind the wrapper together.
Fry in a deep fryer until golden brown. These cook up quickly if made fresh. I made mine fresh and they took about 5-6 minutes at 375 If you are making them from frozen you'll want to check the internal temp to be sure it is above 170.
Enjoy with sauce of your choice. We like dipping in the Vietnamese spring roll sauce Nước Chấm which you can find on our Lemongrass Chicken Noodle Bowl Recipe.
Notes
If you have leftover carrots and cabbage to use up you can make our Vietnamese Chicken Salad Recipe which you can see here:
See our post for tips on cooking the filling and rolling the spring rolls.
You can substitute the carrots and cabbage for veggies of your choice but nothing bulky as it makes it harder to roll.
You can add oyster sauce if you like, not too much.
Nutrition Information:
Yield:
25
Serving Size:
1
Amount Per Serving:
Calories:

34
Total Fat:

2g
Saturated Fat:

1g
Trans Fat:

0g
Unsaturated Fat:

1g
Cholesterol:

19mg
Sodium:

14mg
Carbohydrates:

0g
Fiber:

0g
Sugar:

0g
Protein:

4g
Please note that we can not guarantee the accuracy of the nutritional information. They are a best guess calculation.
What do you think are you ready to make this chicken spring roll recipe? Even with 25 rolls this does not last long in my family. We love our spring rolls around here, like love them, even my picky eater daughter who you'd swear she barely eats sometimes can pack several of these away in one sitting.
Have extra carrots and cabbage to use up? Or maybe buy extra and you can make our Vietnamese Chicken Salad Recipe – Goi Ga. It's a delicious and refreshing meal especially in the spring and summer.
You can serve these chicken spring rolls just as an appetizer on their own or have with a salad, use the leftover cabbage an carrots for a slaw on the side or use it to make our Vietnamese Chicken Salad recipe mentioned above.
If you make our chicken spring roll recipe make sure to come back and let us know how it worked out for you and any variations you did that you loved or maybe didn't love.
Are you ready to find out about the awesome giveaway now?!
1 WINNER receives 2 prizes
● Ninja® Foodi™ Cold & Hot Blender
● Ninja® Foodi™Pressure Cooker Air Fryer
Wow now that's an amazing prize! Enter on the Giveaway Tools below. Good luck!
By