Chicken Poke Bowl Recipe
Get ready for some yummy goodness that is also healthy thanks to this delicious Chicken Poke Bowl Recipe that is finished with a delicious sriracha mayo. It's an easy meal to put together with fresh ingredients such as fresh vegetables, edamame, leafy greens and to tie it all together delicious chicken thighs. You do not want to miss out on this delicious poke bowl.
Psst there's also a FABulous giveaway, make sure to go to the end of this post to find out what the awesome prizes are and enter of course.
Disclosure: I am participating in the Chicken Farmers of Canada campaign managed by SJ Consulting. I received compensation in exchange for my participation in this campaign. The opinions on this blog are my own.
This chicken poke bowl recipe is inspired by the recipe on Chicken.ca where I go often to get recipe inspiration when I want to cook up some chicken. I tweaked it to accommodate some flavours that my family and I love and we were not disappointed. I loved how their recipe incorporated pears into the marinade for the chicken, I don't think I would have thought of that but oh my so yummy.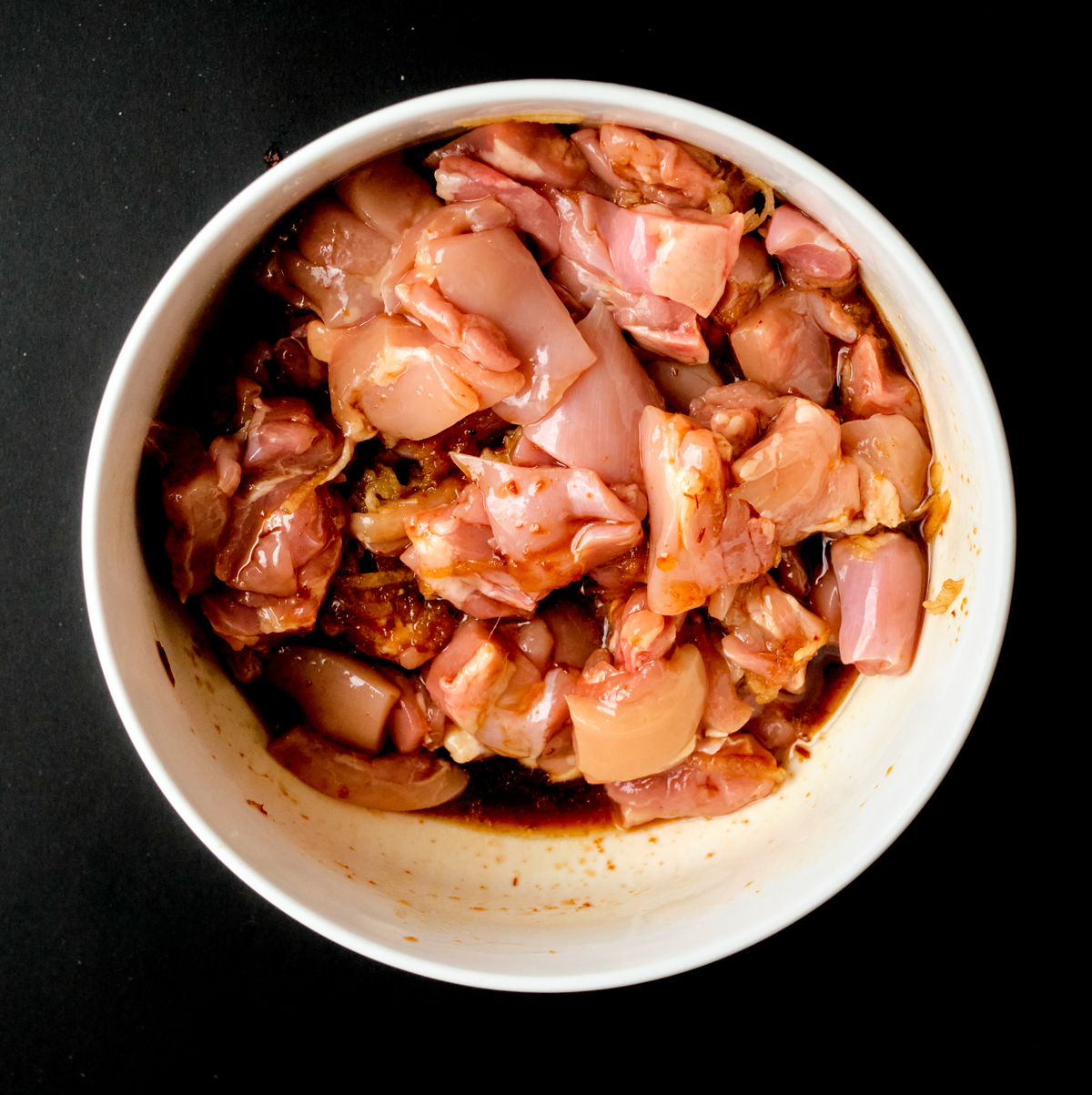 I like using chicken thighs because not only are they so tender but they are an economical cut so if you're wanting to try alternative cuts or need to be more budget conscious chicken thighs are a great option.
Healthy Chicken Poke Bowl Recipe
I've already mentioned that this is a healthier recipe but let me assure you that doesn't mean it's not delicious, quite the opposite. While you've got fresh ingredients in the vegetables and it's packed with protein and nutrients this is one tasty recipe.
Don't forget to pin this recipe.
In case you didn't know poke bowls originated in Hawaii and were made mostly with fresh fish. This poke bowl with chicken is a delicious alternative for those who don't want seafood. Poke when referring to these delicious poke bowls is actually pronounced POH-keh. Just a little fun fact for you.
What do you put in a chicken poke bowl?
One of the many reasons we've become enamored with the poke bowl is its versatility. We put rice in the bottom of ours and then topped with our veggies of matchstick carrots, cucumbers, steamed edamame, arugula, spinach and of course the marinated cooked chicken thighs. We then topped it with sriracha mayo for some spiciness and sesame seeds.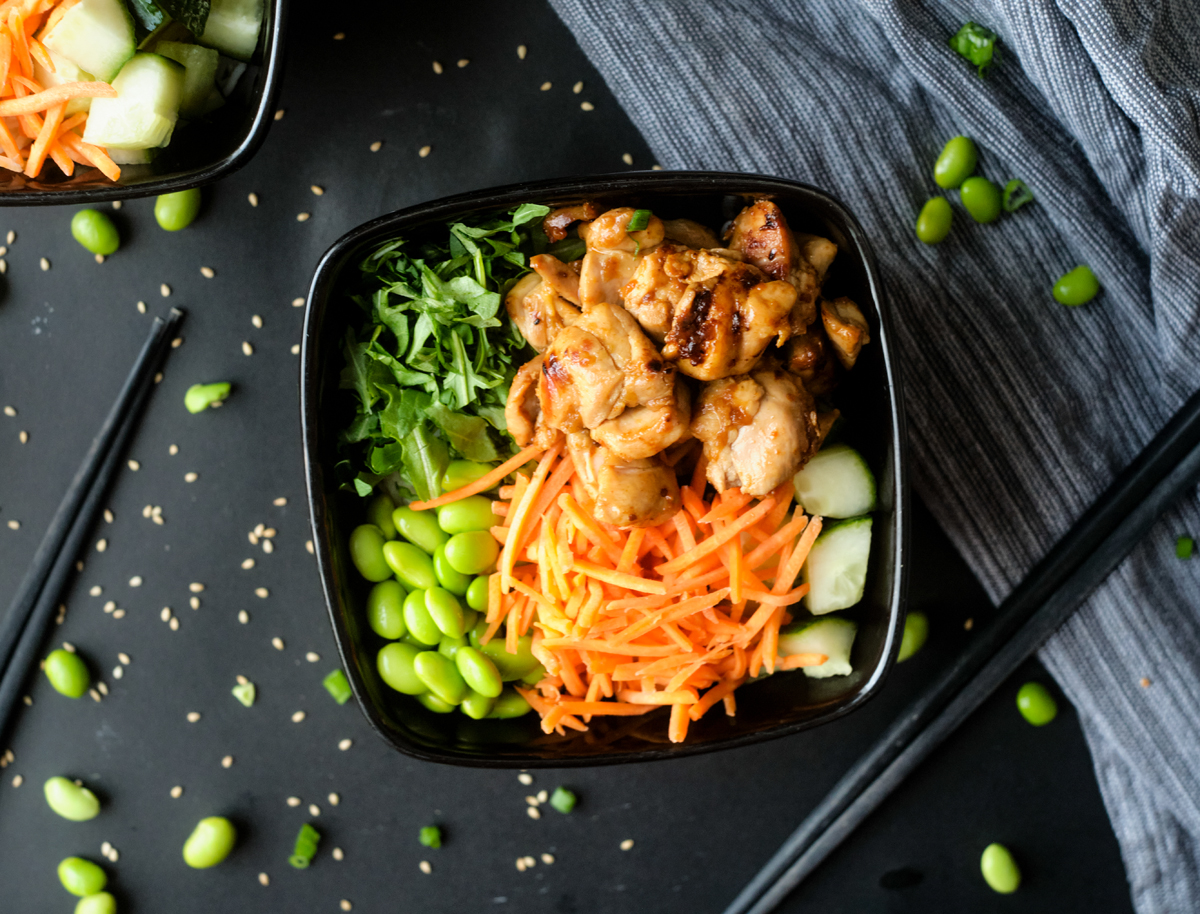 You can use whatever vegetables you like, micro greens you bet, lettuce, sure. I have seen poke bowls with avocado and a wide range of veggies so go with what you like. You can have with or without rice or have with quinoa and the list goes on. Remember I said I love the versatility of poke bowls and this is one of the reasons why.
Don't forget to check out our other delicious recipes like the ones below.
Vietnamese Lemongrass Chicken Summer Rolls

Can I make my poke bowl spicier?
You bet you can. You can add more sriracha mayo or if you really want to kick it up several spicy notches then you can toss in chopped chili peppers or jalapeños and you get the idea.
Use quality chicken
If you've been following Powered by Mom for a while then you've seen me say this before, I only buy chicken with the Raised by a Canadian farmer logo like the one below. I know when I buy chicken with that logo that it's top quality, no hormones, ethical treatment of the chickens and the majority of the farms are small family-owned farms.
We believe in high ethical standards for raising the chickens and this logo means they have stringent care standards. We know we are getting quality chicken and the majority of these Canadian farms are family owned. My hubby are both self employed so supporting local and family owned businesses is important to us.
Can you make poke bowls ahead of time?
If you want to make your Are you planning on making one of these bowls to take for work the next day? Perfect! These chicken poke bowls will stay fresh in an airtight container in the fridge for up to 3 days. They're perfect for meal prep! There's really nothing better than knowing you have a deliciously, healthy, and filling meal to look forward to at work.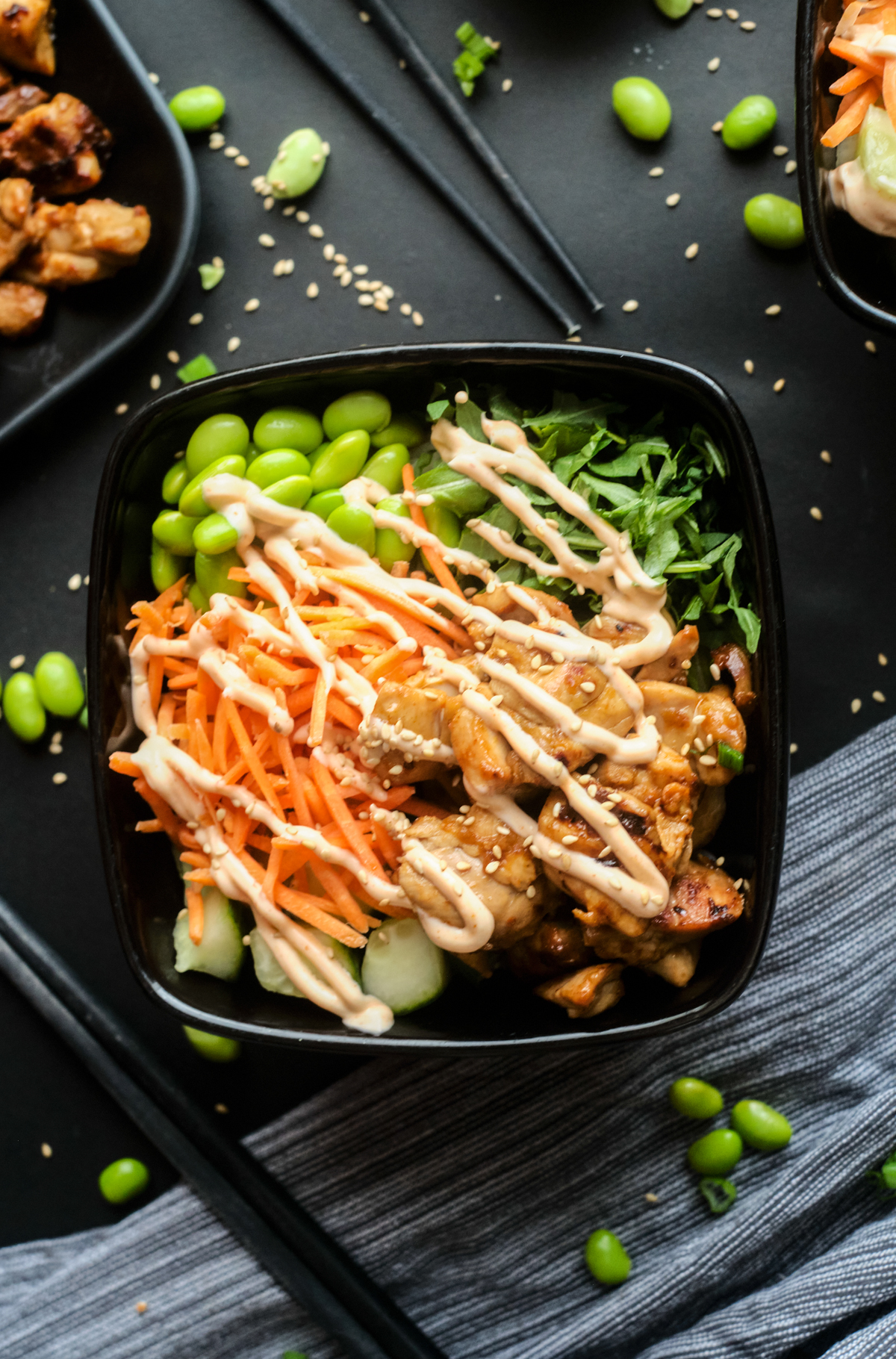 Okay are you ready for this delicious recipe? Let's get to it shall we?
Yield: 4
Chicken Poke Bowl Recipe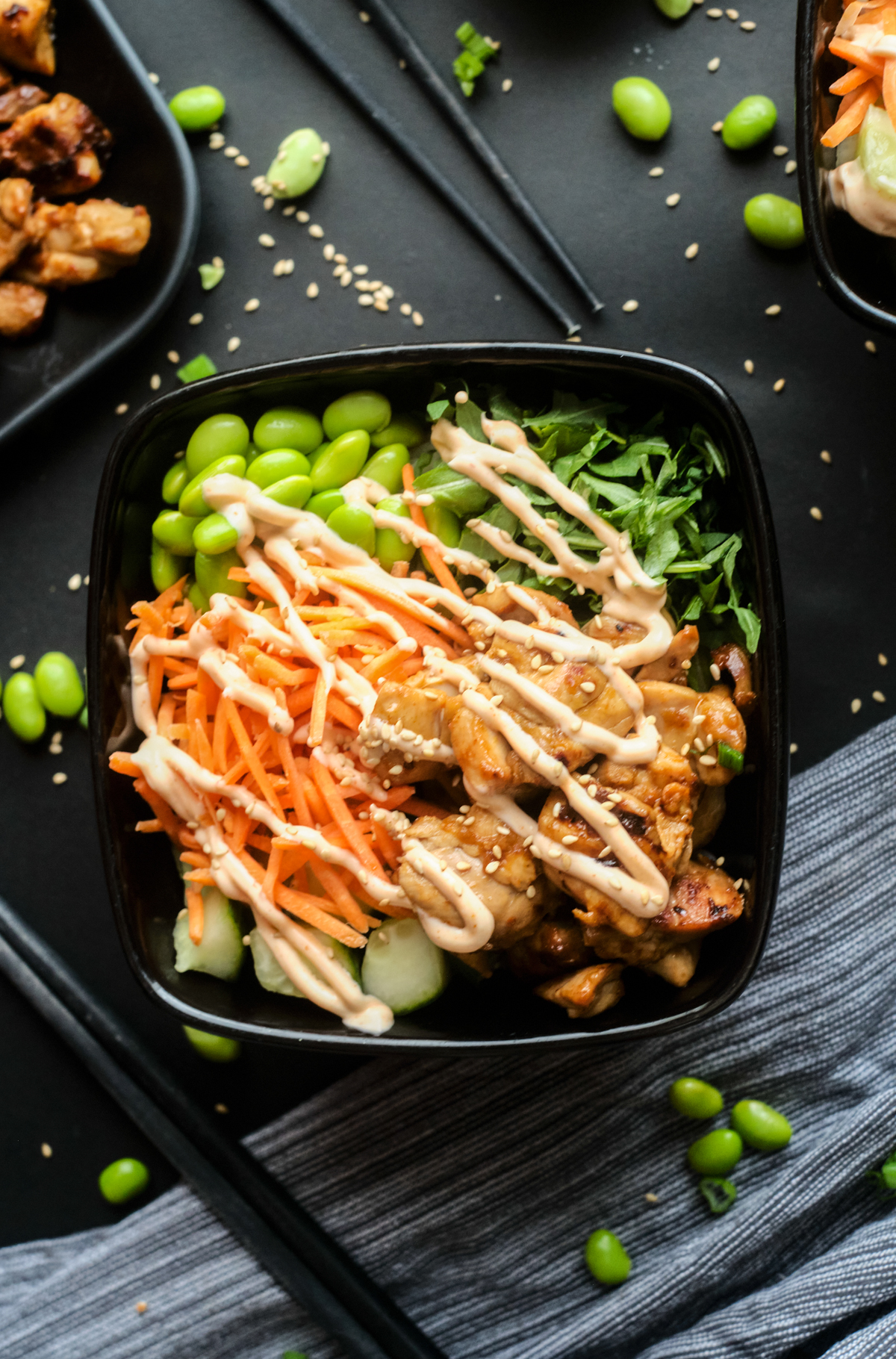 This delicious and healthy Chicken Poke Bowl Recipe is full of flavour, is easy to make and is finished with a yummy sriracha mayo.
Additional Time
15 minutes
Ingredients
½ pear, peeled and grated (we used a green pear)
¼ cup soy sauce (approx.)
2 tbsp rice vinegar
1 tbsp honey
1 tbsp garlic chili paste
2 tsp sesame oil
6 boneless, skinless chicken thighs (1 1/4 lb/600 g), cubed
2 tbsp vegetable oil
4 cups cooked white rice
10 ounces frozen steamable edamame
2 cups matchstick carrot sticks
1 cup leafy greens of choice. See notes for ideas micro greens or arugula and spinach
½ cup diced cucumber
Sriracha mayo to taste Sriracha Mayo
¼ cup of mayo
1 tsp siracha
Sesame seeds
Instructions
In large bowl, whisk together pear, soy sauce, vinegar, honey, chili paste and sesame oil. Add chicken and toss to coat; let stand for 15 minutes.
Heat oil in large non-stick skillet set over medium-high heat; cook chicken, stirring often, for about 10 minutes or until cooked through and caramelized. Let cool slightly.
Divide the rice amongst four bowls, the rice will be base layer and should cover the bottom of the bowl; divide edamame, carrots, cucumbers & leafy greens* into the bowls.
Top with chicken, drizzle sriracha mayo. Sprinkle with sesame seeds and enjoy!
Notes
*We used arugula and baby spinach for our leafy greens but micro greens are amazing or as mentioned you can use your favourite lettuce as well.
Nutrition Information:
Yield:
4
Amount Per Serving:
Calories:

605
Total Fat:

23gg
Saturated Fat:

4g
Cholesterol:

94mg
Sodium:

410mg
Carbohydrates:

57g
Sugar:

7g
Protein:

36g
What do you think, are you ready to make a poke bowl with chicken? What vegetables would you add to your poke bowl? If you try this recipe let us know how you liked it and what variations you loved or hated. We can't wait to hear from you!
Don't worry I haven't forgotten, here's that amazing giveaway I mentioned! Enter on the Giveaway Tools widget below.
Starts March 7th, 2022 – Ends March 28th at 9am est. One winner, 3 prizes!
Giveaway Prizes:
Ninja® Foodi™ 6-in-1 8-qt. 2-Basket Air Fryer
KitchenAid 5-cup Food Chopper
Henckels Forged Contour 12-piece Knife Set
Prizing is open to residents of Canada who are 18 years of age and older.

For other tasty chicken recipes on the Chicken Farmers of Canada website. Make sure to follow them too!
Facebook: Canadian Chicken, Twitter: @ChickenFarmers, Instagram: @ChickenDotCA Pinterest: ChickenDotCA.

By