Warm up with a bowl of chicken corn chowder!
The weather is already getting colder, we can see our breath in the air and that means it's time for comfort food. Something to warm us up while it fills our bellies like this yummy chicken corn chowder!

A bowl of steaming hot chowder, especially when it's this chicken corn chowder is perfect for warming us up on a cold day. I love this chicken corn chowder because not only is it delicious but you can make it a full meal. It has our favourite protein - chicken, that creamy base, add some potato, corn of course and if you'd like even a few other vegetables. Serve with a side of crusty bread and not only will you be warmed up from head to toe your tummy will be satisfied too!
If you don't know it already I'll share again just in case, we only buy and eat chicken raised by a Canadian chicken farmer that has the logo below on the packaging. If you're wondering why, there's oh so many reasons but I'll share just a few of them with you.
Canadian chicken is grain-fed, free of hormones and steroids.
Chicken with that logo on it follows a strict nationally-set, mandatory food safety and animal care standards.
We want to support Canadian small businesses and many Canadian chicken farms are family run and owned!
If your store doesn't use the "Raised by a Canadian Farmer" brand, you can ask them to bring it in!
Now let's get on to this delicious chicken corn chowder recipe shall we?
Yield: 8
Chicken Corn Chowder Recipe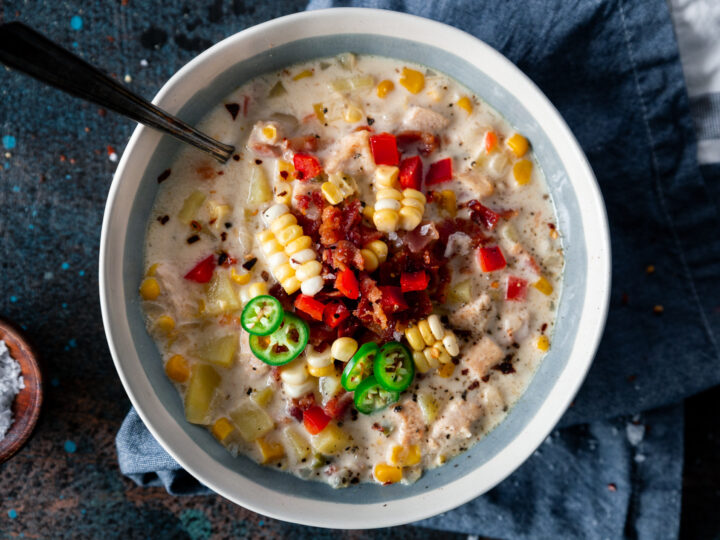 Keep cozy during the colder season with this delicious and filling chicken corn chowder - the ultimate comfort food.
Ingredients
8 slices bacon, chopped
1 lb boneless, skinless chicken breast, cut into 1" cubes
2 teaspoons kosher salt
1 teaspoon cracked black pepper
1 red bell pepper, diced
1 sweet yellow onion, diced
5 garlic cloves, minced
1 serrano pepper, minced
3 yukon gold potatoes, diced (around 2 ½ cups)
6 cups chicken broth
1 can (15 oz) sweet corn
1 ½ cups heavy cream
1 teaspoon red pepper flakes
2 bay leaves
Instructions
In a heavy saucepot or dutch oven over medium-high heat, add the bacon and cook until crispy, around 8 minutes. Remove bacon from pot with a slotted spoon and set aside, then drain all but 1 tablespoon of bacon grease.
Season the chicken with the salt and pepper and add to the pot, cooking until the chicken is no longer pink, around 4 minutes. Remove from pot and set aside.
Add the bell pepper and onion and cook until tender, around 3 minutes. Add the garlic and serrano pepper and cook for an additional 1 minute. Add the potatoes and chicken broth, bring pot to a rolling boil, then reduce heat and simmer for 15 minutes, or until potatoes are tender.
Return the chicken to the pot, then add the sweet corn, heavy cream, red pepper flakes, and bay leaves. Stir to combine and continue to simmer for an additional 15 minutes uncovered. Ladle into bowls and garnish with the reserved bacon. Enjoy!
Nutrition Information:
Yield:
8
Serving Size:
1 bowl
Amount Per Serving:
Calories:

385
Total Fat:

23g
Saturated Fat:

12g
Trans Fat:

1g
Unsaturated Fat:

9g
Cholesterol:

114mg
Sodium:

1262mg
Carbohydrates:

19g
Fiber:

2g
Sugar:

5g
Protein:

26g
Please note that we can not guarantee the accuracy of the nutritional information. They are a best guess calculation.
Is your tummy grumbling now for this chicken corn chowder? Make sure to PIN this recipe so you can make it later (tonight) or later later lol. Let us know how you like it. I suggest making a double batch as this only lasted 24 hours in my house. Yes 24 hours!
More info about Chicken Farmers of Canada can be found HERE

Facebook: Canadian Chicken, Twitter: @ChickenFarmers, Instagram: @ChickenDotCA; Pinterest:ChickenDotCA.

Disclosure: I am participating in the Chicken Farmers of Canada campaign managed by SJ Consulting. I received compensation in exchange for my participation in this campaign. The opinions on this blog are my own.

By