Oh So Delicious Chicken and Grilled Peach Salad
Celebrate summer and the warmer months to come with this tasty Chicken and Grilled Peach Salad with crunchy pecans, fresh blueberries and a delicious homemade honey mustard dressing that pulls it together for a perfect bite every time.
Pssst, there's also a HUGE contest announcement at the end of this post, make sure to check it out!
Disclosure: I am participating in the Chicken Farmers of Canada campaign managed by SJ Consulting. I received compensation in exchange for my participation in this campaign. The opinions on this site are my own.
Why a Chicken and Grilled Peach Salad?
Um, why not? I LOVE salads that are a meal and chicken is my favourite protein. It's so easy and versatile so you can create some delicious meals. I've had a salad with chicken and strawberries, blueberries, various nuts and more but I realized I hadn't done one with peaches.
Hmmm, grilled chicken and grilled peaches, yum and instead of the usual salad I wanted to up my iron intake as I tend to be a borderline anemic so fresh spinach was an easy choice because I also love it!
Instead of the usual vinaigrette, I decided to do a honey mustard dressing to add a bit of sweetness and flavour. so there is no vinegar or oil for this dressing, it's just the honey and mustard. It's a nice simple dressing that just adds to the flavour of this delicious and healthy summer recipe.
If you've been following Powered by Mom for a while now, you know that we like to support local and when it comes to buying chicken we only buy chicken Raised by a Canadian Farmer and it MUST have the logo below on the packaging.
Why chicken Raised by a Canadian Farmer?
Canadian chicken is a healthy choice that it's grain-fed, free of added hormones and steroids, and raised right here in Canada according to nationally-set, high food safety and animal care standards. We've shared several reasons on the past but I'm going to highlight one today as it's even more important now in these challenging times when many small businesses are closing and/or struggling:
Canadian chicken farmers are committed to sustainability through innovation, by preserving the health of the land, providing value to Canada's economy, & making affordable food for Canadians.
Now, who is ready to get on to this recipe? Let's do it, shall we?!
Yield: 4
Chicken and Grilled Peach Salad with Honey Mustard Dressing
Celebrate summer and the warmer months to come with this tasty Chicken and Grilled Peach Salad with crunchy pecans, fresh blueberries and a delicious homemade honey mustard dressing that pulls it together for a perfect bite every time.
Ingredients
1 lb. boneless skinless chicken breast (3-4 chicken breasts)
salt & pepper to season
6 cups baby spinach
2 peaches, halved
1 tsp olive oil
1/2 cup blueberries
1/4 cup pecan halves *
1 ounce crumbled feta cheese** (optional)
Honey Mustard Dressing
       1 tbsp coarse ground mustard
       1 tbsp Dijon mustard***
       1 tbsp honey
       1 tbsp apple cider vinegar
       Salt & pepper to taste
Instructions
Warm the grill to medium-high heat.
Season the chicken with salt and pepper.
Lightly brush the flesh of the peach halves with olive oil.
Grill the chicken on each side for 5-7 minutes, or until chicken is no longer pink.
Place peaches flesh side down on the grill. Grill for 3-4 minutes.
Remove the chicken breasts and peaches from the grill and let rest.
In a small bowl add course ground mustard, Dijon mustard, honey, apple cider vinegar, salt and pepper. Whisk everything together until well mixed. Set aside.
In a large bowl add spinach, blueberries, feta cheese, pecans. Slice the chicken and peaches and top the salad.
Serve the dressing on the side so everyone can add to their own taste.
Notes
* You can do without the pecans or you can also substitute with almonds or walnuts
** The feta cheese is optional but we love feta cheese. You can also substitute with other cheeses.
** If you're not big on Dijon mustard you can do this without the Dijon and just use the coarse mustard seed.
Nutrition Information:
Yield:
4
Serving Size:
1 bowl
Amount Per Serving:
Calories:

343
Total Fat:

13g
Saturated Fat:

3g
Trans Fat:

0g
Unsaturated Fat:

9g
Cholesterol:

103mg
Sodium:

434mg
Carbohydrates:

19g
Fiber:

4g
Sugar:

14g
Protein:

40g
Please note that we can not guarantee the accuracy of the nutritional information. They are a best guess calculation.
Now doesn't that look oh so easy to make and just take a gander at this deliciousness that you get in the end! It's truly a spectacular summer meal. You don't have to turn the oven on for this baby and if you don't have a BBQ you can use an indoor smokeless grill. This grilled chicken and grilled peach salad are just oh so delicious!
Don't forget to PIN this recipe for later!
I also love the addition of the blueberries with this chicken and grilled peach salad as it adds a touch of tartness and sweetness depending on the blueberries themselves. It pairs perfectly with the grilled peaches and chicken and add the honey mustard dressing and you have perfection.
Of course, you can eat this grilled peach salad with chicken without the dressing it's tasty all on its own.
Don't worry I haven't forgotten about the HUGE contest I promised to tell you about. The fabulous folks over at Chicken Farmers of Canada are giving away $5000 to celebrate summer! Contest ends May 31, 2020. You can enter here on their site: https://www.chicken.ca/contest. I can think of a lot of things I can buy and do with $5000!
Make sure to follow Chicken Farmers of Canada:
Facebook: Canadian Chicken, Twitter: @ChickenFarmers, Instagram: @ChickenDotCA; Pinterest:ChickenDotCA.
Now I will leave you with one last delicious image of our salad. If you make it let us know how you liked it!
If you like this recipe you will also love these ones too:
Rosemary Chicken Bacon Avocado Salad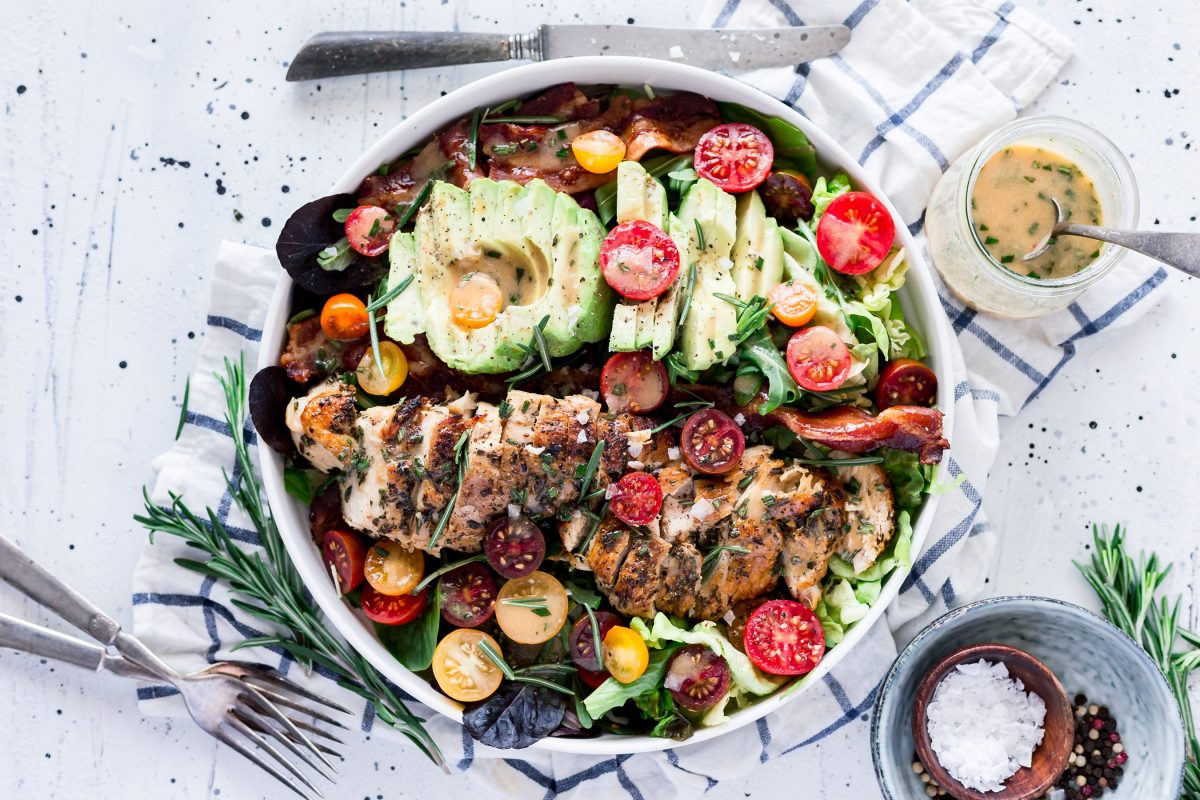 Grilled Honey Sriracha Chicken Bowl
By