Cherry Chia Seed Pudding with Yogurt
Need more protein and/or Omega-3s in your nutrition? Check out this delicious, healthy, pack full of good for you ingredients Cherry Chia Seed Pudding with Yogurt! I love chia seed pudding because it's sooo easy to make and just as easy to switch up the flavours!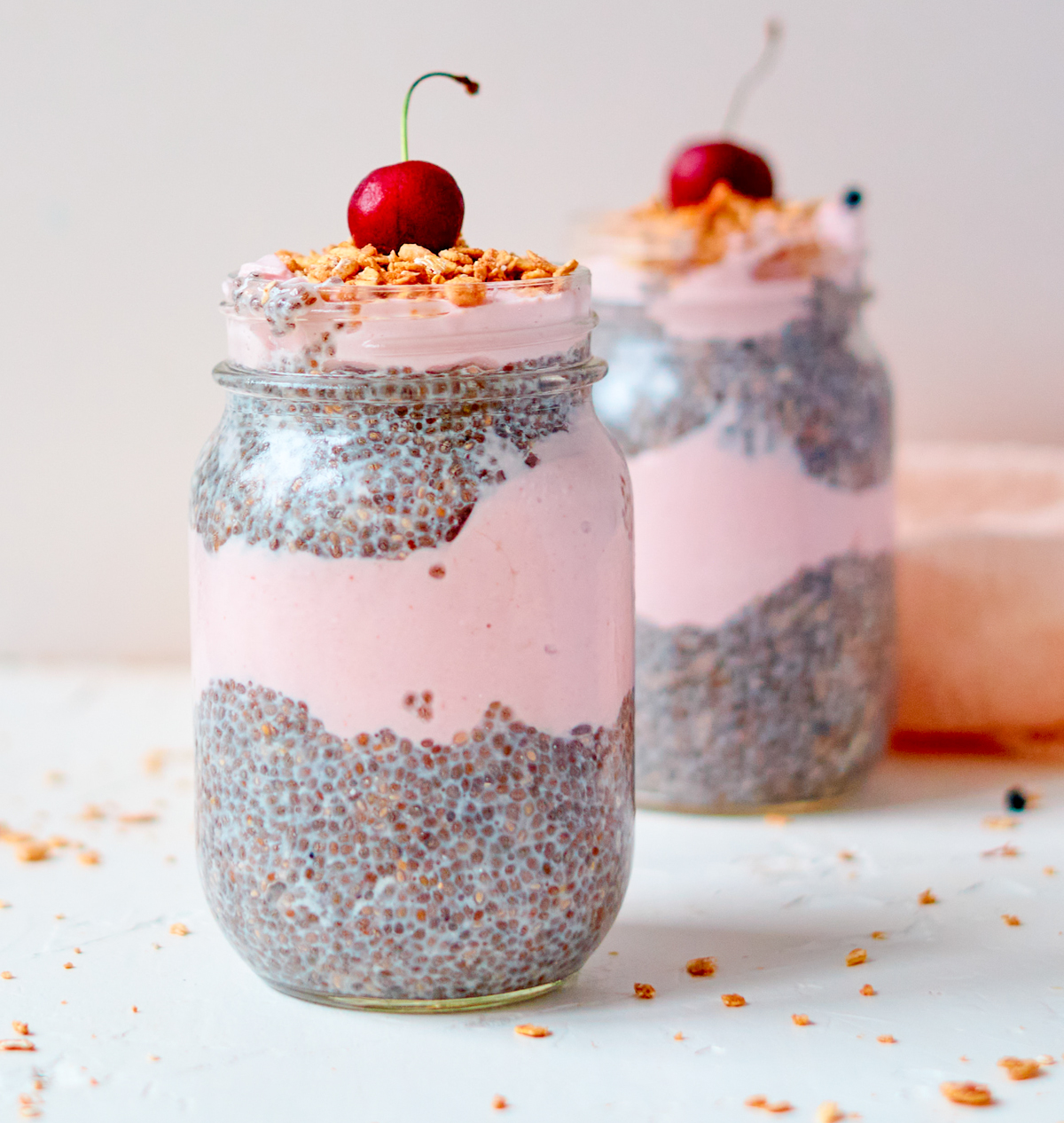 Want a mango coconut version? We've got you covered with our Mango Chia Seed Pudding recipe but it's just so easy to change the flavors. You'll never get tired of it, at least I don't. Whether you want it with strawberries, blueberries, blackberries, an apple pie like version or good ole bananas you can do them all with a chia seed pudding.
The chia seed has stolen the limelight lately on the nutrition red carpet. Packed with omega-3 fatty acids, carbohydrates, protein, dietary fiber, antioxidants, and calcium, these tiny black and white seeds provide a boost of energy and regulate blood sugar to help you feel full longer. Reap the benefits of this nutritional powerhouse by discovering new ways to add its mild, nutty flavor to your diet.
PIN this recipe!
Chia seeds have become more and more popular because they are just packed with nutrients, all good for your body kid of nutrients. Not only are chia seeds packed full of omega-3's but they're also a good source of protein, a plant-based protein to boot!
How easy is it to make Cherry Chia Seed Pudding?
Sooo very easy. You can make the chia seed pudding portion by putting the chia seeds in your container (I like to use jars) add your preferred liquid (we use either almond milk or coconut milk but you can use cow's milk too of course), add a wee bit of vanilla (optional but I like it) shake the jar (or stir) to mix and leave overnight. That's it!
Drink lots of water
Water is good for us, we all probably need to drink more. However, when you eat certain foods like chia seeds they absorb a lot of liquid in your system (just like they do when you make chia seed pudding). So just make sure to replenish your body's water by drinking more water.
Make sure to check out our other delicious recipes!
Cherry Chia Seed Pudding for Breakfast
Just prep your jars the night before and when you wake up the next morning your chia seed pudding is good to go. You can then add your layers of fruit and yogurt or whatever your stomach craves! I like to have it as breakfast or a snack because I find chia seed pudding very filling.
Let's get to this cherry chia seed pudding with yogurt recipe now shall we?
Yield: 3-4
Cherry Chia Seed Pudding
Need more protein and/or Omega-3s in your nutrition? Enjoy this delicious and healthy Cherry Chia Seed Pudding with Yogurt!
Total Time
12 hours
10 minutes
Ingredients
4 cups of milk (or milk alternative)
2 tbsp chia seeds
1 1/2 cups of cherry yogurt
1/2 cup pitted cherries (optional)
¼ cup of granola for garnish
Cherry for garnish
Instructions
To prepare the chia pudding mix chia seeds with milk and set into fridge overnight. You can also mix in the cherries at this point if you like but we add them after.
When ready to prepare layer chia mixture, cherries and yogurt. Top with yogurt layer, and granola and a cherry. If your yogurt has pieces of cherries in it you can skip adding more cherries if you wish but we like the extra cherries.
Notes
It's best to let the chia pudding chill in the fridge overnight.
Now how easy peasy is that to make this yummy and oh so healthy cherry chia seed pudding? So easy right? There's really no excuse (although I still make excuses sometimes) to not have a healthy and yummy breakfast. If you've not had chia seed pudding I compare it a bit to tapioca but a more nutty flavour and bit more texture with the chia seeds.
If you try this cherry chia seed pudding recipe make sure to let us know how you liked it.

By