Caramel Pecan Sweet Bread Recipe
Make this Caramel Pecan Sweet Bread Recipe as a perfect snack or dessert with a unique boost of flavour in the hidden instant coffee ingredient! To help you with the recipe, even more, we've created our first recipe video! Keep reading for our recipe tips, watch the short but helpful recipe video and get ready to enjoy this tasty Caramel Pecan Seet Bread recipe!
Why a Caramel Pecan Sweet Bread Recipe?
Why not? I love caramel and caramel with pecans is just so divine so at first I was thinking of a pecan pie but I didn't want to go quite that sweet or sticky for my first recipe video so decided on this caramel pecan sweet bread recipe instead. Sweet bread is very cake like but this way I get to fool myself into thinking I'm not eating dessert before dinner instead haha.
What is Sweet Bread?
Sweet bread is an easy quick bread that does not use yeast! Think of banana breads, or how about an orange sweet bread or a lemon one which most will just call a lemon loaf? All tasty and making me hungry too!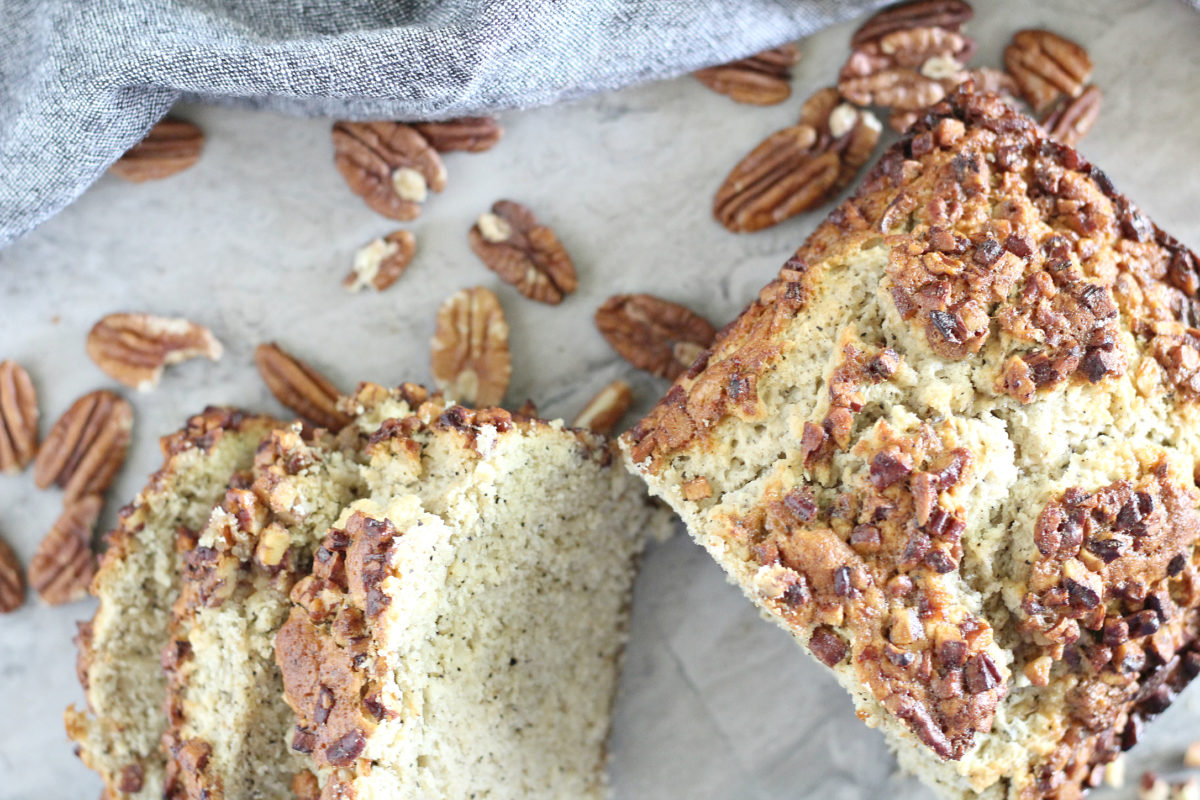 Check out our recipe video of this delicious caramel pecan sweet bread and you can follow up with the recipe below it when you're ready to make this loaf of tastiness.
Now doesn't that look easy to make this tasty sweet bread? Let's get onto the full recipe so you can make sure you have all of the ingredients!
Yield: 1 loaf
Caramel Pecan Sweet Bread Recipe
Make this Caramel Pecan Sweet Bread Recipe as a perfect snack or dessert with a unique boost of flavour in the hidden instant coffee ingredient!
Total Time
1 hour
20 minutes
Ingredients
2 cups of Flour
2 and 1/2 teaspoons of Baking Powder
3/4 cup of Sugar
1 tablespoon of Instant Coffee
1 teaspoon of Salt
2 Eggs (lightly beaten)
2/3 cup of Milk
1/2 a cup of Melted Butter
2 tablespoons of Butter
3/4 cup of Brown Sugar
1 Egg
1/3 cup of Milk
1/2 a cup of Pecans
Instructions
Start by adding your flour, baking powder, sugar, coffee, and salt to a large mixing bowl.
Whisk or sift together until well combined.
Add in your 2 eggs, milk, and 1/2 cup melted butter.
Using a hand mixer or stand mixer with dough attachment, mix until well combined.
Place dough into a well greased bread loaf pan.
In a large mixing bowl combine your 2tbsp of melted butter, brown sugar, milk, and pecans.
Mix well and pour over dough.
Cut into the dough with a knife to allow the pecan mixture to saturate through.
Bake at 350 degrees for 35 minutes. *If bread is not baked through, move to top rack, reduce to 200 and bake and additional 15 minutes.
Serve and enjoy.
Notes
If you want a thicker caramel, cream together butter and brown sugar first. Then add your egg and milk, and heat in a sauce pan until it becomes thick. Continue with steps 7 thru 10.
Nutrition Information:
Yield:
8
Serving Size:
1 slice
Amount Per Serving:
Calories:

466
Total Fat:

22g
Saturated Fat:

11g
Trans Fat:

1g
Unsaturated Fat:

10g
Cholesterol:

110mg
Sodium:

456mg
Carbohydrates:

62g
Fiber:

1g
Sugar:

37g
Protein:

7g
Please note that we can not guarantee the accuracy of the nutritional information. They are a best guess calculation.
Let me tell you when this loaf is baking in the oven, the aromas that fill your kitchen are simply mouth-watering. My daughter came wandering into the kitchen as this was baking asking what smelled so good. She could not wait for it to cool before having a slice.
I admit I could barely wait for this caramel pecan sweet bread to cool before I had a slice too. It's delicious to have while enjoying your cup of coffee or tea. My only regret was that I did not double the recipe the first time. I did not make that mistake the next time I baked it ha ha
Don't forget to PIN this recipe for later!
The coffee gives it another subtle flavor that complements the carmale and pecans and almost gives it bit more of a caramel bit in my opinion, which I love this flavor.
Make sure to check out all of our scrumptious recipes from appetizers to dinners and of course more desserts like the ones below!
Cakes, Cupcakes, Cheesecakes and Sweet Breads
If you love desserts you will adore this round-up of some of our favorite cakes, cheesecakes and sweet breads that are yummy any time of the year.

By