Caramel Apple Trifle
Mason Jar Desserts
Love Mason Jar Desserts? This Caramel Apple Trifle Recipe is sure to please. It's an easy no-bake dessert with gooey caramel, cinnamon and apples! The perfect recipe for fall and winter! We use our own homemade salted caramel sauce but you can use store bought if you prefer but it's sooo easy to make your own caramel sauce!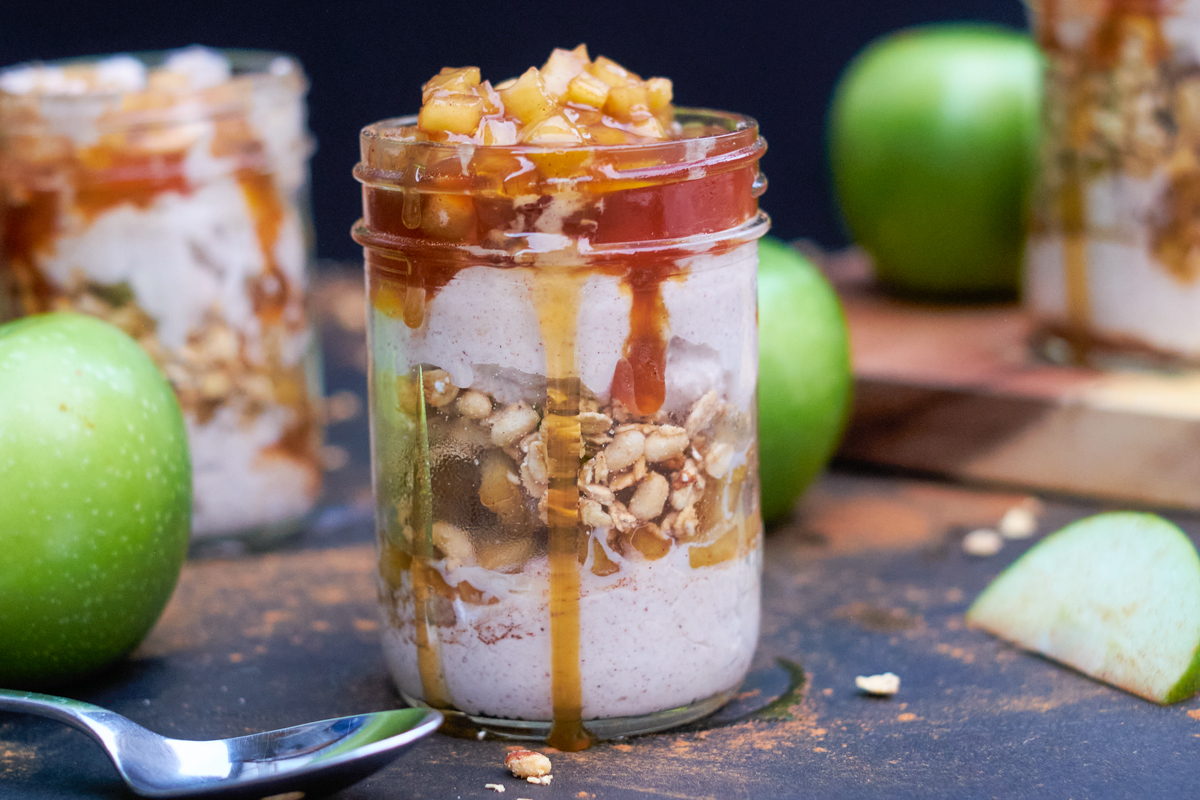 Mason Jar Desserts
I LOVE mason jar desserts. They're perfect if you have to transport them to a gathering, great for serving and for storing in the fridge as they each will of course have their own lid. What's not to love about desserts in mason jars. Those jars are full of a delectable treat. Check out some of our other delicious mason jar desserts and recipes.
Make sure to PIN this recipe.
In my opinion caramel, especially my salted caramel sauce pairs deliciously with so many desserts. Paired with the yummy apple filling and the cinnamon whipped cream and this dessert is so delicious. Here's what's in this mason jar dessert:
Cinnamon apple mix
Salted caramel sauce
Granola
Cinnamon whipped cream
Alternative layers for Apple Caramel Trifle
This dessert is definitely a fall and winter themed with all the cinnamon between the apples and the whipped cream and then that salted caramel sauce oh my. You can spice it up more with cinnamon granola too if you like.
We liked the crunchiness of the granola and well we love granola. However, you can instead of the granola layer with say an apple cinnamon cake or other types of cakes like pound cake, brownies, ladyfingers and you get the idea. There are so many things that would pair nicely with this trifle.
How to Make Caramel Apple Trifles
If you are going to make our salted caramel sauce then make that first so it has time to cool. If you're using a store bough sauce then make the cinnamon apples. Combine the apples, nutmeg, cinnamon, lemon juice, and brown sugar and cook until the apples are tender.
While the delicious cinnamon apple mix is cooling, get your jars out and make the cinnamon whipped cream. The apple mixture should be completely cooled before you start layer. I like the first layer to be the whipped cream but you can make the first layer the granola instead if you prefer. Next is the apple layer, granola, more whipping cream and then apples again and finish with the salted caramel sauce.
If you want the granola to be crunchy when you serve the trifle then you want to layer them just before serving. Otherwise it does soften quite a bit the longer it's been layered and in the fridge. I like it either way.
Watch our video!
Now let's get to the full recipe shall we?
Yield: 4
Caramel Apple Trifle-Mason Jar Desserts
Love Mason Jar Desserts? This Caramel Apple Trifle is an easy no-bake dessert with caramel, cinnamon and apples! Perfect for fall and winter!
Ingredients
Cinnamon Apple Filling
3-4 Granny Smith apples, peeled and diced
2 tsp lemon juice
1/8 tsp nutmeg
1 1/2 tsp cinnamon
4 tbsp packed brown sugar
Cinnamon Whipped Cream
1 cup whipping cream
1/2 cup powdered sugar (icing sugar)
1 ¼ tsp ground cinnamon
1-1 ½ cup/s Granola (depends on how much you put in your layers and how much you like.
8oz Jars
Instructions
If using homemade caramel sauce, make it first with enough time for it to cool to room temperature.
Combine the apples, lemon juice, cinnamon, nutmeg and brown sugar in a deep pan or pot and toss to thoroughly coat.
Cook the apples on the stove for about 7-10 minutes or until they are your preferred softness. For us it was 7 minutes, but I like a bit of crunch to my apples. Cool for at least 10 minutes.
Get your jars out and ready
Make the cinnamon whipped cream, add the whipping cream, powdered sugar and cinnamon to a large mixing bowl and whip on high speed until stiff peaks form.
Now that everything is ready it's time to layer your trifles. The first
layer I do is the whipping cream, try to make it as even as possible. Add about 2 tbsp of granola for the next layer, then salted caramel sauce, apple mixture, more caramel sauce and repeat, (except the granola unless you like more granola)
and finish with caramel sauce again.
Drizzle caramel sauce over granola.
Refrigerate until ready to serve.
Notes
Additional toppings
Chopped walnuts or pecans
Raisins (yes some people likes raisins)
Alternative layers
as mentioend in our post instead of granola you can layer with any of the following:
brownies
pound cake
apple cake
vanilla cake
chocolate cake
spiced cake
ladyfingers
Nutrition Information:
Yield:
4
Serving Size:
8oz
Amount Per Serving:
Calories:

590
Total Fat:

33g
Saturated Fat:

16g
Trans Fat:

1g
Unsaturated Fat:

15g
Cholesterol:

67mg
Sodium:

33mg
Carbohydrates:

67g
Fiber:

8g
Sugar:

45g
Protein:

9g
Please note that we can not guarantee the accuracy of the nutritional information. They are a best guess calculation.
So what do you think, are you ready to make some delicious apple caramel trifles in a mason jar? So yummy.
Alternative toppings:
These are a yummy addition to top these trifles with:
Chopped walnuts
Chopped pecans
Raisins
candied nuts
If you try this recipe let us know how you liked and any variations that you did that you loved or hated.
By