Girls Trip Ideas for Harrison Mills, British Columbia
Follow our journey and enjoy this list of Girls Trip Ideas for Harrison Mills featuring the Sandpiper Resort and more! Harrison Mills is fast becoming one of my favourite places to spend time that is a short road trip (just over an hour) away from home which is Vancouver, British Columbia.
That said it's also an area that has fans from all over the world yet even before the craziness of the pandemic it never felt like it was that insane tourist-y business, I'm sure you all know what I mean and have been to places like that. For this particular trip my best friend and her teen-aged daughter joined me as we all need a break and some good ole R&R time.
Disclaimer: We were gifted a two-night stay at Sandpiper but we love this resort whether or not we get a comped stay. One activity was also gifted but all the other activities shared here were either free, by donation or we chose to pay ourselves.
Even if you never make it to this beautiful area (although I promise it's totally worth a trip far and wide) we hope this article gives you some ideas on staycation ideas for your area. It's amazing how many fabulous activities, sites and more are to be enjoyed close to home, no matter where you live! It's perfect to add to your list of girls trip ideas.
Accommodations in Harrison Mills
I have stayed in a few places in Harrison Hot Springs/Harrison Mills area and by far my favourite are the cabins at Rowena's Inn/Sandpiper Golf Course. The nature cabins are simply gorgeous and it's so quiet and beautiful on the grounds. Social distancing is pretty much automatic because you have acres and acres of land to wander and your own cabin of course. You could spend hours just enjoying the grounds, I know because I have!
Sandpiper also has the WORLD's LARGEST concentrated gathering of bald eagles. I have now been to Sandpiper in the summer and fall but unfortunately not at the right time of the year to see the eagles. I know where this famous spot is now on this 160-acre waterfront property (more photos below) and hope to get there in November to see this amazing gathering of eagles.
I love how quiet it is there, so peaceful and that they have a variety of accommodations from rooms at Rowena's Inn to the 1-bedroom rustic, classic cabins that have heated-slate floors, deep-soaker jacuzzi tubs for two, and wood-burning fireplaces. NEW are the contemporary luxury cabins with 1, 2, and 3-bedroom layouts, full kitchens, and more. When I start brainstorming girls trips ideas, I admit I always look at booking cabins first if I can. I like the convenience and comfort of cabins and cottages.
If you haven't guessed already we stayed in the Eagle cabin pictured above. It's identical to the Raven cabin which I stayed in with my family and the only difference is that it's pet-friendly so we had our two dogs with us for that trip. You can see even more photos & a video of the inside and outside of the cabin including all the beautiful carvings in our Why Sandpiper Resort Harrison Mills Is Perfect For Families (& Their Dogs) article.
While Sandpiper Resort might be my favourite place to stay in the area there are other places to stay. You can check out where to stay for Harrison Mills go to Tourism Harrison Mills and for Harrison Hot Springs go to you got it Tourism Harrison Hot Springs.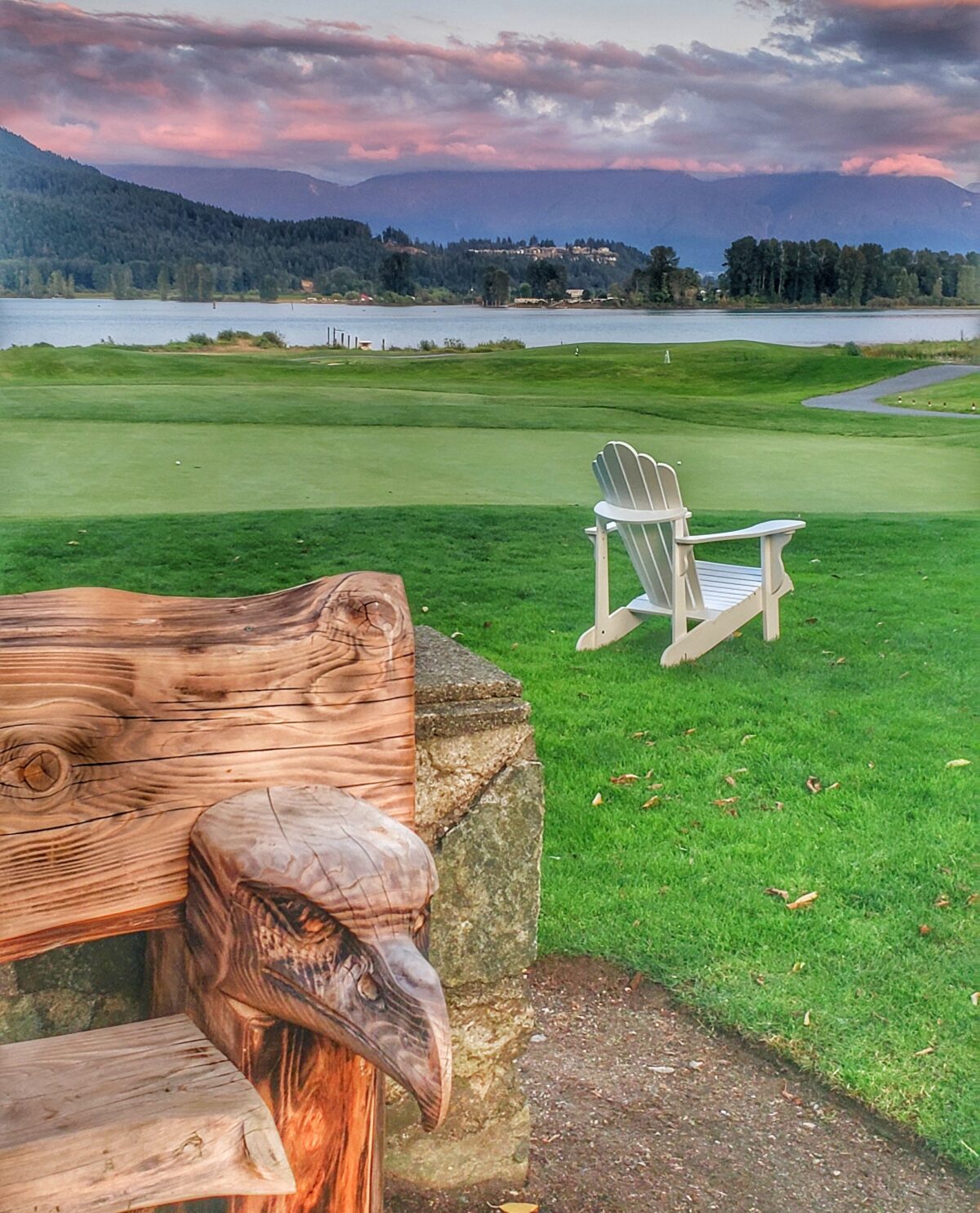 Here are a few in the area and I will mention beside them if we have stayed there or not:
Sandpiper/Rowena's Inn - Yes and our favourite place in the area
Sasquatch Inn - No have not stayed but it has been around for many many years
Harrison Beach Motel - Yes, it has beautiful views of Harrison Lake and is right in the heart of town in Harrison Hot Springs and is pet-friendly.
Harrison Lake Hotel - Yes a long time ago, it's one block behind the main part of town and does not have lake views but it's also pet-friendly.
Harrison Hot Springs Resort - No but they have their own hot springs pool and spa.
There are a plethora of B&B's vacation rentals, cottages and cabins and of course campgrounds and RV parks as this area is a Metro Vancouver favourite for camping. I've camped several times over the years, including this year in the area.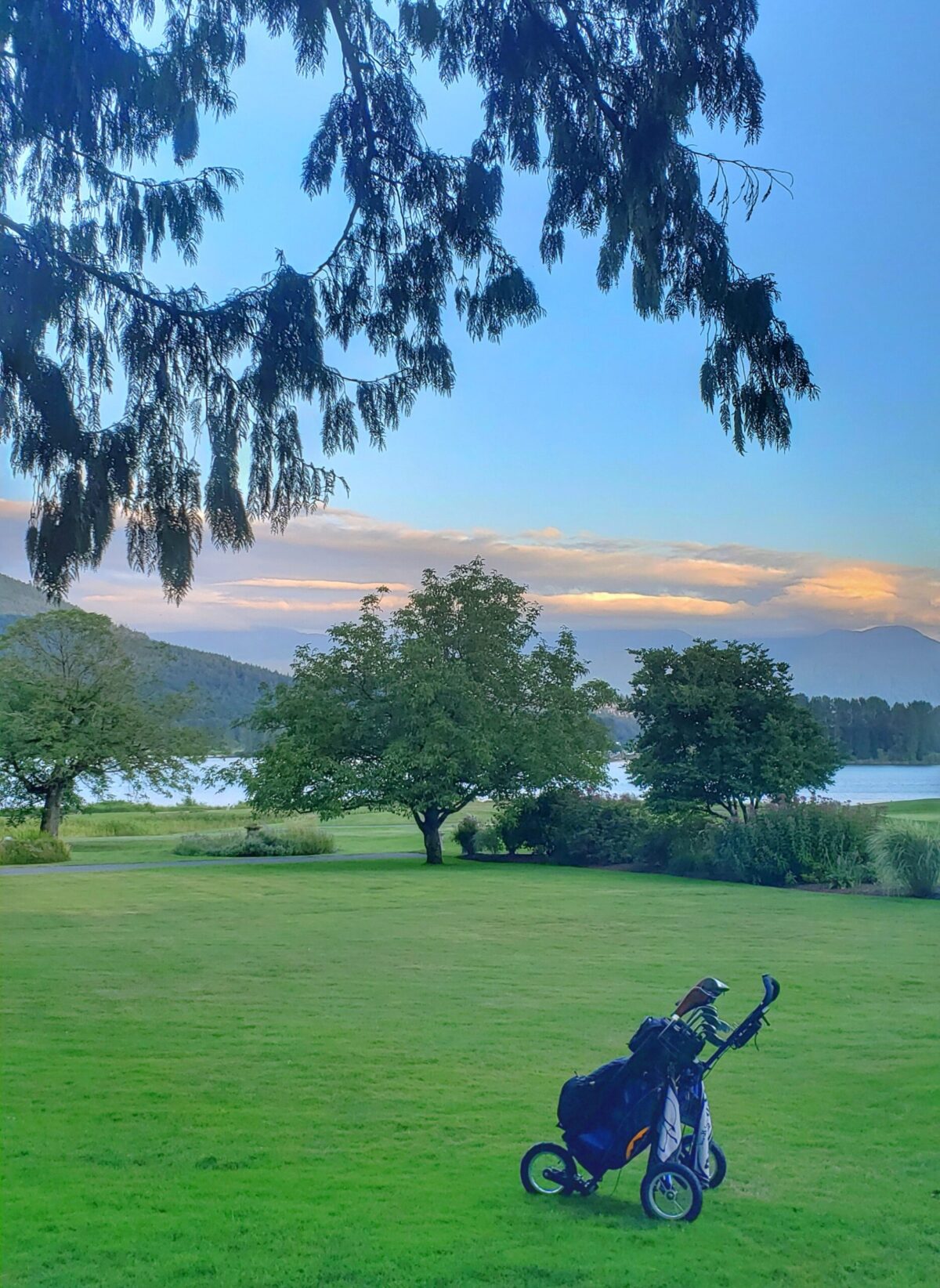 Places to Eat in Harrison Mills and Harrison Hot Springs
We have our favourite places where we like to eat now in and around Harrison Mills and Harrison Hot Springs. There are more of course that we would love to try as well so we will include both ones we've tried and ones we've heard good things about. I'm all about the food, if you can't have good food where you travel it wouldn't be a destination to go to in my opinion. It's even better when you get to have a meal with a friend.
The Clubhouse Restaurant at Sandpiper Resort - We have had breakfast, lunch and dinners there and have yet to be disappointed by any of our meals. Everything is so tasty and the prices are very reasonable.
The Clubhouse Restaurant is casual, and they had outdoor patio seating which is covered. I'm not sure if the outdoor patio seating will be utilized over winter or not so that's worth double-checking. Either way, if you're in the area it's very much worth stopping by the restaurant at Sandpiper, we've enjoyed everything we've ever tried and liked the atmosphere, it was perfect for our girls getaway.
Kilby's Restaurant - We have not eaten at Kilby's but we did manage to stop by the beautiful spot to see what it has to offer. Right now during the pandemic the restaurant is takeout only but from what I've seen the food looks scrumptious like their pies and they had specials for a roast beef dinner on the weekend. Make sure to check their site for hours of operation as it's limited. We will talk more about Kilby in our places to visit/attractions section below.
Milos Greek Taverna - on this last trip we were finally able to try out Milos. I had heard good things about it and they did not disappoint. They are right on the esplanade in heart of Harrison Hot Springs with a beautiful view of Harrison Lake. The food did not disappoint, everything was delicious from the calamari to the Greek ribs. My tummy is growling just writing about it!
Muddy Waters Cafe - this cute cafe is also on the Esplanade and has views of the lake. It's also near one of my favourite chocolate shops which I will list here too. Muddy Waters if for breakfast and lunch, a decent size menu, the seating is a bit cramped at the small tables but the food is yummy.
Sasquatch Inn Pub - I've heard good things about the Sasquatch Inn Pub and even though it's close to Sandpiper we didn't have a chance to stop by to check it out.
Black Forest Restaurant - This restaurant has German fare featuring steak and schnitzel. Again I have not tried this restaurant but it's on my list of places to try as I keep hearing good things about it. People we met on one of our activities and then saw again at Milos Green Taverna mentioned they went to Black Forest and really enjoy it. I've heard this from several people.
Activities in Harrison Mills and Harrison Hot Springs
You can check out more activities on our previous article Family Friendly Things To Do In Harrison Hot Springs & Harrison Mills for other things to do in the area. We keep adding when we try or see a new one and we might repeat a few of our favourites.
Kilby Historic Site and Park - it's right near Sandpiper Resort. Stroll through the gardens and grounds, visit the animals, smell the roses, and sit for a spell. The park is situated on the confluence of the Harrison and Fraser rivers in scenic Harrison Mills. It features a beautiful 35-site campground, a day-use area, sandy beaches, nature trails and a boat launch. The park is at the west end of Kilby Road, within walking distance of the Historic Site.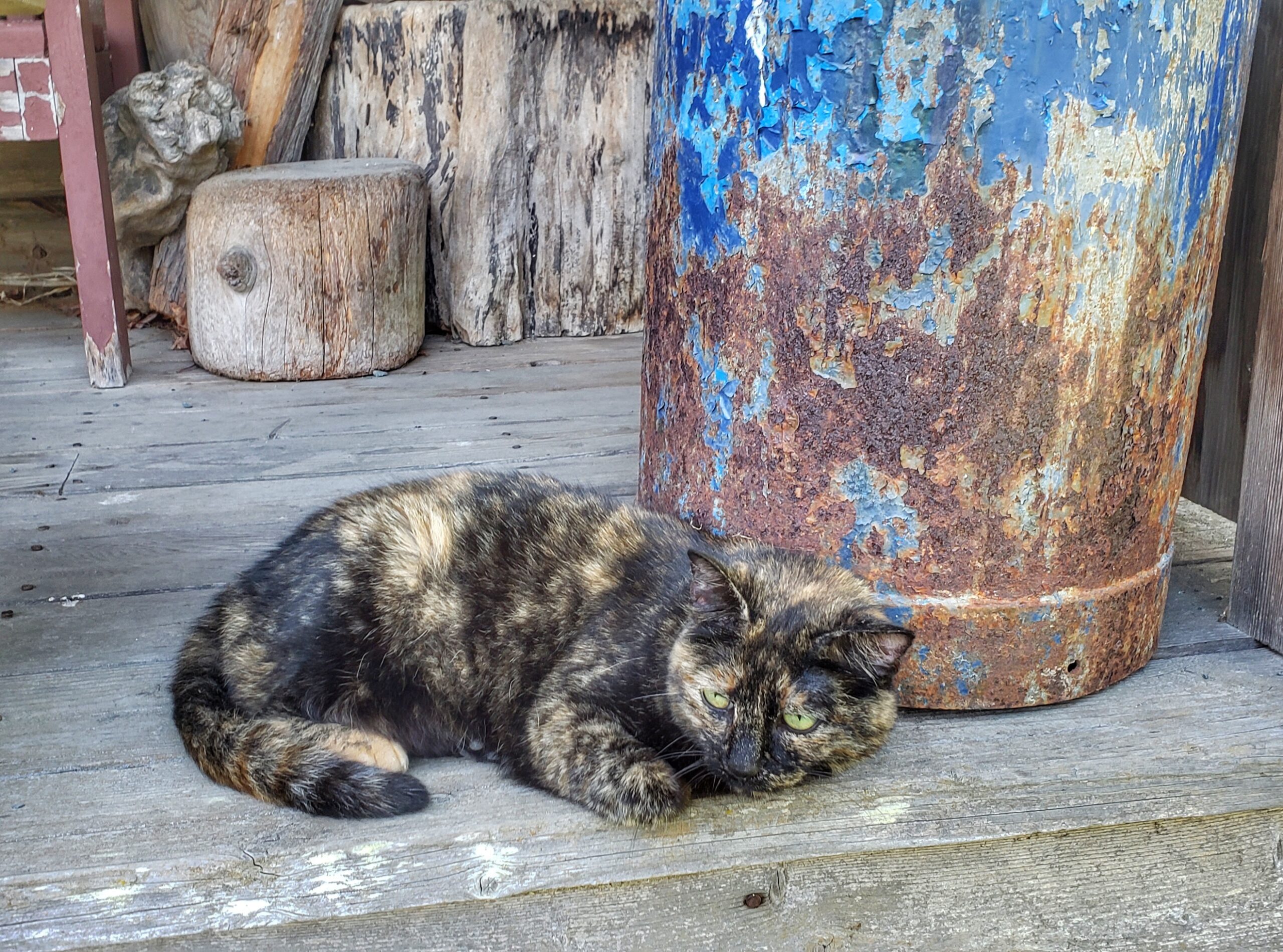 Largest Gathering of Bald Eagles in the World
With the best views of the Harrison River, Sandpiper Resort has been designated a prime bald eagle viewing destination. As mentioned earlier this is the WORLD's LARGEST concentrated gathering of bald eagles. Why? The raptors are drawn to the area by the millions of spawning salmon that travel up the Fraser River to tributaries, such as the Harrison River. The eagles gather from late October to early January.
The estuary is also home to incredible wildlife, such as trumpeter swans, ducks, seals, bears, coyotes, deer and the great white sturgeon. For thousands of years, the First Nation Peoples have lived harmoniously with the land and water.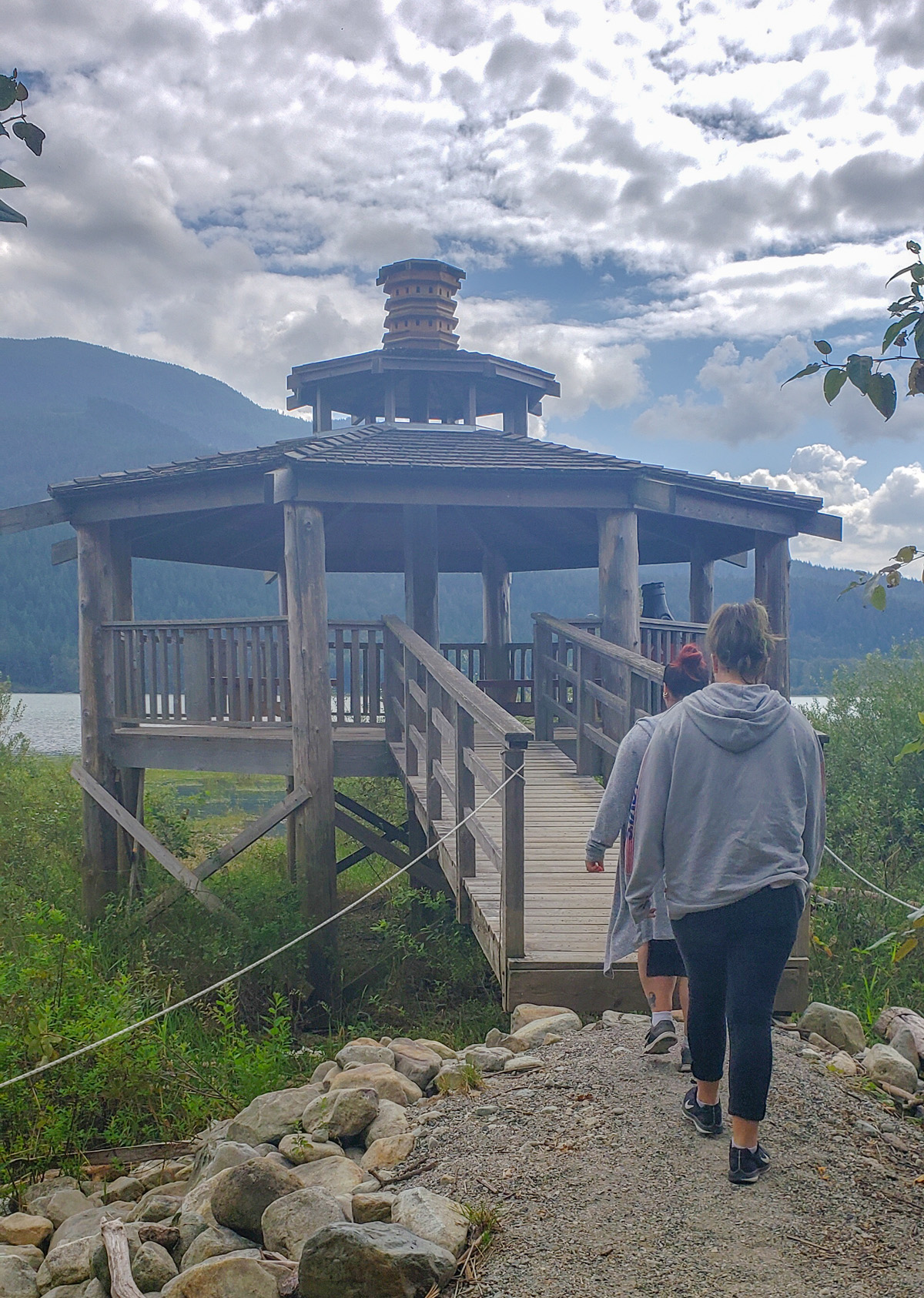 However, in present time, they work in collaboration with the Fraser Valley Bald Eagle Festival where they welcome visitors and share the knowledge they have gained over the generations. Although the festival began in 1995 and was one of the largest eagle gatherings, it wasn't until recent global shifts that the eagles started to concentrate in larger numbers.
Even if you are not there the time of year that the eagles are it's still worth the short walk to the viewpoint. It's a pretty area and the trail is on a forested path that crosses the golf course.
Salmon Run
You can witness the salmon run at the Sandpiper viewing bridge in early October as well. It's along the same trail that you take to the waterfront gazebo to see the bald eagles. Weaver Creek Spawning Channel is another wonderful spot to watch the Salmon Sun and just a few minutes up the road from Sandpiper. It is open from October 6th to November 1st this year.
On this trip we finally had the opportunity to go on a Shoreline Tour. The hosts will welcome you aboard the Laroan, the 62-foot Transport-Canada-certified boat. Outfitted with sightseeing decks, a BBQ grill, and a full kitchen/dining area, and washroom facilities, the boat acts as a home away from home during tours of the lake, as well as the Harrison River and Port Douglas.
We did the two-hour lake tour. During this tour, the Laroan charts a course along the lake's west side, floating past the green waters of Echo Bay, the towering rock formations of Echo Island, and the cold cascades of Rainbow Falls. All three of us thoroughly enjoyed this tour, we all sat up top outside of the boat. Just a tip, that the boat goes out at a leisurely pace and it feels like there's no breeze at first.
It can get very windy later so for those with long hair I suggest putting it up so it doesn't get to be a big knotty mess. I was very happy that I had my hair up.
The scenic views you get to take in on the boat are just stunning. Harrison lake is a glacier-fed lake which makes it an extremely cold lake the farther you get out. It's not intended for swimming in those depths but it's stunning. The green colour that you can see in the lake when you get farther out like the photo above is as a result of lime deposits from the melting snow from the glacier. Something I learned on the tour.
I did not have any of the food as I was still full from breakfast but my niece ordered some food and I assume she liked it since nothing was leftover. They have different types of tours for the different seasons that they are open, I would love to go on their waterfall tour. You definitely want to go on one of their tours if you're in the area.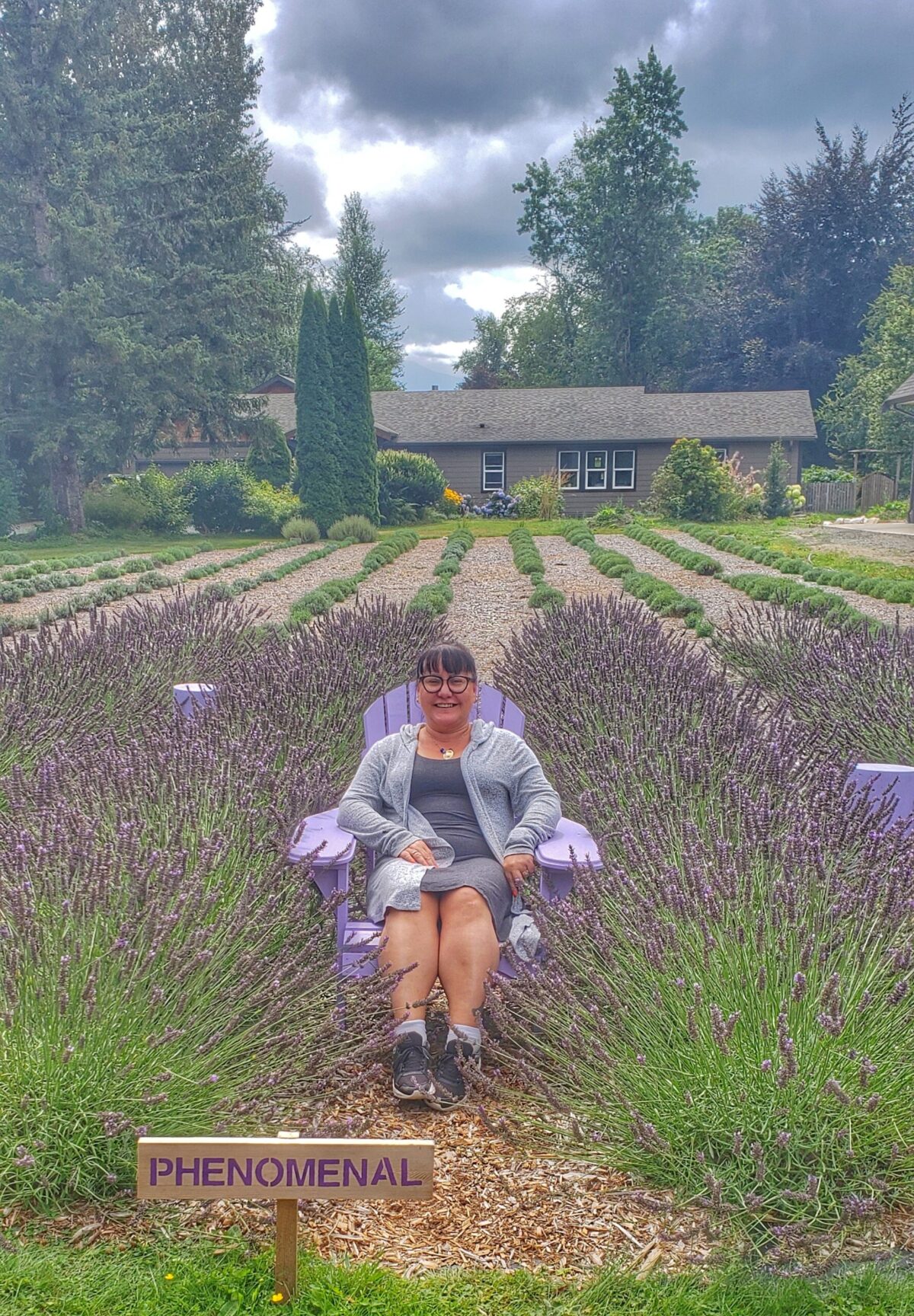 I have been wanting to go to Harrison Lavender Farm since 2019 when we last visited the area but this trip I finally was able to stop by. It's just up the road from Sandpiper Resort. I'm told the best time of the year to go to see all the lavender in full bloom is in June, that's from the owners of the farm. Even though they had just harvested the rest of the lavender there were still plants with a second bloom and it still smelled amazing. As you probably know even the leaves of lavender plants smell divine, that's what I think because I LOVE lavender.
I loved just walking around and smelling the lavender but even better was looking at all of their lavender products, most of which are made on-site. From candles to essential oils and lavender honey too! Even better they are expanding their store and showed us the much larger building that wasn't quite finished that will be their new store. Yay as I think their products are fabulous, if I could have bought one of everything I just might have lol
The hours vary by the season and I believe they close during the winter so it's best to contact them if you're going to be in the area and would love to stop by. I think it's worth the visit, especially if you like lavender anything.
From their floating waterpark to sea-doo rentals, boat rentals and even bumper boat rentals there's no shortage of water sports to add to the list of girls trip ideas. I love water activities but we only had time for the lake tour this time around, however in the past we have all gone to the floating waterpark. That's seasonal of course but a ton of fun, just don't count on standing up a lot, you fall a lot but hey it's on water so it's okay right?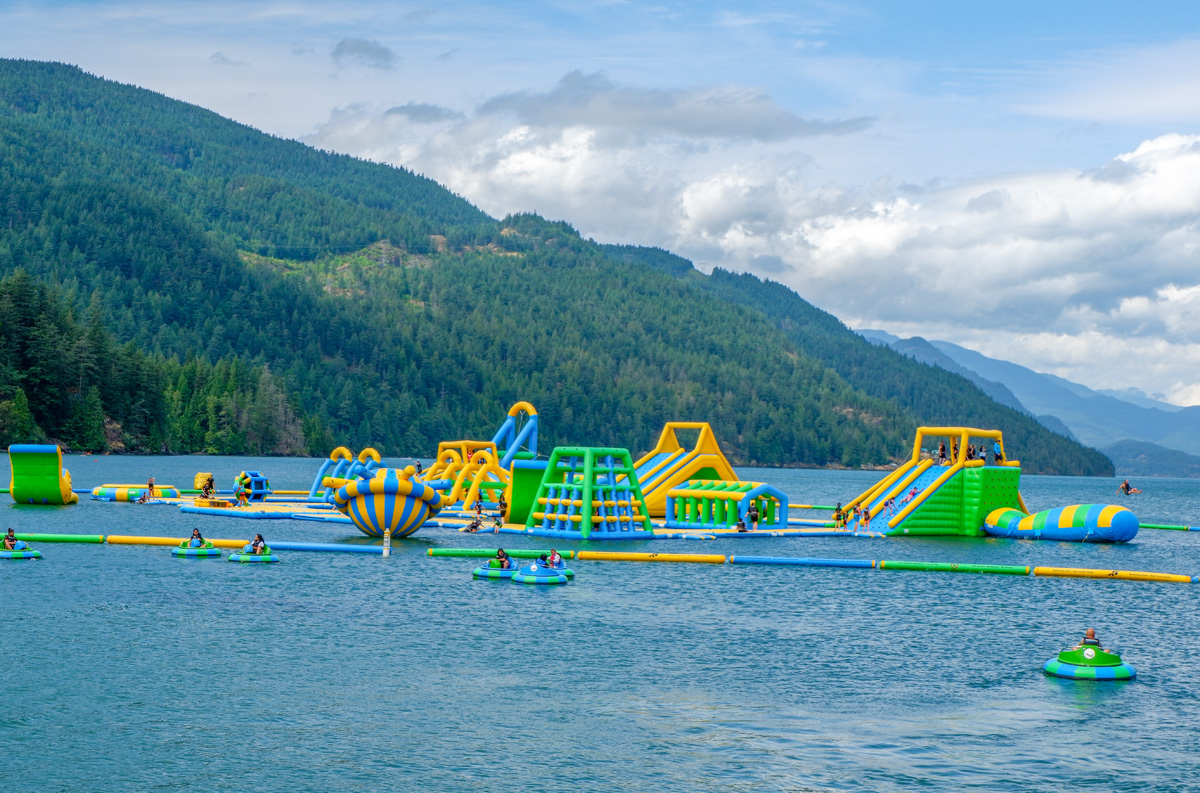 Sasquatch Museum
The history of the Sasquatch with our neighbouring First Nations and settlers is part of what makes it so unique. As the anglicized pronunciation of the Sts'ailes word, Sa:sq'ets, the Sasquatch is the "primary caretaker who watches over the land" and is integral to the
Sts'ailes people.
The mystery of "Bigfoot" has led thousands to search for signs of the Ape-like beast, including the late Canadian journalist John Green. Green conducted interviews, did extensive research, and dedicated much of his professional life to documenting and
finding the elusive creature. Question everything but don't dismiss the possibilities until you've explored our collection. The legend is real! Feel free to let our museum lead you through compelling artifacts, history, witness accounts, science, lore, and myths.
Don't forget to PIN this fabulous article for later!
Whew, there are so many fabulous things to do for any trip let alone for some girls trip ideas. I could go on and on about how much there is to do but I think I've shared quite a bit already but will leave these last few general things like hiking in the area, so much of nature to see, enjoying the lake view and of course just checking out local farms open to the public, artisan shops and more. See I told you I could go on and on. Below are some resources including our other articles for the area because we just can't cover it on one article, or two it seems.
If you're ever in the area and visit Harrison Hot Springs and or Harrison Mills let us know how you liked it and what you did and saw, we'd love to hear from you.

By