Belize Altun Ha Mayan Site & River Wallace Excursion
We're sharing a more about our excursion in Belize along with more of our photos.
This is from our 7 day Western Caribbean cruise aboard the Carnival Magic. We couldn't tell you everything we wanted to in one article or share all our photos in one so we put all our photos in our articles so we created a photo album article for each port. This one is as it says for the port of Belize and the Altun Ha Mayan Site & River Wallace excursion that we experienced. Make sure to read our article on the Carnival Magic Ports of Call where we share a bit about each port in one article.  You can also check out our 5 Favourite Things About Our First Family Cruise. 
Here's my family and I at Altun Ha in Belize. It was the end of the excursion.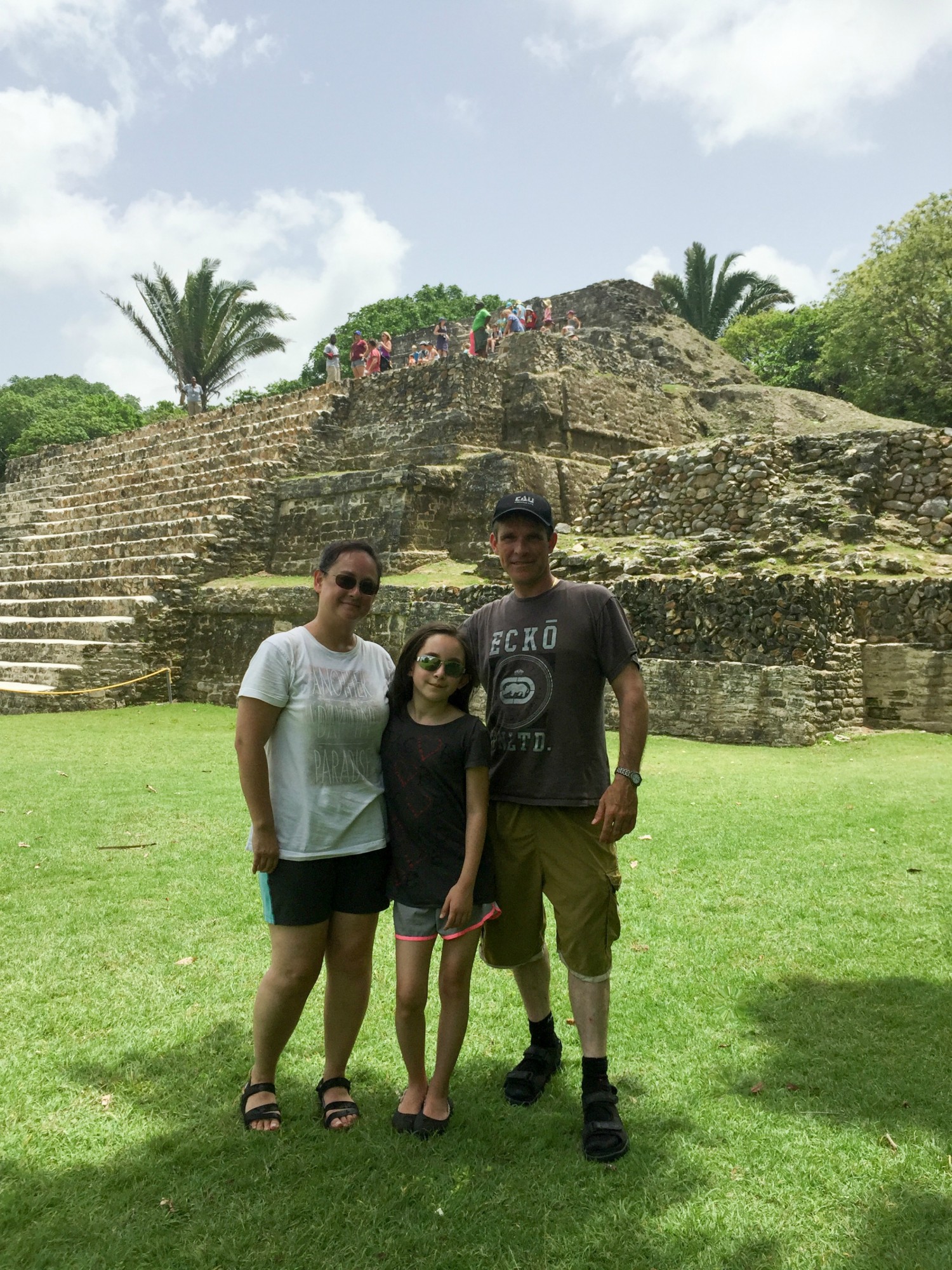 This is just to show you how fast the boat is sometimes and that it's a lot of jungle around Belize.
We went on a river boat tour and finished off at the site of Altun Ha where we saw some Mayan structures and learned some more about the history of Belize. I'm not going to go into a history lesson on it as I think everyone has a different learning experience and it's something you need to go and experience in person. I will say that the Altun Ha site is about 5 acres but we didn't walk the whole area. We had limited time and it's at least an hour back on the bus to the port. You can either explore Belize on your own or do this tour, as the tour is 6 hours long you won't have time to do anything else, just a head's up. This particular tour is more suitable for younger children compared to the other historic site that is available as an excursion. As time was limited at this port we didn't get to explore the city as much so  you really do need to decide what's more important, an excursion or exploring the city.
Here you go here's the photos, there's lots of them.
These apparently are mango trees
Spotted another iguana, we must have seen about 6-7 of them along the way.
Another  Iguana spotted 
You got it another iguana in a tree this time.
 Look closely those are little bats.
Someone's home along the way with a "big bird" 🙂
A lot of jungle type of terrain
My daughter enjoying the breeze or as the Captain called it the air conditioning of the boat.
Welcome to Altun Ha
I love the panoramic photos of Altun Ha. Click on the photo to see the full larger size of this image. 
Altun-Ha
It's a bit of a climb to the top but not too bad as younger kids were all able to climb it.
Our guide Simone.
It's a big open space so lots of area to explore or just appreciate the history of the area.
How can you not keep taking photos? I couldn't stop.
There you have it that's what we got to see while we were in Belize. I have more photos but these are the ones that show the majority of the Altun-Ha and River Boat tour excursion. As mentioned it is an all day excursion so if you want to explore Belize City or around the port itself then you don't want to do this tour. If you'd like to see some Mayan ruins, learn some history and see parts of Belize you might not otherwise see then this is for you.

A big thanks to SJ Consulting and Carnival Cruise Lines for inviting us to be a part of the #LetsGoCarnival retreat. We enjoyed our first cruise and can't wait to go on another one.

By