Powered by Mom's BackJoy Wellness Products Review #GiveBackJoy
Make your own health a top-priority this holiday season and beyond!
I have to admit until I was approached to try out the BackJoy wellness products I had never heard of them. I learned that this holiday season they are donating up to $5,000 in pain relief products to deserving charities such as Cedars-Sinai Medical Center or Soles4Souls and more. It's their way to Give Back, Spread Joy this holiday season! So not only do I get support such an initiative I also got to try out some wonderful wellness products that are helping me sit smart and sleep sound!
Introducing my new favorite pillow the BackJoy SleepSound Pillow! The lavender was my own addition I just love lavender!
As my husband and daughter will attest I'm very picky about my pillows. There are so few that I can sleep on as they're either too hard, too soft, too hot etc.. Normally I use two memory foam pillows as they were the ones that worked best for me, so much so that I would want to take one with me when we travelled as hotel pillows are never comfortable for me. Well this works when we're travelling by car but not so much by plane! I'm astounded to say that not only do I sleep well with the SleepSound pillow it's the only pillow I need to use, I don't need a second pillow at all, this is the first time ever!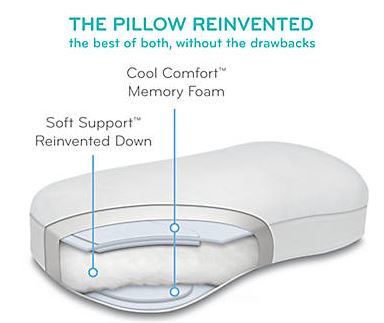 About the SleepSound Pillow
BackJoy's SleepSound™ Pillow combines the support of memory foam and the soft comfort of down without the drawbacks of either. The SleepSound Pillow is the world's only patented pillow that self-adjusts to support optimal sleeping posture, whether you're a side or back sleeper.
Our Soft Support™ Reinvented Down fill allows you to fall asleep in comfort, while the Cool Comfort™ Memory Foam layers support your head and neck in proper alignment throughout the night. This layered design provides superior loft without clumping or flattening.
The handcrafted pillow shell increases breathability to moderate heat for complete sleeping comfort. Innovative sidewalls flex and conform around the neck and shoulders for total comfort and alignment.
My husband also tried the SleepSound pillow (yes I gave it up for one night but one night only) and he also really liked it. I found that interesting because the pillow he currently uses is also a memory foam pillow but it's one of those fimer ones that is curved. I personally can't sleep on that pillow but we can both sleep soundly with the SleepSound Pillow. Now I didn't get hubby one for Christmas but I will have to get him one for his birthday now which is in January! Needless to say the SleepSound Pillow is a big hit!
I did give hubby the awesome Trigger Point Massager as he has back pain issues.
At only $29.99 this massager is a steal! Don't waste money on expensive back massagers all you need is the Trigger Point Massager! You can use it for your shoulders, neck, back and even feet! I'm just going to share BackJoy's pictures of this one in use as their pictures explain it all!
A simple self-massage tool for advanced pain relief.
The Trigger Point Massager is lightweight, durable and simple to use. Simply hook the tool over your shoulder or around your body and use the therapy knobs to massage and release tight or achy muscles.

Relieve pain through direct pressure in your back, neck, shoulders, and anywhere else your body holds tension. The unique multi-purpose handles offer full control when navigating the device over your body. Therapy knobs provide deep trigger point release.
Now how cool is that? It looks so simple but it works and it works well. Everyone should have one!
Last but not least is the SitSmart, when I saw it I admit I chuckled, wondering how something so funny was going to help relieve my back pain when sitting at my office chair. My tail bone gets sore after sitting in any office chair for a few hours and as someone who does the majority of her work in an office chair that's an issue. I do get up and stretch but it's never comfortable.
I almost didn't realize the SitSmart was working until I tried sitting at my chair without it, I really noticed the difference then! It does help improve your posture, I'm a total sloucher when sitting, so bad but this makes me sit better! Who knew?! Well I do now and as a result it goes with me from my home office to the contract office I work at a few days a week. It makes my work time more comfortable and no more tail bone pain yay!
BackJoy SitSmart is a safe and effective way to improve posture and relieve back pain. SitSmart automatically positions your body in correct posture for all-day comfort. Its patented design works by tilting your hips upright and comfortably "floating" your spine over the seat.
Now all I need is the Sleepsound travel pillow so I can sleep anywhere, even when I'm flying! Make sure to check out the BackJoy products your back, shoulders and neck will thank you for it!

Follow them on:

Facebook: https://www.facebook.com/BackJoy

Twitter: https://twitter.com/backjoy

By