Grilled Hawaiian BBQ Chicken with Homemade BBQ Sauce
A delicious Hawaiian bbq chicken marinated with your own bbq sauce!
Why buy bbq sauce for this Hawaiian bbq chicken when you can easily make your own with a few ingredients you probably have in your kitchen. You will love this recipe that is perfect for the bbq. I love to grill on the BBQ even when the weather is not quite warm enough because food from the BBQ is so yummy.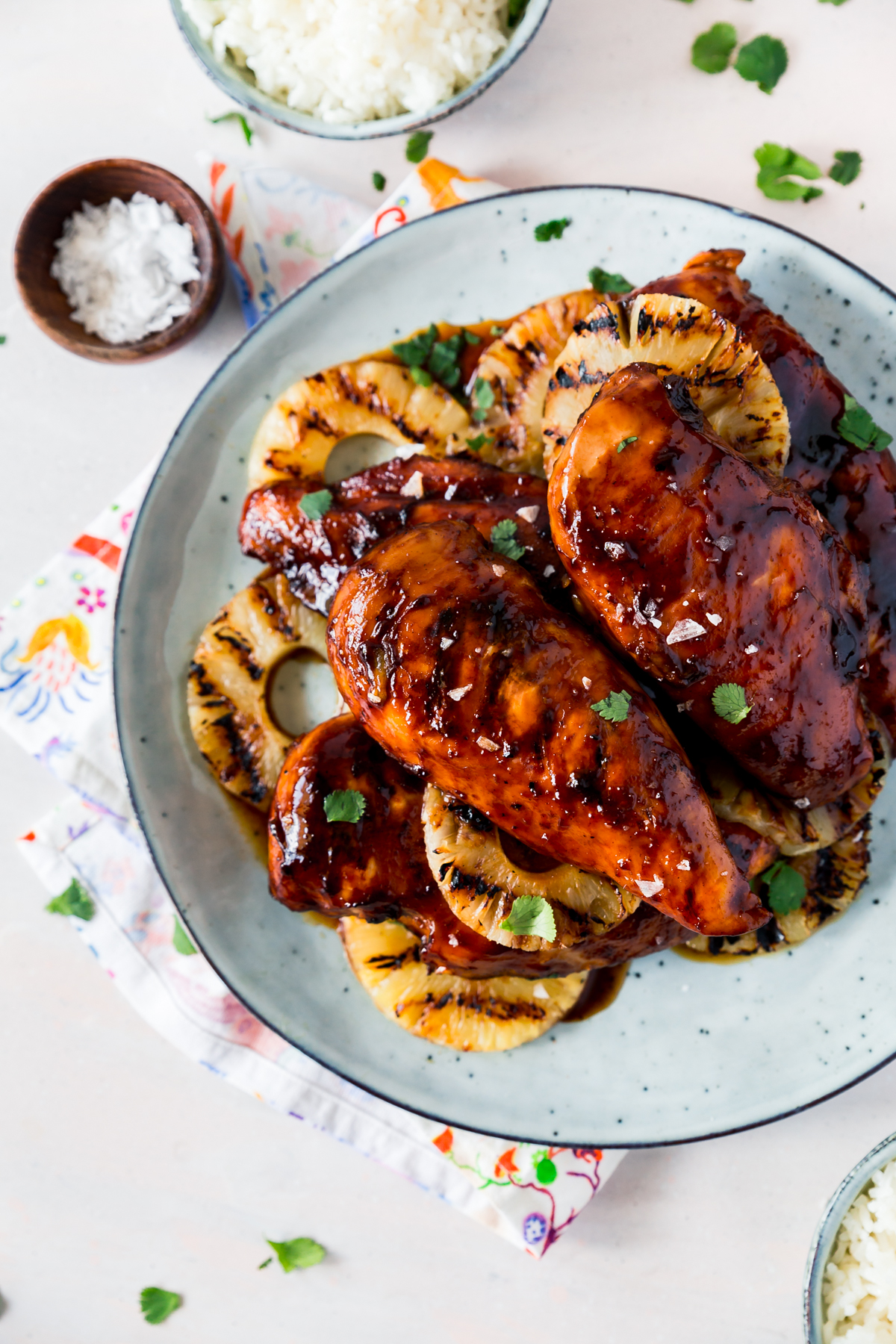 We always cook with chicken raised by a Canadian farmer because we know that it is grain-fed, free of hormones and steroids and they have high animal care standards. To help me cook our chicken to correct food-safe temperature I use this handy cooking temperature chart.
When I go grocery shopping I always look for the Raised by a Canadian Chicken Farmer label which luckily for us our local stores always care. In addition, to make my shopping easier I use the Chicken.ca grocery app, it's so handy you'll wish you started using it sooner!
What is Hawaiian Chicken?
Now let's talk some more about this delicious Hawaiian BBQ chicken. What makes it Hawaiian, the pineapple? I'm not sure I just like to think of myself looking at the ocean in Hawaii while eating this Hawaiian BBQ chicken on the patio. Is that not enough reason? Whether it qualifies as a "Hawaiian BBQ" dish or not I think you will enjoy it as much as we do.
Most culinary experts will tell you that a Hawaiian chicken recipe includes a few things. Included are always a teriyaki or sweet barbecue sauce and pineapple. Some are grilled as whole breasts or tenders, while others are in kebabs and grilled. The real Hawaiian part comes from the sweet sauce.
Can Hawaiian BBQ Chicken be a Freezer Meal?
Sometimes, convenience is the way to go. In this case, I love mixing up this sauce and pouring it and the chicken into a freezer storage bag to thaw and grill later. So, yes, this can easily be a freezer prep idea. Just make sure to always date and label then thaw properly overnight in the refrigerator for safety.
Yield: 6
Grilled Hawaiian BBQ Chicken Recipe
This delicious Hawaiian BBQ chicken is the perfect grilling recipe do enjoy for those backyard get togethers or just because. It's moist and oh so flavourful.
Ingredients
1 cup pineapple juice
1 cup brown sugar, packed
¾ cup ketchup
¾ cup soy sauce
⅓ cup chicken broth
2-½ teaspoons fresh ginger, minced
1-½ teaspoons garlic, minced
3 lbs boneless, skinless chicken breast
Instructions
In a large bowl, whisk together pineapple juice, brown sugar, ketchup, soy sauce, broth, ginger and garlic until combined. Reserve 1 cup marinade for basting, then cover and refrigerate. Add chicken breast to bowl, ladle sauce over chicken, then refrigerate for 30 minutes to overnight.
Drain the chicken and discard marinade. Moisten a paper towel with cooking oil, then using long-handled tongs, lightly coat the grill rack.
Grill chicken, covered, over medium heat for 6-8 minutes on each side or until no longer pink and a meat thermometer inserted into the thickest portion reads 165 degrees. Baste occasionally with reserved marinade during the last 5 minutes. Serve with grilled pineapple slices and coconut rice.
Nutrition Information:
Yield:
6
Serving Size:
1 chicken breast
Amount Per Serving:
Calories:

562
Total Fat:

8g
Saturated Fat:

2g
Trans Fat:

0g
Unsaturated Fat:

5g
Cholesterol:

193mg
Sodium:

2251mg
Carbohydrates:

45g
Fiber:

0g
Sugar:

40g
Protein:

74g
Please note that we can not guarantee the accuracy of the nutritional information. They are a best guess calculation.
What Do I Serve With BBQ Chicken?
For this recipe, you already have the pineapple, but you can also add in some grilled peppers, onions, or even roasted vegetables. I also like to simply steam some broccoli and add to the bowl with this chicken.
Now doesn't this Hawaiian BBQ Chicken recipe sound easy to make? Serve it on top of coconut rice and oh my so delicious. You can also serve it with salad but I have to say it has such a tropical taste when you do it with the coconut rice and it soaks up all the juices.
PIN this recipe for later because we know you will want to make it!
More info about Chicken Farmers of Canada can be found HERE

Disclosure: I am participating in the Chicken Farmers of Canada campaign managed by SJ Consulting. I received compensation in exchange for my participation in this campaign. The opinions on this blog are my own.

By