Our 5 Favourite Things From Our First Family Cruise on the Carnival Magic
The Carnival Magic is perfect for a family cruise – #LetsGoCarnival
This summer we had the opportunity to go on our first cruise ever, not just our first family cruise but the first time that any of us have ever been on a cruise. It was a 7 day Western Caribbean Cruise aboard the Carnival Magic. As you can imagine, we were quite excited. We also had a lot of questions as to what to expect, what to pack etc.. The Carnival website has lots of great tips for almost any question you might have. I also learned a lot from some of the travel writers whom we met on this trip. I'll be linking to some of their articles at the bottom of this one.
There is so much to do on a cruise whether it's on the ship or at the ports. I could write forever about all of the things we experienced, but that would almost be a novel. So I've decided to break it down into a series.
A quick preview of our room. 
Onto our top five favourite things we loved about our first family cruise on the Carnival Magic in no set order.
1) The activities/amenities: The Carnival Magic offers an amazing variety of activities and amenities. The hard part is deciding what you you'll do from such a fantastic selection. You won't have time to do them all so you'll want to prioritize.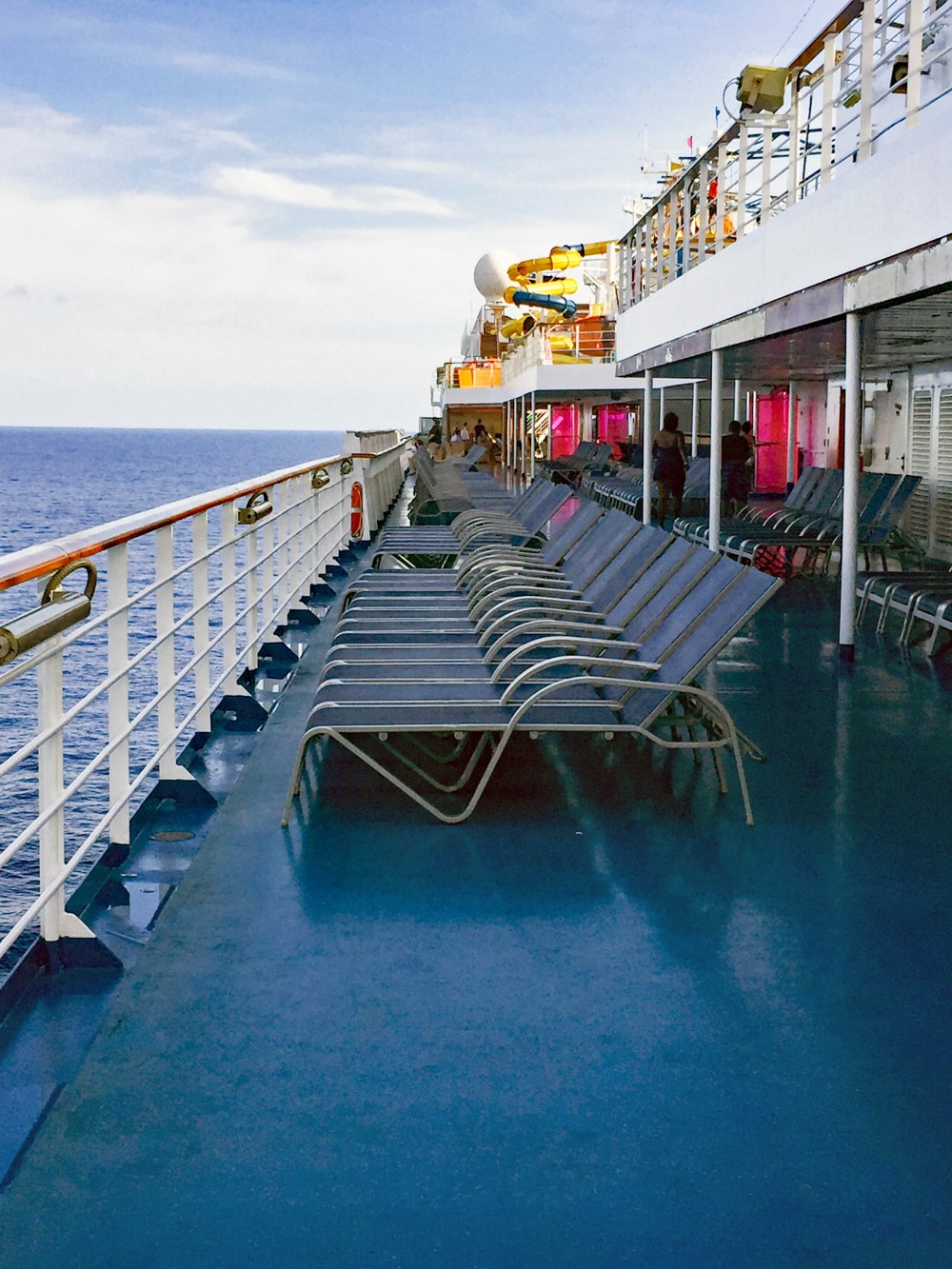 The waterslide was busy for the days at sea but when in port you could either go on before you went to shore as it was never as busy on port days. There's a spa, mini golf area, arcade, kids and teen clubs and so many activities that I could even begin to list them. You would get a new sheet every day to see what was happening that day.
Waterslide
 Dive-In Theatre 
2) The Fun Shops & other shopping: there's fun to be had for kids and adults.
From candy stores to clothing everyone enjoyed shopping or just window shopping. I'm sure it's no surprise that my daughter loved the candy store Cherry on Top, just look at all those goodies. They also had art auctions, you could purchase from Diamonds International and much more shopping, it really is a shoppers dream.
I scored this beautiful hat on the ship for only $10. As you saw from our first photo my daughter ended up wearing it a few times.
3) The food and drinks: Oh my the food. I was a bit worried about whether or not the food would be good, it wasn't it was GREAT! You have your choice to go to the buffet, the dining room, Guy's Burgers, Pizza, Indian Restaurant (limited hours), Italian (extra cost), Steakhouse (extra cost), pizza and more. For the dining room guys have to wear pants (no shorts etc..) and you dress up a bit but it's so worth it, the food was yummy.
Desserts
2 desserts?
We also went to the Italian restaurant and the Steakhouse, the food was amazing in both restaurants.
I didn't have many as I'm not a big drinker but when I did I enjoy the amazing cocktails that they served both with or without alcohol.
4) The views from the ship: From sunrises to sunsets , to the water views, to the gorgeous ports. and my hubby even caught on camera a water spoUt while at sea, the views can't be beat. I could seriously just sit on the ship and enjoy all the views.
I love these Panorama photos. To see the full image just click on the photo.
My husband spotted this water spout very early one morning, so early I was still in bed so he snapped this photo and tried to take a short video of it.
You may have to look  closely. As it was quite early in the morning (5am) my hubby only had his iPhone on him.
The views in the ports couldn't be beat. We're going to give you a preview now but as we'll be publishing another article later this week just on the ports so just a few photos for now.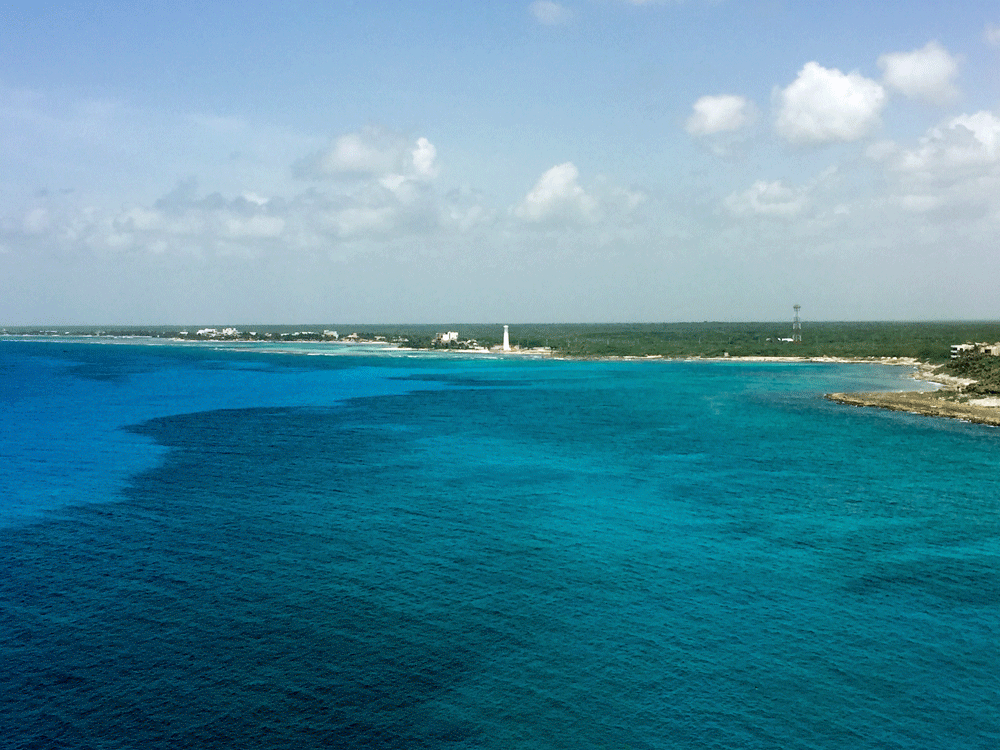 5) The people and the service: Last but not least our fifth favourite thing about the cruise was the people we met, those who worked on the ship and the amazing service they provided. Our steward Newman always made sure we had whatever we needed in our room. He never forgot our names and checked in with us to make sure we were happy with our room. The table staff in the restaurants were always so helpful and things were just cleaned up so quickly from the buffet to the dining room.
Towel creatures were a hit.
While I could give you at least a dozen more of our favourite things we loved about our first family cruise we're sticking to the top 5 reasons we loved it. Stay tuned though as later this week we'll be publishing our article on the ports and excursions we enjoyed during this same cruise.
Check out our Family Fun at the Carnival Magic Ports of Call for more great info on cruising with Carnival.
Make sure to stop by and take a gander at the articles from the travel writers I was on the cruise with. Everyone has something different to share 🙂
5  Reasons to Take a Cruise – for Sober Travellers
9 Reasons for a First Family Cruise on the Carnival Magic
Have you ever been on a cruise or want to go on one? Feel free to comment below we'd love to hear from you.

A big thanks to SJ Consulting and Carnival Cruise Lines for inviting us to be a part of the #LetsGoCarnival retreat. We enjoyed our first cruise and can't wait to go on another one. We are cruise converts.

By