Powered by Mom's 2016 Holiday Gift Guide for Family.
If you're looking for a gift that would be great for the whole family this is your gift guide!
We will be continually adding to this guide so make sure you come back often to see what we've added. We're just getting started and have so much to add. You can click on the snowmen below to get to the different categories of our Guide. We hope you get some fabulous ideas for this gift giving season.
If you have some great gift ideas, feel free to leave us a comment on what you think would be an awesome gift guide suggestion.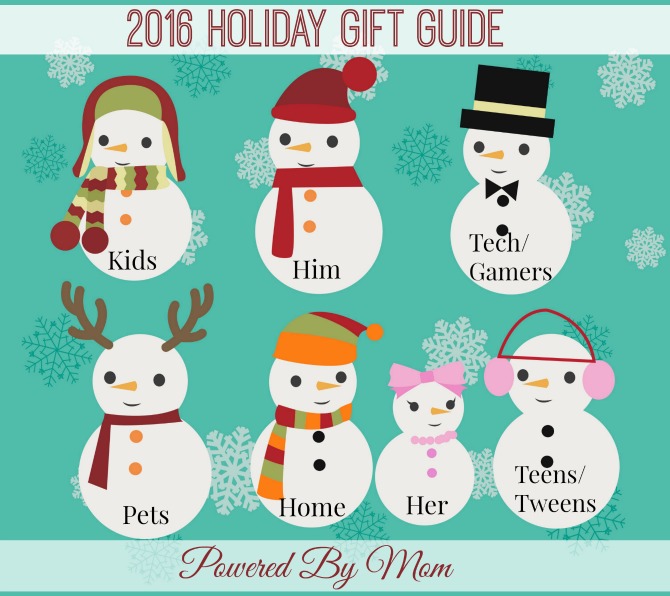 Dyson Pure Hot + Cool Link Hepa Air Purifier, heater & cooling fan
Keep warm in the winter, cool in the summer & your air purified all year with the Dyson Pure Hot and Cool Link. We put the Dyson Pure Hot + Cool Link Hepa Air Purifier, heater & cooling fan in our daughter's room. Her room is the coldest in the winter and hottest in the summer. This past summer it was so hot that even though we tried to cool our house down with our central air during the day my daughter was still too warm at night. Now with the Dyson Hot + Cool Link her room will be perfect all year long!
Read our review of this fabulous machine HERE. 
MeFOTO RoadTrip Air Travel Tripod
For the amateur or professional photographers in your lives. It's a colorful series of tripods that are compact, versatile and quick to set up. It will work with smartphones, compact cameras, action cameras, mirrorless and small DSLR cameras. Read our full review HERE

World Vision Holiday Catalog Items 
Check out our review HERE and enter our giveaway for a $490 value prize pack of World Vision Handcrafted Items HERE US Only Ends 12/19
Christmas is a time of giving and it only makes it more special when I can give to my loved ones and help others at the same time! It is one of the reasons I love World Vision so much! The other reason is that they have amazing handcrafted products that are perfect for everyone on my list!
ECOS – A Green way to Clean
Read Beth's review here
Want to really clean your home?  So many of the cleaners on the market today can cause more harm than the "cleaning" they actually do.  ECOS has the solution for you.  Green cleaning!  Laundry detergent, pet shampoo, hand soap… anything you need to clean – they've got you covered!
 Thermos for the whole family.
I love gifts that will also help my family like Thermos products my daughter can use to have a lot lunch at school or keep her water cold. Hubby who works at different job sites even in our snow weather really appreciates Thermos items like their Vacuum Insulated 16 oz Food Jar with Bowl and Spoon. He can warm himself up with a tasty meal so he can keep up with his hard work for the day. I'm always amazed at how well they work to keep what needs to be hot well hot and keep our drinks cold all day long. So everyone is getting a Thermos items to use in the new year. The kids will also love the Finding Dory and Star Wars Thermos items in their lunch bags!
Get the family playing & moving with a Halo Rover from Halo Board
Read the Full Review HERE!
The Halo Rover is the Worry Free Hoverboard. It's a fabulous unit for the entire family to have fun on while they learn together how to maneuver the Halo Rover. It's stable and has beginner modes make it easy for everyone as they learn to use it. It even has bluetooth speakers so you can have your tunes on while having fun riding it. It's an amazing gift for the holidays but one that the whole family can enjoy.
PureGuardian® Aromatherapy Essential Oil Diffuser
The PureGuardian® Aromatherapy Essential Oil Diffuser uses ultrasonic technology.  It's Simple! Just add a few drops of essential oils to the water and the ultrafine mist will quickly and continuously fill the room with the natural oil aroma.
The diffuser is quiet and won't disturb you when you're sleeping.  Simple, clean design includes touch control for power and optional night-light. It's lightweight and compact, making it great to put on small nightstands.  The 100ml water reservoir is BPA free and treated with Silver Clean™ Protection, which fights the growth of mold on the surface of the tank.  Purchase yours today!
Rosewill Rice Cooker
If you're looking for an affordable rice cooker than look no further than the Roseweill Rice Cooker. Right now you can get it on Amazon for less than $68! For a rice cooker and warmer with all the options on it that's a steal! Get it HERE on Amazon.
700W, 1.0L, 5.5 cups(Uncooked)

LCD display, digital control, plastic body

Inner pot with non-stick coating

Multi-function options: precise cooking, fast cooking, small quantity rice cooking, porridge, stewing small pot rice, reheating, soup, steaming and soaked rice

8 pre-programmed modes: Regular, Quick, Cake, Porridge, Soup, Steam, Brown(Clay Pot rice), Reheat
As someone who travels quite a bit for work and also enjoys long and short trips with my family, luggage is always a gift I love to receive and give. One of the most important pieces of luggage for me is a carry-on suitcase as it holds my essentials and valuables that I don't trust to check in. It's also sometimes the only piece of luggage I take with me on shorter trips to save myself time from having to check in luggage and then wait for it at my destination.
If you need very lightweight luggage with tons of style and features, choose Passion. The Passion carry-on is your perfect travel companion. You will love how ultra lightweight Passion is. Passion has a beautiful structured soft-side frame and convenient exterior and interior pockets that help you pack efficiently. Plus, iFLY's expansion feature let's you maximize your packing space. With 4 easy-spin wheels that provide smooth 360o navigation, getting around is effortless.
Quantum Vac – Experience the Cleansing Power of Water!
Read our review HERE
If you've been looking for the most powerful vacuum, that won't lose suction then you want to check out the Quantum Vac. It's the vacuum that uses water, yes water but when you see how powerful it is you'll be amazed. It's less expensive than some the big name brands and their powerful vacuums.
Quantum Vac Pro never loses strength or airflow
Quantum Vac Pro uses fresh water so the filter is always clean
No dirty canisters or paper bags to change – and other vacuum cleaners stop working effectively when their filters clog! 
Quantum Vac Pro is a vacuum cleaner, air purifier, mini vac, wet/dry vac, blower, inflator & deflator – ALL IN ONE!
Zojirushi Rice Cooker and Warmer
Read our review HERE and enter the Giveaway HERE US Only Ends 12/9
This smart 5.5-cup rice cooker and warmer features advanced Neuro Fuzzy® logic technology that enables the unit to 'think' for itself and make fine adjustments to temperature and heating time to perfectly cook rice every time.
Review and Giveaway Coming Soon
The no nonsense interface makes operating this water unit a breeze to use and eliminates any confusion. It clearly displays the water temperature at all times. It's also a breeze to to clean thanks to its nonstick coated stainless steel interior. There is also a handy wide window water gauge so filling your unit is easy and you're always aware of the water levels while it's in use. You can get it on Amazon HERE
Disney Movies for the whole family
Alice in Wonderland Through the Looking Glass
We love Disney movies and Alice Through the Looking Glass was no exception. It's a new adventure for Alice as she tries to save her friend the Mad Hatter.  Get it on Amazon HERE.
The BFG
Newly released and you can still get it in time for Christmas. Order on Amazon HERE
Bringing THE BFG To Life — Take a phizz-whizzing journey through the making of the movie with Ruby Barnhill ("Sophie")|The Big Friendly Giant And Me — A short about the friendship between the BFG and the little "bean" who lived in Giant Country before Sophie|Gobblefunk.
Give the gift of delicious quality treats like those from Royal Hawaiian Orchards. From their chocolate covered Macadmian nuts to their Macadmian Milk! They believe that a long, healthy life begins with a well-balanced diet full of wholesome, all-natural foods. Did you know that Hawaii boasts the longest average life expectancy in the U.S.?  Hawaiians credit their longevity to healthy eating, happiness, and stress-free living.
Check out our 10 Reasons to Love Peachskin Sheetskin Sheets
We are thrilled to share our review of these soft and comfy sheets that we received from Peachskin! This time we got the midnight black sheets for my daughter. Like many teenagers she has a black theme in her room but she does have other colors in there as well. I actually quite like what she has in her room and now she's super happy to have some super soft, breathable, wrinkle-free, Anti-Microbial sheets that also wicks away moisture!
Ultrasonic Warm or Cool Mist increases air moisture for easier breathing and a good night's sleep
Relieves cough, cold, and flu symptoms, nasal congestion, dry cough, sinus irritation, nose bleeds, and dry skin and hair
Recommended non-medicated alternative to over the counter cough and cold medicine
Clean Control Antimicrobial Material is proven to help reduce mold and bacteria growth up to 99.96%*
Runs whisper quiet up to 24 hours
More energy efficient than a household light bulb – less than 30W Cool Mist, up to 130W Warm Mist
 Dyson Hygienic Humidifier
Read our review HERE & Enter the Giveaway HERE Ends 12/3 Open to Canada Only
Between the cold weather and the heating, humidity levels naturally drop and we need some of that moisture for oh so many reasons. Thankfully the Dyson Humidifier that we received has resolved our dry air issues.
Nutri Ninja BlendMax DUO –  Review & Giveaway (US Only Ends 11/4)

 Ninja Coffee Bar System with Frother
Read the review HERE and enter the Giveaway HERE Ends 12/13 US Only
Coffee is a magic word for me! I love all kinds, from hot coffee coffee to iced coffee. Now, I can enjoy whatever kind of coffee I am in the mood for in a matter of minutes in my own kitchen! With the amazing Ninja Coffee Bar Brewer System with Frother, I can also avoid paying the high price of coffee from a coffee house by making my own creations! This amazing brewer does it all! It would make a fabulous Christmas gift too!
 Community Coffee Beans, Ground & K-Cups – Giveaway HERE Ends 11/5 US Only
Community Coffee is a family run company that's been in that same family for 4 generations! They have beans, ground coffee and single serve, they scour coffee farms for the best coffee beans out there and I have to say they're doing a fabulous job! Community Coffee is a company with values and integrity and serving their customers and their local communities is their privilege. They truly are a community coffee! If for some reason coffee isn't your thing  don't worry they have tea too!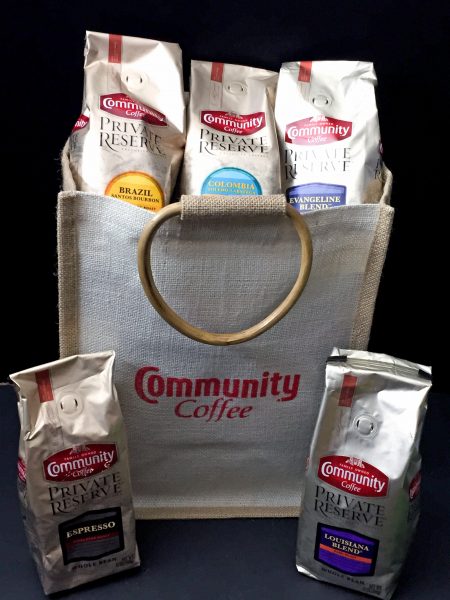 Nutri Ninja Blender System with Auto-iQ Technology – Our Review is HERE
The Nutri Ninja Blender System makes it easier and quicker for you to make delicious, nutritious meals, smoothies and more.
 Naturelle Luxe Majestic Oil Hair Care 
 NeoCell Beauty & Health Products – Read our review HERE
Are you sick and tired of being sick and tired? Give Beauty Infusion and Glow Matrix a try!
Faithful Scents Candles
Every candle is hand poured with exuberant amounts of love, bottled with grace and shipped through prayer.
Let NutriBullet LEAN help you be the healthiest you can be!  NutriBullet LEAN makes getting healthy easy and delicious!
If it's Yoga, Aurorae has it.  From mats to towels, you'll find anything you need with Aurorae!

Nutri Ninja Duo Bowl
The NutriNinja Series of appliances realize that and have come up with a wonderful way to combine a food processor and a blender. The NutriNinja Duo Bowl has both smoothie blending cups (some kits comes with three) and a bowl in order to work like a food processor.  Read our review HERE!
ToiletTree Bath Accessories – Read Beth's full review HERE
Stylish Accessories from ToiletTree will Breathe new Life into your Bathroom!  From shower mats and laundry hampers to fogless mirrors and razor dryers – if it belongs in the bathroom, they have it!
Bright Endeavors Candles
Check out the full review HERE
Bright Endeavor sells an assortment of soy wax candles that are sure to make your home smell amazing!

 Razor Hovertrax
You will NOT want to miss checking out Razor's Hovertrax 2.0. This is an amazing product with the first certified electrical system! Self-balancing and loads of fun!! Check out the video showing off this awesome product!
With reasonably priced kitchen accessories, gadgets, and even small appliances, T-fal has got it all! My favorite is the Airbake cookie sheet, this rust free aluminum pan will keep the bottoms of all your holiday cookies from burning!
Garden of Life uses the purest, most natural ingredients to form a great selection of vitamins, shakes, and supplements. Both children and adult vitamins are available including multivitamins, probiotics, and so much more. Protein shake mixes are completely organic and packed with a great source of vitamins!
Get more storage and counter space with this My Flip Frame.
Read the review HERE
The My Flip Frame resembles a Murphy bed. It looks like a beautiful picture frame, but when you pull the hinged picture down, there is a cupboard behind the picture where you can store whatever your heart desires.
Make botanically infused butters, lotions, soap, alcohol, and a lot more with the Magical Butter countertop appliance.
This small countertop appliance eliminates the hassle of making botanically infused products in your home. Start reaping the benefits of botanicals and essential oils with this easy to use machine. With 5 different settings you can create homemade goodness in just a few simple steps. You can make everything from infused butter, lotion, soap, and even tinctures!
Read the review HERE!
Do you have travel lovers in your family? Great gifts are available at 08 Left that use airport codes, NASA Codes, famous air traffic control towers and more to create t-shirts, hoodies, mugs, and even baby onsies.
Honeywell Cool-Mist Humidifier & Ceramic Heater
Winter can be a challenge for a lot of people with staying warm and healthy. Honeywell's ceramic heater will keep you warm in the office, during a bath or even while you sleep at night. With safety features providing an auto-shut off, the heater will allow you to rest easy knowing just how safe it is to run your heater at night.
Top-Fill Cool-Mist Humidifier by Honeywell will keep your lungs moist this holiday season. Help fight off sicknesses by adding this cool-mist humidifier to your home. Read more HERE!
When we get a cold snap in Florida, we shorts wearing Floridians really suffer. The Honeywell HeatGenius Ceramic Heater has really helped keep up warm and cozy during our last few temperature drops. With additional safety features like tip-over and overheat protection, you can heat any room in your house quickly and efficiently while having peace of mind that your HeatGenius won't get too hot!
By